5 Unusual Spa Experiences in the Philippines
Keep calm and have a spa day!
by Kara Santos | August 26, 2016
Sometimes traveling during the rainy season can be pretty gloomy. It's not fun to be at the beach or to hike up the mountains when it's pouring outside. But that doesn't mean you can't have fun when you travel.
When all else fails, you can still have a great time having a spa or getting massage treatments—just don't settle for the run-of-the-mill Shiatsu or Swedish massage.
Here are a few picks of the most unusual spa treatments you can try around the country.
Kawa Hot Bath in Antique
Take a soothing dip in a kawa or large vat that makes you look like you're being cooked alive. This unique treatment, which originated in the province of Antique, uses large cooking pots traditionally used to cook muscovado sugar as your jacuzzi hot tub. With the flowers and leaves sprinkled on the water and a steady fire burning below, this jungle hot tub just makes an awesome photo op.
Where to try it: The Kawa Hot Bath is available inns and resorts in Tibiao, Antique including Kawa Inn, Kayak Inn, Waterfalls Inn, Blue Wave Resort and Poly's Place.
Budget: PHP300 for 30 mins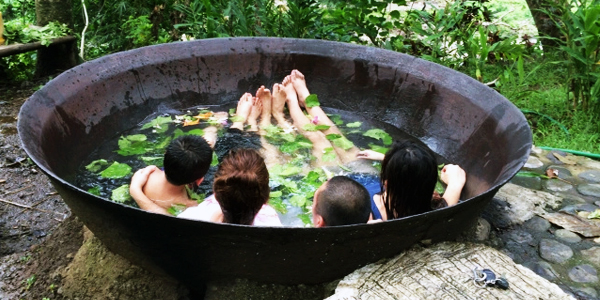 Fish Spa in Antique
For a fun, exfoliating experience, why not let fish nibble at your feet? Fish spas are widely popular in Asia and other regions, mostly in backpacker's districts, where tourists can enjoy relaxing treatments after a day of sightseeing. The Tibiao Fish Spa makes use of several species of fish sourced from the highlands in the province of Antique to provide a budget-friendly alternative in a uniquely Filipino setting.
Where to try it: Tibiao Fish Spa is located along the highway in Tibiao, Antique.
Budget: PHP120 for 30 mins fish spa and five mins foot massage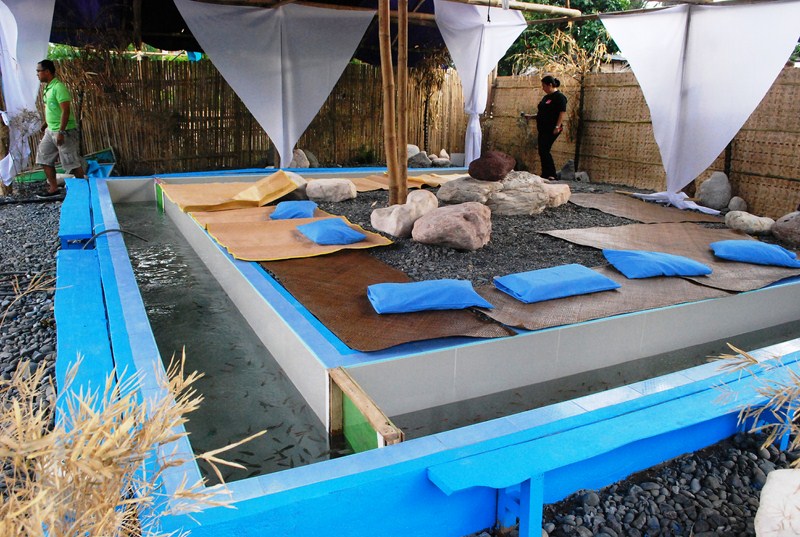 Hydrotherapy Massage in Manila
Stuck in the metro? There's always Ace Water Spa, an all-weather indoor facility that uses hydrotherapy massage. Hi-tech "Ultrasonic Jet Systems" are used to massage specific areas of the body to relax and soothe tired and aching muscles. The large kid-friendly space has a lap pool, man-made waterfall, sauna, and several herbal pools scented with mint, jasmine and lavender ranging from 36 to 40 degrees.
Where to try it: Ace Water Spa has two branches in Manila – Del Monte Avenue in Quezon City and Pioneer Center, Pasig.
Budget: PHP550 (adult), P250 (kids 4 ft. and below), valid for 4 hours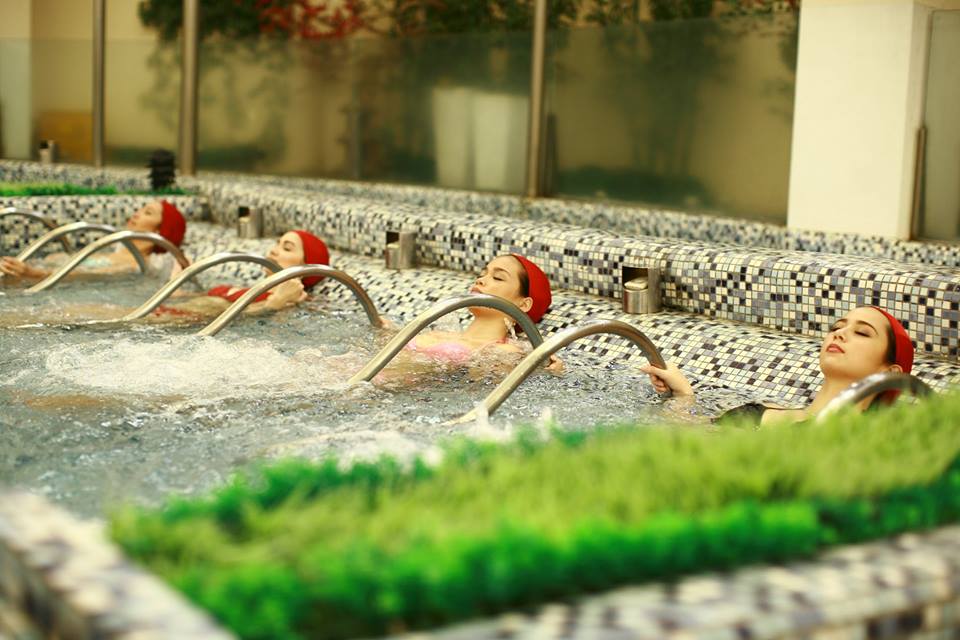 Hot Sand and Mud Spa Treatment in Pampanga
How about a spa adventure that includes a thrilling 4 x 4 jeep ride through desert-like landscapes, lahar-carved rugged canyons and shallow streams before you get pampered?
Aside from soaking in the natural pools with warm sulfuric waters at the foothills of Mt. Pinatubo, you can get buried alive and slathered in mud in Puning Hot Springs. Guests lie down in a sand pit buried up to their necks in bed of warm volcanic sand and can get mud smear spa treatments using cold sulfuric mud for a one-of-a-kind treatment.
Where to try it: Puning Hot Spring, Sapang Bato, Angeles, Pampanga
Budget: PHP3,000 per person (min. of 3 pax)
Snake Massage in Cebu
Want to feel how it is to be on an episode of Fear Factor? How about a deep muscle massage from four giant Burmese pythons? In the Cebu City Zoo, daring tourists are actually lining up to get snake massages! Willing volunteers lie down on a bamboo bed and pythons are carefully placed on top of visitors one by one. Each python is reportedly fed 10 or more chickens beforehand, to curb any hunger pangs. With a combined weight of 250 kg, expect this to be one "heavy" massage. The slithering motion of the snakes is said to be therapeutic and calming, while the flickering of the tongue on your skin supposedly mimics a tickling sensation. I think I'll pass on this one.
Where to try it: Cebu City Zoo, Cebu, Philippines
Budget: Free for anyone willing to try it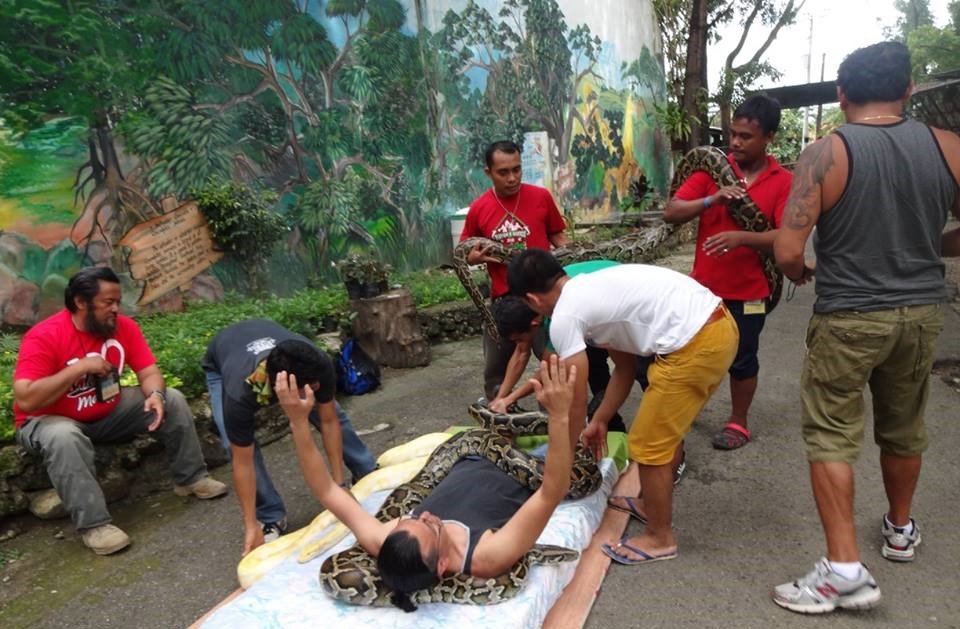 Got any other spa treatments that are out of the ordinary? Let us know below!
Also read: Spas with Breathtaking Views near Manila