8 Free Things You Probably Didn't Know You Could Get at Airports
Because who doesn't love a good freebies?
by Andy Flores | September 06, 2016
When you're stuck in an airport during a layover, the feeling of being leeched of your money just to pass time is almost inevitable. Everything around you just seems to have a price tag–a painful sight for someone who has just shelled out cash (or precious life savings) for a trip. Yep, airports are hella expensive, but did you know that there's also some pretty cool stuff they do give for free?
1. City Tours
A number of airports like Taoyuan International Airport, Tokyo Narita Airport, and Doha International Airport can provide you with a free city tour if your layover takes at least five hours. Each scheduled tour has its own itinerary, and you can choose which one you'd like to join if you've got more than enough time to spare. You also don't need to be a visa holder of the country as you'll be considered an "in-transit" passenger.
2. Movie Screening
For movie junkies stuck in transition at Changi Airport in Singapore, you can catch some of the latest blockbuster hits as well as films of different genres at the cinemas located at both Terminal 2 and Terminal 3, which are open 24 hours daily for your viewing pleasure.
3. Cultural Immersion
Stuck in Korea's Incheon International Airport? You mustn't miss the free cultural experience they offer! Join a traditional handicraft workshop at the Traditional Korean Cultural Experience Zone and learn how to make a jewelry box with hanji or authentic Korean paper. Walk down the Korean Cultural Street on the 4th floor of the Passenger Terminal, where you can catch a parade or a classical chamber concert. The "street" is also lined with eateries and shops selling a variety of items. Don't forget to have your picture taken wearing the elegant hanbok before catching your next flight!
4. Play Area
Okay, so this might be something your child will enjoy. Lift your little jet-setters' traveling blues and tantrums away by keeping them preoccupied in a playground within the airport. A noteworthy airport play area is Chicago O'Hare airport's Kids on the Fly exhibit–a massive fun-filled airport-themed space designed by the Chicago Children's Museum that even adults will enjoy.
5. Showers
After a long, tiring flight, you probably want to take a quick shower more than anything else. Some airports like Incheon International Airport, Dubai International Airport, and Abu Dhabi Airport offer complimentary shower facilities for travelers who just want to freshen up.
6. Video Games
Read up, avid gamers! If you've been itching to get your hands on a game console, Changi Airport Singapore's Entertainment Deck is a paradise for video game lovers. Enter their Xbox Kinect Room, where you can get active with Kinect Sports. If kicking virtual footballs or spiking virtual volleyballs hasn't exhausted you enough, you can continue the action with their Xbox360 and Playstation3 units
7. Yoga Session
Unwind and find inner peace in between flights at Dallas Fort Worth Airport's yoga studio. Located at Terminal D, overlooking the American Airlines tarmac, the small space gives travelers some privacy with a screen divider and comes equipped with hand sanitizers, yoga mats, and a TV that plays an instructional DVD on loop.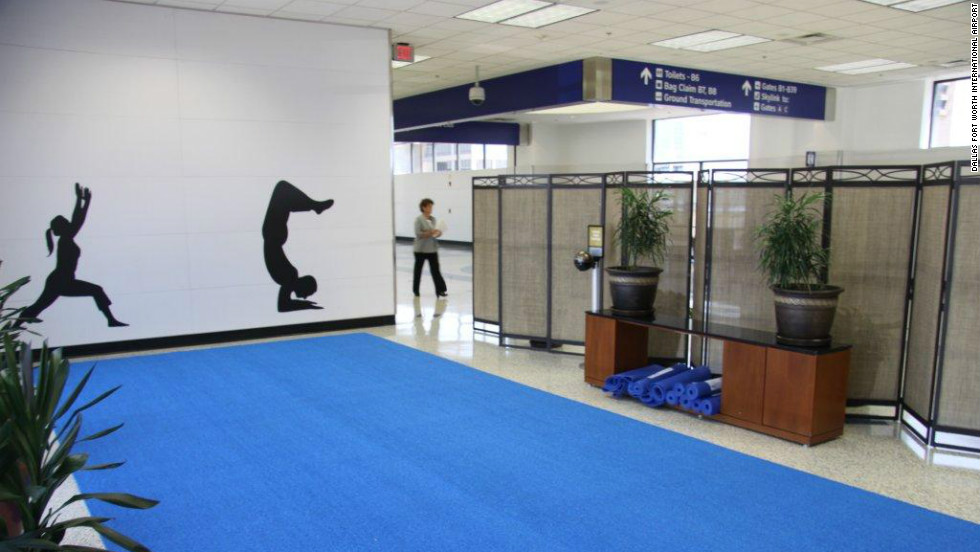 8. Library Access
Promoting Dutch culture and literature, Amsterdam Schiphol Airport maintains a library, where book-loving passengers can pass time while feeding their love for the printed word. The first permanent airport library in the world, Schiphol's Airport Library has an impressive collection of Dutch books translated in 30 languages, music by Dutch artists, as well as photobooks, photo shows, and videos that reflect life in the Netherlands.
Do you know of other freebies you can get at certain airports? Tell us where and what in the comments below!