Planning to Visit Boracay Soon? Here's Everything You Need to Know
For a smooth sailing trip.
by Ina Louise Manto | January 22, 2021
To help boost the travel industry and revive the country's economy amid the pandemic, Boracay is one of the first tourist destinations to open to the public again. The WindowSeat.ph recently traveled to Boracay with Cebu Pacific, so we're sharing some important travel guidelines to take note of, just in case you're thinking about visiting the world-class island soon:
Which airport is open for tourists?
Pre-pandemic, two airports were used for visits to Boracay: Kalibo International Airport and Caticlan Airport. But with the new travel restrictions, local tourists traveling to Boracay are only allowed to book flights to Caticlan Airport.
The use of Kalibo International Airport is only exclusive to Aklanons traveling outside Aklan, local Aklanons, employes/workers, returning OFWs, authorized persons outside of residence (APORs), and locally stranded individuals (LSIs).
Pre-travel requirements
Before your travel to Boracay, here are all the requirements you need to provide and/or follow:
Confirmed booking of round trip tickets to Boracay.
A confirmed hotel booking for the entire duration of stay in Boracay.
Negative RT-PCR swab test result taken at a DOH accredited testing center. The test must be done within 72 hours prior to your flight. See the full list of accredited testing centers here.
Accomplished health declaration form to be filled out at the Tourist Boracay website. Some information needed in this form includes personal, health, travel, booking, and accommodation details.
Sample confirmation page from Tourist Boracay: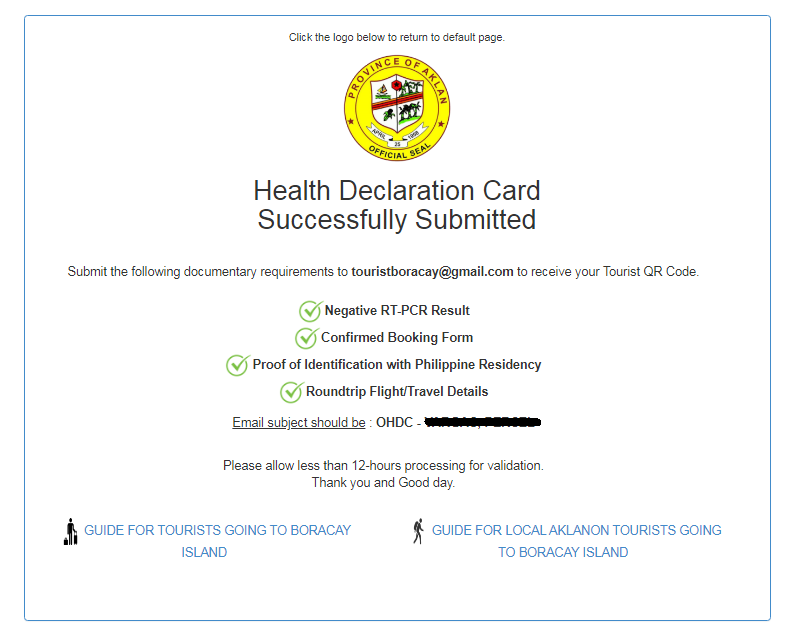 After filling out the health declaration form, send it to touristboracay@gmail.com with the subject "OHDC-FamilyName, FirstName" along with the RT-PCR swab test result and travel and accommodation details.
Wait for Tourist Boracay's reply regarding your application.
Once your application is accepted, you will be given a Tourist QR Code, which will be used at the airport, seaport, hotel, and establishments on the island.
Install Traze, the contact tracing app needed in NAIA. Find more information about Traze here.
During Your Travel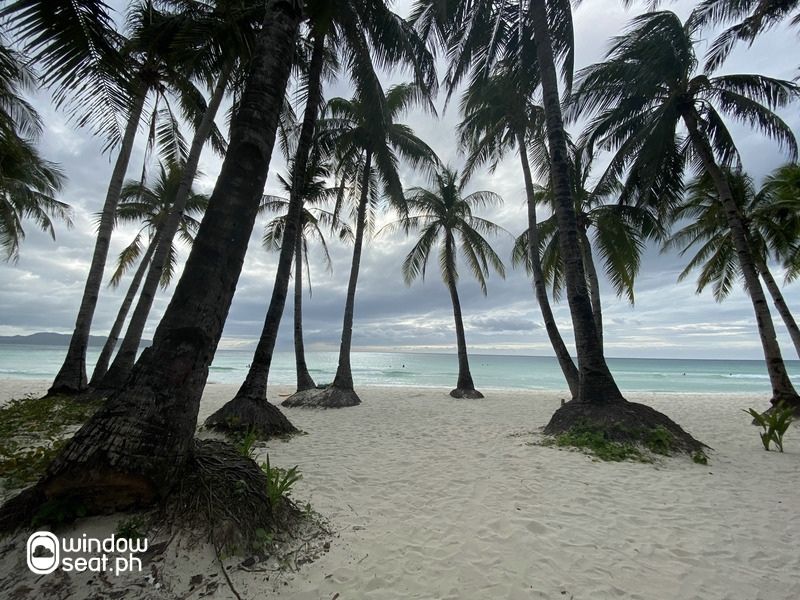 The Tourist QR Code given by Aklan Government via e-mail is the most important travel document you need to bring at all times during your travel. You will be required to present it at the check-in counter before your flight to Boracay, upon arrival at Caticlan Airport, at the seaport, hotel, and establishments around the island.
The island is strict about following safety protocols. Face masks and face shields must be worn at all times, including transfers around the island via e-trikes.
Loud music and parties are still not allowed in Boracay, and tourists must follow the 11 PM curfew. A 30-minute grace period is given to tourists, in case you won't be back to your accommodation by 11 PM.
Several checkpoints are also placed in different areas of the island, especially on the main road and beachside.
After Your Visit to the Island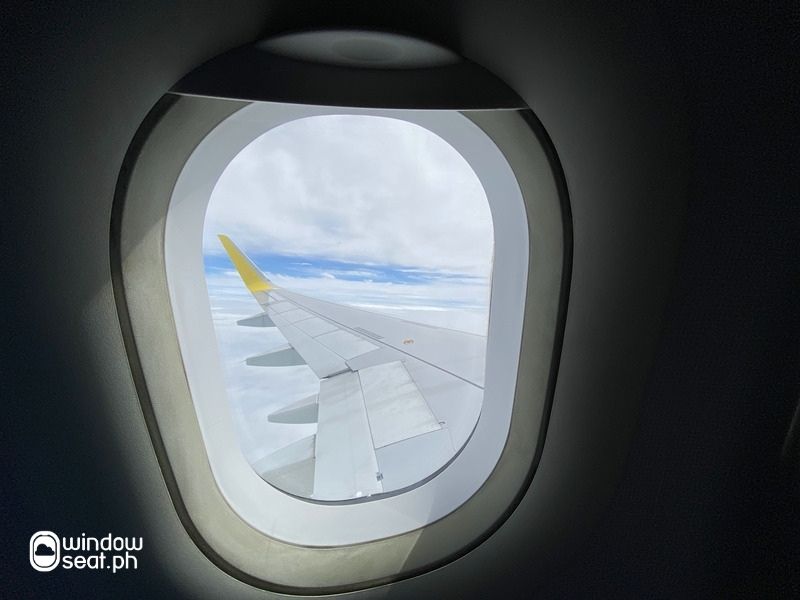 The Tourist QR code is still important even after your stay, which expires 12 hours from your accommodation checkout time. The government of Aklan uses it to ensure you're not extending or overstaying. Should your plans change and you decide to extend your stay, submit a new booking slip showing your extension to touristboracay@gmail.com before your checkout time.
Ready to plan your trip to Boracay? Check out available flights here.