Hooray! Cebu Pacific Brings Back CEB Super Pass This 10.10
Buy all you can, fly when you can for only PHP99.
by Kyzia Maramara | October 10, 2022
If you're planning to squeeze in a little bit of revenge travel before the year ends, we've got good news for you. The Philippines' leading airline, Cebu Pacific (PSE: CEB), gives everyJuan an early PASSko as it offers its one-of-a-kind travel voucher, the CEB Super Pass, from 10AM on October 10 until October 13, 2022.
For only PHP 99, one-way base fare, you can purchase an open-dated pass that allows you to travel across the airline's widest domestic network, via Cebu Pacific or Cebgo. The CEB Super Pass also allows you to buy all you can and fly only when you can, from October 17, 2022, until November 30, 2023.
"We are very happy to relaunch this well-loved product right in time for the holiday season. Now it's even easier to give your loved ones the gift of flexible travel, which they can use up until next year," said Carmina Romero, Cebu Pacific Director for Corporate Communications.
The CEB Super Pass is made available for Juans who place a high value on flexibility, convenience, and affordability for their travels, whether for leisure or business. This was initially launched in 2021 as part of its 25th anniversary celebration, in line with the airline's promise to keep making travel accessible for everyJuan.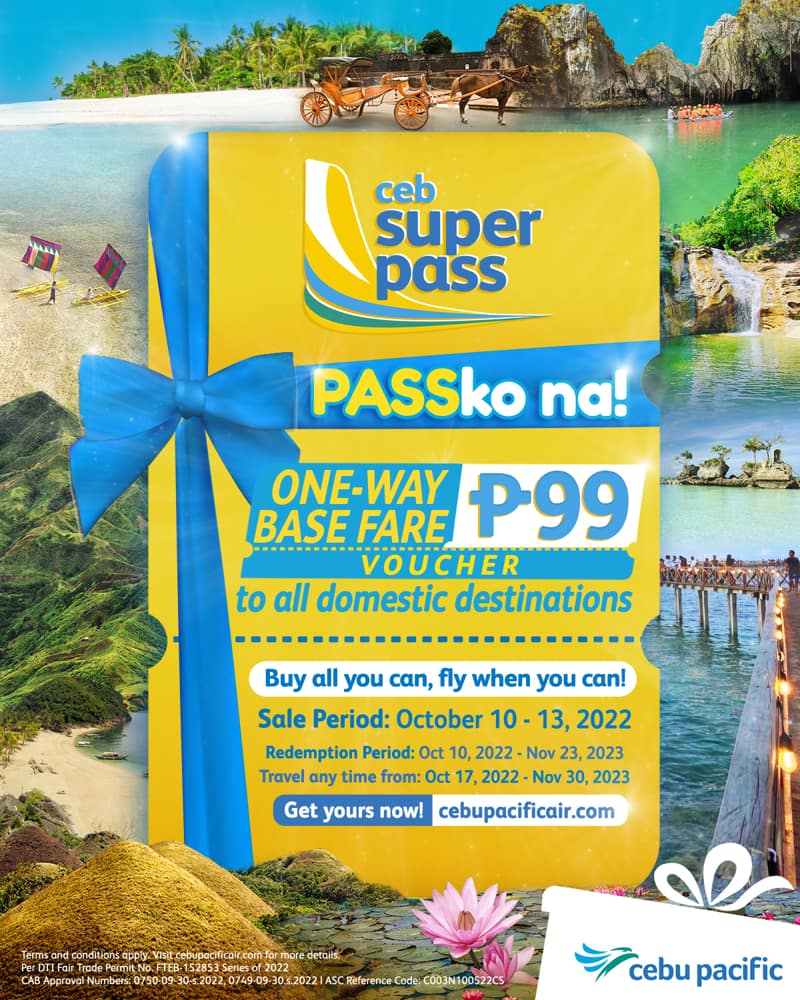 Passengers who have existing Travel Funds may also make use of their virtual wallets to stock up on these vouchers. Get your CEB Super Pass for yourself and for your loved ones online. For more information, check out the Cebu Pacific website.