Festival of Lights 2023 Features Countless Lights in More Areas of Ayala Triangle Gardens
The well-loved Filipino tradition brings brand new attractions.
by Ina Louise Manto | November 16, 2023
Ayala Land's much-anticipated Festival of Lights 2023: "Christmas Nights with Countless Lights" features more attractions set across more areas of Ayala Triangle Gardens!
This year, the Festival of Lights is set to be even more spectacular than ever before!  From its beginnings as a simple light show, Festival of Lights 2023 now delights with the classic light show and two new attractions—some even interactive! It also uses more areas of the Ayala Triangle Gardens than it ever has before. This year, embark on a magical Christmas journey at Ayala Triangle Gardens and explore a sprawling, illuminated wonderland in the garden set to captivate your senses and leave you in awe.
Kaleidoscope of Sight, Sound, and Light
The festival has three main attractions. The first is the traditional light show aptly named "Kaleidoscope of Sight, Sound, and Light", directed by Ohm David.  It features new lighting technology called "mappable LED lights" as well as interactive floor projections that will take your breath away. Watch as the floors of the garden burst into a stunning illusion of light and color, thanks to larger-than-life projections. Kids and kids at heart alike will have a blast chasing interactive images like playful butterflies flitting across the courtyard, animated by Kroma (formerly Globe Studios). 
The first medley entitled "Paskong Pinoy", tells the story of "Simbang Gabi" through a myriad of colorful lights and popular Filipino Christmas carols. The musical arrangement by Arvy Dimaculangan features Filipino familiar Christmas tunes, including songs by Maestro Ryan Cayabyab. The second medley entitled "Cosmic K-Pop Christmas", immerses the viewers into a trendy K-Pop concert right in the middle of Ayala Triangle Gardens. The music is an original composition by Jazz Nicolas and Mikey Amistoso. Sing and dance to trendy K-Pop music amid a spectacle of "dancing lights", guaranteed to put you and your loved ones in a celebratory spirit. The third medley entitled "Big Band Holiday" is reminiscent of an opulent era that brings to mind sparkling ballrooms with timeless sophistication. Viewers can bask in the Art Deco-inspired lights and projections while listening to iconic tunes that epitomize the golden age of music.
But that's not all! In addition to the breathtaking main light show at the courtyard, visitors can discover in curated installations other parts of the gardens, creating an experience that will truly immerse you in the magic of light.
Brand new attractions: Wish Upon a Light and Liter of Light
"What do you want for Christmas?" As you embark on a magical journey at the Ayala Triangle Gardens, you will encounter "Wish Upon a Light" at the northern portion of the gardens – a wishing pond where you can write your wishes on an interactive screen which is, in turn, flashed on a green wall to share with everyone.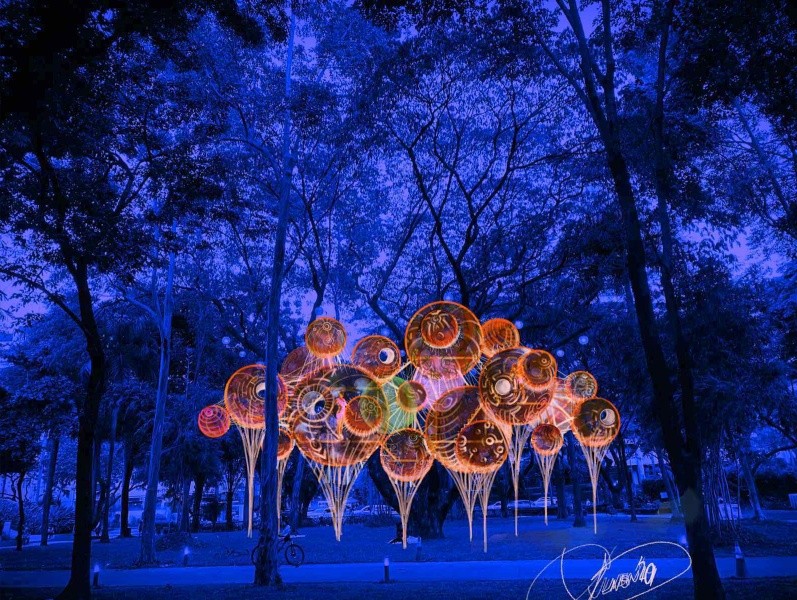 Festival of Lights 2023 also features an inspiring collaboration with Arte House, Leeroy New, and Illac Diaz. "Liter of Light" is an art installation featuring "Elemento" by Leeroy New. It not only adds a mesmerizing attraction to the "Christmas Trail" in the Ayala Triangle Gardens, but it also sheds light on an inspiring story about how recycled plastic bottles, water, and bleach brought 55 watts of light to classrooms that didn't have electricity. The installation is lit up using these "solar-powered, recycled water bottles", making it a must-see feature starting December 2.
When can we catch the Festival of Lights?
Bring your loved ones and catch the Festival of Lights 2023: Christmas Nights with Countless Lights starting this November 14, 2023, to January 14, 2024. The show plays every hour, with the first run at 6 pm and the last run at 10 pm.
Don't miss out on your chance to bond with the best people in your life over this nostalgic and heartwarming Christmas tradition. Come and create unforgettable memories immersed in countless lights at Ayala Land's Festival of Lights 2023 this holiday season.
For more updates visit the social media pages of Ayala Land (@ayalaland) and Make It Makati (@makeitmakati) on Facebook and Instagram.
Disclaimer: This is a press release and edits have been made by the WindowSeat.PH editorial staff. 
Looking for other places to explore? Join WindowSeat.ph's official Facebook community What's Your Trip PH for more recos!