Gear Up for The First Great Room Sale!
Book your next staycaytion here!
by Desiree Pore | May 23, 2018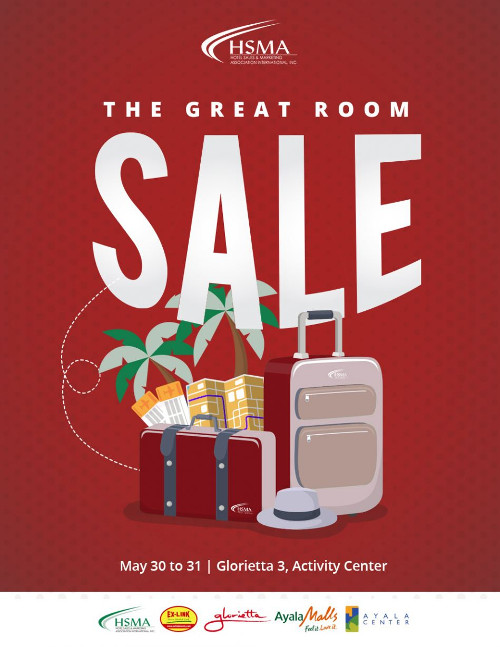 The Philippines is known for having lots of holidays, making it a long weekend for most. During these long weekends, people tend to plan out of town trips to maximize their r&r time they've been longing. But most of the time, planning these trips can just as be tedious. That's why most people prefer to just stay indoors and chill.
To help us with our staycaytion, the Hotel Sales & Marketing Association International (HSMA) will be holding its first Great Room Sale at the Glorietta 3 Activity Center on May 30 to 31! Get up to 60-70% discounts plus a room category update when you book at the following hotels and resorts: Ascott Residence, Astoria Hotels and Resorts, Azalea Hotels and Residences, Bayleaf Hotels, BE Resorts, Best Western Hotel (La Corona Manila and Oxford Suites), Bluewater Resorts, Citadines Apart'Hotel, Conrad Hotels, Dusit Thani Manila, Golden Phoenix Hotel Manila, Hotel 101, Island Cove, Las Casas Filipinas, Manila Marriott Hotel,  Manila Ocean Park, Pearl Farm Beach Resort, Phinma Microtel Hotels Inc., Roxaco-Vanguard Hotel, SEDA Hotels,  Siglo Suites, Sheridan Beach Resort, Somerset Serviced Residence, and Resorts World Manila.
You know you deserve that staycaytion, so go on and book that room!
The HSMA is also on the lookout for the forthcoming Virtus Awards, which recognizes outstanding sales and marketing practitioners who are role models and inspirations to current and aspiring players in the travel and tourism industry in the Philippines and Asia-Pacific.
Now on its fourth year, the Virtus Awards' categories include: Outstanding Sales and Marketing Associate; Outstanding Sales and Marketing Manager; Outstanding Sales and Marketing Leader; and Outstanding Marketing Campaign of the Year.
Nominees for individual categories must be regular employees who have served in a HSMA member-property for at least one (1) year, including the covered period of April 1, 2017 to March 30, 2018, and should have no past and/or pending administrative or criminal case.