I Went On A Food Trip In Hanoi With Locals – Here Are Our Favorite Bites
Local goodies!
by Andy Flores | March 21, 2019
The Vietnamese speak of their cuisine with a heightened sense of pride, and it's not hard to see why. Their food is not just delicious but also regarded as one of the most healthful in the world. So with a big appetite and an adventurous palate, I hit the streets of Vietnam's buzzing capital Hanoi with friends to taste the best bites that the city has to offer.
Bún Chả
They say that one's Hanoi tip won't be complete without having a taste of the city's signature dish, so there's no question why a bún chả place was on top of our itinerary – or should I say eatinerary? This type of minced pork barbecue (chả) that gained much fanfare from former American President Barack Obama and Anthony Bourdain is served with a generous helping of rice noodles (bún) and a steaming bowl of savory and mildly sweet dipping sauce. For extra flavor, a mix of Vietnamese herbs, vegetables, sliced chili, and minced garlic are provided on the side, so you could prepare your meal to your own liking.
Nem Cua Be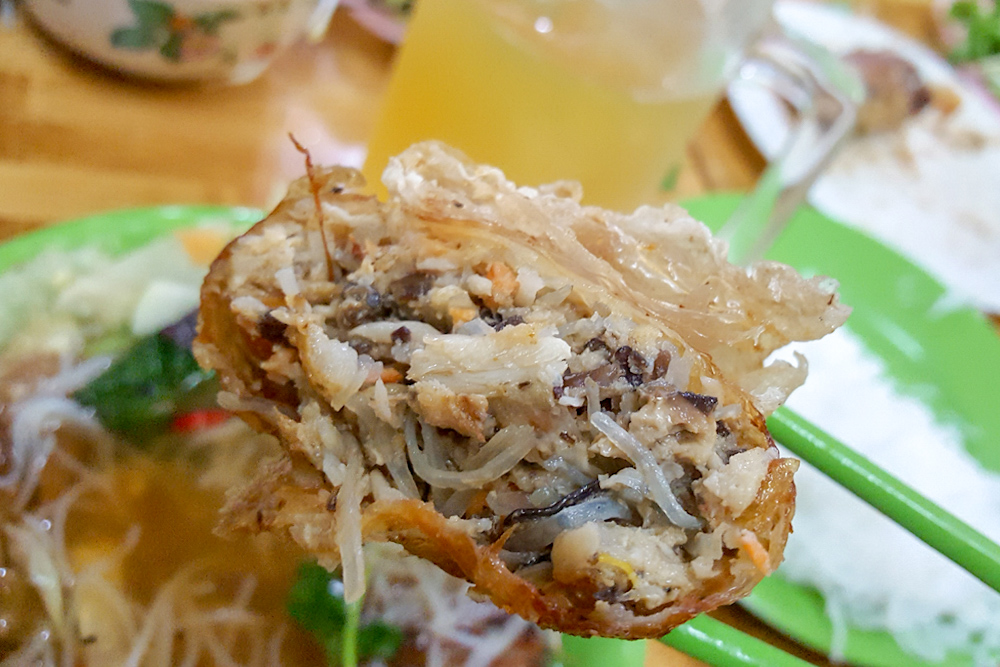 This specialty of Northen Vietnam that's often paired with bún chả is essentially a fried spring roll stuffed with crab meat, minced vegetables, and glass rice noodles. Feel free to dunk a roll in your bún chả's dipping sauce for an interesting play of flavors.
Nem Lụi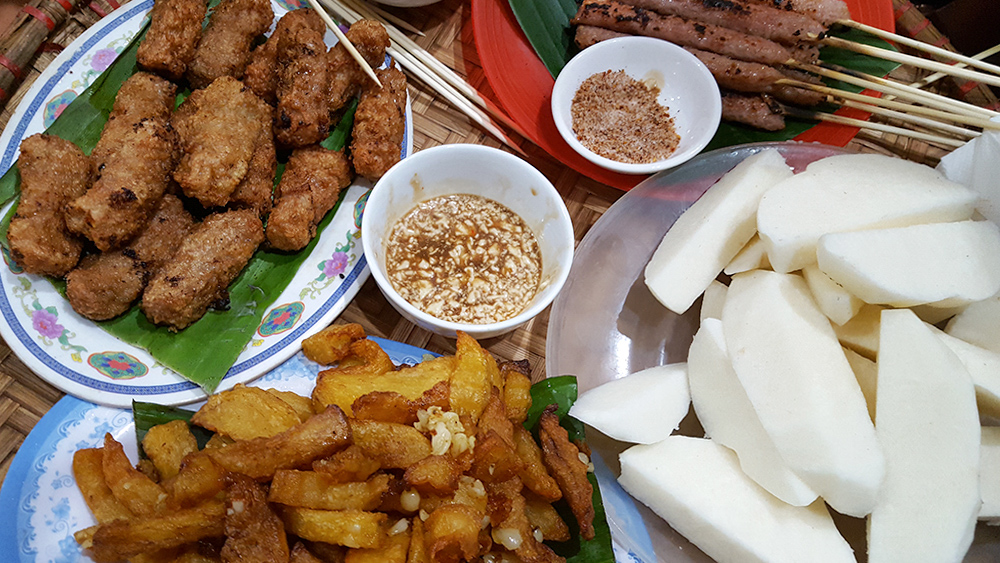 When I asked what the pink and slightly charred skewers on our makeshift stool-turned-table were, a friend just told me that they're "meat on a stick." With a bit of googling here and there (and more asking, as Google has a lot to show for "meat on a stick"), I found out that it's actually called "nem lụi," a type of minced pork skewer that is among Hanoi's most common street snacks. It's chewy, succulent, and subtly salty, making it perfect for dipping in chili or lemongrass sauces.
Nem Chua Rán
Because not everyone is a big fan of nem lụi, there's nem chua rán, another popular street food, which locals basically describe as the "fried version" of nem lụi – minus the skewers. Since it comes in short logs, it's meatier and also quite juicier.
Khoai Tây Chiên
If you love fries just as much as I do (a lot), then khoai tây chiên should be on your must-try list. Hanoian's take on the classic side dish is rather interesting. The fries are often fried with garlic, then the locals would dip them in soy sauce mixed with mayonnaise – a weird combination, yes, but it surprisingly works!
Ngao Xào Sả Ớt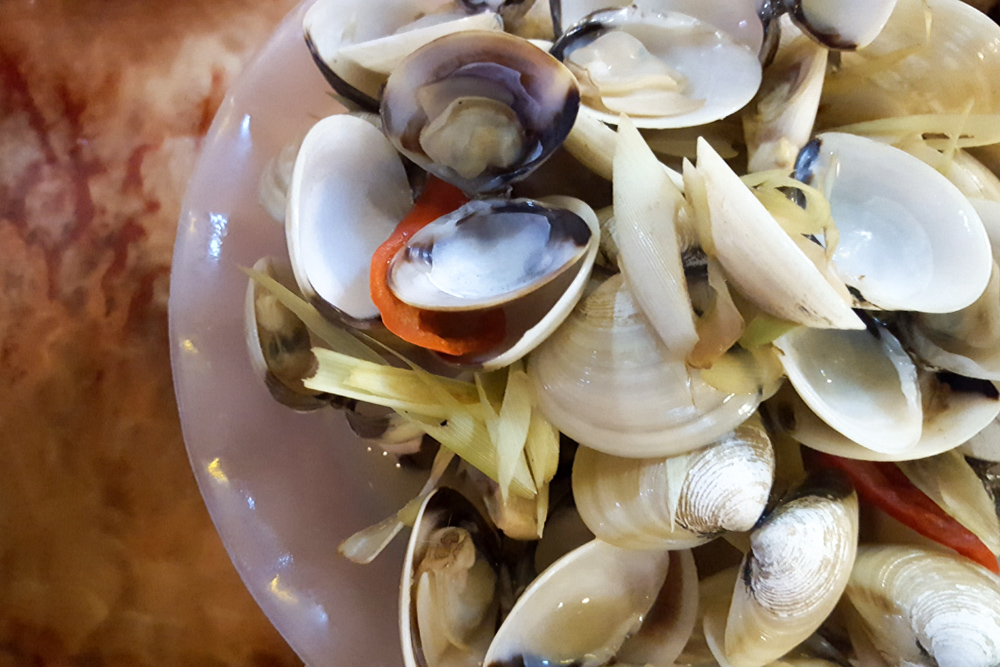 When grabbing drinks at Ta Hien, Hanoi's "Beer Street," there are countless accompaniments that you can order to go with your cold one. From mixed nuts to stir-fried noodles, the bars that line the city's most rambunctious district have something for everyone with different tastes to munch on. On our visit, we ordered some boiled peanuts and ngao xào xả ớt. Not your typical beer partner, the meat of these lemongrass-infused clams is chewy, briny, and lightly sweet.
Phở Cuốn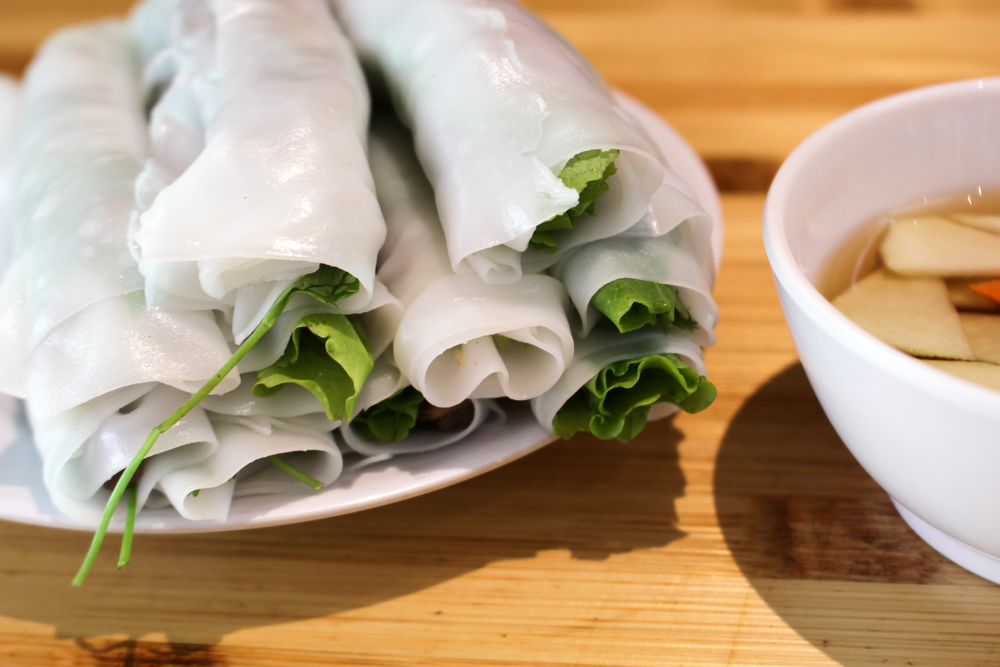 The famous rice noodle soup dish phở may have the world's attention, but in Hanoi, phở cốn has a special place in every local's heart. Legend has it that a phở vendor once ran out of broth, so instead of throwing out uncut noodles, he pressed the noodles into paper-thin pancakes, rolled them with beef and herbs, and sold the rolls to customers. Modest in taste, phở cuốn is served with a dipping sauce made with vinegar, fish sauce, water, sugar, and chopped garlic.
Phở Chiên Trứng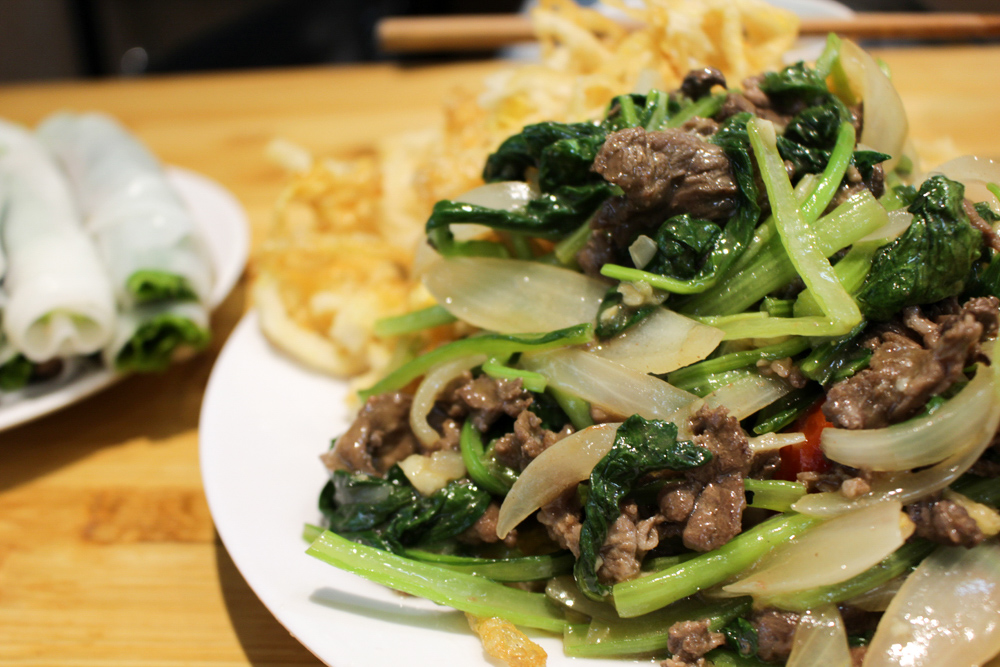 Another phở-derived dish in Hanoi is the phở chiên trứng. Crispy and seriously addictive, this phở omelet that resembles fritters can be enjoyed on its own, but most restaurants and eateries serve it with stir-fried beef and greens.
Bánh Mì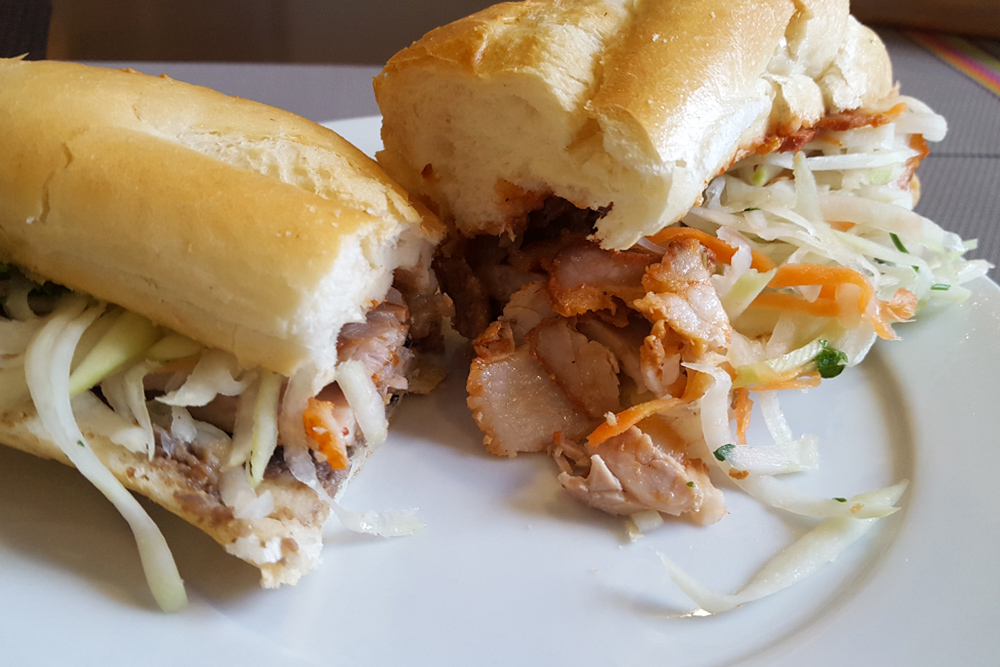 Really now, what's a trip to Vietnam without having a taste of bánh mì? These loaded short baguette sandwiches, stuffed with slices of meat, pickled vegetables, and herbs drizzled with savory sauces are sold everywhere in the city.
Bánh Tráng Trộn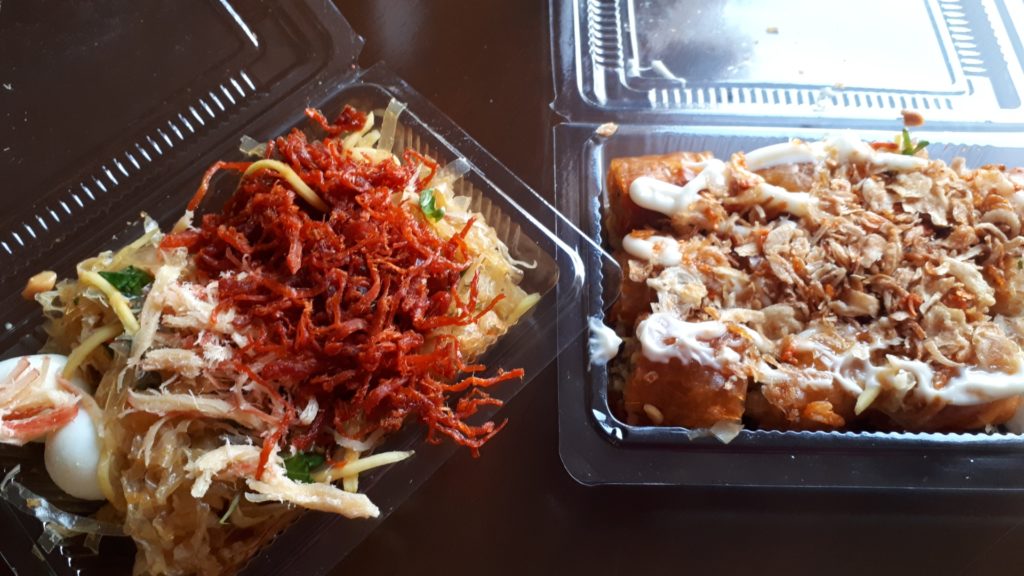 Bánh tráng trộn is probably the most exciting "salad" I have ever had so far. Made with an eclectic mix of bar snacks like beef jerky and dried squid, rice paper, quail eggs, green mango shavings, and herbs, this peculiar dish bursts with various yet well-balanced flavors and textures – the makings of a great gastronomic experience.
Trà Chanh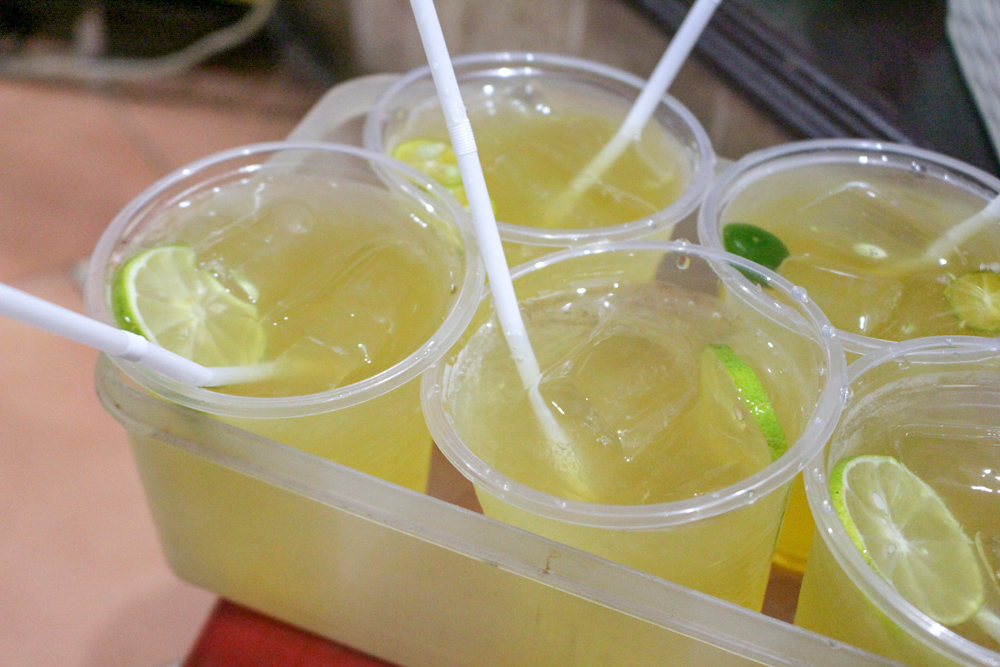 The Vietnamese love drinking tea with their meals. That's one of the many things I noticed while on this food trip. Water was almost never served to us, but tea was always on our table. My friends say that this is because tea aids in digestion better than water, which is a pretty valid reason. Among all the types of tea we had with our meals, though, my favorite is trà chanh or lime tea. A cooling and thirst-quenching drink that's especially popular with the younger crowd, it's made with the simplest ingredients (tea, water, lime, and honey or sugar) and is enjoyed with streetside snacks.
Cà Phê Trứng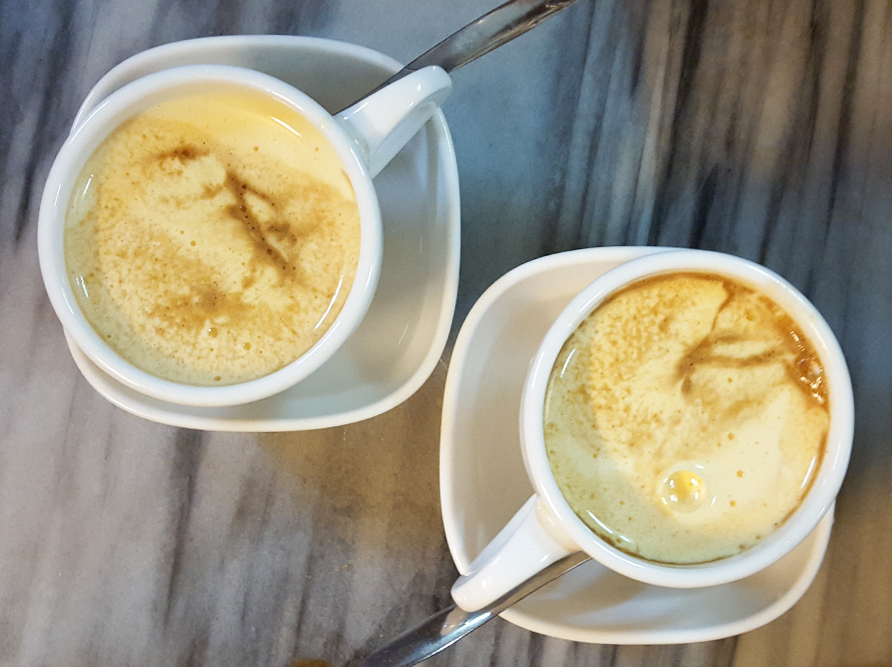 When we stopped by Café Giảng – home of Hanoi's famed cà phê trứng or egg coffee – I wasn't exactly the most thrilled to try their specialty. In the back of my mind, I thought, "Who would like to have a good cup of coffee with raw eggs in it?" While the idea was not at all revolting, it wasn't really that tempting either. Brushing my prejudices aside, though, I took a sip… then, another sip… and another sip. It was really good! The coffee was rich and the egg yolk (mixed with condensed milk) gave it a delightful froth that regular lattes don't have. Truly a mustn't-miss when in Hanoi.
Tào Phớ & Chè Khúc Bạch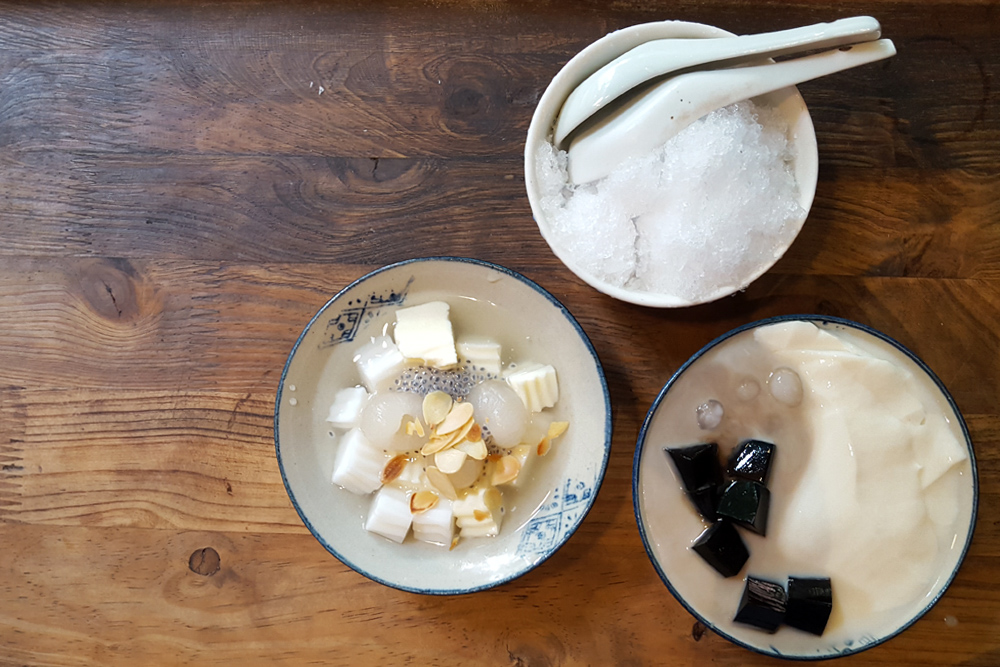 Tào phớ is Vietnam's version of the sweet tofu pudding. There's not much difference between our dear taho and tào phớ, which is why I liked it – it had a taste of home to it. We also had a bowl of chè khúc bạch or almond pannacotta with lychee, a sweet and refreshing dessert that's best mixed with crushed ice.
Kem Tràng Tiền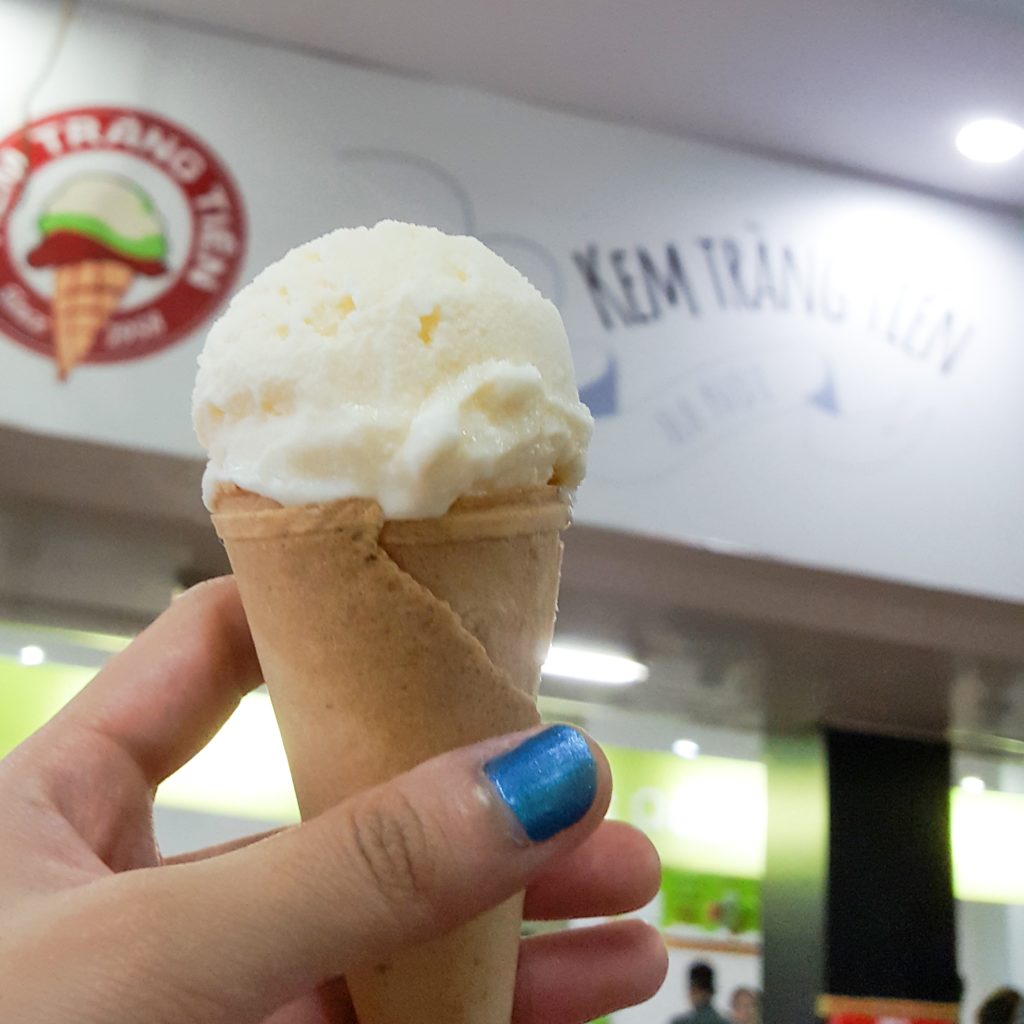 Oh, how could I forget Tràng Tiền Ice Cream? With a single scoop of pure joy, Tràng Tiền Ice Cream just paints a smile on your face. For over 60 decades, this iconic and beloved ice cream shop has served not just delicious ice cream, but also unforgettable memories. Ever-busy, Kem Tràng Tiền serves thousands upon thousands of ice cream to people of all ages from all walks of life daily. Some of their best-selling original flavors are chocolate, coconut, green bean, and rice.
What are your favorite Hanoi flavors? Tell us below!