YIKES: 2.5-Million-Year-Old Davao Cave Damaged by Illegal Cafe
Di ba dapat business processing pa lang ng permit, hindi na to umubra?"
by Kyzia Maramara | May 05, 2023
Cafes with unique concepts are, ironically, becoming more common. Coffee shops one-up the other to become Instagrammable must-visits and aesthetically pleasing new hangout spots for the hip crowd. But what happens when these go wrong, like the controversial cave cafe in Davao City? It sounds like the coolest concept but not at the expense of destroying million-year-old natural structures for viral Facebook posts and overpriced coffee. Here's why this cave cafe in Davao drew so much controversy.
Operations halted
Secret Peak Buda Cafe in the Marilog district of Davao City has a unique attraction: A cozy cafe inside a cave. One that authorities put an end to last April 29 for not having proper permits and for heavily damaging what Department of Environment and Natural Resources (DENR) Davao deems as a 2.5-million-year-old cave.
According to reports, the cafe's construction is designed to span areas outside and inside the cave. This means furniture and light fixtures — unnatural items that had no place being there — had to fit inside it. But before owners could do much more damage to nature, DENR along with the National Bureau of Investigation at Mines and Geosciences Bureau (MGB) pulled the plug on the business.
Damages to the cave
Reports said the cafe has already been open for a week with all sorts of furniture and cafe equipment kept inside the cave. Authorities discovered sawed-off stalactites and stalagmites as well as damaged flooring and walls.
They also found out that the business presented permits and documents from the government of Arakan Valley in Cotabato instead of Davao City.
Manager arrested; Owners are yet to be found
Police arrested the manager of the cafe, who hails from Manila, and charged him for breaking the National Caves and Cave Resources Management and Protection Act.
"Regardless kung manager or owner siya, they will be imprisoned for two years to six years and will have to pay P20,000 to P500,000," said NBI-Semro Regional Director Arcelito Albao in an interview.
And since the cave is part of the "ancestral domain" of those native to Matigsalog, the National Commission on Indigenous Peoples (NCIP) is also thinking of pressing charges for violating the Indigenous Peoples' Rights Act of 1997.
As for the actual owners, authorities are still tracking them down.
Netizens are upset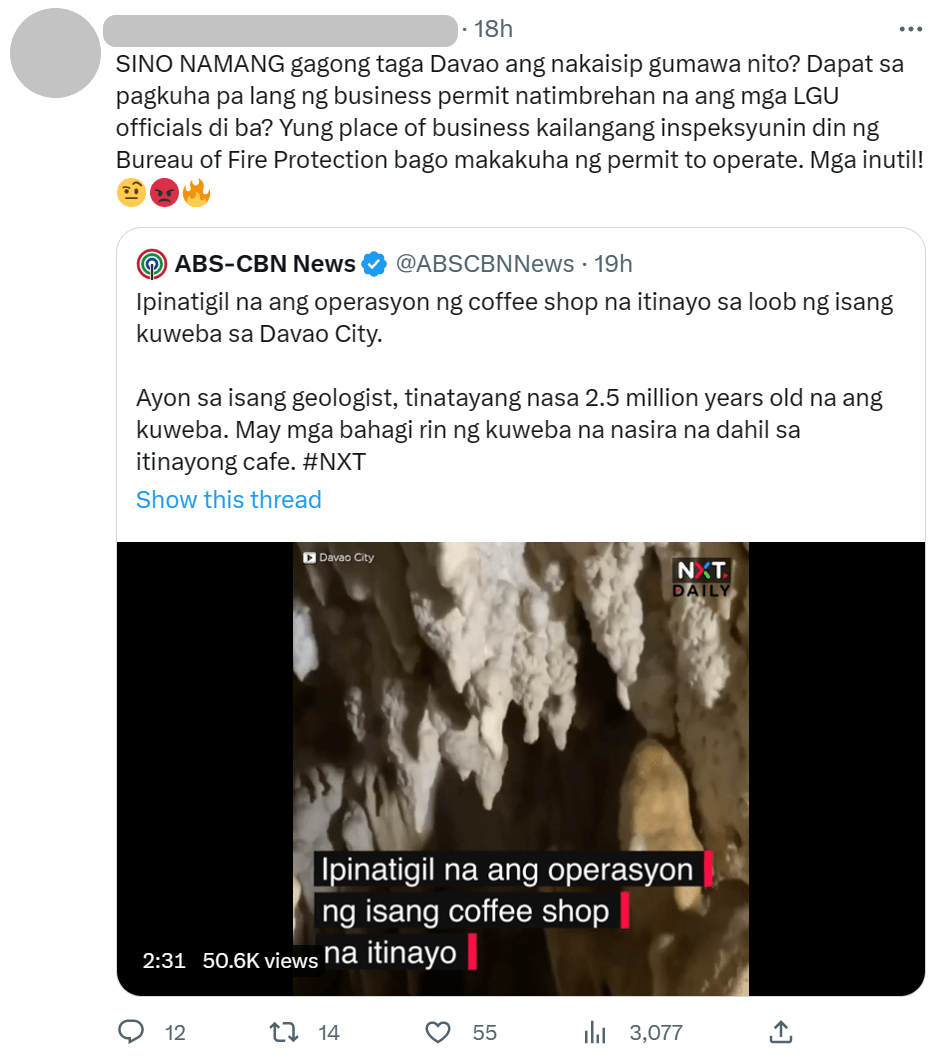 The news shocked many on social media. After all, while everyone is for unique cafes, aesthetics, and beautiful views, no one would agree that the best course of action is to modernize a million-year-old cave. Many are asking the same thing: Who issued the permits and gave the project a go signal?
"Sino namang gagong taga-Davao ang nakaisip gumawa nito? Dapat sa pagkuha pa lang ng business permit natimbrehan na ang mga LGU officials di ba? Yung place of business kailangang inspeksyunin din ng Bureau of Fire Protection bago makakuha ng permit to operate. Mga inutil!" said one Twitter user.
Another, reacting to the news of the manager's arrest, said: "Di ba dapat business processing pa lang ng permit, hindi na to umubra? Sanitation pa lang, health and safety, etc., hindi na dapat nakakuha in the 1st place. Hulihin nyo yung may-ari. Hindi yung mga nagtatrabaho dyan."
"This is crazy. Natural caves and caverns need preservation not to even be touched when touring these places else they get contaminated and start deteriorating," said another, worried about the cave's rehabilitation.
DENR regional executive director Bagani Fidel Evasco confirms that the cave does need time to "heal." According to him, "it would take a century to rehabilitate a specific area" after all the damages made by the cafe.
This article was republished with permission from 8List.ph.