Mike Enriquez's Most Memorable Reports Around the World
His legacy will continue to live on.
by Ina Louise Manto | August 30, 2023
Yesterday on August 29, 2023, award-winning and veteran broadcast journalist Mike Enriquez passed away at age 71. Enriquez became a household name for his work in radio and television, becoming an integral part of the Filipino experience. Wherever there's news, his is one of the voices that we were bound to hear, and his death has left a void that won't easily be filled.
As we bid goodbye to a legend and honor his legacy, we look back at some of Mike Enriquez's most iconic coverages around the Philippines and the world.
Iraq (2003)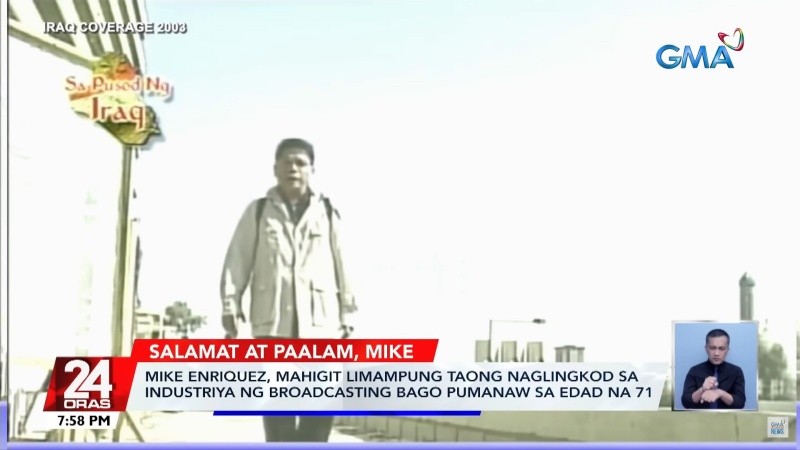 Journalists dive head-first into the harshest conditions. As a veteran, Mike Enriquez has had his fair share of these challenging coverages, even covering war zones.
"Lahat kami mamamahayag. Ang trabaho namin, ipaalam sa buong mundo ang katotohanang nangyayari dito sa loob ng Iraq," Mike Enriquez said in his on-ground coverage in Baghdad before the war broke out. The six-man news team's documentary, Iraq – In the Navel of War, then won a Silver Camera Award in the 2004 US Film and Video Festival.
Tacloban (2013)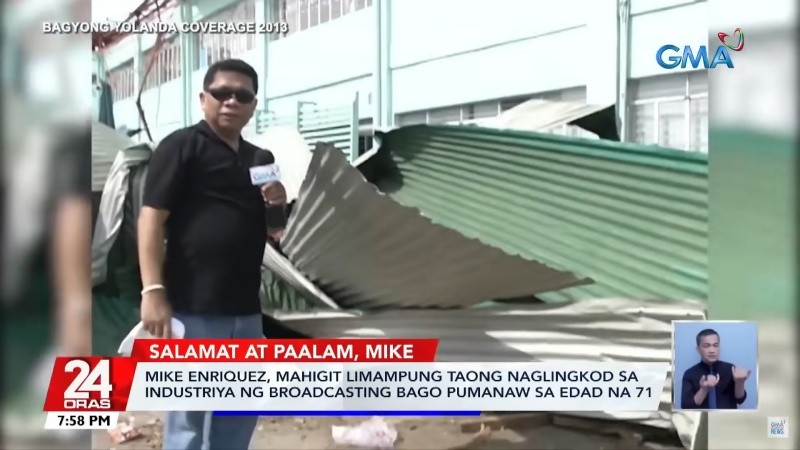 Internationally known as Typhoon Haiyan, Super Bagyong Yolanda was one of the most devastating cyclones recorded, with over 6,300 fatalities. Together with his team, Mike Enriquez was one of the journalists who reported on the onslaught of the super typhoon globally. He visited Tacloban, Leyte thrice to report on the story.
Cagayan De Oro (2011)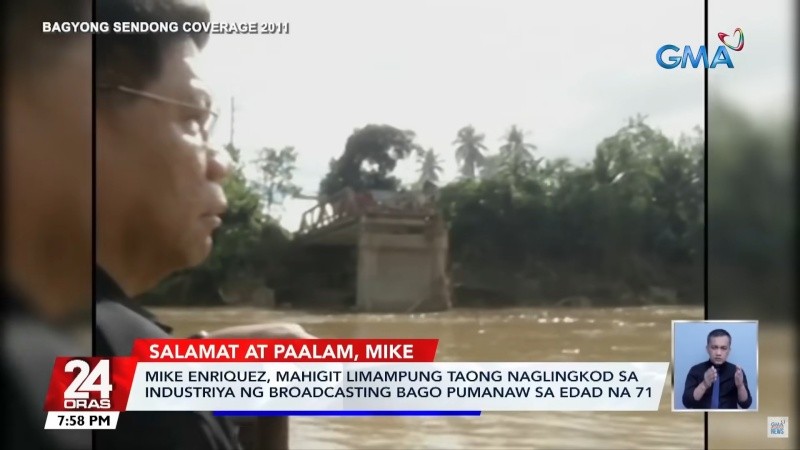 For residents of Cagayan De Oro, the night of December 16, 2011, brought devastating events that would change their lives forever. Bagyong Sendong, internationally known as Washi, caused billions of property damage and over 1,200 deaths. Houses, buildings, and even bridges were wiped out, leaving residents with nothing.
Marawi (2018)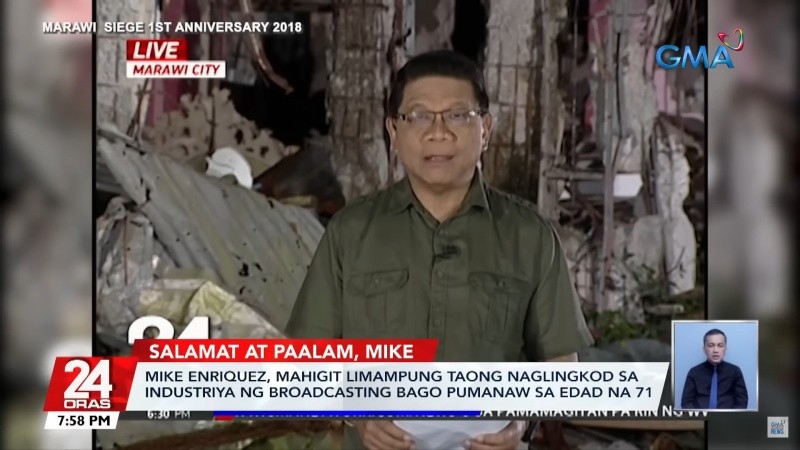 A year isn't enough to recover from the Marawi siege, Mike Enriquez reported in 2018. (The Battle of Marawi in 2017 was an armed conflict between the Islamic State [IS] and Philippine government security forces, which amassed a death toll of over 1,200.)
The Vatican (2005)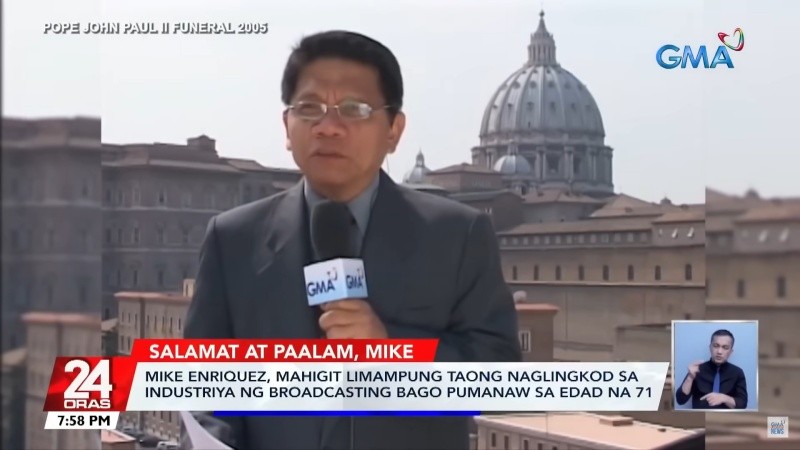 A pope's death is an event the entire world would keep their eyes on, especially citizens of countries whose populations are largely Catholic like the Philippines. Mike Enriquez was one of the thousands of journalists who flew to the capital to cover the funeral of Pope John Paul II in 2005.
Quiapo (2017)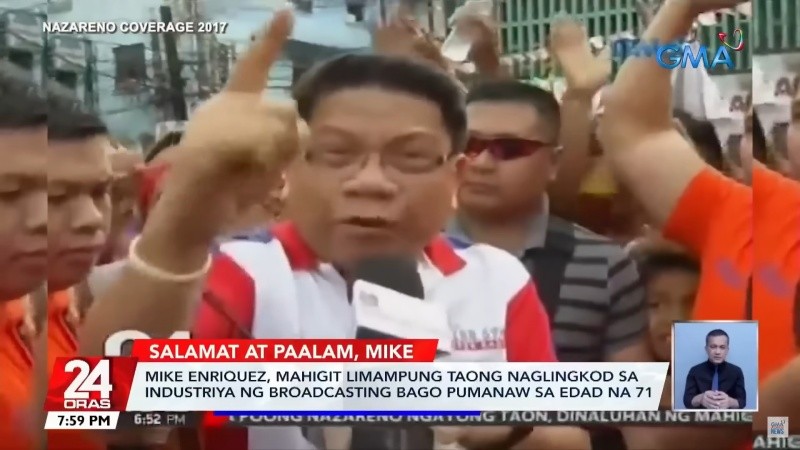 Speaking of religious events, The Feast of the Black Nazarene is an annual event that gathers millions of devotees to the streets of Manila for the hours-long Traslación. "Viva!" Mike Enriquez cheered as he blended into the sea of devotees in 2017.
Mike Enriquez began his career in 1969 as a radio broadcaster at the Manila Broadcasting Company.
(Photos) Safe and Sound: Life Goes on in Philippine Conflict Zones
(Photos) Safe and Sound: Life Goes on in Philippine Conflict Zones
Joser Dumbrique | Sep 12, 2016
Looking for other places to explore? Join WindowSeat.ph's official Facebook community What's Your Trip PH for more recos!