BOOKMARK: Feel Closer to Nature at These Camping Sites in Rizal
Bookmark for the next long weekends.
by Ina Louise Manto | July 31, 2023
Is the adventurer within you might long for a getaway in nature? If you feel like you need to escape the city for a night or two but don't want to go far, Rizal's one of the best destinations to go to. From alfresco cafes to relaxing Airbnbs, the province near the metro makes the perfect venue for short getaways. Check out these camping sites in Rizal:
Nature Escape Camp
Location: S. Dela Carzada St. Brgy. Daraitan, Tanay, Rizal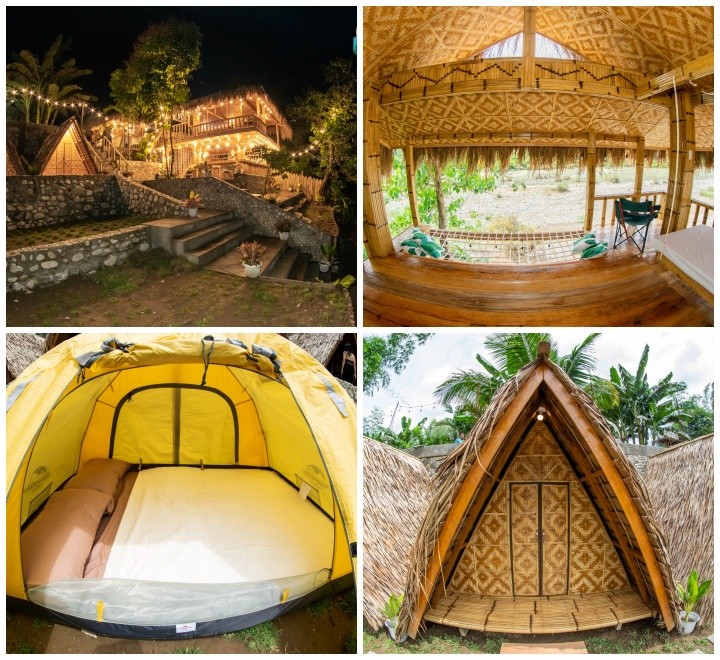 Whether you want to rough it out or camp in style, Nature Escape Camp will let you experience both. They offer camping tents and A-frame huts in a riverside setting, giving guests the relaxing sounds of flowing water as their background noise. Even their camping tents are comfy too, as bedding is already provided. There's also a shared kitchen at Nature Escape Camp, so there's no need to worry about ordering meals in the remote setting.
Rates start at P3,200 for an overnight stay. Visit their Facebook page for more information.
Camp Jony
Location: Sito Binayoyo, San Jose, Antipolo, Rizal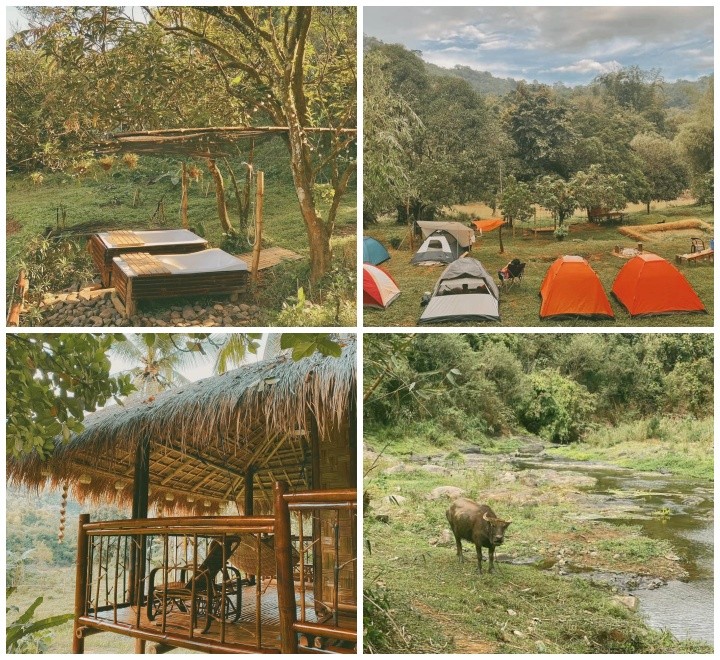 Live out your farmer dreams at Camp Jony, a rural campsite set on farmland. They offer tents pitched on grassland and huts made of bamboo that will let you appreciate the cool forest breeze. During your stay, you'll be surrounded by trees, farm animals, and crops, allowing you to experience the slow provincial life. There are lounging areas here too, from hammocks and sunbeds to tables near the stream.
Rates start at P2,500 for a Casa. Visit their Facebook page for more information and bookings.
Camp Lupita
Location: Mayagay 2, Cayumbay, Tanay, Rizal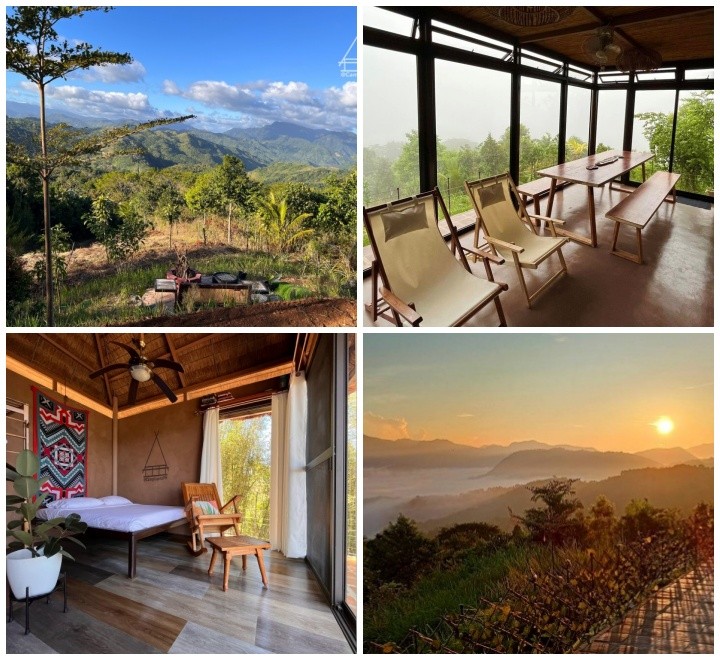 If you're looking for a more private space, head to Camp Lupita where you might wake up to a stunning sea of clouds during your stay. It's set on a hill overlooking scenic horizons, with huge glass windows that will let you enjoy the view even indoors. The camp is also perfect for groups as it accommodates up to 12 guests, who will sleep in two bedrooms and more bedding in the living room. You'll still be connected to the digital world when you stay here – they have a stable WiFi connection for sharing photos and streaming your favorite movies on Netflix.
Rates start at P8,043 per night. Book on Airbnb.
Yugto Campville
Location: Brgy. Cayumbay, Tanay, Rizal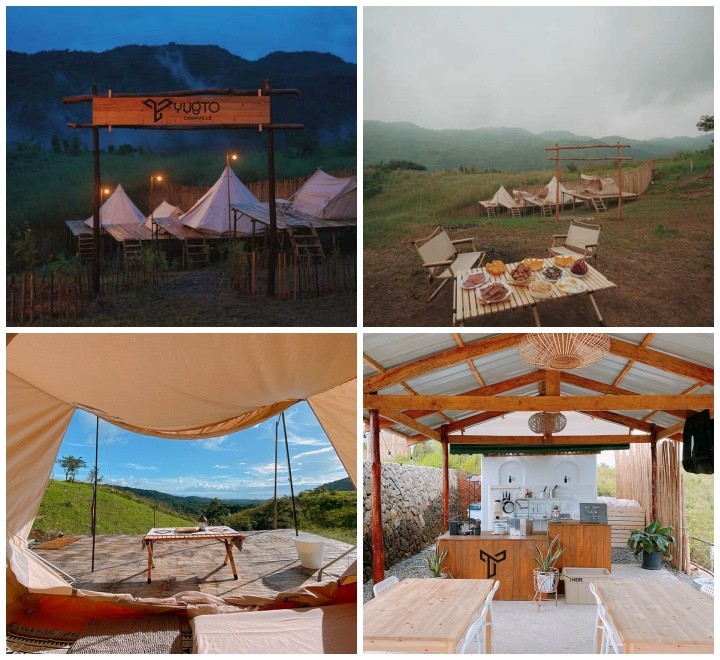 Planning a unique and intimate celebration? Take your closest friends to an off-grid camping experience and rent this idyllic space exclusively. No camping gear, no problem. All you need is to show up and embrace the scenic mountain views. There are three tents good for 12 pax at Yugto Campville. You can also prepare your meals in the fully-equipped kitchen. At night, stay warm and toasty by the bonfire or binge-watch movies at the outdoor cinema.
Rates start at P8000 per night. Book on Facebook.
Kaingin Campsite
Location: Sitio Dagat-Dagatan, Brgy. Cuyambay, Tanay, Rizal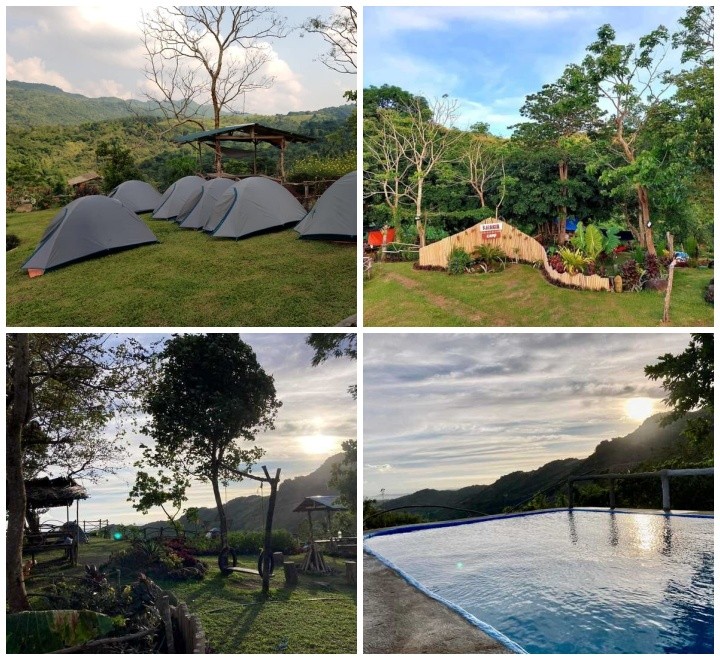 Here's the camping experience that's easy on the pockets. If you've got the gear for camping, Kaingin might be the next campsite you'll add to your favorites. You only need to pay an entrance fee and a P50 pitching fee for an overnight stay. This small fee also gives you access to the rest of the camping grounds, including photo spots surrounded by blooms and a swimming pool. If you don't have a tent, you can also rent one for P400, which can fit 4 pax inside.
Rates start at P250 for an overnight stay if you're bringing your own tent. Find more information on Facebook.
Camp Morri
Location: Sitio Payagwan Kaysakat, Brgy. San Jose, Antipolo, Rizal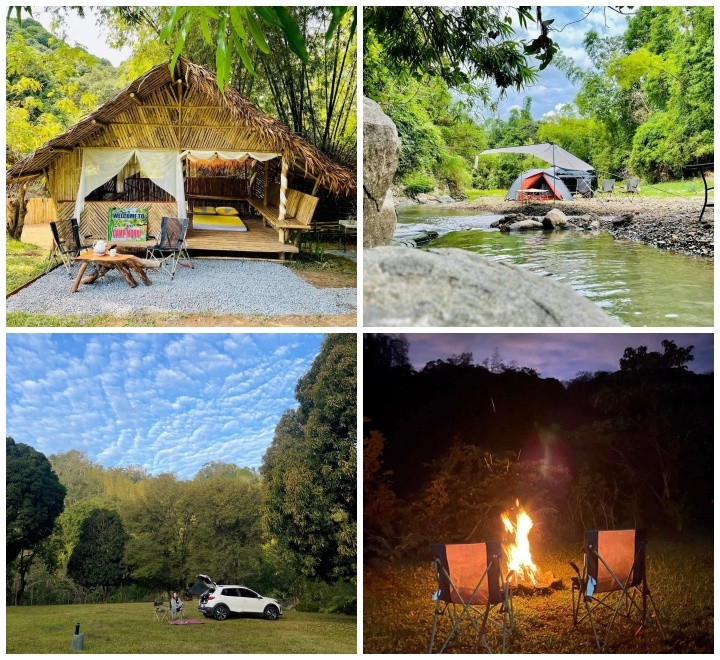 Camp Morri has enough space for every type of camper. Pitch your own tent, use your car for camping, or rent the entire grounds exclusively – these are the options this idyllic campsite offers. Plus, they're pet friendly too so no adorable furbaby gets left behind at home. They also have kubo stays if you wish for a more comfortable stay.
Overnight camping rates start at P300 for adults. Find more information on Facebook.
Camp N
Location: Daraitan, Tanay, Rizal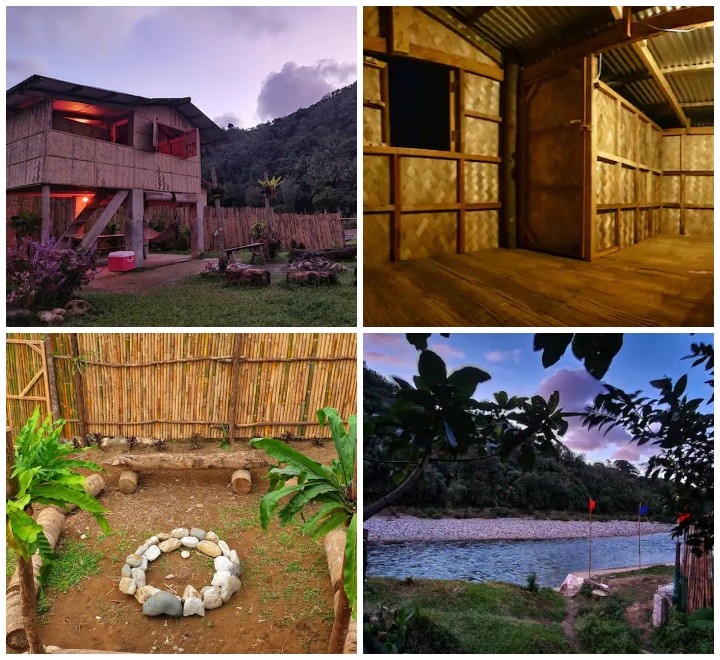 Here's to first-time campers who wish to have their own space. At Camp N, you'll get to enjoy a vast riverside camping site exclusively. The 350sqm lot has space for pets to run around, a two-story kubo, a private bathroom, and a bonfire pit. You can set up a picnic spot during the daytime too. If you're feeling extra adventurous, the host can also arrange a Tinipak River and Rock Formation tour.
Rates start at P3,857 per night. Book on Airbnb.
Lambingan Hills
Location: Narra Street, Brgy. Cuyambay, Tanay, Rizal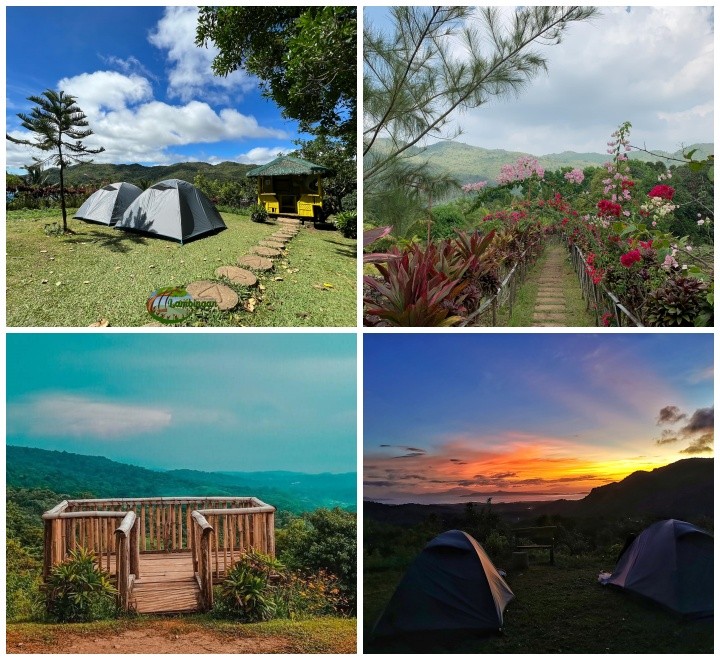 Be ready to swoon over the view Lambingan Hills offers to its guests. This idyllic campsite was previously a private vacation house for the owners until it opened to the public in 2018. Now, visitors can choose between kubo and tent stays. Lambingan Hills also have day tours, where visitors have access to the entire camping grounds, such as flower fields, a public pool, and unique photo spots with the mountains as background.
Rates start at P500 per night for tent pitching, exclusive of the entrance fee. Find more details on Facebook.
Casa Del Rio
Location: Daraitan Road, Tanay, Rizal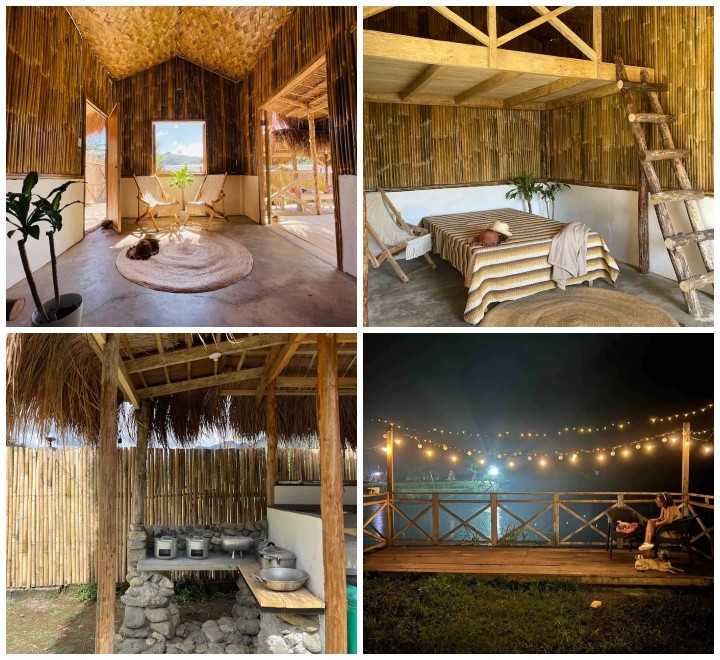 Here's the ultimate camping experience for the barkada, your angkan, or even your favorite coworkers. Casa Del Rio accommodates up to 16+ guests: it has four beds and camping tents outside, which are already included in the overnight fees. The 600 sqm lot is by Agos River, which is perfect for cooling off on hot and humid days. At night, set up a bonfire, grill your fave ulam, or spend time stargazing at the wooden deck by the river.
Rates start at P6,500 per night. Book on Airbnb.
Abong Mi Kubo & Camp
Location: Sitio Binayoyo, Brgy. Calawis, Antipolo City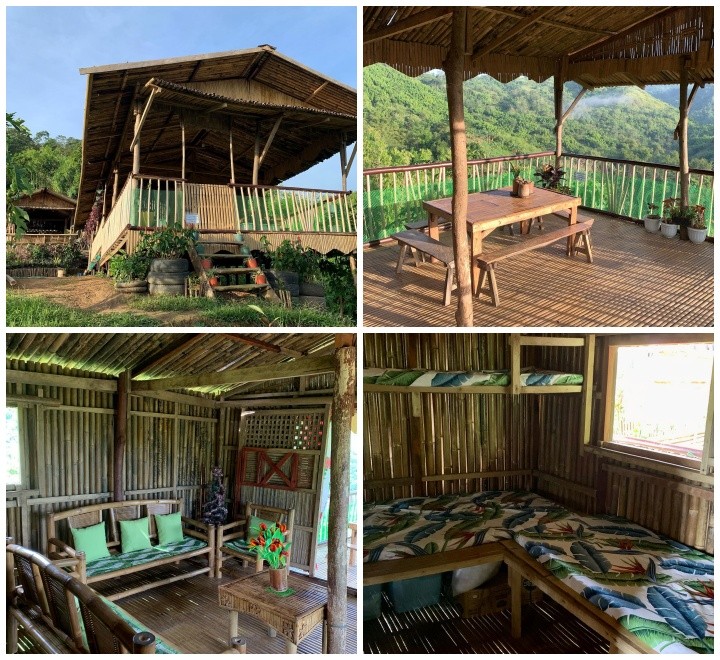 Go back to basics and bask in the provincial life at the Family Kubo at Abong Mi Kubo & Camp. Think of stargazing before sleeping and waking up to chilly weather and the best-unobstructed view of surrounding forests when you spend a night here. The relaxing kubo accommodates up to six guests and your pets are welcome here too. One of its best spots is the veranda where you can share a filling meal with loved ones while staring at the breathtaking view.
Rates start at P6,116 per night. Book on Airbnb.
BOOKMARK: Feel Closer to Nature at These Camping Sites in Rizal
BOOKMARK: Feel Closer to Nature at These Camping Sites in Rizal
Ina Louise Manto | Jul 31, 2023
Looking for other places to explore? Join WindowSeat.ph's official Facebook community What's Your Trip PH for more recos!