Have Coron's Lagoons as Your Front Yard at This Unique Floating Bahay Kubo
The complete off-the-grid experience in paradise.
by Ina Louise Manto | July 19, 2021
Ever dreamed of waking up on a dreamy island and going snorkeling the moment you wake up? Your dream Coron getaway can be closer than you think when you stay at Paolyn Houseboat. Whether it's your first time visiting Coron or nth time falling in love with the island, there's no better to make the most out of your getaway than this accommodation.
Paolyn Houseboat
When in Coron, the accommodation you'd find would probably be in the town area as it's just simply impossible to build hotels on sharp limestone. But Paolyn Houseboats says otherwise, as they've successfully become the only accommodation in Coron Island, and they might give you the most unique stay yet.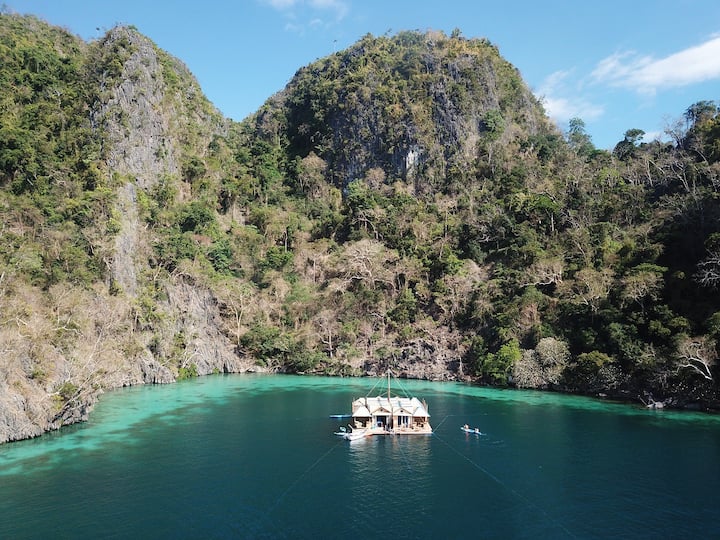 Nestled in a private lagoon just a few meters from Twin Lagoons, Paolyn Houseboat will let you have Coron's crystal clear waters, rich marine life, and towering limestone formations as your front yard. Featuring materials you'd typically find in a traditional bahay kubo, this accommodation is completely eco-friendly.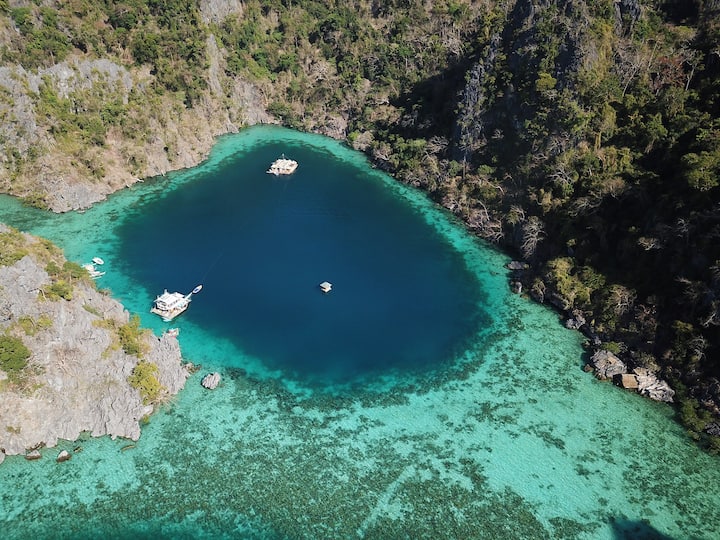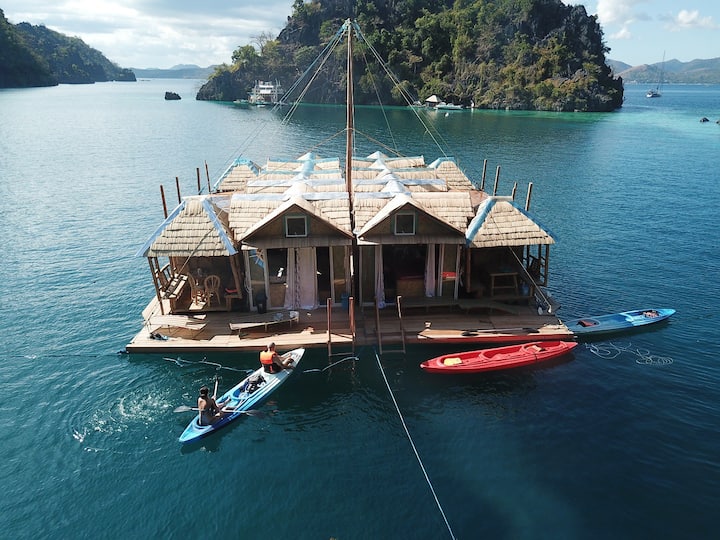 The place offers the off-the-grid experience in the best possible way. Since it's the only accommodation by Coron Island, the team behind this unique home ensures not to disturb the natural beauty of its surrounding landscape. It's totally independent and runs on 10kw solar panels, 6000 ah of batteries, 6kw inverters, and 24-hour electricity and water. All the discharge from the rooms, bathrooms, kitchens, etc. is held in holding tanks transferred daily to dedicated service boats. They're doing their part in maintaining the pristine waters; be a responsible traveler too!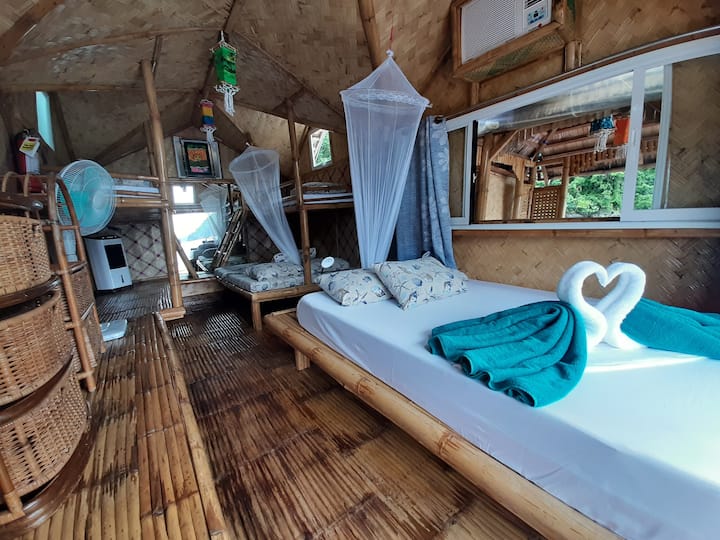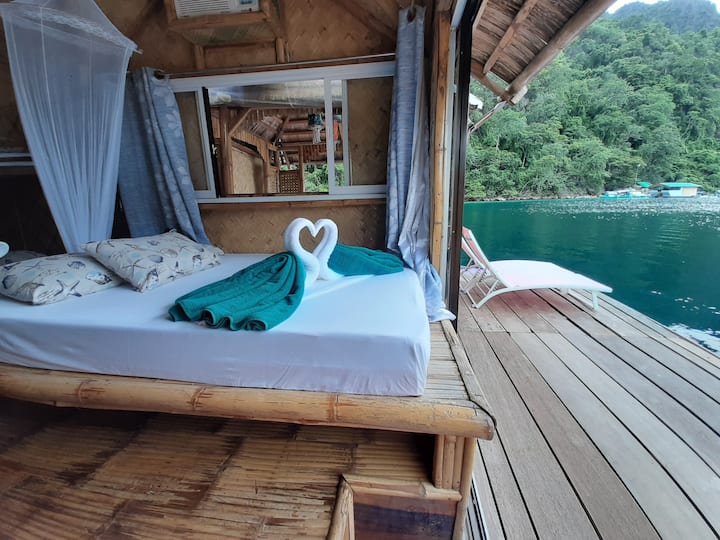 The Bamboo Houseboat has four private rooms, all of which have their own private cottage, bathroom, and two platforms. You can literally jump to crystal clear waters the moment you wake up! They also have sunbeds, perfect for soaking in the sun or treating yourself to a relaxing massage. Snorkeling gear and kayaks are free of use during your stay.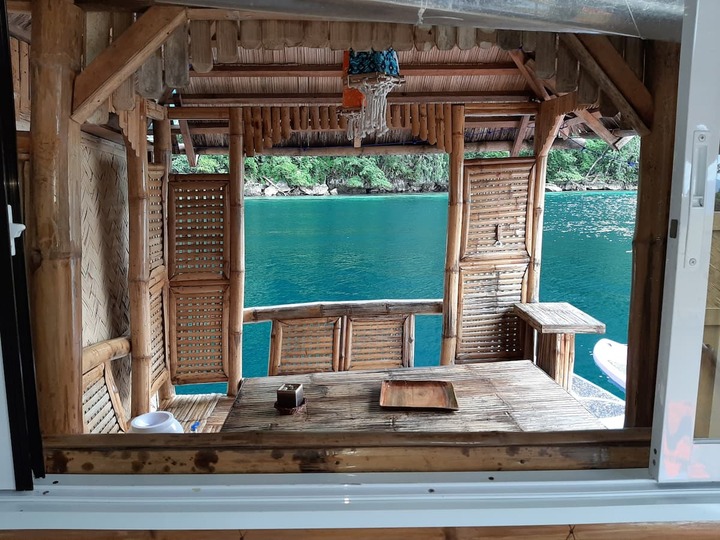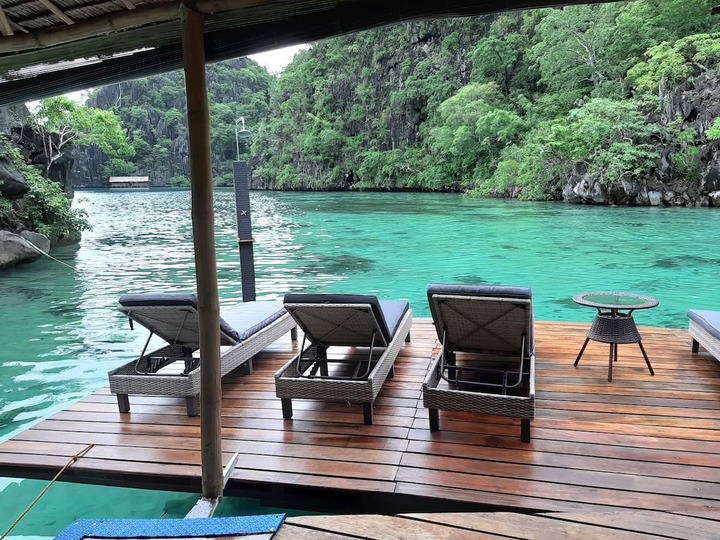 Feeling adventurous? You can rent a speedboat to explore neighboring lagoons on your own, which you can rent for an additional fee. At Paolyn, going island hopping will never get this easier — you start and end exploring right in the middle of one of the islands' lagoons.
View this post on Instagram
Paolyn Houseboat also has a restaurant. Having your meals couldn't be more scenic than this.
View this post on Instagram
Sure, fancy accommodations make you feel a little extra boujee but Paolyn Houseboat is the testament that you don't need to have the fanciest rooms when you get front row seats at marveling at the world-class beauty Coron has to offer.
Rates at Paolyn Houseboats start at P17,000 per night on Airbnb.
Book your stay here.