You Can Visit These 'Parasite' Filming Locations IRL
Visit these locations for that 'Parasite' themed adventure.
by Andy Flores | February 10, 2020
After bagging the prestigious Palme d'Or at the Cannes Film Festival last year—a first for a South Korean film—and sweeping more trophies at the Screen Actors Guild Awards (Outstanding Performance by a Cast in a Motion Picture) and at the Golden Globes (Best Foreign Film) in January, the Bong Joon-ho-directed blockbuster hit Parasite has made history once again today at the 92nd Academy Awards as the first non-English-language film to ever win Best Picture. It also received the Oscars for Directing, International Feature Film, and Original Screenplay.
Billed as a dark comedy-thriller, Parasite follows the financially-challenged Kim family that seemingly strikes a goldmine when their eldest son Ki-woo (Choi Woo-shik) lands a high-paying job as an English tutor at the wealthy Park household. A string of well-manipulated events then creates a series of fortunes for the impoverished family, but just.
Among the biggest draws of the film are the settings that perfectly capture the stark differences between the rich and poor. While the iconic house of the Park family is built on a set, there are a couple of memorable places featured in the film that you can actually visit in Seoul.
Ready to embark on your Parasite-themed Tour? We rounded up the top Parasite filming locations you can hit. (Warning: Minor spoilers ahead!)
Sky Pizza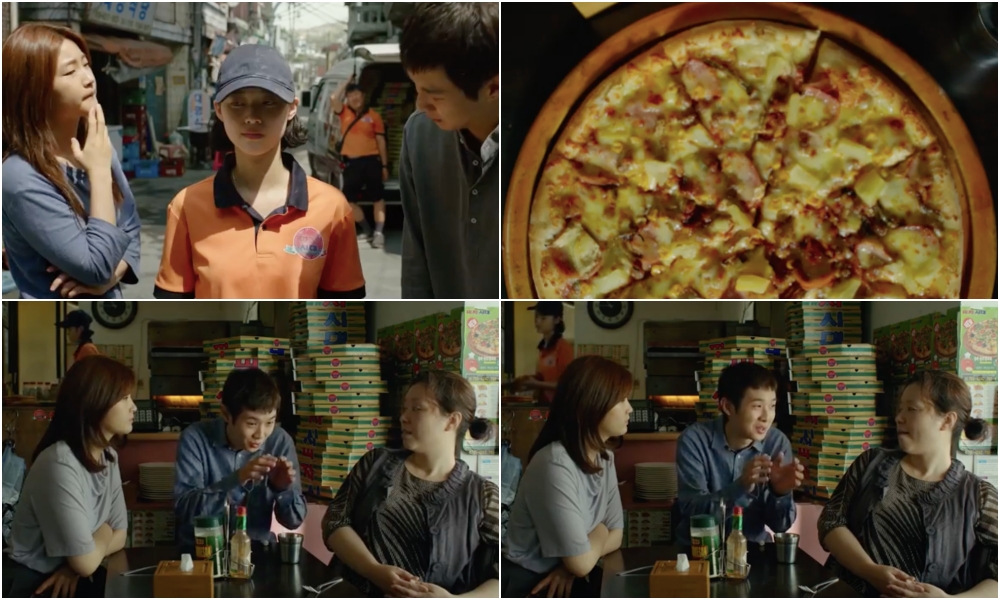 The Scene: The Kim family makes a little extra income by folding pizza boxes for a fictional pizza restaurant called "Pizza Generation" where they later share a meal together. In the film, Ki-woo even uses his charms to seek employment from the restaurant staff who was complaining about some partially-folded boxes that the family turned over.
The Place: What is called Pizza Generation in Parasite is known as Sky Pizza in real life. Having been around for 17 years, the family-run pizza restaurant is a neighborhood favorite that has since attracted even more customers thanks to its cameo in the movie. Fans of the film can also check out some prop pizza boxes that are currently on display in the shop. And if you're wondering what you should order on your visit, their Rich Gold Sweet Potato Pizza is one of their bestsellers.
Address: 86, Noryangjin-ro 6-gil, Dongjak-gu, Seoul
Nearest Subway Station: Noryangjin Station, Exit 6
Doijissal Supermarket
The Scene: This is where the luck of the Kim family began to take a turn. In the film, Ki-woo and his friend Min-hyuk (Park Seo-joon) were having a drink, when Min-hyuk suggested that Ki-woo takes over his English tutoring duties while he's studying abroad.
The Place: Appearing in the film as Woori Supermarket, Doijissal Supermarket is a quaint neighborhood mart with an old-time charm. Fans might not find the outdoor seating area with the oversized umbrella that was seen in the film, but the store is a must-visit nonetheless. It's also a great place to pick up and try some classic Korean snacks.
Address: 32, Songijeong-ro, Mapo-gu, Seoul
Nearest Subway Station: Chungjeongno Station, Exit 6
Staircase in The Kim Family's Neighborhood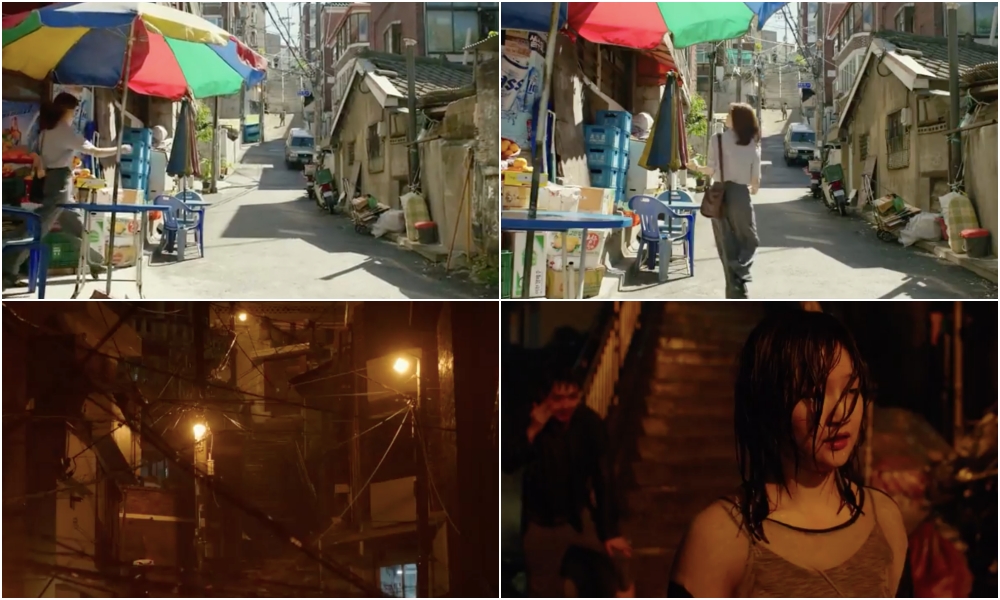 The Scene: There are a lot of staircases featured in Parasite, but avid fans will easily recognize this particular set of stairs from the scene in which Ki-woo's younger sister Ki-jeong (Park So-dam) makes her way to the Parks' house as an art teacher. In the sequence, she is also seen picking up a peach at Woori Supermarket (Doijissal Supermarket) along the way as part of a ploy to kick out the affluent family's housekeeper (Lee Jung-eun).
The Place: This staircase is located in an actual residential area, so it's highly encouraged that you avoid making a disturbance on your visit. Take some pictures, click a few selfies, and go. Nearby places of interest include Seosomun Park, a historic shrine developed to commemorate Korean Catholic martyrs, and the furniture complex in Ahyeon-dong.
Address: 3, Songijeong-ro 6-gil, Mapo-gu, Seoul
Nearest Subway Station: Chungjeongno Station, Exit 6
Jahamun Tunnel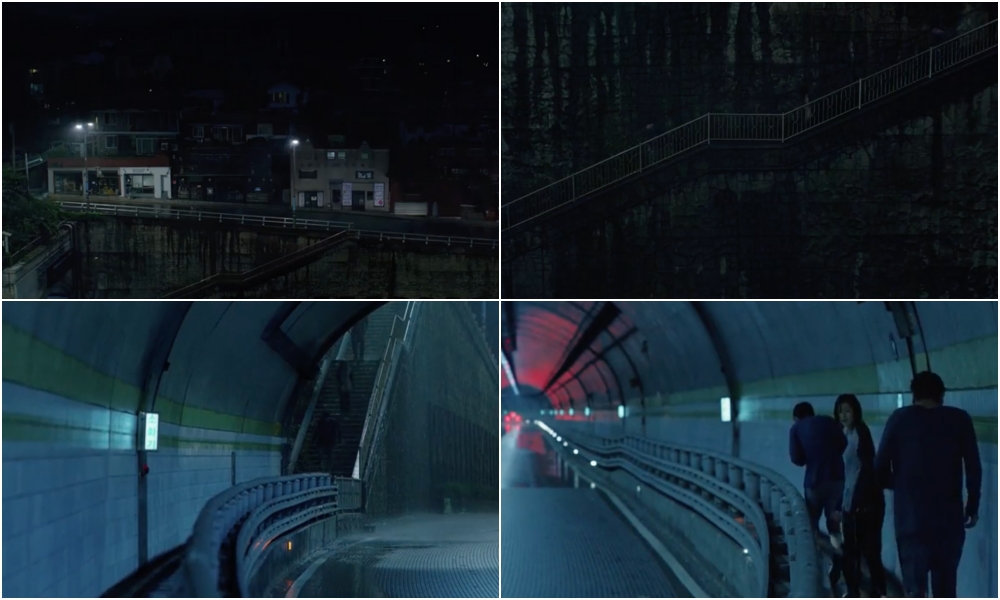 The Scene: On the fateful night when the Kim Family had to escape the Park household, they find themselves rushing back to their home under the pouring rain, passing through Jahamun Tunnel.
The Place: Located near major tourist attractions like Gyeongbokgung Palace, Gwanghwamun Square, and Seoul Museum of Art, Jahamun Tunnel makes for a great stopover for the avid Parasite fan sightseeing in Seoul.
Address: 219, Jahamun-ro, Jongno-gu, Seoul
Nearest Subway Station: Gyeongbokgung Station, Exit 2
Haven't seen Parasite yet? The multi-awarded film will be back in select Philippine cinemas soon!
If you enjoyed this article on Parasite filming locations, you might also enjoy:
Here's Where You Can Find these Famous Romantic Movie Locations IRL
All the Locations Featured in "Kita Kita" That You Can Add to Your Bucket List
Stunning Locations Featured in "Descendants of the Sun" You Can Visit IRL