BOOKMARK: 12 Dreamy Stays in San Vicente, Palawan for Your Next Trip
Palawan has so much more to offer.
by Ina Louise Manto | October 16, 2023
Palawan is home to so many popular tourist destinations like El Nido, Coron, and Puerto Princesa. But if you're looking to explore more of the island province, San Vicente is worth checking out. Boasting more than 14 kilometers of pristine white sand beach, it's got the country's longest beach and the second-longest in Southeast Asia. Treating yourself to a holiday at San Vicente? Here's a list of stays for your well-deserved trip.
Babaland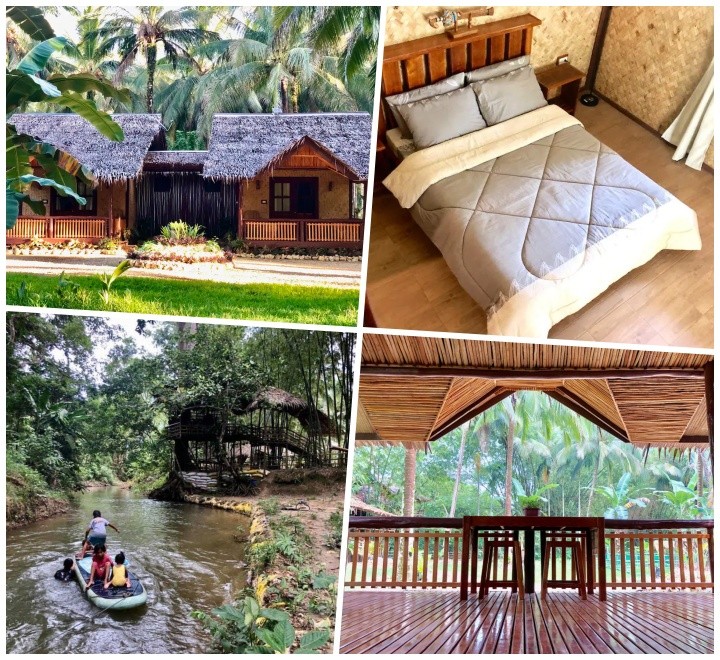 Find your home near the sea when you stay at Babaland. This resort is nestled in a garden surrounded by tropical trees, giving the ~authentic~ island getaway. It's perfect for big groups: five bedrooms, six shared baths, and 10 beds that can accommodate more than 16 guests. If you're planning to travel with family, this is the resort to go.
Rates start at P3,419 per night.
Kokomo Palawan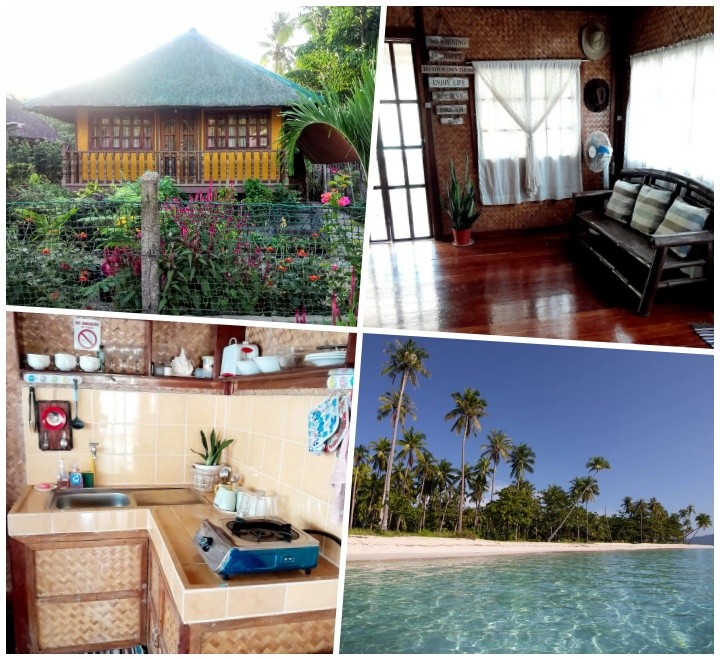 If you dream of living the island life, a stay at Kokomo will make you feel like a local. This quaint and cozy bungalow is located in a fishing barrio away from the more touristy areas, so you'll have a more peaceful getaway. It has two cozy rooms, a kitchen with basic cooking utensils, and a washing machine for laundry. Please take note that there's no electricity in the barrio yet and the home is solar-powered, but it's enough to provide energy for lighting, ventilation, and charging small gadgets.
Rates start at P3,620 per night.
Glasshouse by the beach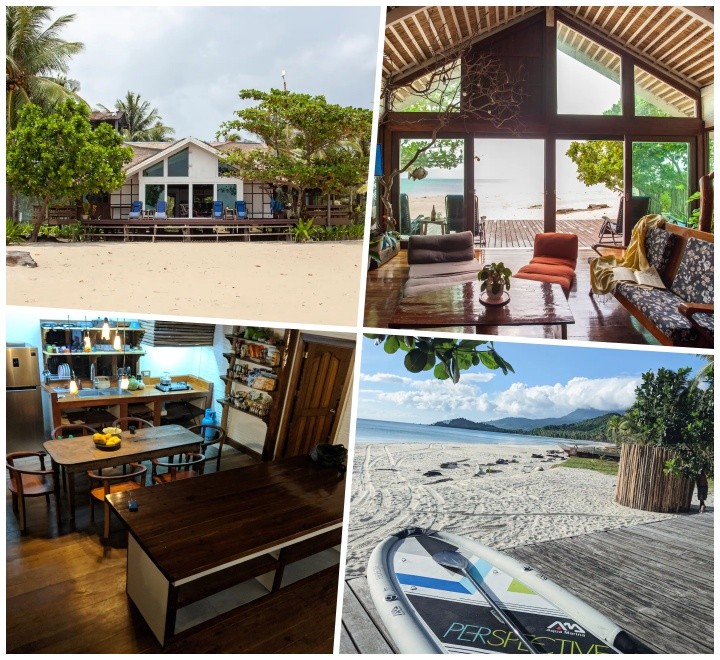 Boasting huge windows, this beachfront house will give you the best views of San Vicente's white sand shores even when indoors. It's perfect for a small group too, as it has three bedrooms that can accommodate up to six guests. The property is in a more secluded area of Long Beach, so the internet connection is quite spotty – just the perfect location for travelers who want to disconnect from the world for a few days.
Rates start at P8,500 per night.
Beach house in Port Barton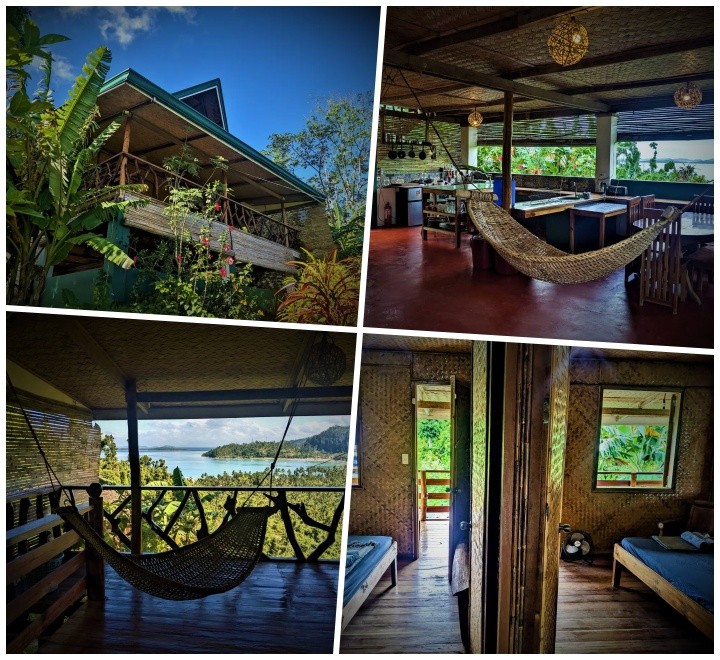 Looking for a rustic home that will give you the best of both worlds? This rustic retreat in the jungle has breathtaking views of both the jungle and the sea! The best part is most of its common areas are open, so you'll get to enjoy the jungle breeze wherever you are. Read a book on the balcony, take naps on the hammock, or simply stare at the changing skies throughout the day – it's a simple wooden home you won't get enough of.
Rates start at P1,900 per night.
Surfers Garden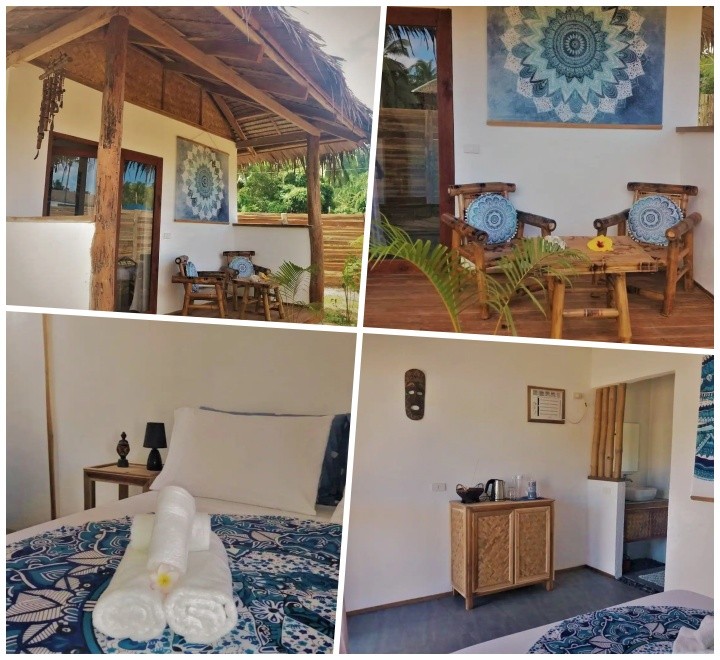 Planning to go on a romantic beach holiday with your partner? Surfers Garden offers a beautiful villa for two, adorned with bohemian room decor. It's located in Port Barton, one of the more popular areas of Long Beach. They also offer motorbike rentals, which makes exploring the area easier. For surfers, you can ask for their recently discovered surfing spot near the stay.
Rates start at P1,500 per night.
Giligans
Giligans is another stay in Port Barton and previous guests vouched that it truly is your paradise in the area. This home in paradise is located in a more secluded area, and they have lounging spots and gear for water sports that will make your vacation more memorable. Stare at azure waters from the cabana, go paddle boarding and kayaking, and chill by the bonfire at night.
Rates start at P14,209 per night.
La Palapa Inn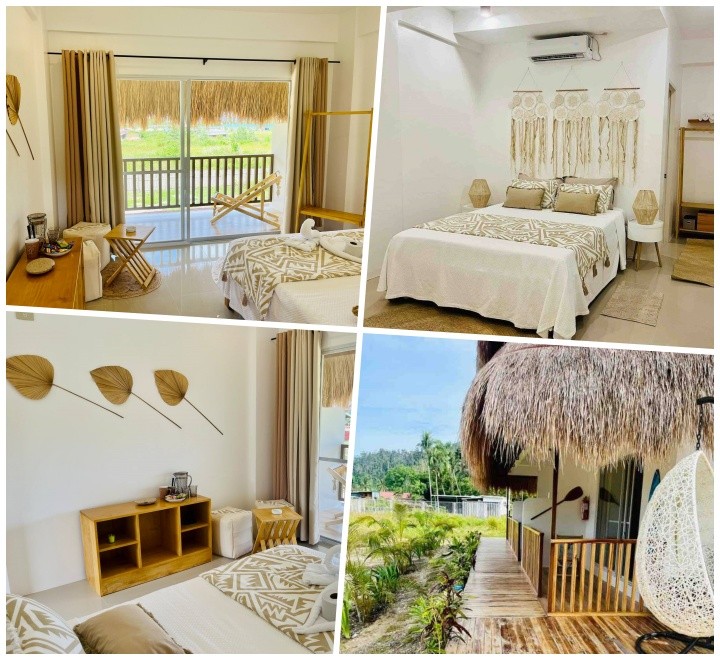 Located in the heart of Port Barton, La Palapa Inn offers rooms with three varying themes: The Aqua, The Jungle, and The Nature. This room boasts a chic bohemian theme, and you'll also have an exclusive balcony. It isn't beachfront, but it's close to bus terminals, markets, bars, and restaurants, which is perfect if you wish to discover everything Port Barton has to offer. The beach is also just five minutes away.
Rates start at P1,800 per night.
Nayarani Villa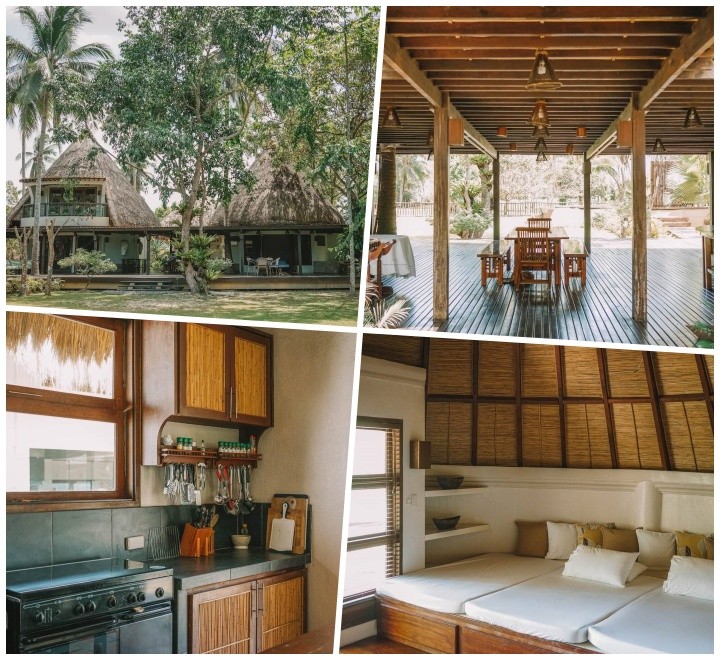 This two-bedroom bungalow was initially a family home before opening to the public, so trust that the hosts know how to make a home away from home. This beachfront villa has direct access to Long Beach, and it's only 10 minutes from the airport and 15 minutes away from the nearest town. If you wish to go full vacay mode, you may also ask the staff to hire someone who will cook your meals and buy ingredients in the market.
Rates start at P19,000 per night.
Yumi Villas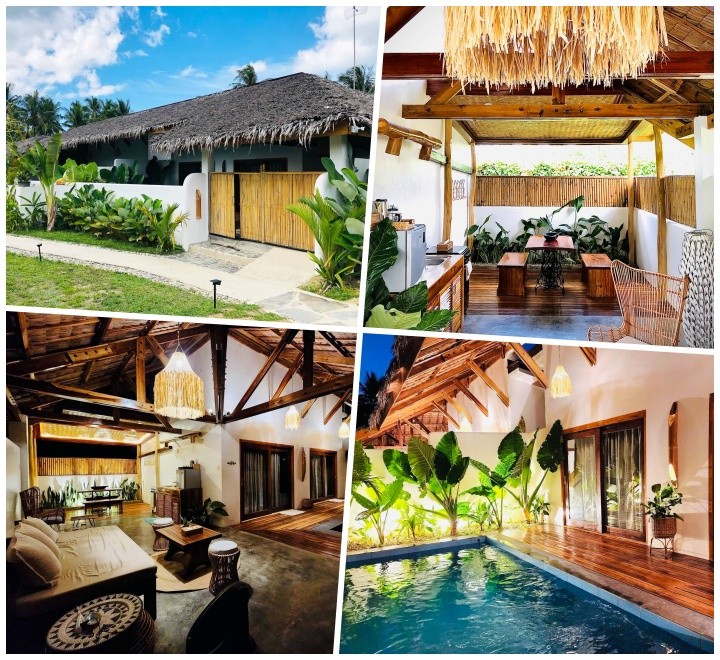 Yumi Villas may not be beachfront, but this exclusive villa has a swimming pool in case you want to stay before heading to the sea. It has two bedrooms and six beds that can accommodate up to four guests.
Rates start at P10,999 per night.
Coco Rico Hostel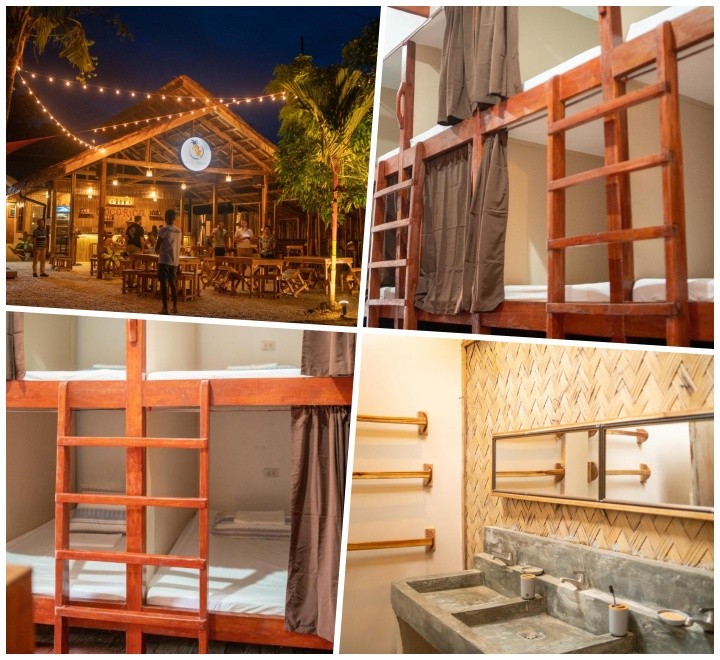 Here's a stay for budget travelers: Coco Rico Hostel offers a bed in a dorm room for only P423. If you're the type who only needs a place to sleep and would want to connect with other guests on the island, this budget hostel is for you.
Rates start at P423 per night.
Parrots Boutique Resort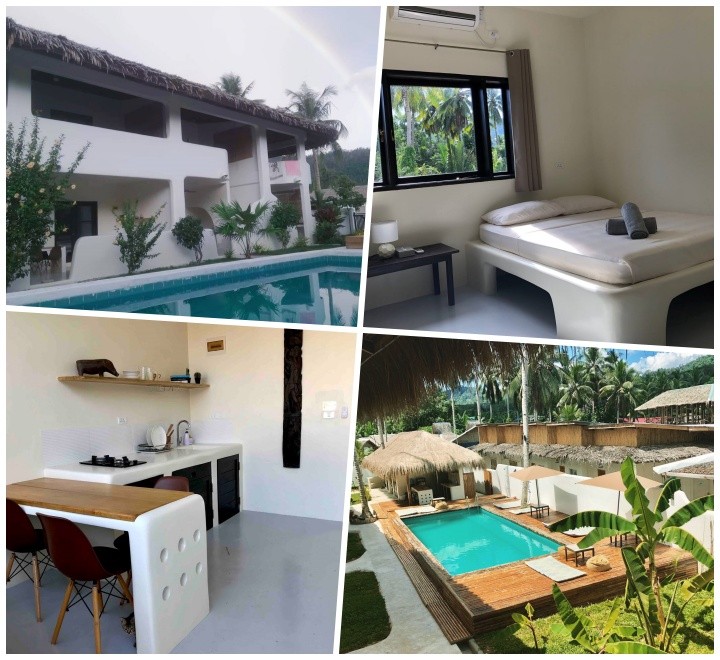 Find a Mediterranean-inspired paradise in Port Barton when you stay at Parrots Boutique Resort. They offer two-floor rooms with a private terrace and a kitchen area, which is perfect for families. You can also ask the staff for airport transfers as well as island hopping tours for a hassle-free vacation.
Rates start at P7,800 per night.
Romantic cottage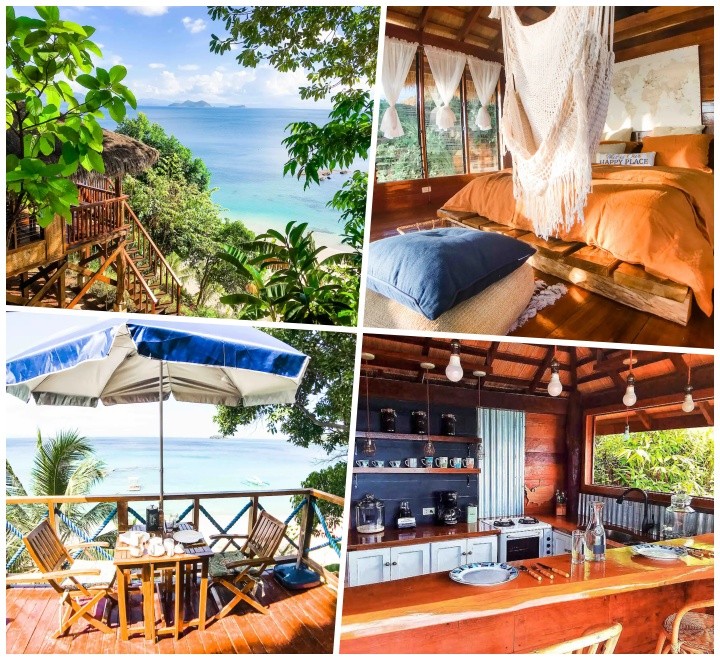 Tucked in a secluded cove, this romantic cottage may be one of the best honeymoon venues in Long Beach. You'll get to stay in an exclusive wooden cottage with direct beach access. Remoteness, seclusion, and privacy are what you'll appreciate the most here. Just sunny days in paradise for newlyweds!
Rates start at P13,925 per night.
Disclaimer: The rates in this article are based on the published prices available at the time of writing. Please note that these prices are subject to change and may vary depending on factors such as seasonal fluctuations, promotions, and availability. For the most accurate and up-to-date pricing information, we strongly recommend contacting the property directly.
Looking for other places to explore? Join WindowSeat.ph's official Facebook community What's Your Trip PH for more recos!