2017 Long Weekends: A Travel Cheat Sheet
Get planning!
by Luanne Arevalo | October 29, 2016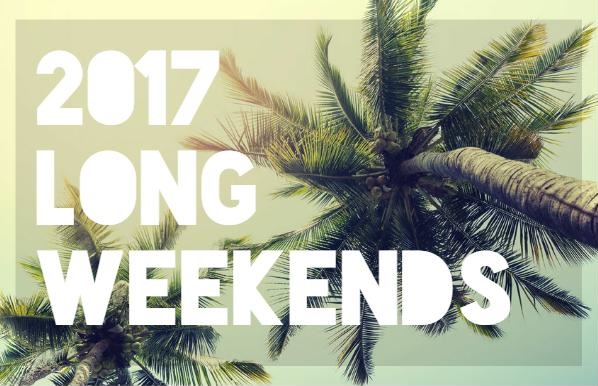 The 2017 cheat sheet for long weekends is out! This is your cue to start making travel plans for next year. Not only would you have enough time to research, you can also score lower fares by booking flights early, and you'd have time to save up for the trips you'll be planning. Best of all, the excitement of an impending trip can easily bring on good vibes on days when stress levels are at a high.
Mark the dates and plan away!
Holy Week (April 13 to 16, Thursday to Monday)
Join Thailand's Songkran Festival and gear up for an all-out water fight. Tourists are highly encouraged to take part in the in this event, which is meant to "bathe" the images of Buddha, as well as to welcome the new solar year. It is one of the biggest events in Thailand, but in case you're not up for the revelry that comes with it, you can opt for a quieter celebration in any of the temples.
Labor Day (April 29 to May 1, Saturday to Monday)
Summer is for beaches and we definitely have no shortage of that here in the country, so we suggest going local. Unless you're up for partying in a very crowded Boracay, we'd advise you to stay away from the country's most popular island, and instead hit the likes of Cagbalete Island in Mauban, Quezon; Tambobong Beach in Dasol, Pangasinan, or Cape Santiago in Calatagan, Batangas.
Independence Day (June 10 to 12, Saturday to Monday)/Eidl Fitr (June 24 to 27, Saturday to Tuesday*)
If you're up for some retail therapy, then go and visit Singapore, which transforms into a shopping paradise in the month of June with the Great Singapore Sale. Enjoy fantastic discounts on everything from fashion to electronics. Stores also come up with fun activities that add to the excitement.
Ninoy Aquino Day (August 19 to 21, Saturday to Monday)/National Heroes Day (August 26 to 28, Saturday to Monday)
Been wanting to cross Maldives off your bucket list but finding it quite expensive? Do it in August when the resort prices go down by 30 to 40 percent. Yes, it's the island's summer rainy season, but skies clear up quickly and storms usually don't last long.
All Saints' Day (October 28 to November 1, Saturday to Wednesday*)
Visit Bhutan to commune with nature, indulge your love for photography (do ask permission as appropriate), and get a glimpse of why its Gross National Happiness (GNH) continues to rise through the years. You can look forward to enjoying fantastic views of valleys and monasteries, but only if you book at least three months in advance as this is a peak period in Bhutan.
Bonifacio Day (November 30 to December 3, Thursday to Sunday**)
Visit an all-time favorite: Hong Kong. You will not only enjoy cooler weather, but you will definitely feel the Christmas spirit with all the spectacular decoration. Up the magical feeling by visiting Disneyland and watching the fireworks — it'll surely bring out the child in you.
Rizal Day (December 30 to January 1, Saturday to Monday)
The cold may present a challenge but South Korea's winter charm will make it all worth it, especially with the combination of fluffy snow and holiday lights further illuminating its beauty. Go skating or skiing, relax at a hot spring, enjoy Korean food, and celebrate the arrival of 2018 by attending a sunrise festival. Now that's one special way of closing the year and welcoming a new one!
*Monday is not a holiday
**Friday is not a holiday