Things to Do this Month: November 2016
Fill your calendar with exciting events!
by Tynne De Leon | November 01, 2016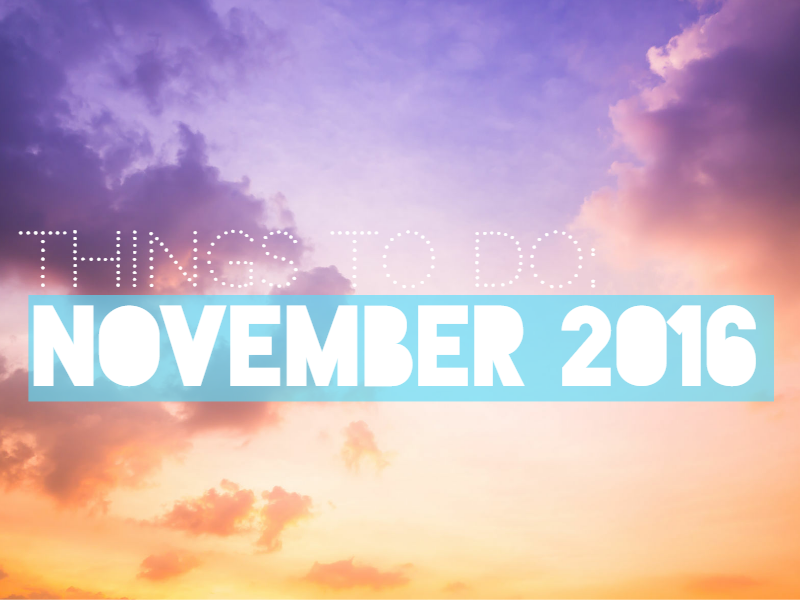 There are a lot of events to look forward to this month. So while waiting for the holiday season, you might want to check out what's happening around the metro and make the most out of your November! 
Dine Under the Stars
Feast on the delectable food choices under the stars with your significant other at Mon's Restaurant in Alfonso, Cavite. Their wildly popular Dine Under the Stars is back starting November 12, so reserve now to enjoy their unlimited pasta, chicken, pork, seafood and vegetable BBQ for only Php 399.
They're open for this kind of romantic dining Fridays and Sundays, 6 to 9 p.m.
Due to the large volume of inquiries, follow these steps to inquire or get a reservation.
Experience Outdoor Cinema
Get a dose of post-Halloween scares at the Friday Fright Night this November 4 at the National Science Complex Amphitheater, University of the Philippines-Diliman. Admission is free so bring your friends and get spooked while watching The Vampire Diaries, The Shining and Insidious under the stars. The horror shows will run from 6 p.m. to 12 a.m. and there will be free snacks!
See the event here.
Geek out at Komikon 2016
Holding three events a year, Komikon, Inc. will once again showcase the local komiks and their creators this November for Komikon 2016, their last leg for this year. The place will be filled with booths of comic creators, exhibitors, indie tiangge and food so get ready to geek out and hoard items for your collection. You can also join their ongoing contests and win cash and special prizes.
Komikon 2016 will be held on November 19-20, 2016 at Bayanihan Center, Unilab Compound, Pasig City. Tickets can be bought at Comic Odyssey branches or at the gates on the day itself.
Check out these concerts
There'll be a lot of great acts performing this November, all catering to different music taste so there's surely one for you.
If you're a big fan of Korean Pop, Monsta X will have their first Asia fan meeting on November 27 at SM Skydome.
You can also catch TLC and SWV on November 6 at the Smart Araneta Coliseum or watch Toe Live in Manila on November 27 at Samsung Hall.
Alex Band and The Calling will also perform at the Mall of Asia Arena on November 11 and BadBadNotGood will be at the Black Market, La Fuerza Plaza, Makati on November 22.
Watch the UAAP Cheerdance Competition
Cheer for your university in one of the most-talked about UAAP competitions every year. Be there and witness the stunning acrobatics and creative executions of the schools as they take over Smart Araneta Coliseum on November 19.
Don't forget to wear your school color and cheer with pride! Buy your tickets here.
Visit The Walking Dead Horror House
Enter the walled community of Alexandria as Eastwood Central Plaza turns into a horror house until November 11. There'll be a lot of creepy zombies in the area, so be sure to visit with your gang. Escape the walkers from 6 p.m. to 12 a.m. and roam around for just Php 170 per person for groups of six.
Shop secondhand items at a mini bazaar 
If you're a fan of pre-loved items, a super garage sale for secondhand books, clothes, accessories and toys will be held at Cubao Expo this coming November 19! Libro at Latagan sa Cubao X is a rain or shine event, and everyone is also encouraged to be a seller on a first-come, first-served basis.
Click here to see more details.
Jam to the old beats of The Beatles
Take a stroll down memory lane as Ilustrados hosts A Hard Day's Night, The Beatles Night — Vol. 3, a Beatles tribute at Aloha Bar and Grill, Makati on November 5. Listen to Benny James Giron of BennyBunnyBand, Jeremy Lopez of KISSLING!, Howard Luistro of Oh, Flamingo!, Ian Penn, and Johnny Moon of The Strange Creatures.
Door charge is Php 200 which includes a free drink and a nostalgic music night from 9 p.m. to 12 a.m.
And for adventure seekers, take our One-Month Weekend Travel Challenge for November!
Know any events that aren't on our radar yet? Share them with us in the comments section below!