Travel Smart with Agoda's Global Calendar: The Best Times for Hotel Deals
Travel cheap according to the season!
by WindowSeat.ph | October 12, 2015
Planning your travels ahead of time is important–all wise (and stingy) travelers know this to be true. Planning your trips way earlier than your departure month will give you the advantage of the best deals. Of course, you'll have to do ample research on bargains for your chosen destination, which tends require a lot of time and patience but the amount you get to save makes it totally worth all the effort.
What if you could skip the travail and get right to digesting the precious information? Thanks to Agoda, one of the world's leading accommodation sites, you can plan your trip by utilizing a calendar that indicates the destinations with the cheapest hotels per month. This is based on their recent Travel Smart study, which analyzed millions of guests' booking data for the world's 25 most popular tourist destinations in the year 2014.
Budget-travelers, meet your new best friend! Here's Agoda's trip planning calendar. Generally, the start of the year is the cheapest time to book hotels (get your engines ready), and most hotels are more expensive during September and October (lay off on the booking first).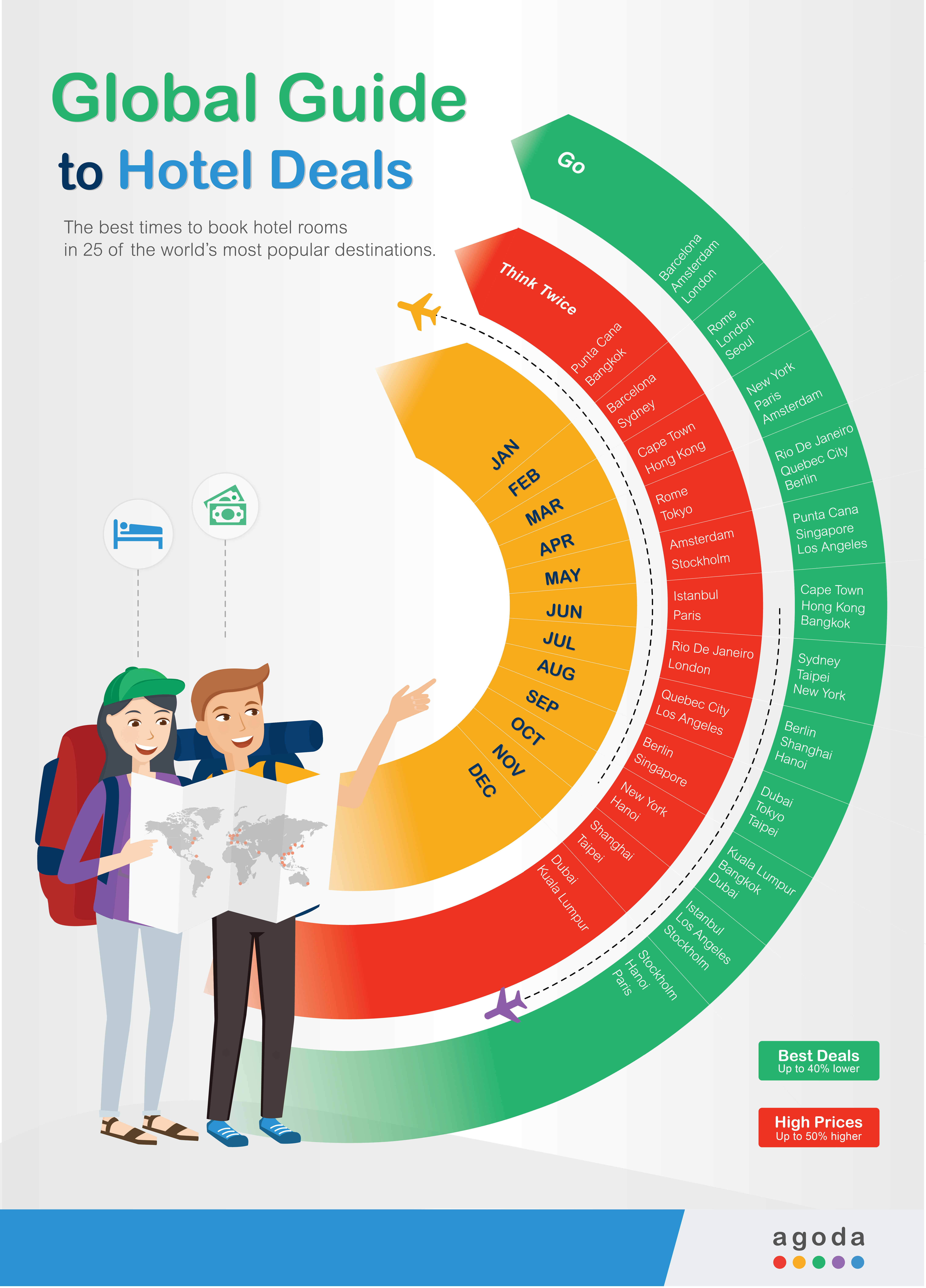 It turns out that hotel prices in Europe fluctuate throughout the year. Berlin and Barcelona hotels are less expensive in January. Come mid-March, hotels in Paris, Berlin, Rome, Amsterdam, Barcelona, Stockholm and London are 20% cheaper than average. Moreover, it's more budget-friendly to visit Sydney and New York in July. From November to February, accommodations in Istanbul will be cheaper. December is also a good time to visit Stockholm.
As for tourist destinations in Asia, hotel prices here do not fluctuate as much. Hotel rates are fairly consistent and the discounts aren't as big.
As you imagine yourself in the destinations now made more reachable through this helpful tool, keep in mind that annual holidays change dates per year, thus affecting hotel prices. Other than that, enjoy this awesome guide!
With Agoda's handy calendar, you can finally scratch that travel itch without going bankrupt. Let us know which of these destinations is first on your list!