Plan Your Holidays With Low Fares from Cebu Pacific and AirAsia
Book you Christmas break now!
by Leigh Bagtas | September 22, 2015
It's never too early to plan your holiday trip!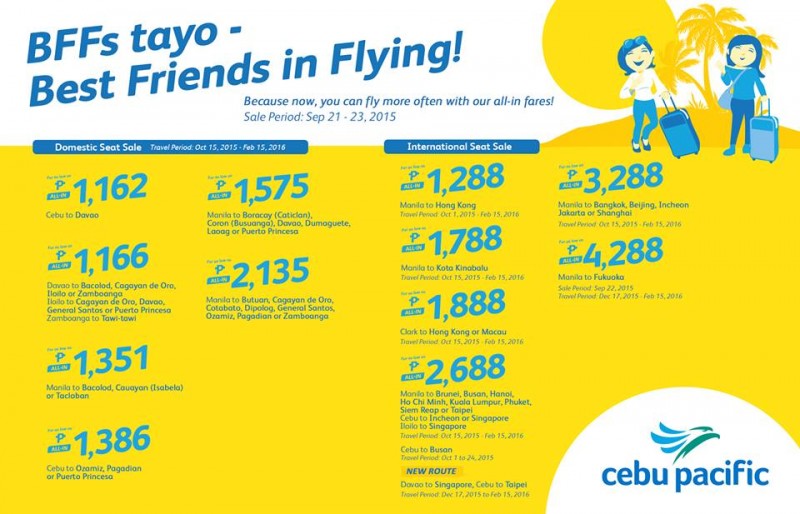 Gather your friends and make sure you grab the lowest flights from Cebu Pacific's Best Friends in Flying sale for as low as PHP1,162!
Flights from Manila to Davao, Pagadian, Bacolod or Dumaguete vary from PHP1,351 to PHP2,135 while connecting flights from Davao to Cagayan De Oro or Iloilo to Tawi-Tawi is up for only PHP1,1,66. Get connecting flights from Cebu to Davao for only PHP1,1,62 or to Puerto Princesa for PHP1,386.
Want to spend your holidays abroad? Flights to Hong Kong, Brunei, Bangkok or Jakarta from Clark or Manila ranges from PHP1,288 to PHP4,288.
Travel period is from October 15, 2015 to February 15, 2016 for domestic flights while travel period for international flights depends on the location chosen.
Get your tickets now until TOMORROW, September 23, 2015! You can look out for Cebu Pacific's other promos in their website.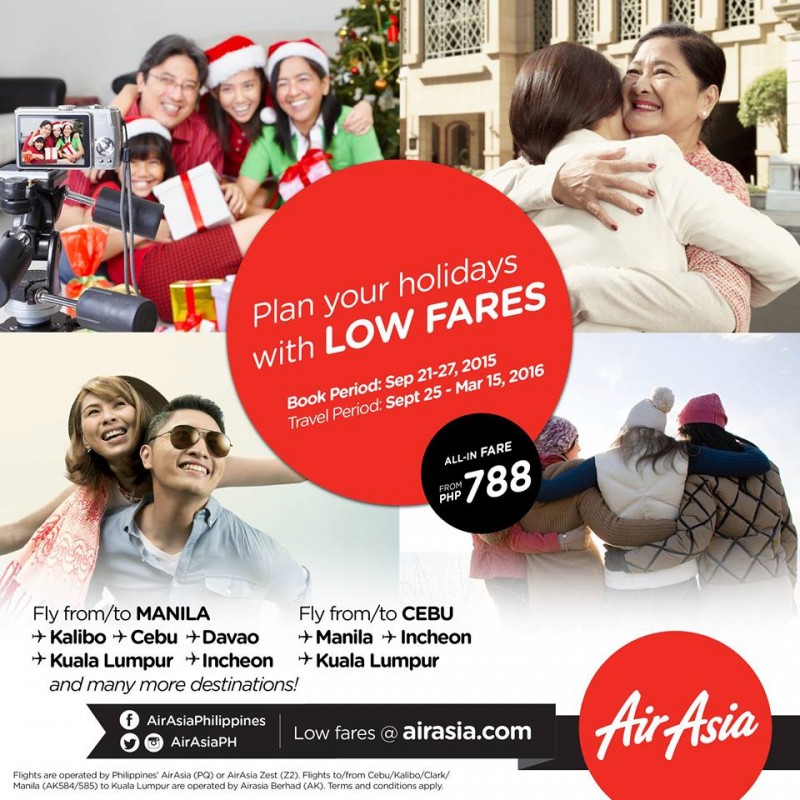 Still can't get enough -ber season treats? Check out AirAsia's P788 all-in fares to and from Manila, Cebu, Boracay, Kalibo, Puerto Princesa, Tacloban and Tagbilaran.
Book international flights to Kota Kinabalu, Hong Kong, Seoul, Kuala Lumpur and Macau are also available for only PHP1,500 to PHP2,700.
Get going and book your flights NOW until September 27, 2015 and begin your travel adventures between September 25, 2015 and March 15, 2016.
You can also check out AirAsia's Facebook page for more details.