AirAsia Brings Back PHP0.01 Promo
One-centavo base fares! C'mon!
by Leigh Bagtas | September 07, 2015
It's back!
AirAsia Zest is offering, for a limited time only, fare tickets based on a one-centavo base fare sale. You read that right. One-freaking-centavo.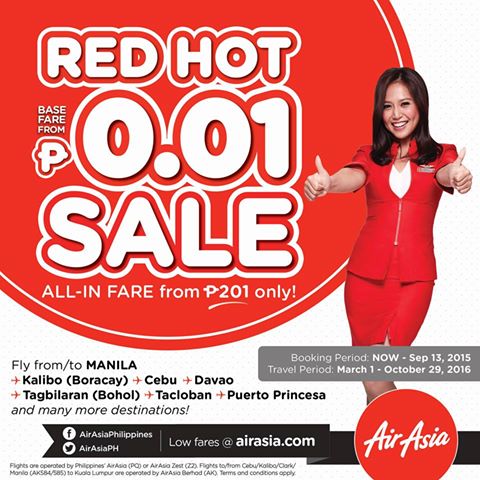 For all-in fares ranging from only PHP17 (how awesome is that??!) to PHP201, you can book a domestic flight to places like Cebu, Tacloban, Bohol, Puerto Princesa, Davao, Kalibo and even Aklan.
The promo period starts today until September 13, so start booking your flight before seats last! All travel periods are set for March 1 to October 29, 2016.
Travelers can also select international destinations, such as flights to Seoul, Kuala Lumpur, Macau, Hong Kong or Australia.
Keep in mind that the rates may differ depending on the destination, place of origin, terminal fees and taxes.
Start your 2016 summer vacation right and book those tickets now!