Here's Where You Can Stay Over Boracay's Peak Season Madness
It doesn't have to be crazy!
by Roanna Jamir | April 11, 2017
Opportunity to mingle is surely a big benefit for single folk vacationing in Boracay during the peak season. Tons of events lined up for the summer, also make the island a go-to place for a group of friends out to have a great time. Even families who may prefer other, (quieter) times of the year, may have no choice but vacation during the summer.  It is after all, that time of the year the kids don't have school.  Granted, fun is a word associated with Boracay during the peak season.  Unfortunately, some other words that may be associated with it are, crowded and noisy.
If you're meaning to vacation in the island this summer, but want a quieter alternative to the usual busy neighborhood you end up booking yourself in, then here are some alternatives you may want to check out.
3. Tambisaan Beach House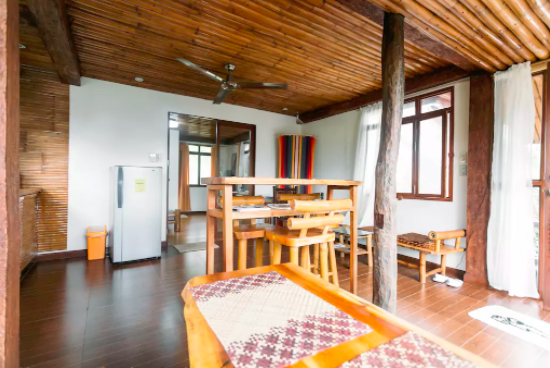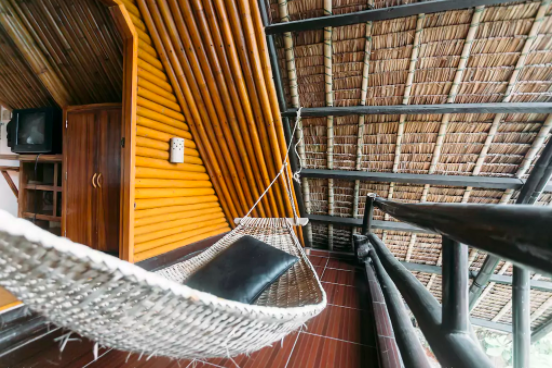 A much smaller stretch of sand than White Beach, Tambisaan Beach boasts of a very island local feel.  With just a few beach houses, a couple of resorts and one big (and very expensive) hotel, make lounging by this beach feel more private than the hustle and bustle of the oftentimes crowded White Beach.
But the true secret of this place, is a three-story beach house, owned by a local named Danilo.  He acts as the caretaker of the house and will gladly make recommendations and go out of his way to ensure you have an enjoyable stay and experience.  The beach house is a mix of native and modern materials, making it a bit like a log cabin by the beach.  There is a room on the bottom floor and two rooms on the third floor. The middle floor, equipped with the biggest room is also the family area with a full kitchen, living room and terrace.  The nice design of wood and large glass windows and lots of white curtains make this a sweet retreat for a family or large group of friends.  The garden just outside the house has a barbecue grill and a gazebo for outdoor dining.
Bonus: You can use Danilo's paddle boards and other water gear for free and he can also arrange transportation for you to White Beach for a minimal fee, so you have your own personal tricycle chauffeur when on the island!
Tip: Tambisaan Beach converts into the main port during the rainy season as the tides shift on the other side of the island. This would be the only time Tambisaan Beach gets busy.
Walk-able to White Beach: NO
Trike ride to White Beach: About 10-15 mins
Budget per night: PHP2,500 for the ground floor studio room with kitchen, and PHP7,500 for the rest of the beach house (two bedrooms on the 3rd floor, and one master bedroom on the 2nd floor with the full kitchen, living room and terrace)
2. Ralph's Place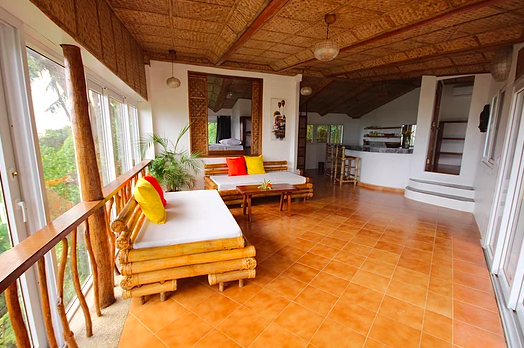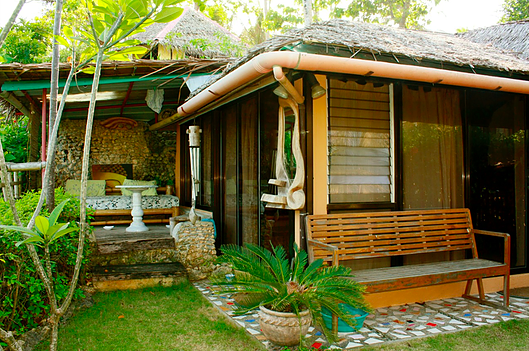 Located on the opposite side of White Beach is Bolabog Beach.  Although, not a place for wading in the waters, it is the kiteboarding beach of Boracay.  The beach is lined with hotels and resorts catering to the sport and chilling by this beach is almost like watching a daily kite show.
If you are a kiteboarder then this won't be a secret to you, but if you aren't, then let me tell you about a place just a little up the hill on the edge of the Bolabog shore.  Just a few steps up a small mountain, is Ralph's Place.
The first time my husband and I visited this place, we felt like we were walking into a secret garden of some sort.  Stone steps paving the way up in a spiraling and winding fashion amidst a lush garden as you reach higher up the hill is quite a sight. If you don't like climbing steps then you might not enjoy the experience as much, but just think of the beautiful view you will be rewarded with once you reach the top.
Ralph's Place offers a view of Bolabog Beach that truly captures its kiteborading fame.  With the colorful kites seen on the blue waters, the fresh breeze up in the mountain and the lush garden that surround you, it's truly is a one-of-a-kind experience.  Most of their apartment rooms are tree house-inspired with a modern twist. The fully equipped kitchen and living room area that most units come with make it a perfect retreat for large groups of friends meaning to get away from the big crowds.
Walk-able to White Beach: YES (10-15 minutes)
Trike ride to White Beach: About 5 mins
Budget per night: PHP2,500 – PHP10,000 (Depending on the type of room or apartment you reserve)
1. Shorebreak Boracay Resort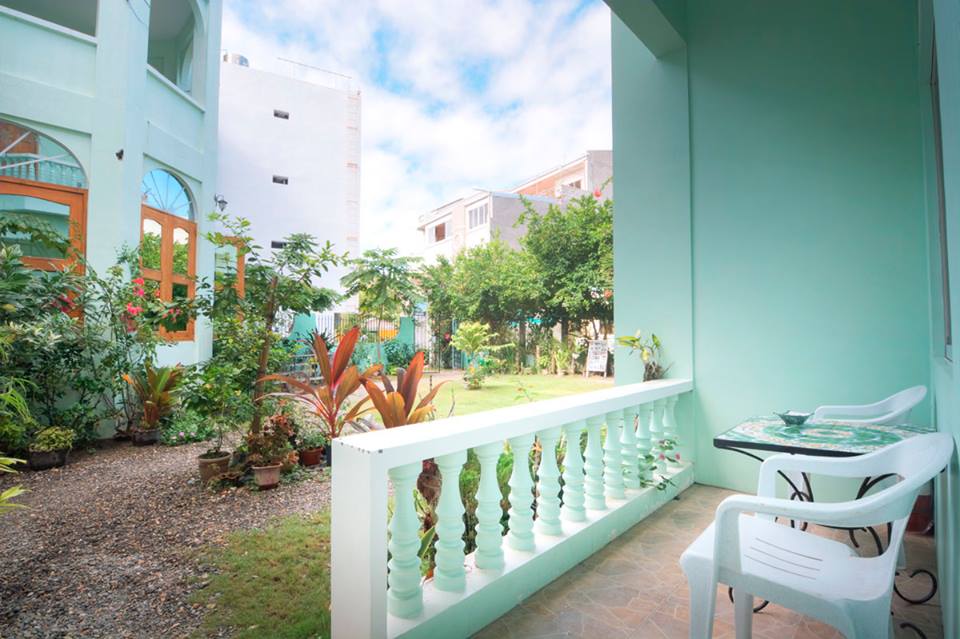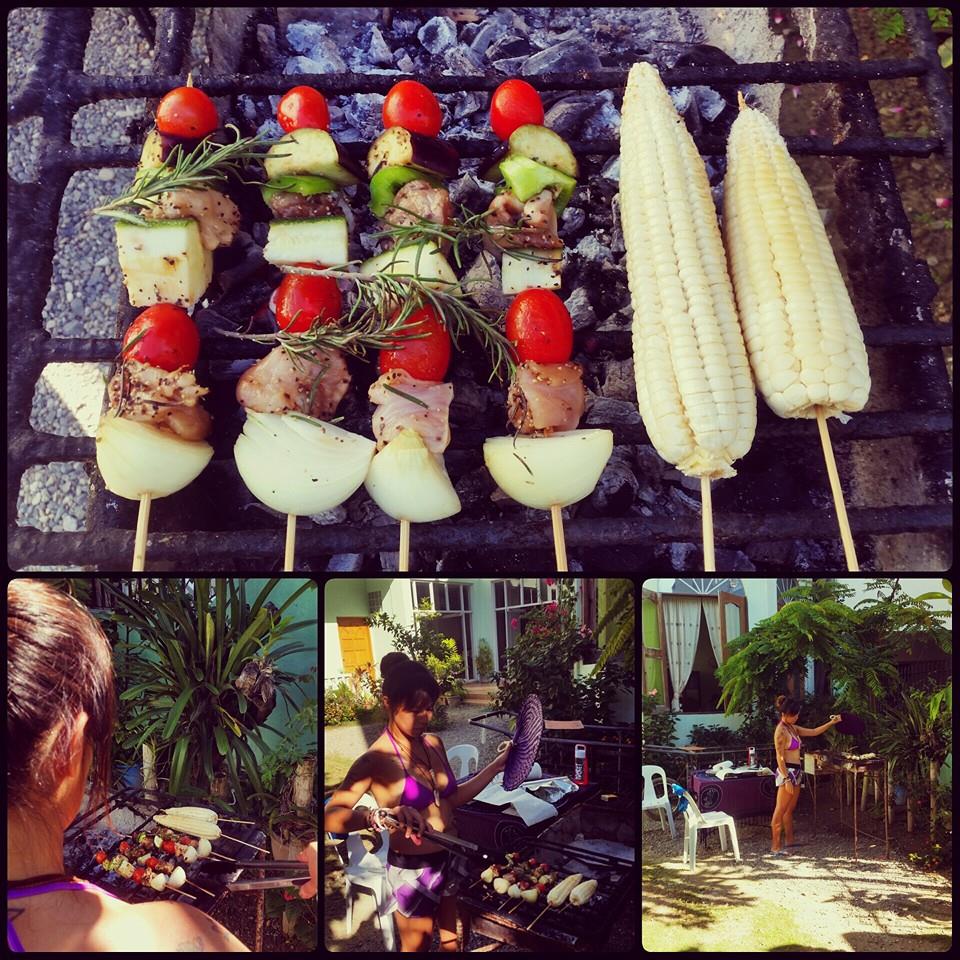 For several months, this place was our home in Boracay Island.  It took my family four tries before finding a place that was not only affordable, but also convenient, clean, and right in the heart of the cusp of Station 1 & 2.  I mean, when you walk out of your room, you are greeted by a beautiful garden, (maintained by the owner herself), and about a hundred steps along a small alley, amidst other not so known accommodations, is already the beach!
When you stand by the gate of Shorebreak, you can already see the blue waters of White Beach, that's how close it is.  Upon reaching the end of the alley, you will have a Filipino restaurant on your right and a convenience store on your left followed by more restaurants and shops on both directions.
This is the perfect place to be if you like to go dancing in clubs such as Epic, or enjoy listening to the live music at Bom Bom as the resort is just a five-minute walk from these party places! Don't be turned off by the proximity of Shorebreak to the busy areas of White Beach, because once you enter the gated resort, this courtyard-style venue literally shuts out all the noise. Believe me, because I lived there for almost a year!
Bonus: The resort provides a grill for guests interested in having a barbecue. Chairs can also be arranged in the garden in the indoor function area for a group of guests meaning to have their own private get together.
Walk-able to White Beach: YES (2 minutes)
Trike Ride to White Beach: Not needed
Budget: PHP2,500-PHP5,000 (some rooms have a separate living room and kitchen, some don't have a kitchen)