Cebu Pacific's Gr8 Seat Sale Is Here to Help You Plan Your Year-End Trips
Spend the holidays out of town!
by Kyzia Maramara | August 08, 2022
Plan your year-end trips as early as today and get discounts on flights thanks to the Cebu Pacific 8.8 Gr8 Seat Sale. The Philippines' leading airline recently unveiled its special seat sale for both domestic and international destinations.
From August 8 to 10, 2022, everyJuan has the chance to snag flights for as low as PHP 8 one-way base fare. The travel period for tickets booked through the Gr8 Seat Sale is from September 1, 2022, until February 28, 2023. We bet you can already picture yourself spending winter abroad or at one of the beautiful beaches in the Philippines.
Cebu Pacific 8.8 Gr8 Seat Sale
"We continue to see a resurgence in tourism as people have become more confident to travel amidst our new normal. As we want to keep stimulating travel, both in and out of the Philippines, we are pleased to offer another hard-to-miss promo that will enable everyJuan to save up on fares as they plan trips ahead," says Cebu Pacific Corporate Communications director Carmina Romero.
Whether passengers would like to rediscover their favorite beach destinations like Boracay, Bohol, Siargao, Palawan, and Cebu; or enjoy the must-try food culture in Pampanga and Negros, travelers can enjoy the best of the Philippines without breaking the bank.
Flying abroad is also easier thanks to eased travel restrictions. Whether you feel like going on a cultural immersion in Indonesia, Malaysia, and Vietnam or on a food trip in Bangkok, Korea, and Singapore – all of this is now possible and made affordable through CEB's lowest fares.
To book your flights, visit Cebu Pacific's website and plan away!
The airline currently operates 88% of its pre-pandemic systemwide capacity. To date, CEB flies to a total of 34 domestic and 18 international destinations. It continues to implement a multi-layered approach to safety. And to ensure everyJuan flies safely and conveniently, CEB operates with a 100% fully vaccinated crew — 95% of whom have been boosted.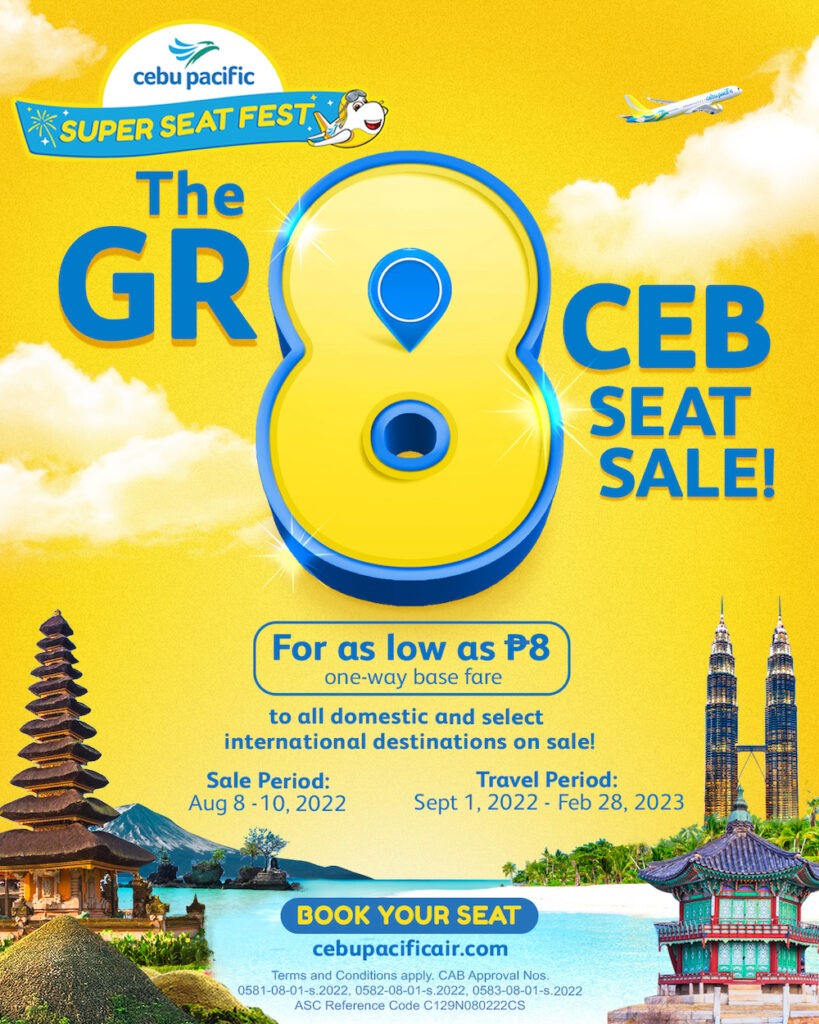 For more information, visit www.cebupacificair.com.