Already Planning Your Post-Pandemic Trips? You Might Want to Factor In Health Protection Insurance
CEB Health Protect can be availed for as low as P535.
by Kyzia Maramara | September 16, 2020
There's one thing we can't wait to do once this pandemic ends and that is to travel and see the world again. The only difference is that this time, we're going to make sure we prioritize our health safety above everything else.
The global pandemic has caused people to be more concerned over securing their future and protecting their health. This is why Cebu Pacific has partnered with one of the country's leading insurance companies, AXA Philippines, to launch a lineup of non-travel insurance products for everyJuan.
For the first time in the Philippine aviation industry, the country's leading carrier introduces a suite of lifestyle insurance packages that Filipinos can easily avail of, for the safety and security of various personal assets.
"Our passengers have always been at the heart of our business and now more than ever, we strive to always give them peace of mind when flying with us. Our commitment to ensuring they have a safe and seamless journey with us does not only cover their actual flight but even beyond. We recognize that there is a greater need to take care of everyJuan's health and assets during this time, and that is why we are very excited to introduce CEB Health Protect," said Candice Iyog, CEB vice-president for marketing and customer experience.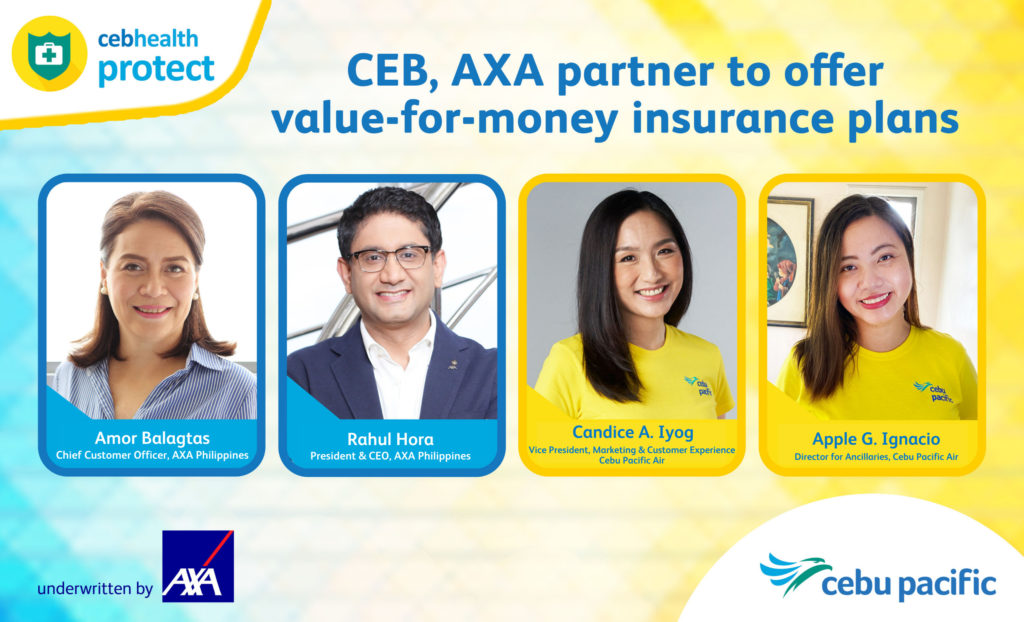 Starting September 8, Cebu Pacific is launching the CEB Health Protect which provides coverage for top three critical conditions: cancer, stroke, and heart attack.
It also provides insurance benefits of up to P1 million, allowing families to receive up to 20% coverage for nine (9) minor critical conditions. Families and individuals can tailor fit the insurance coverage according to their personal needs and budget, with coverage available for as low as P535 monthly, along with flexible payment terms of up to 20 years.
"We are very excited over this partnership because now we are able to reach out to more Filipinos who will have access to insurance and financial services," said AXA Philippines Chief Customer Officer Amor Balagtas. "This enables us to fulfill our mission to help secure the future of every Filipino—or in this case—everyJuan."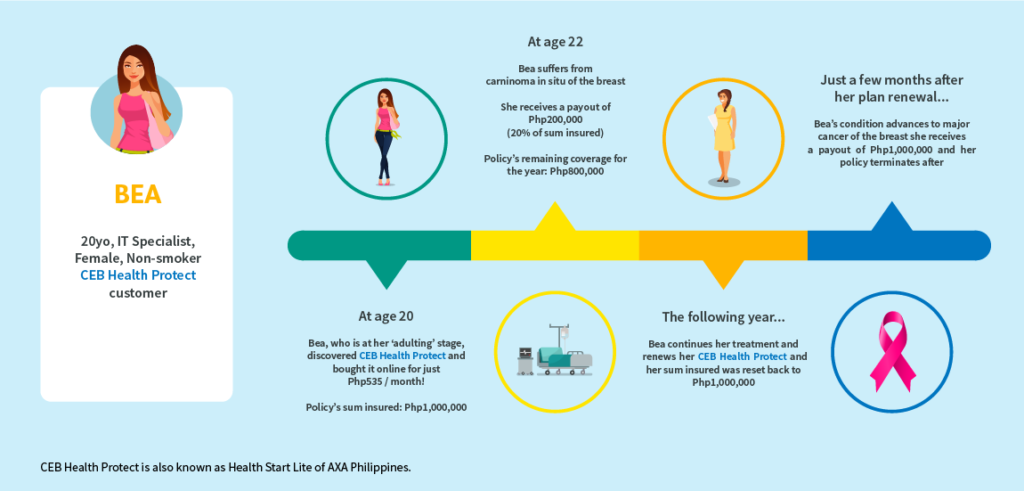 Selecting and purchasing your very own CEB Health Protect can conveniently be done online, as easy as booking and managing your Cebu Pacific flights.  This will be readily available on the CEB website – once clicked, customers will be redirected to AXA's website for easier fulfillment of their selected insurance package.
CEB Health Protect is the first of a number of products under this suite of lifestyle insurance packages. The rest of the offerings will be launched in the coming months.
For more information on the insurance plans and their coverages, visit Cebu Pacific's website.
READ MORE:
Planning to Hit the Beach Soon? Read DOT's Guidelines on Island and Beach Operations Before You Go
LOOK: Joseph Gordon-Levitt Finally Shares Short Film Project on the Philippines
Undas 2020: Metro Manila Cemeteries to Close, Here's What You Can Do Instead
Expressways Are Soon Going Completely Cashless; Here's Everything You Need to Know