A Potterhead's Guide To An Extra Magical Christmas in The Wizarding World of Harry Potter at Universal Studios Japan
Have a magical Christmas at Hogwarts!
by Andy Flores | December 19, 2019
There's no better season to visit the Wizarding World of Harry Potter than winter. After all, the hit film franchise based on the bestselling novels by J.K. Rowling has also become a fixture in Christmas movie marathons, and we can definitely see why: Despite the story's generally ominous theme, Christmas scenes in the Harry Potter flicks have always brought some cheer to our favorite heroes even during the darkest of times.
Luckily for muggles like us (as painful as that is to admit), we can have a taste of the Wizarding World's enchanting Christmas through Universal Studios' special winter events. And if you can't floo yourself or take a portkey to Universal Studios Orlando or Hollywood anytime soon, don't worry. Universal Studios Japan's take on the Wizarding World is just as spellbinding!
Here, we round up eight tips to make your visit to the Wizarding World of Harry Potter in Osaka extra magical this winter:
Arrive early and get your timed entry tickets first!
Before the park even opens, you'll surely find a massive crowd waiting at the entrance of Universal Studios Japan if you don't arrive early enough. So the question is: How early should you go? Well, arriving at Universal City at least an hour before the gates open is safe enough.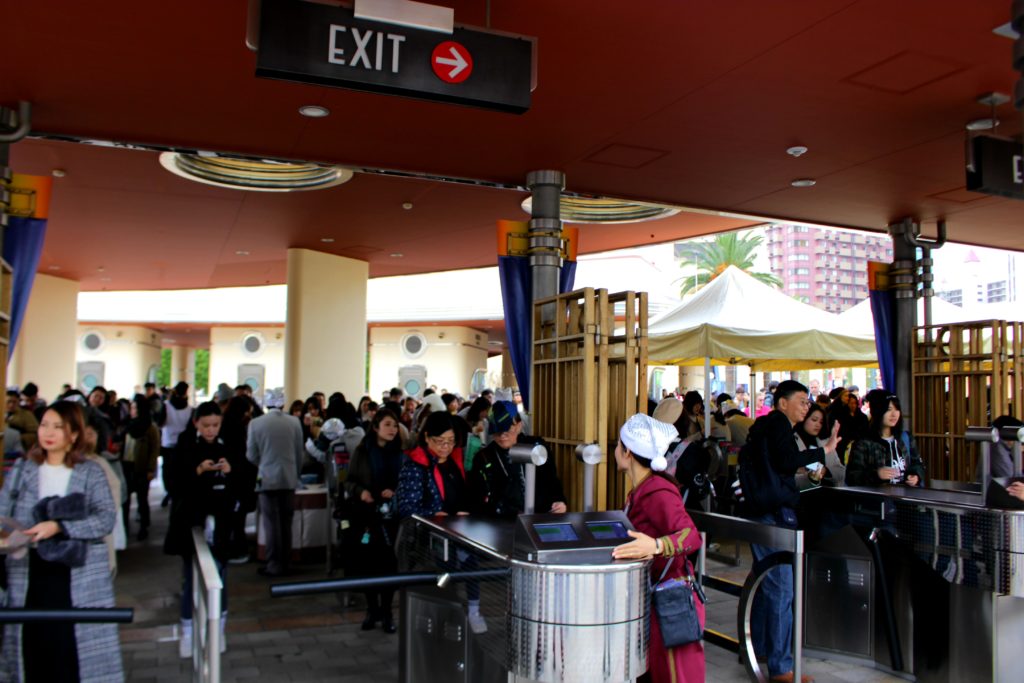 To give you an idea, the park usually opens at 9 AM. However, it may welcome guests earlier than usual, especially on peak days, which include the Christmas and New Year holidays as well as weekends. For detailed information about the park's hours, make sure to check the official schedule of Universal Studios Japan when planning your trip.
During peak days, The Wizarding World of Harry Potter might require you to get a Timed Entry Ticket. Don't worry, it's absolutely free! Universal Studios Japan came up with this reservation system to avoid congestion in the area and to ensure that everyone gets a fair chance to visit The Wizarding World of Harry Potter.
The Timed Entry Ticket is not necessary if you have an Express Pass. But if you don't, here's how to get it:

Once you're inside the park, hurry to the ticketing site indicated in the map above, then choose the time you want to enter The Wizarding World of Harry Potter and obtain your Timed Entry Ticket. See to it that you have your Studio Pass (or park ticket) with you when claiming your Timed Entry Ticket.
For more information about the Timed Entry Ticket, read this.
Hit The Rides ASAP!
Finally! You're in The Wizarding World of Harry Potter!
Your eyes are suddenly filled with childlike wonder, and you just couldn't wait to get a sugar rush at Honeydukes to your left or strike a chat with the Hogwarts Express conductor to your right before snapping a commemorative photo beside the crimson red steam engine. But, hold up! Before you let these attractions pull you in, you might want to hit the rides first!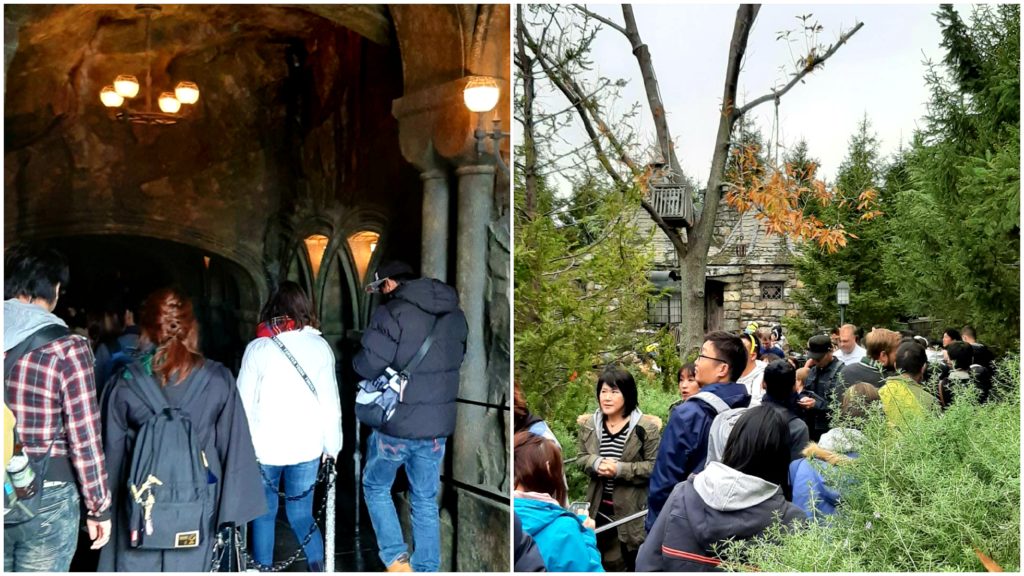 Currently, there are two rides at the Wizarding World of Harry Potter in Osaka—the kid-friendly roller coaster Flight of the Hippogriff and the award-winning Harry Potter and The Forbidden Journey, which will take you on a thrilling adventure alongside Harry Potter himself and his friends.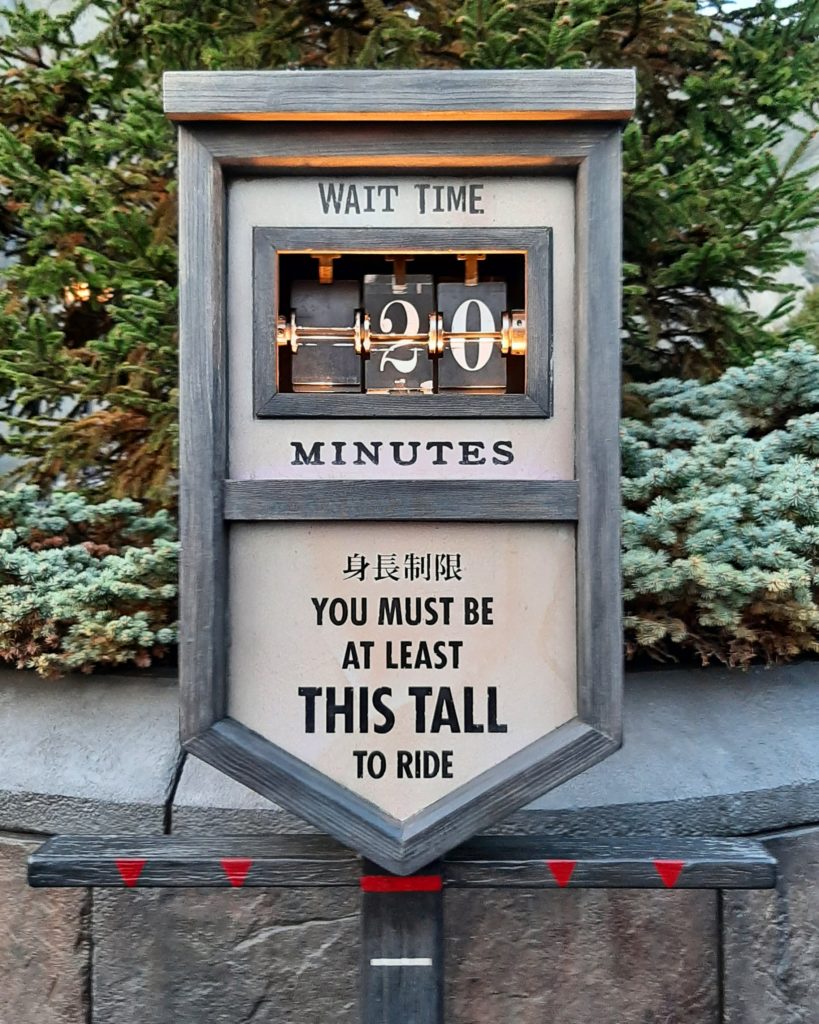 During lean times, the wait at these rides can be as fast as 20 minutes. But if you're coming on a busy day, expect to stand in line for at least an hour and a half if you don't have an Express Pass.
Trust us when we say that each ride is super worth the wait, though!
*Tip: Just want to take a tour inside the iconic Hogwarts castle without queuing for Harry Potter and the Forbidden Journey? You definitely can! Ask crew members about the Hogwarts Castle Walk to get a glimpse of what it's like to be a student of Britain's premier school for witchcraft and wizardry.
Check out the Christmas decorations that adorn Hogsmeade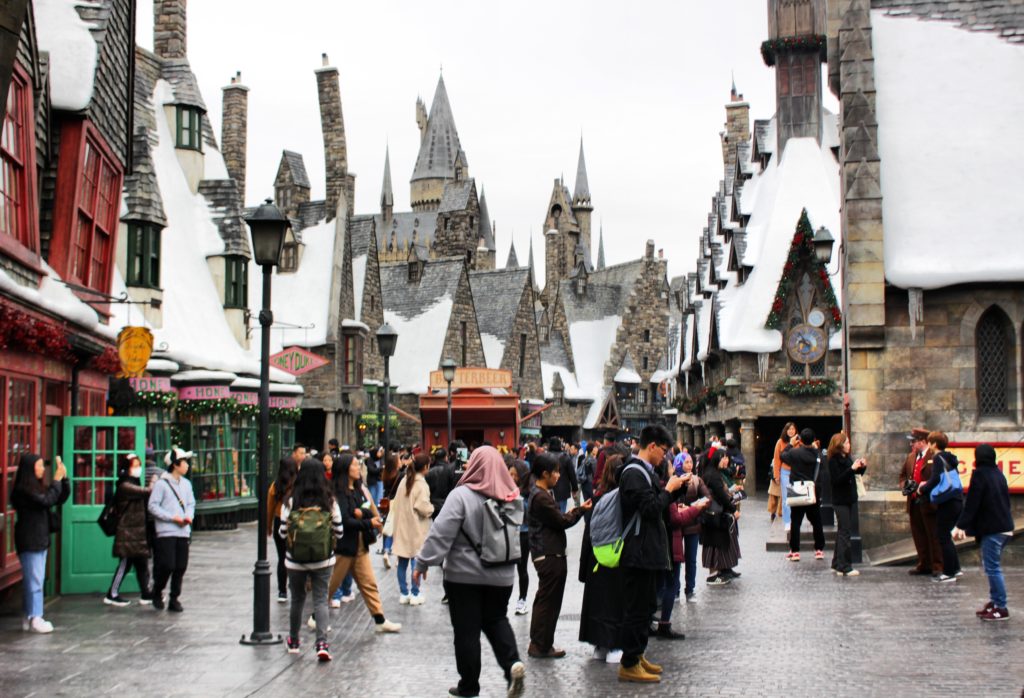 As it's Christmas in the Wizarding World, Hogsmeade is extra-festive this season! Take a stroll around and try to spot as many holiday decorations as you can—from the arch welcoming you to Hogsmeade to the shop windows to the massive Christmas tree in the square. Get your phone or camera ready because every corner of the Wizarding World is picture-perfect!
Grab some Butterbeer in the limited-edition Winter Souvenir Mug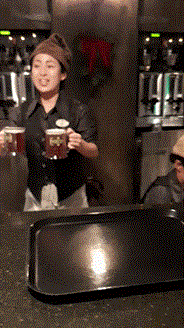 Of course, you can't say you've been to the Wizarding World of Harry Potter without having a go at the famous Butterbeer!
This non-alcoholic drink is usually served cold, but during autumn and winter, you have the option to enjoy it hot. Either way, it tastes magical—think frothy liquified caramel, with a delightful fizz. And if you're visiting between December and early January, you can have your Butterbeer served in the limited edition mug which has a distinct snowflake design.
Be ready to shell out some good galleons (or Japanese Yen) for it, though. Cold Butterbeer in the special mug will set you back to 1,250JPY, while the warm one is priced at 1,400JPY. If you're just curious about how Butterbeer tastes, you can buy it in the regular cup for 600JPY.
*Tip: Skip the Butterbeer stall and go straight to The Three Broomsticks to get your "pint." This restaurant has an outdoor seating area that will give you a stunning view of the Hogwarts castle, which is an Insta-worthy backdrop for your Butterbeer clicks!
Cast Spells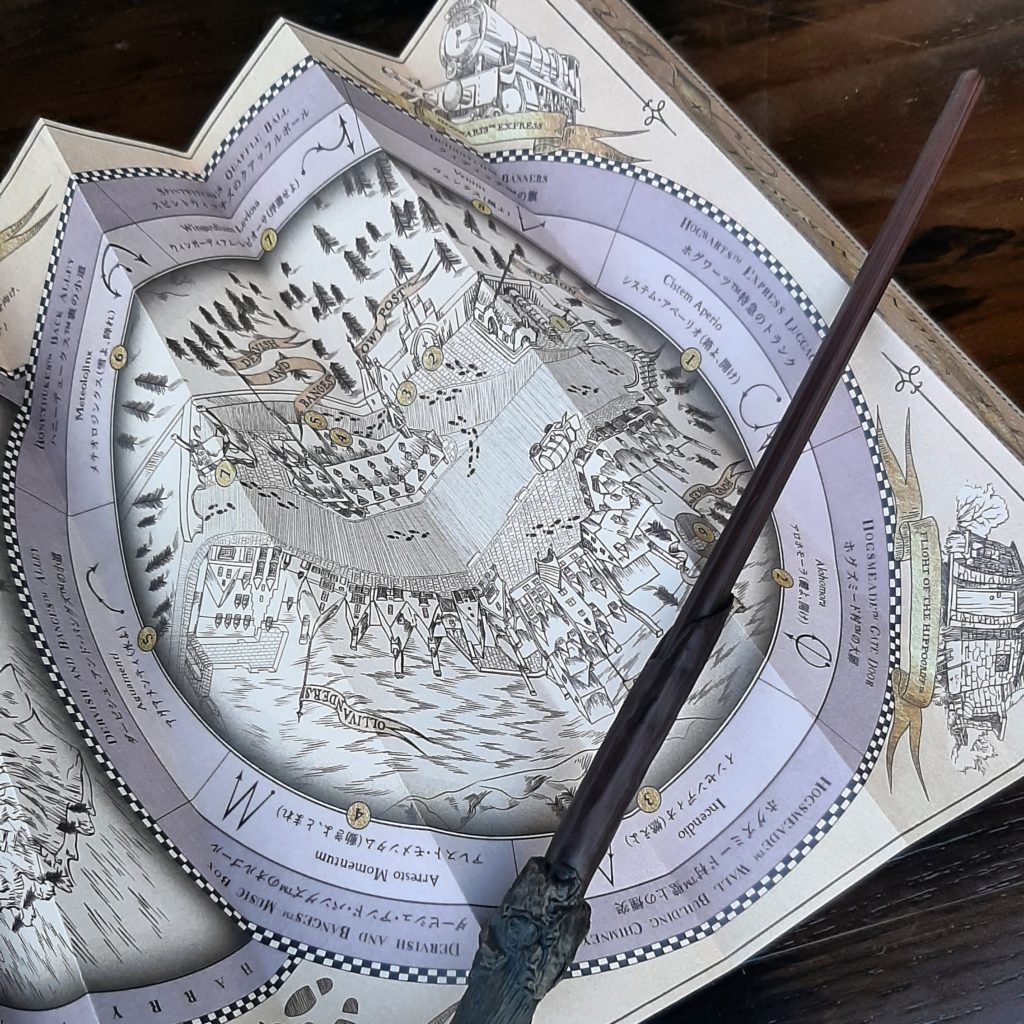 Wand Magic is what makes everyone's visit to The Wizarding World of Harry Potter even more magical!
This mind-blowing park feature allows you to cast spells with a magical wand purchased from Ollivanders, where you can get your favorite character's wand for 4,900JPY.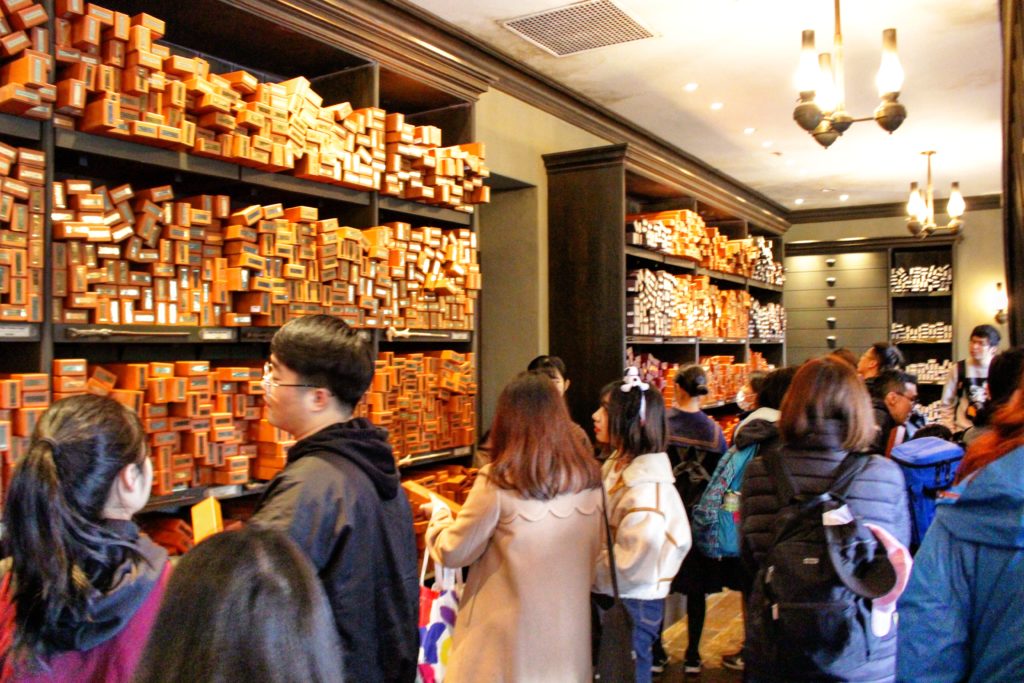 Now, to experience a different kind of magic in The Wizarding World of Harry Potter, all you have to do is keep your eyes peeled and look for bronze medallions that look like this: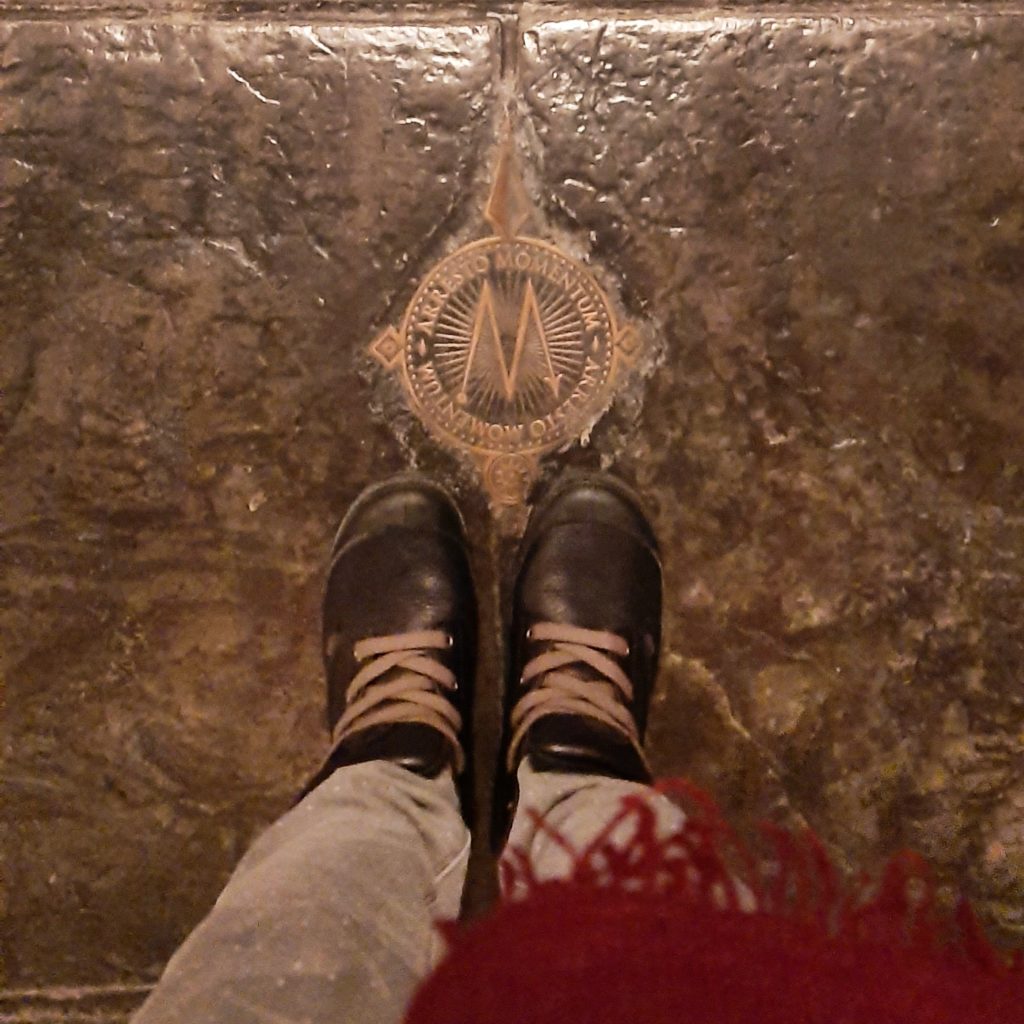 Make your search easier by referring to the map that comes with the wand you bought.  Once you spot a medallion, cast its designated spell and watch true wizardry unfold before your eyes.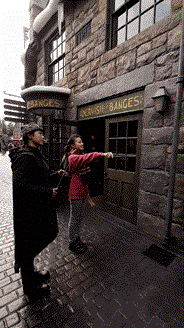 We wouldn't lie. Some spells may require a few tries (we found levitating a quaffle or stopping a music box from playing particularly tricky!), but don't give up too soon! With the help of wizards and witches onsite plus a little practice, you'll be a wand master in no time.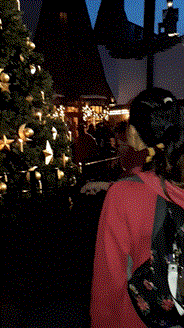 *Tip: This winter, you are in for a bonus, as the Wizarding World launched two seasonal spells you can cast to bring a special sparkle to the Hogsmeade Christmas Tree! Make the ornaments to move with "locomotor" then light up the entire tree with "lumos."
Send your Christmas greetings through the Owl Post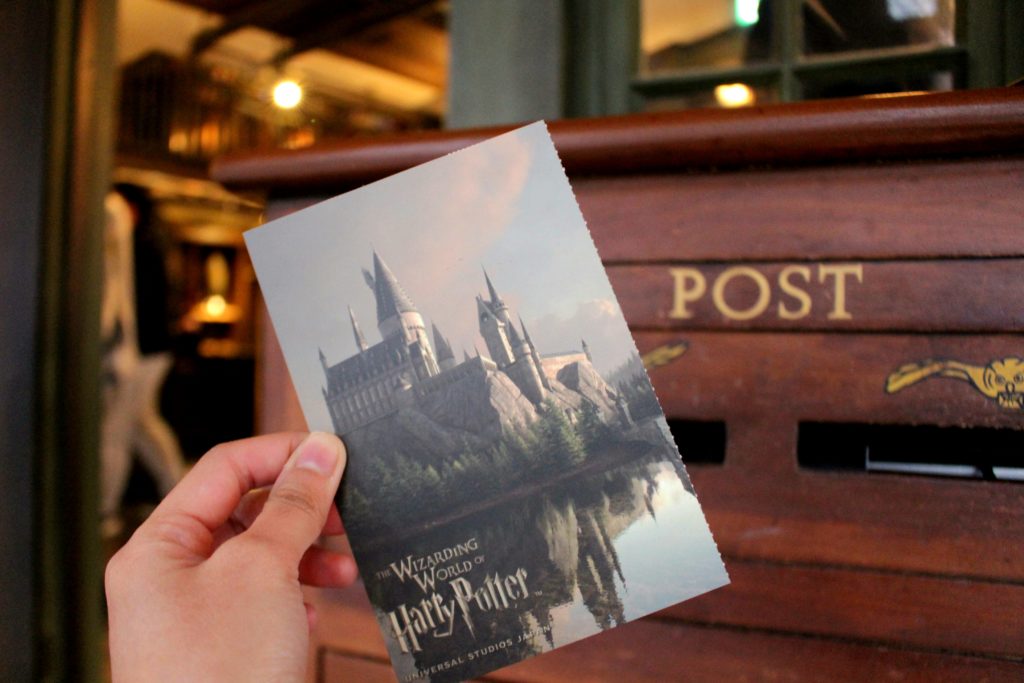 Head on over to Owl Post and Owlery to send loved ones a handwritten letter!
A postcard (750JPY) comes with two Harry Potter stamps. If you forgot to bring a pen (or a quill), you can simply borrow one from the storekeeper. But if you've got some sickles to spare, just buy a new one. The Owl Post and Owlery boast a great selection of items that will put any stationery lover on high. We're talking about ballpoint pens, notebooks, and washi tapes here!
Just to manage your expectations, though, maybe, not real owls will deliver your letter. BUT your postcard will carry a special Hogsmeade postmark from the Wizarding World, which is actually pretty wicked, too!
Catch the holiday frog choir for some cheery Yuletide tunes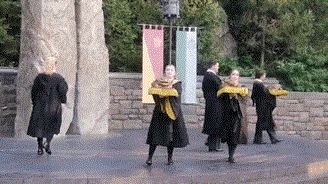 Let Hogwarts students and frogs treat your ears to sweet Christmas harmonies that you'll hear only in The Wizarding World! To catch the Holiday Frog Choir, make sure to check this timetable before you go or simply ask a wizard or witch in the park for a print-out of the day's show schedules. Do keep in mind that show times highly vary and can change without prior notice.
Secure a spot in front of the Hogwarts Castle by sunset in time for the Hogwarts Magical Nights Winter Magic Light Show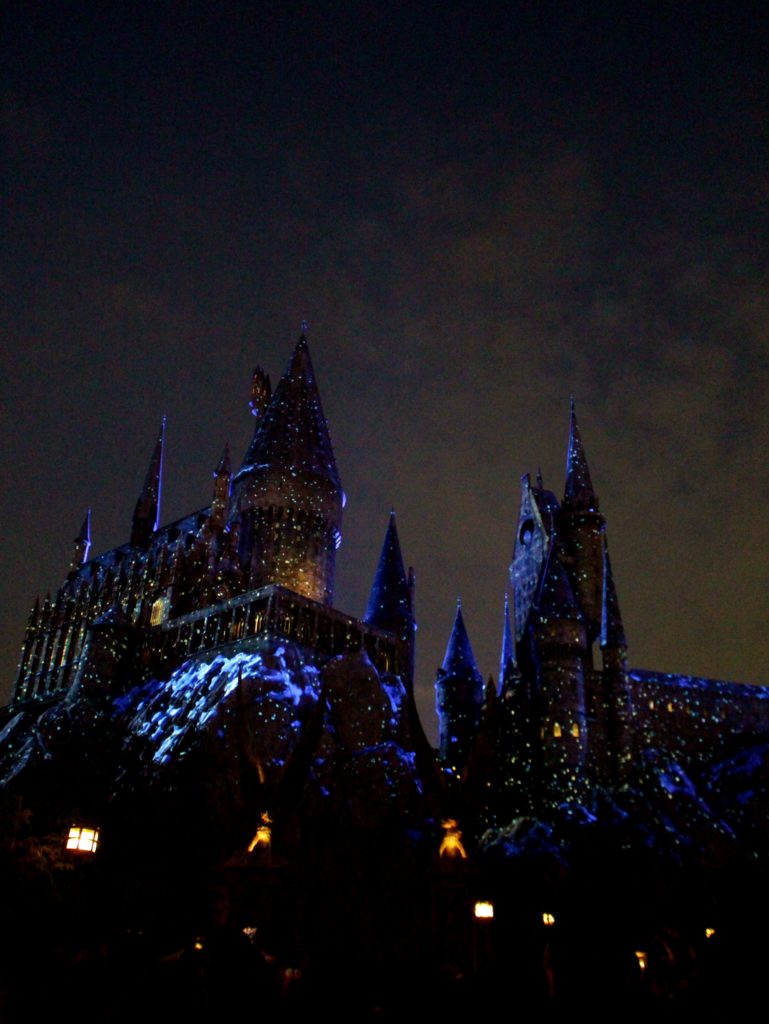 As darkness starts to fall over The Wizarding World of Harry Potter, make your way to the front of the Hogwarts Castle to catch the Hogwarts Magical Nights Winter Magic.
Held multiple times after sunset, this light show will turn the Hogwarts castle into a dazzling spectacle as Hogwarts students stage an act on the side. Really, you wouldn't want to miss this on your visit!