PSA: All Travelers Must Use the New E-Travel System Starting April 15
The arrival and departure cards will also be paperless starting May 1, 2023.
by Ina Louise Manto | April 13, 2023
While the new e-Travel System was launched by the Department of Tourism in December 2022, its mandatory and full-scale implementation will only begin on April 15, 2023, according to the Inter-Agency Task Force for the Management of Emerging Infectious Diseases.
New e-Travel System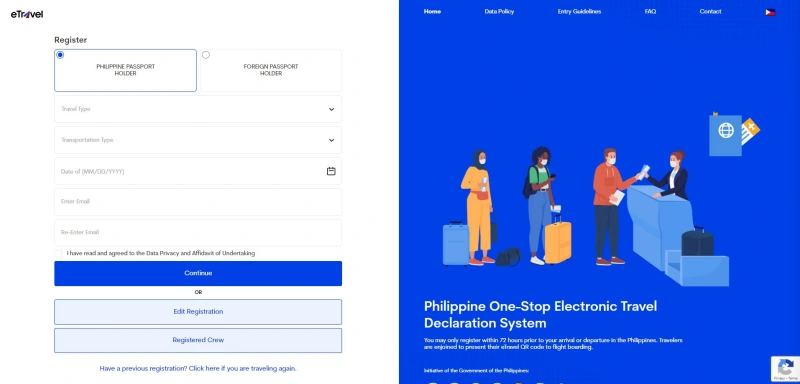 The new e-Travel System was launched in 2022 to replace old arrival requirements such as the paper Arrival Card and One Health Pass, aiding the flow of passengers in airports.
Both departing and arriving passengers may access the site 72 hours or three days prior to their scheduled travel time.
Here's a full rundown on how to use the e-Travel portal:
Arriving in the PH: How to Use the New eTravel Declaration System
Arriving in the PH: How to Use the New eTravel Declaration System
Ina Louise Manto | Dec 07, 2022
The Bureau of Immigration will also discontinue the use of paper-based departure and arrival cards beginning May 1, 2023.
No payments needed
The use of the new e-Travel System is FREE, so be cautious of websites that require payment or card details.
Do I need to register again for my next travel?
Yes. As stated by Philippine Airlines in a query, travelers must fill out a new declaration 72 hours prior to their next travel. Remember that the system also replaces the old health declaration paper, which should always be up to date.
For more information and updates, visit the e-Travel System website and keep posted on important announcements by following your airline's social media pages.
Looking for other places to explore? Join WindowSeat.ph's official Facebook community What's Your Trip PH for more recos!