Heads Up: Tokyo Disneyland and DisneySea Will Increase Ticket Prices in October
Planning to visit Japan during autumn or wintertime?
by Ina Louise Manto | August 24, 2023
With travel back in full throttle combined with inflation, there's no wonder why attractions are increasing prices. If you're planning to fly to Japan this autumn or during the holidays, it's time to adjust your budget as Tokyo Disneyland and DisneySea are increasing prices beginning October. Know more about it here:
Highest ticket prices in 40 years
Amusement parks like Tokyo Disneyland Park and Tokyo DisneySea Park are no exceptions to the ongoing inflation. As the Parks celebrate their 40th anniversary in 2023, they announced their new variable pricing beginning October 1, 2023.
The Parks are reducing daily capacity relative to pre-pandemic levels to provide a great experience to its guests. And for the first time ever, Park tickets will cost up to ¥10,900 or approximately PHP4,200 for adults.
From October 1, there will be four price tiers, which will minimize the difference in the number of guests visiting the Parks on weekends and weekdays.
Check out the new prices shared by Tokyo Disney Resort Japan:

Until September 2023, adult tickets to the Parks are approximately PHP3648.86 to PHP3066.60. But beginning October 1, 2023, it will be around PHP PHP3066.60 to PHP4,200.
October 2023 Tokyo Disneyland Prices
These are the tentative ticket prices for October 2023: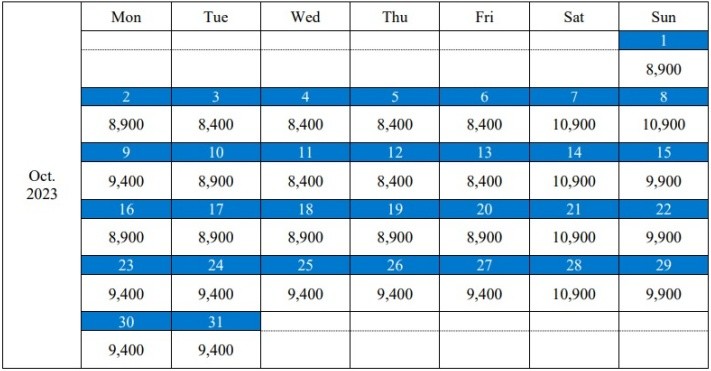 Find more information on ticket prices here.
What's New in Japan: 15 Attractions to Add to Your Itinerary
What's New in Japan: 15 Attractions to Add to Your Itinerary
Ina Louise Manto | May 23, 2023
Looking for other places to explore? Join WindowSeat.ph's official Facebook community What's Your Trip PH for more recos!