Here's How the Travel Industry Can Bounce Back After the Pandemic, According to Google
The data doesn't lie!
by Bianca Katipunan | November 03, 2020
The travel industry has suffered great losses because of the pandemic. However, things are slowly going back to "normal" — or at least the new normal. Since quarantine restrictions are slowly being lifted, people can now book different stays in nearby provinces. And a recent Google survey found that one in two people in the Asia-Pacific region are interested to travel, which means that people are slowly lowering their guards and are going out!
Pinoys are going local
Since travel restrictions are easing, Filipinos are starting to book nearby stays. According to search query data from Google, people have been looking for farm and beach destinations, with 30% and 40% increase respectively from August to September. The reason for this might be because these stays allow people to still perform social distancing. We can also note that the increase in searches is because people just can't wait to get out again. According to Google, beach attractions in Palawan, Boracay, and Batangas and natural attractions like Chocolate Hills in Bohol are among those being searched more often.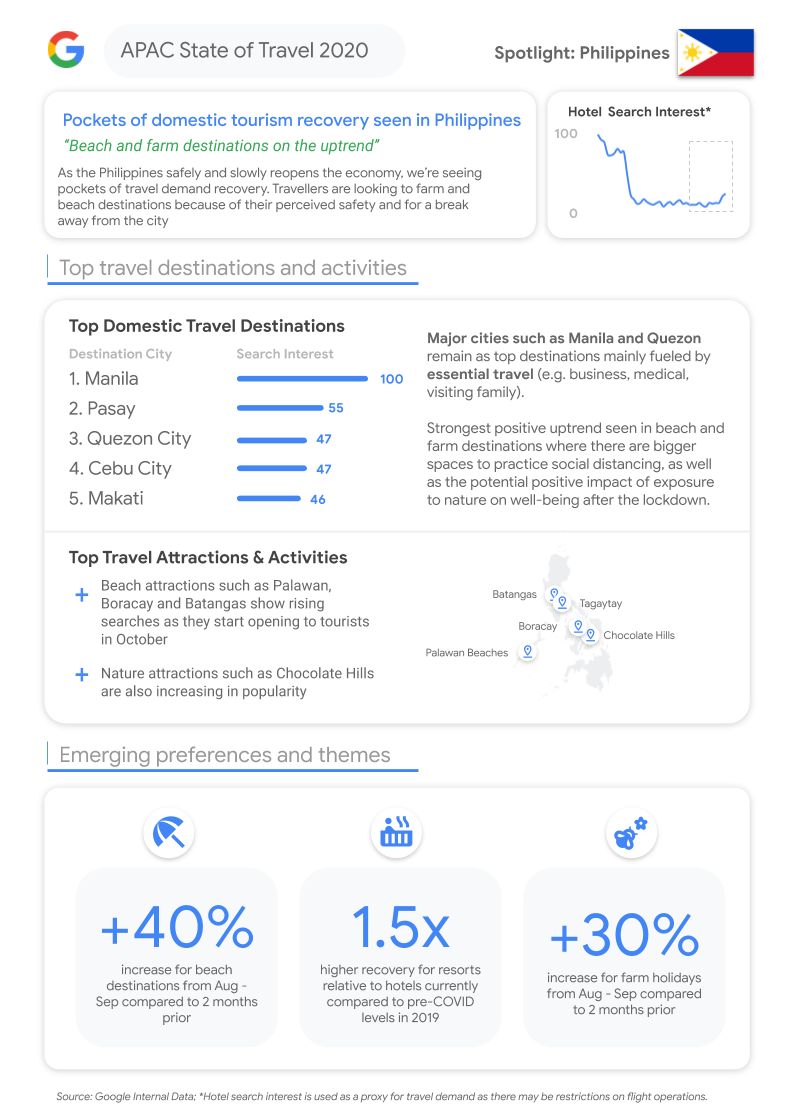 The three-step recovery plan for travel marketers
Step 1: Engage travelers
Google's findings show that consumers are still turning to online travel agents when making their plans. In China, six out of 10 consumers are planning more regularly with online travel agents compared to pre-COVID-19 era.
Companies should also consider relaying safety and travel information across channels, as well as offering flexible bookings and price guarantees for travelers who are keen to book flights and hotel reservations early. They can also drive engagement by introducing innovative online marketing activations like live streams to keep their brand top-of-mind.
Step two: Know what consumers are looking for
Second, marketers should take note of travelers' top preferences when making booking choices. Consumers now prioritize cleanliness and hygiene. They also consider competitive prices and promotions, flexible policies, travel brand reputation, and loyalty programs. By understanding this data, travel companies can better cater to the changing consumer preferences.
Step one: Instill confidence
Because there are still some uncertainties around meetings, incentives, conferences, and exhibitions (MICE) activities and travel, what travel agencies need to do is instill confidence to reignite demand for the MICE segment. In China, hotel companies such as Marriott International are implementing enhanced hygiene protocols for business events to encourage bookings. Constant assurance of safety by communicating a commitment to cleanliness as part of brand messaging goes a long way to help revive the tourism industry.
What do you consider when making travel plans during the pandemic?