LOOK: Madame Tussauds in Singapore Unveils First-Ever Wax Figure of Hyun Bin
Catch Hyun Bin's wax figure at Madame Tussauds in Singapore until September 2023.
by Ina Louise Manto | July 19, 2023
It looks like there's one more place where you can catch CLOY star Hyun Bin. Madame Tussauds Singapore, the world-renowned wax museum, is set to sizzle with the launch of its first-ever wax figure of Hyun Bin, the popular South Korean actor.
Up close and personal with Hyun Bin 
Hyun Bin, who shot to international fame with his role in the hit Korean drama "Crash Landing on You," has a huge following around the world. Fans of the actor will now get up close and personal with his lifelike wax figure at Madame Tussauds Singapore, which will join the ranks of other famous celebrities at Madame Tussauds Singapore, including Michelle Yeoh, Leonardo DiCaprio, and Nicole Kidman.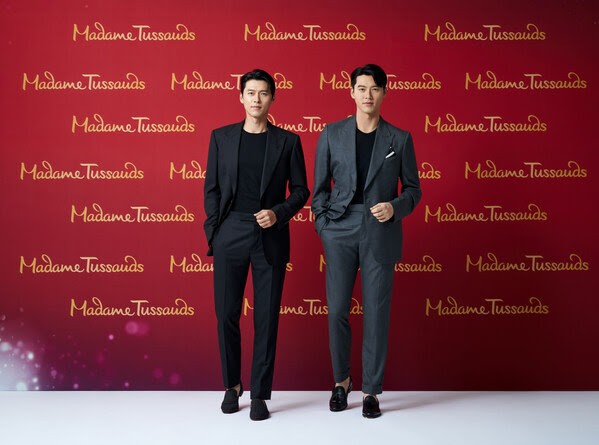 The wax figure of Hyun Bin took over six months to create, with a team of expert sculptors and artists working tirelessly to ensure that every detail was perfect. The team conducted extensive research to ensure that the figure captured Hyun Bin's likeness and personality, from his trademark smile to his unique style. In addition, his figure has been brought to life by combining technology with wax, where guests can feel its heart beating as they get closer to the Korean heartthrob.
"We are thrilled to unveil our first-ever wax figure of Hyun Bin at Madame Tussauds Singapore," said Steven Chung, General Manager of Madame Tussauds Singapore. "Hyun Bin is one of the most popular and beloved actors in South Korea, and we know that fans around the world will be excited to see his lifelike wax figure up close."
Fans can expect amazing likeness and endless photo opportunities with the wax figure as Hyun Bin himself shares, "I'm so excited to finally be able to reveal my wax figure to fans from all around the world. A lot of time and effort has been put in by the team at Madame Tussauds. They have been so meticulous at their job recreating me and I am so grateful for this opportunity."
The launch of the Hyun Bin wax figure is a testament to Madame Tussauds Singapore's commitment to providing visitors with an immersive and unforgettable experience. The museum is proud to be a leading attraction in Singapore and looks forward to welcoming visitors from all over the world to see the new addition to its collection.
For a limited time only
Hyun Bin's wax figure is a touring figure and will be in Singapore for a limited time only! From 14 July – end September 2023, fans who wish to see Hyun Bin's wax figure can visit Madame Tussauds Singapore's website at www.madametussauds.com/singapore to purchase attraction tickets before the wax figure jets off to the next leg of his Asian tour.
About Madame Tussauds Singapore
Located at Imbiah Lookout, Sentosa, Madame Tussauds Singapore opened in October 2014, and features a variety of interactive experiences under one roof; from Madame Tussauds Singapore, to Images of Singapore, to "Spirit of Singapore" boat ride – the only Madame Tussauds site to have a boat ride, the Marvel Universe 4D Cinema, and lastly the Ultimate Film Star Experience! Featuring 12 incredible zones from glamourous Hollywood actors to your favorite K-pop stars, artists, musicians and sports heroes, the incredible Madame Tussauds Singapore houses over 75 wax figures. The gallery of wonder is so much more than an exciting attraction – where guests will get to experience our immersive and interactive technologies at every corner!
Welcoming a fabulous 10 million guests through our world-famous doors every year, Madame Tussauds gives you the chance to experience the ULTIMATE fame experience. We have over 23 unique locations around the globe, from New York to Singapore, Amsterdam to Sydney – and of course London, where the story began. Throughout our 250+ year history, Madame Tussauds has brought to life thousands of celebs, stars and heroes – in mind-blowingly accurate detail – giving visitors the opportunity to brush shoulders with their idols and LITERALLY reach for the stars! 
Madame Tussauds Singapore welcomes guests from 10am to 6pm daily (final admission at 5pm). For ticket enquiries, please call (65) 6715 4000 or visit www.madametussauds.com/singapore/. 
'Crash Landing on You' Iconic Filming Locations You Can Visit IRL
'Crash Landing on You' Iconic Filming Locations You Can Visit IRL
Ina Louise Manto | Feb 19, 2020
Disclaimer: This is a press release. Minor edits have been made by the WindowSeat.PH editorial staff. 
Looking for other places to explore? Join WindowSeat.ph's official Facebook community What's Your Trip PH for more recos!