Singapore Food Crawl: 10 Must-Try Hawker Finds That'll Keep You Coming Back for More
Time to bring out the foodie in you.
by Ina Louise Manto | July 12, 2023
Singapore is one of the best travel destinations for a food crawl. With its rich culture, there are plenty of cuisines to try: from Indian and Chinese to Malay dishes. One of the best ways to explore them is by visiting hawker centers! We all know how pricey SG travel can get, but that doesn't mean you can't feast even when on a budget. With S$5, you can already have filling meals, and the hawker center experience is unmatched. Visiting Singapore soon? Here's a quick guide on some must-try hawker food:
Hainanese Chicken Rice
When talking about Singaporean food, chicken rice tops the list. After all, it's the nation's most-beloved dish and it's in different variations too. There's nothing quite like biting into a soft piece of chicken dipped in soy and spicy sauce and paired with freshly cooked white rice. Whether you have your chicken roasted, poached, or in soy sauce, this comforting dish would make you want to get more.
Laksa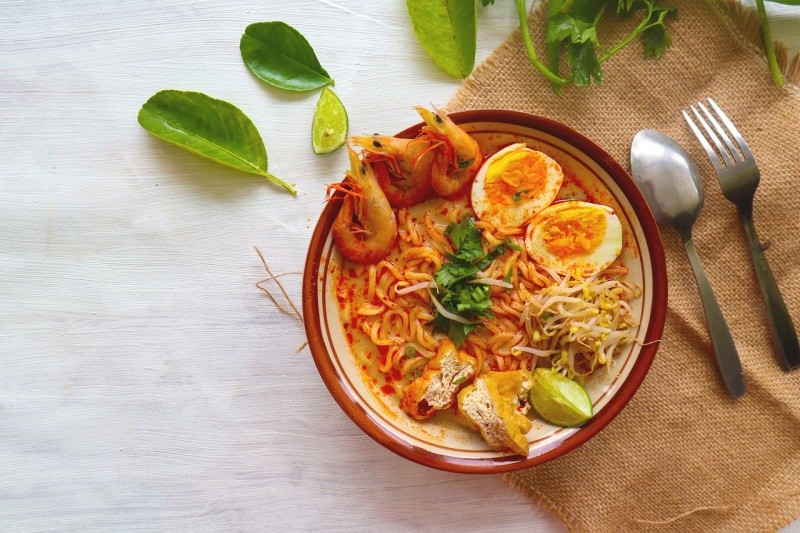 Never mind the Singaporean heat and humidity, this one's for the folk who love to indulge in a hearty and comforting bowl of soup and noodles. Plus, points for those who love spicy soups too, because this dish has got a bit of a spicy kick to it (depending on your tolerance, of course). Laksa has variations too, but you'll commonly find the home-grown Katong laksa in hawker centers. Inspired by Peranakans in the Katong area, this variation boasts an orangey color, which comes from the combination of coconut milk, spices, thick noodles, prawns, fishcake, and dried shrimp. It's the perfect rainy-day comfort food!
Fried Kway Teow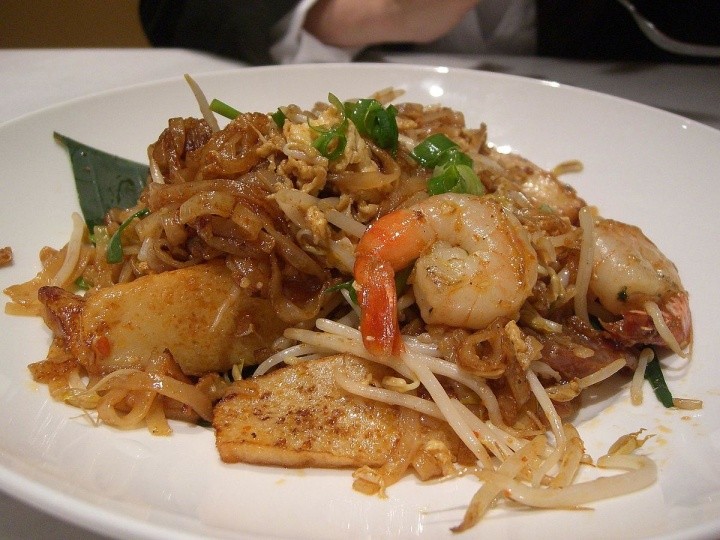 If you're looking for a dish that will keep you feeling full, go for fried kway teow. Also known as char kway teow, this noodle dish was originally made as a "poor man's dish" due to its low-cost ingredients that will keep you full for a day's worth of labor. Fried Kway Teow is a mix of yellow wheat and flat rice noodles, egg, beansprouts, fishcake, Chinese wax sausage (lup cheong), garlic, and sauce. What makes it so good (yet so bad for the body) is the generous amount of lard. Earlier versions were cooked with firewood, but the ones you'll typically find in hawker centers these days are cooked over gas stoves.
Satay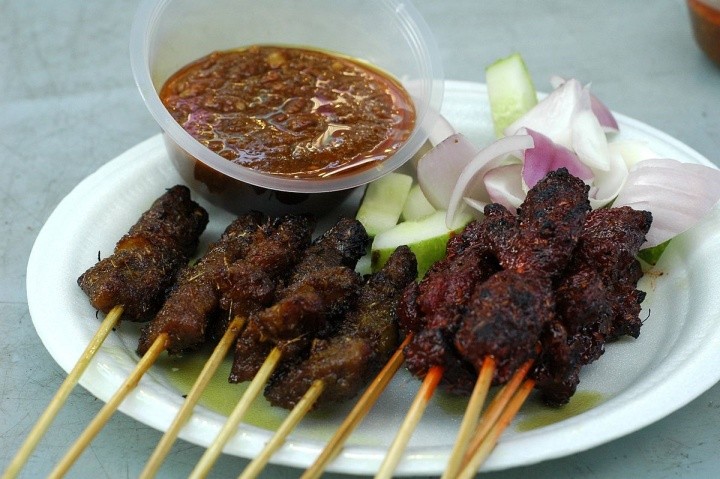 Whether served with rice, salad, or bread, satay is the dish perfect for sharing. It's basically a meat skewer resembling a kebab, and it's commonly made of mutton, beef, or chicken seasoned with spices. Unlike kebabs, bamboo skewers are used in satays. These tender skewers are served with sweet and spicy peanut sauce with slices of onion and cucumber on the side.
Kaya Toast
View this post on Instagram
Want to start your day the Singaporean way? Head to a local kopitiam (coffee shop) and order some sweet kaya toast. This sweet breakfast dish is made from toasted bread with a spread of kaya and slices of butter. Kaya is a traditional jam made from eggs and coconut, with two variants: green which uses pandan and brown that's from caramelized sugar. Kaya Toast is also best served with hot kopi and two soft-boiled eggs topped with white pepper and soy sauce. Don't forget to dip the toast in the egg mixture!
Nasi Lemak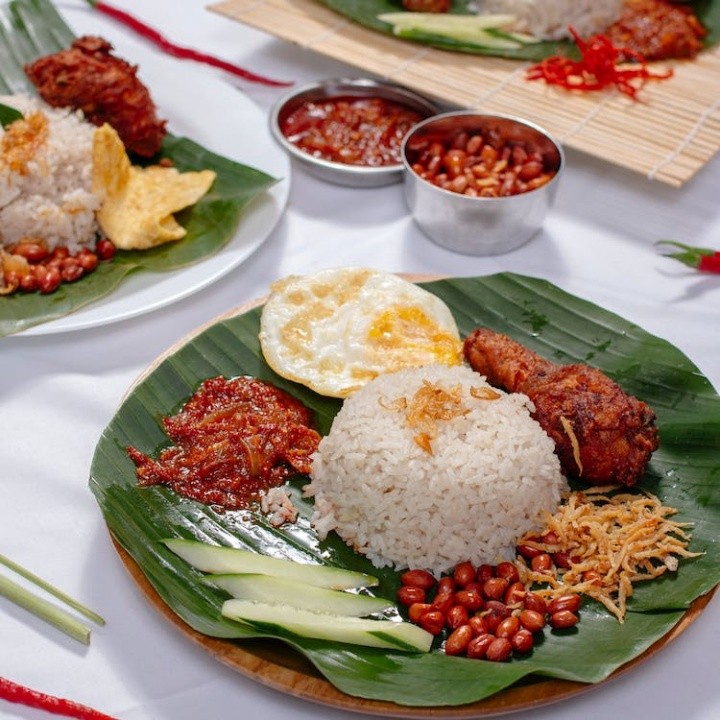 Here's to the folk whose motto is, "rice is life": you're going to love nasi lemak. Translating from Malay to English, it means "rich rice", which is the taste you'll get with every bite. The star of the dish is the fragrant and rich rice infused with pandan leaves and coconut milk, served with sambal sauce, peanuts, cucumbers, boiled eggs, grilled fish paste, fried fish or chicken, and anchovies. Nasi Lemak originates from Malaysia and is known as its national dish.
Hokkien Prawn Mee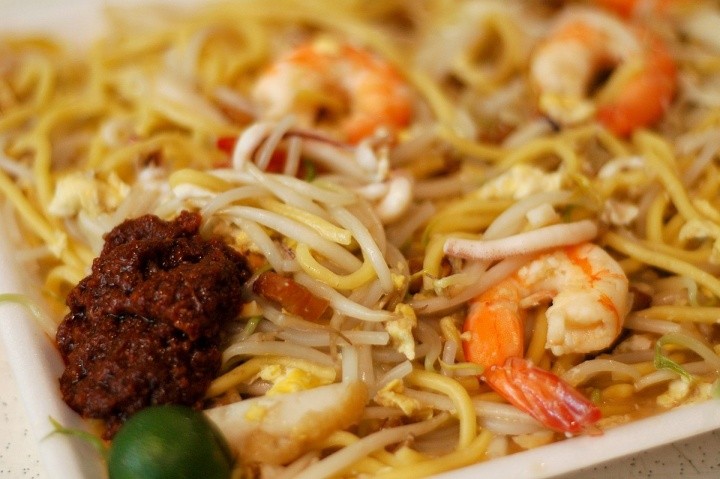 Don't underestimate the looks of this simple fried noodle dish as it's packed with flavors. Also known as Hokkien Mee, this fried prawn noodle dish is made flavorful with a rich broth made from prawn heads and pork bones. It uses a combination of thick bee hoon (vermicelli) and yellow noodles, mixed with proteins such as pork belly strips, prawns, and squid. Topped with lime and sambal or spicy sauce, Hokkien Prawn Mee is a must-try for noodle lovers.
Roti Prata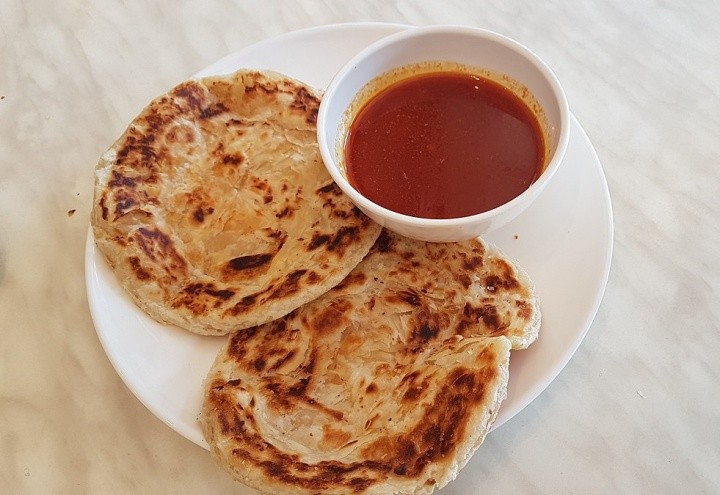 There's no need to fly to India to have a taste of authentic Roti Prata because you can have it right in Singapore. This savory snack or dish is imported from South India and comprises flatbread and curry. In Hindi, roti means "bread" and prata means "flat"; it's a fried stretched bread that's coated with ghee or Indian clarified butter. And you know it's a good one when it's crispy on the outside and soft on the inside. Roti Prata is usually eaten using your hands, which isn't new to Pinoys!
Chili Crab
View this post on Instagram
Seafood lovers, don't forget to try chili crab. This famous Singaporean dish was started in 1956 by a husband and wife who wanted to experiment with the way they cooked crabs. Instead of just steaming the seafood, the wife stir-fried crabs and combined them with tomato sauce. She then added chili sauce for more flavor, giving birth to the iconic dish. Chili Crab is typically served with golden mantou buns, which are dipped in a flavorful sauce. Never mind eating with gloves – eat with your hands and it's seriously finger-licking good.
Fried Carrot Cake
View this post on Instagram
Now this dish isn't something you order from a cafe and eat with a coffee beverage. Singapore's fried carrot cake isn't a dessert but a savory dish. Surprisingly, it doesn't have carrots too! Instead, its main ingredients are white radish (white carrot) and rice flour, which are steamed, cut into cubes, and fried with preserved radish, eggs, and garlic.
3D2N in Singapore: What to Do, Where to Stay on a P15,000 Budget
3D2N in Singapore: What to Do, Where to Stay on a P15,000 Budget
Kyzia Maramara | Nov 07, 2022
Looking for other places to explore? Join WindowSeat.ph's official Facebook community What's Your Trip PH for more recos!