'Itaewon Class' Filming Locations to Visit on Your Next Trip to Korea
While you're stuck at home binge-watching K-dramas, add these destinations to your travel bucket list.
by Ina Louise Manto | March 31, 2020
Itaewon Class has finally come to an end on March 21. It's a Korean drama based on a webtoon starring ultimate oppa Park Seo Joon, Kim Da-mi, Kwon Nara, and Yoo Jae-myung. The show is about an ex-convict who works his way into success and fulfills his years-long dream of starting his own pub.
Its final episode garnered a 16.54% rating, making it the sixth highest-rated drama on Korean cable TV. And we get why it got so much love from the audience. The plot and especially the cast made it a show to remember. Plus, who wouldn't want to miss on Park Seo Joon?
Missing Itaewon Class? We gathered some filming locations to bookmark for your next trip:
Undukjib
The Scene

This is the iconic 'Danbam' restaurant, that Park Saero-yi (Park Seo-joon) opened after he spent seven years of deep-sea fishing. It is also the place where Saero-yi and Oh Soo-a, his first love, met again for the first time after seven years. The location is actually a real restaurant called 'Undukjib' that serves gopchang or tripe in Itaewon. Visit their Instagram here.
Location: 57 Noksapyeong-daero 40-gil, Itaewon 1(il)-dong, Yongsan-gu, Seoul
G Guesthouse
G Guest House is a hostel located in Itaewon. In the show, you'll see it portrayed as "Bogwang Kosiwon" or Bogwang Study Room. It appears in Episode 3, where Park Saero-yi stops a mother from slapping Jo Yi-seo. This is also where Jang Geun-soo lives. You might want to consider staying here when you visit!
Location: 14-38 Bogwang-ro 60-gil, Itaewon 1(il)-dong, Yongsan-gu, Seoul
The Finest
View this post on Instagram
Shown at the end of Episode 4, The Finest Lounge is a bar with a rooftop in Itaewon. It is where Saero-yi and Yi-seo went for a drink, which led to Saero-yi passing out from drunkenness. Spoiler alert: out of impulse, Yi-seo leaned in for a kiss while Saero-yi was on the floor!
Location: 41 Hoenamu-ro, Itaewon2(i)-dong, Yongsan-gu, Seoul
Ssangdaepo Restaurant
View this post on Instagram

Sssangdaepo is a popular location among Korean dramas. It has appeared in famous dramas like Weightlifting Fairy Kim Bok Joo (2016), Boys Over Flowers (2009), and Suspicious Partner (2017). It appears in Episode 12 of Itaewon Class, where Soo-a tells Saero-yi that he has dumped him the night before. Ssangdaepo opened in 1995 and is popular for their samgyupsal.
Location: 291 Cheongpa-ro, Yongsan-gu Seoul
Banpo Bridge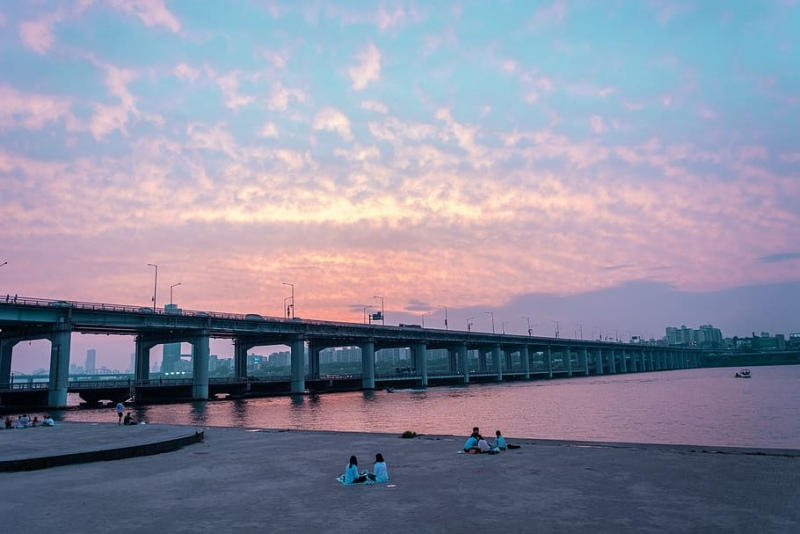 Banpo Bridge is a bridge in downtown Seoul over the Han River. It connects the districts Yongsan and Seocho. It is also another popular filming location and has appeared in dramas like Boys Over Flower (2009) and Hotel Del Luna (2019).  The bridge appears in Episode 4 of Itaewon Class where Yi-seo determines her future by tossing a coin.
Location:  Banpo 2(i)-dong, Seoul
Joy's Parlor
View this post on Instagram
Named as "Jojo's Place" in the show, Joy's Parlor is a café in Itaewon. It appears in Episode 9, where Saero-yi helps the owner for some repair work. It is located in the same street as his new restaurant, and Yi-seo and Soo-a appear in disbelief as Saero-yi does free work.
Location: 31 Noksapyeong-daero 46-gil, Itaewon 2(i)-dong, Yongsan-gu, Seoul
Which of these locations are you excited to visit? In the meantime, put them in your travel bucketlist and stay indoors! There will be more time to travel once the pandemic ends.
If you liked this filming location guide, you might enjoy these: 
'Crash Landing on You' Iconic Filming Locations You Can Visit IRL
You Can Visit These 'Parasite' Filming Locations IRL
Stunning Locations Featured in "Descendants of the Sun" You Can Visit IRL