Preserve Bohol's Beauty with Juan Effect, Cebu Pacific's Sustainable Tourism Campaign
Signages at Bohol's famous tourist spots remind everyone to be mindful of the environment
by Kyzia Maramara | February 11, 2020
Travel has changed in so many ways over the past decade. What once was considered a luxury has become accessible to the masses, thanks to a number of factors: low-cost airlines, budget travel, and the many tips on the internet on the best places to go and experience. Travel is no doubt one of the greatest forms of leisure and no other generation knows this better than the generation of today.
The ideal holiday usually means jetsetting to some far-off place where the beauty of nature is untainted — ideally. But that often isn't the reality today. Here's what Cebu Pacific is doing about it.
Sustainability means everyone gets to benefit – the tourists, the economy, and the environment
We see now that people are willing to set aside more of their hard-earned money to see more of the world. Traveling opens eyes to other cultures and palettes to scrumptious cuisine. Tourism is also a great economic driver, as it creates income and employment opportunities for locals. As the number of travelers increases by the year and tourism booms, the threat of over-tourism, negative impacts on the environment, local culture, and unchecked waste management become even more real.
This is why more and more hotels, airlines, and individual travelers promote environmentally conscious tourism. Traveling green is what this decade should be about which is why Cebu Pacific, the Philippines' leading carrier has launched its sustainable tourism advocacy called "Juan Effect."
Juan Effect lets people know that helping tourism and the environment doesn't have to be done with a grand gesture, one can start by the simplest of steps such as bringing your own water bottle or refusing straws. Juan Effect encourages the Filipino regular Joe Juan, to do just that: commit to one simple daily habit consistently. If enough people do this, it can ultimately make a big impact in helping to preserve the environment.
Juan Effect started in 2018 and is now on its third location
Launched in Boracay and Siargao in 2018 and 2019 respectively, Juan Effect has adopted Bohol as its 2020 destination. This initiative was made in partnership with the Department of Tourism (DOT), Department of Environment and Natural Resources (DENR), Department of Interior and Local Government (DILG), and local government units.
Home to the world's smallest primate, the Philippine tarsier, famous Chocolate Hills, and beautiful white-sand beaches, Bohol's beauty is unparalleled. For 2020, Bohol's local government shared that they're targeting to hit 2 million visitors to the island, Juan Effect couldn't have arrived at a better time.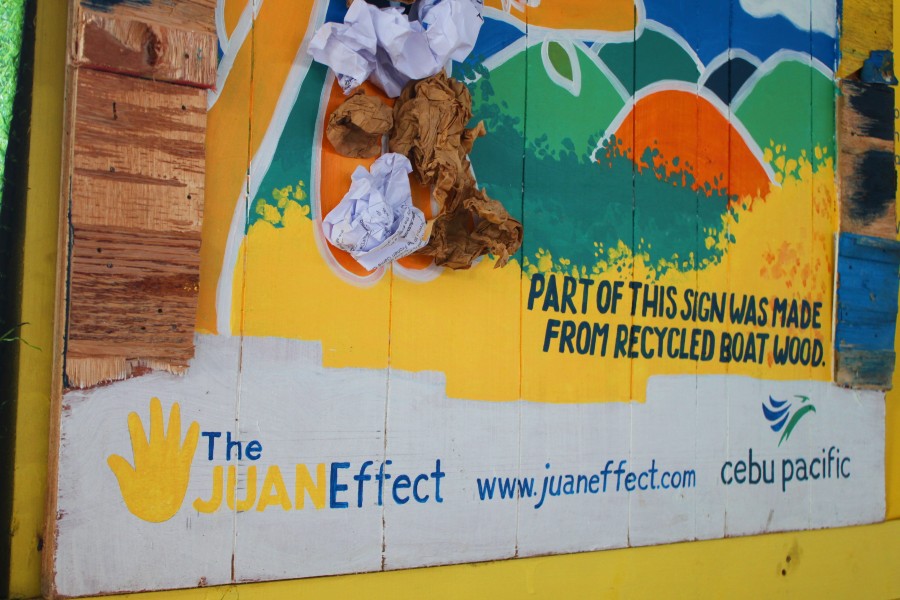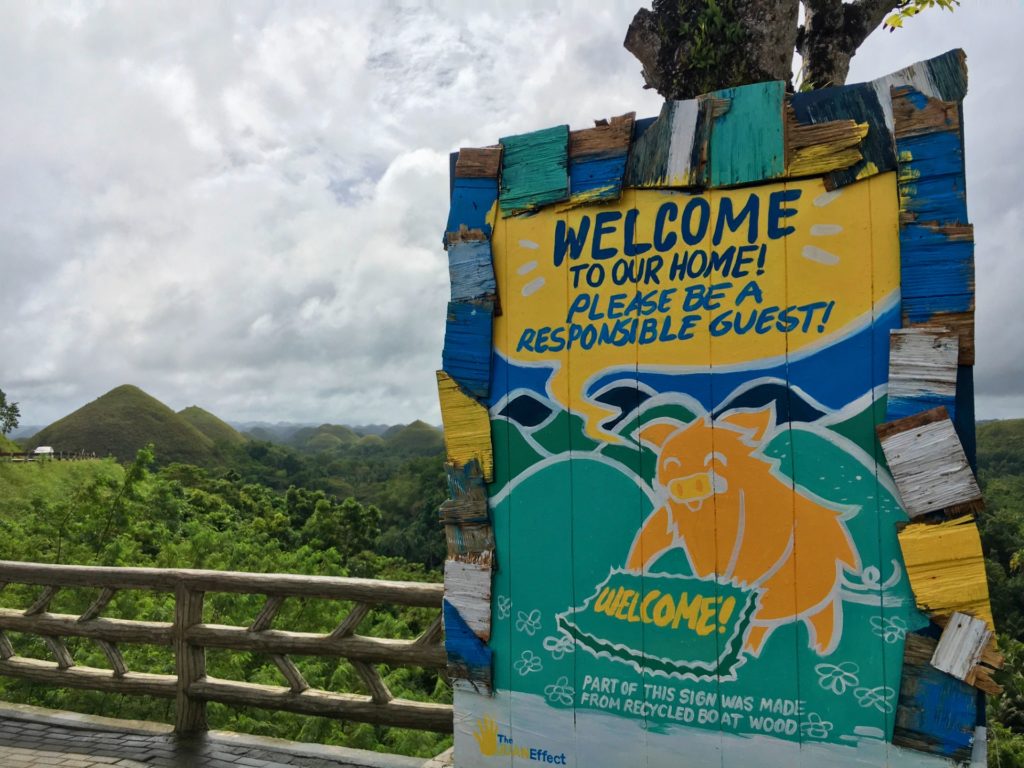 Juan Effect Bohol will launch an information campaign through signages installed at Bohol's most famous tourist spots and attractions. They're already positioned at various points at the Chocolate Hills, the Tarsier Sanctuary, the Loboc River Cruise, and the Man-made Forest in Bilar. These signages are made from repurposed wood from unused boats, painted in bright colors, and printed with words that will remind tourists to conserve the island's ecological and cultural treasures.
Since the launch of Juan Effect in Boracay in 2018, there has been a significant collection of solid waste at the beaches, shares Candice Iyog. Cebu Pacific has donated hundreds of trash bins and they line the island's white beach lessening the litter on the beach itself. For Siargao, PET bottle collections are turned into eco-bricks that help build schools and support local communities.
Cebu Pacific has a vision for a sustainable future
"As a leading carrier in the Philippines, we feel that it is incumbent upon us to do what we can to mitigate the unintended consequences of tourism growth," says Candice Iyog, Cebu Pacific's Vice President for Marketing and Customer Experience, during the Juan Effect launch in Bellevue Pavilion, Bohol last February 7. "We want to be mindful of how we grow, mindful of the environment, mindful of the culture, and mindful of our impact."
With this goal in mind, Cebu Pacific has been making its own efforts aside from the Juan Effect initiative. By 2040, as part of a sustainability campaign, the carrier is expected to replace all their old aircraft with the new A321 New Engine Option (NEO) aircraft which is currently the most fuel-efficient in the fleet. It burns 25% less fuel, uses paper containers to serve food, and has its own USB charging port for every passenger.
The beauty of Bohol meets the world
Juan Effect raises Bohol to the world's stage with a global launch spearheaded by its ambassadors: Jasmine Curtis-Smith (@jascurtissmith) from the Philippines, Canadian filmmaker Christian LeBlanc (@lostleblanc), Sjana Elise (@sjanaelise), an Australian yoga and fitness expert, and KPop artist Solbi (@solbibest).
Christian LeBlanc puts it accurately when he said that the lack of people caring about preserving the environment comes from the lack of conversations about it. "Be willing to discuss these thoughts and ideas," he said, "So that people can at least start to familiarize themselves with it."
Sjana and Jasmine both shared that they encourage everyone they know to start with the small things: bringing water bottles and metal utensils or even joining beach clean-ups and NGOs that champion for the environment. Solbi further amplifies the message by sharing that all these "small things," if put together, can make a huge impact.
The key is consistency

As travelers, the easy way out is always more convenient. After all, disposable items mean less weight on your person which makes for a more "comfortable" trip. But in the long run, the trash you leave behind is the mark you leave on the island or any place you're visiting.
The key is to be consistent and the way to be consistent is to create small pledges for yourself daily if you have to. Choose the right businesses to support, particularly the ones with eco-friendly initiatives so you're sure that long after you leave, the islands will be taken care of.
At the rate we're going, there's probably not much of the earth left in 2050. In fact, National Geographic predicts that by 2050, major cities in the USA will be having a dramatic shift in climate.  Manila Times also predicts that by the same year, half of Metro Manila will be underwater.  It's a scary thought thinking that this might be the future for our children but it's not so bleak knowing for a fact that we can put a stop to this. After all, we are the keepers of the earth.
With our collective efforts, we can help heal nature and preserve its beauty for generations to come.
Log on to juaneffect.com and make your pledge for a better world.