Kyoto via Osaka: A Day Trip Guide
One day isn't nearly enough time to explore Kyoto, but here's how to make the most of your short time there.
by Kyzia Maramara | December 25, 2019
For first-timers in the Land of the Rising Sun, a trip to Kyoto must not be missed. The city is a glorious blend of historical and modern Japan, not to mention the views are breathtaking and the food is delicious. A one day trip to Kyoto will definitely leave you hanging, we recommend spending at least two days in the area, but if you're pressed for time, 24 hours is better than nothing. Read on to find out how you can make the most out of your Kyoto Day Trip!
Where to stay in Kyoto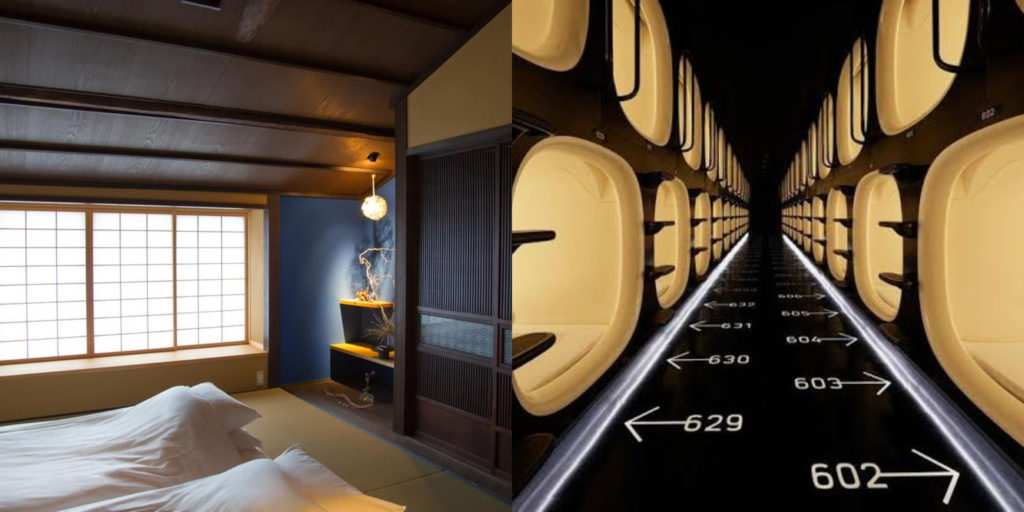 In case you suddenly plan on staying a little longer to enjoy Kyoto's charms, here are just some of the tourist-friendly places you can book.
Nakagyo-ku Nishinokyo Nagamotocho 19-11
Located a mere 800 meters from Nijo Castle, this hotel is quaint, cozy, and it features a sun terrace and zen views of the garden.
548 1 Kitakodaimoncho Kamichojamachi Kamigyo Ku, Kyoto
Splurge a little to experience staying at a Ryokan, or a traditional Japanese inn, in Kyoto. Mugen is about 1 km from Nijo Castle and is a great choice for travelers because of its ambiance, architecture, and city walks.
600-8031 Kyoto, Shimogyo-ku Teramachidori Shijokudaru Teianmaenocho 588
Clean, spacious, and budget-friendly, 9 Hours Capsule Hotel is perfect for backpackers since it's near JR Kyoto Train Station. Males and females are separated into different floors and each gets to have your own pod and use the clean shared shower.
Gion Yasaka-jinja Minami-mon-mae, Higashiyama-ku, Kyoto-shi, Kyoto-fu, 605-0822
This hotel is a mere 20-minute walk to Kyoto's Kiyomizudera Temple and a 10-minute walk to Gion district. Guests can choose between Japanese or Western-style rooms which start at JPY10,000.
74 Nakajimacho,Kawaramachi Higashi-iru,Sanjo-dori, Nakagyo-ku,Kyoto 604-8004
If you want a place smack in the middle of everything Kyoto has to offer, this is the hotel for you. It's minutes away from Nijo Castle, Kyoto Imperial Palace, Gion District, and plenty of other temples and shrines as well as restaurants and shopping stores.
Where to eat in Kyoto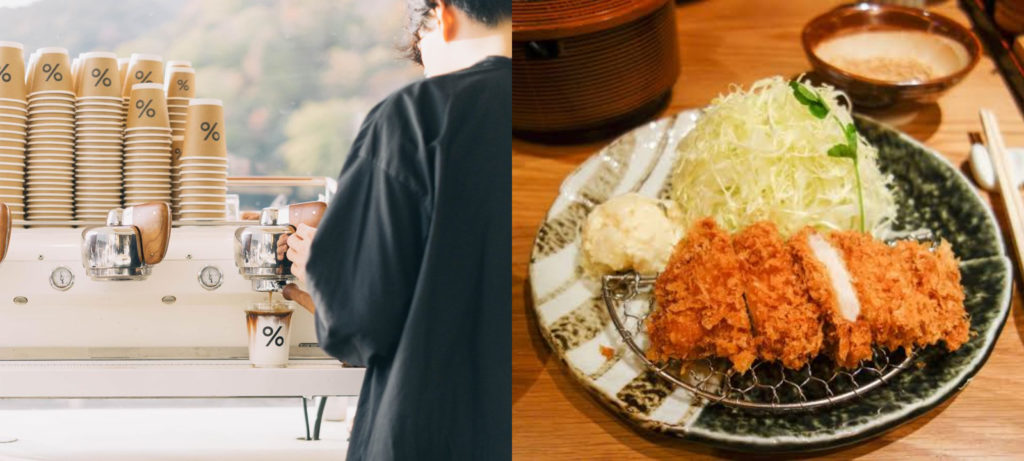 Kyoto has no shortage of delicious restaurants serving only the best local food, cafes, and even a market where you can find Japanese street food that's one for the books.
901 Higashishiokojicho, Shimogyo-ku, TheCUBE 11F, Kyoto 600-8216
This popular restaurant located on the 11th floor of the Cube frequently has long lines because of the delicious tonkatsu it offers. Enjoy unlimited refills of cabbage, miso, rice, and tea with a generous serving of crispy tonkatsu!
87-5 Hoshino-cho, Higashiyama-ku, Kyoto, 605-0853
In the middle of Higashiyama's blend of historic and modern districts is one of Kyoto's famous café — % Arabica. This coffee shop serves some of the best coffee in Kyoto and they have another branch near Arashiyama Bamboo Forest.
1F M's Court Building, 597 Nishiuoya-cho, Takakura-nishi-iru, Nishikikoji-dori, Nakagyo-ku
After strolling along the must-visit Nishiki Market, settle down at Nishiki Warai for a serving of fresh okonomiyaki which is cooked directly at the table, every ingredient fresh.
Hakata Nagahama Ramen Miyoshi
115 Ishiyacho, Kiyachodori 3-jo Sagaru, Nakagyo-ku, Kyoto 604-8002
Nothing gets better than street-style ramen and for JPY700, you can have a sublime bowl at Kyoto's best ramen place.
440 Ebisucho, Nakagyo-ku, Kyoto 604-8005, Kyoto
Trying out a conveyer belt sushi is a must before leaving Japan and Musashi Sushi is one of the best and most affordable places. Choose from various plates starting from JPY150.
Getting to Kyoto from Osaka
Going via train is the cheapest and fastest way to get to Kyoto.
Via Shinkansen (Shin-Osaka Station to Kyoto Station)
This is the fastest way to get to Kyoto from Osaka plus, you get to ride the famed JR Shinkansen, Japan's high-speed rail. This route will only take about 15-20 minutes and it will cost you JPY1420.
Via JR Kyoto Line (Osaka Station to Kyoto Station)
This Special Rapid Line will get you to Kyoto in 25 minutes and will cost you JPY560.
Via Keihan Main Line (Keihan Yodobashi Station to Sanjo Station)
This line travels from Osaka to central Kyoto in 55 minutes and will cost you JPY410.
Via Hankyu Kyoto Main Line (Hankyu Osaka-Umeda Station to Kyoto-Kawaramachi Station)
If you're targeting western Kyoto first, the Hankyu train line is recommended. This will get you to Kyoto in 44 minutes for just JPY400.
You can purchase your tickets online in advance which is much cheaper, but there are also booths and ticket machines available at the train stations.
Kyoto Day Trip from Osaka
Start your day early so you get to cover more ground. We recommend starting at the farthest destination first, this way you're slowly going back to Central Kyoto throughout the day making it easier to get home.
Admission: Free
Start your day early at the Arashiyama Bamboo Forest which is open for 24 hours and is free admission. Since it's almost over an hour's drive from Central Kyoto, it's better to start there. There's a reason thousands if not millions of tourists flock the bamboo-lined pathway every year, it's like being in a different world. It's near impossible to find a spot that isn't crowded but walk a little further and the path will lead you to the Tenryu-ji Temple towards sections where the throng thins.
Admission fee: JPY400
Thirty minutes from Arashiyama Bamboo Grove is Kinkaku-Ji Temple or Golden Pavilion, a must for a first timer in Kyoto. It was built as a villa for the shogun Ashikaga Yoshimitsu and the golden temple's top two floors are covered in gold leaf. It overlooks a big pond that absolutely shines golden when sunlight touches the temple. Zen gardens surround Kinkaku-ji. It's better to visit early as the place closes at 5 PM daily.
Admission: JPY400
Kiyomizudera literally means "Pure Water," the name being derived from the Otowa Waterfall within the complex that runs off to the nearby hills. Standing on Kiyomizudera's wooden stage at the main hall rewards visitors with stunning views of maple and cherry blossom trees that bloom in oranges and pinks during fall and spring.
Admission: Free
Walk among thousands of orange and black torii gates to get to the Shinto Shrine dedicated to Inari, the Shinto god of rice. Although the goal really is to make the 2-3 hour hike to and from the summit of the mountain, most people visit to get a glimpse of the torii gates along the way. These gates are actually donations by individuals and companies, etched behind the poles are the names of the donors and date of the donation. If you wish to explore the whole of Fushimi Inari, you might want to spend more than a day at Kyoto, otherwise, with a packed day ahead, you can only afford to spend at most an hour before heading to your next destination.
If you get hungry during the visit, you can always buy from various stalls selling Japanese street food such as pancakes, fried corn on the cob, and even beef on a stick.
If you're into experiencing a foreign place through the food they offer, you should know that Nishiki Market is known as Kyoto's Kitchen. Here you can walk the long shopping street lined with stalls selling fresh seafood, treats, produce, and kitchen goods. The market opens at 10 am and typically closes around 6 PM. You might not get to eat everything you see but we recommend you try these: tako tamago or baby octopus with quail's egg inside the head, mochi, okonomiyaki, fresh sashimi sticks, and Chinese dumplings among others.
Gion District is, of course, better walked during daylight but it has its certain charm during the night. Besides, if you're planning on touring Kyoto for just a day, you might as well include this in your itinerary. Gion is Kyoto's famous geisha district and if you're lucky, you might actually get to see a geiko (Kyoto dialect for geisha) and maiko (geisha apprentices) walking the streets. Experiencing the service of geiko and maiko is expensive but you can watch some of them perform at the cultural show held every day at the Gion Corner at the end of Hanami-koji.
Explore the rest of Hanami-koji, Shijo Avenue, and Higashiyama District for more shopping areas and stores to buy crafts, food, and souvenirs from.
Some useful travel reminders before you start your day trip
Get a Kyoto Bus One-Day Pass
Subways are beneficial to tourists in cities like Tokyo and Osaka but with Kyoto, subways are located mostly at the city center, far away from the sightseeing spots. It would be better to take the equally efficient buses all over the city; these start their operation at 6:00 AM and end at 10:30 PM.
You can get a Kyoto Bus One-Day Pass at the Kyoto Bus Information Centre for only JPY600. It will allow you unlimited bus rides within the flat-fare zone for one day. Click here for more information.
Google Maps are a great help for any tourist. In Japan, it will show you the fastest route (and other route options) including the train details, fare, and transfers. Other app options are HyperDia and NAVITIME.
Have fun and enjoy Kyoto!
Did we miss anything? Comment below!