24 Hours in La Union: A Mini Surf and Travel Guide
But there's so much of LU to see, you'll actually need more than one day.
by Camille Pilar | July 07, 2015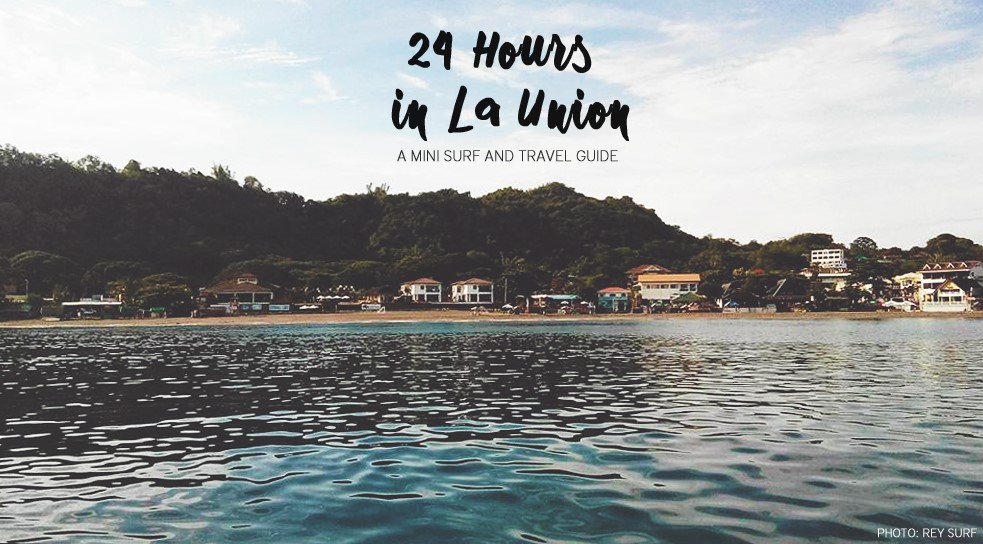 Everyone needs a reset button. If you find yourself overcome with fernweh—that beautiful German word describing an ache for travel—know that you can always go to La Union to clear your head for the weekend.
Don't bother yourself with flight schedules or reservations that often hinder the idea of spontaneous travel. When it comes to LU, all you have to do is show up. And if the wave forecast and the gods of fernweh permit, you'll be feeling recharged before the weekend is over.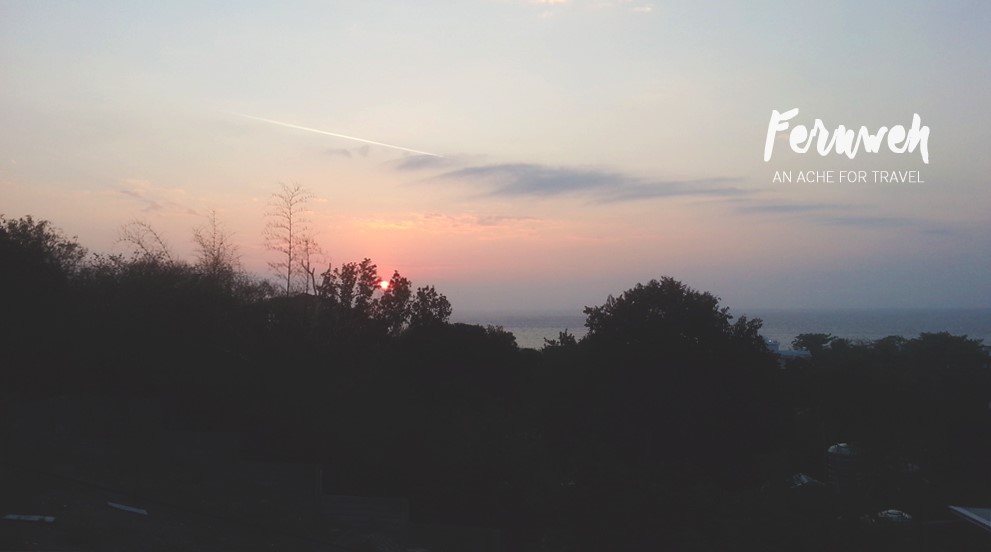 Ready to go? La Union is one of the easiest local destinations to reach. All you need is one Partas bus from Pasay or Cubao, one kickass travel playlist, your favorite hoodie, and you'll be within the Northern Luzon coastline in just six hours. If you're traveling via your own vehicle, leave Manila after midnight and take the TPLEX to cut your travel time by an hour.
WHEN THERE ARE WAVES
The surf town of San Juan, La Union comes alive during the north swell season when the northeast tradewinds (locally known as the amihan winds) bring consistent swells to the coastline from October to April. The southwest monsoon, known as the habagat, will also yield waves during the months of July to September, but prepare to surf in rainy conditions during this south swell season. May and June are transition months and the chances of swell will be low to unlikely during these months.
Aside from knowing when you should go, it is also important to know which surf spots you can surf depending on your skill level. Here are some of the most popular surf spots in La Union:
The Beach Break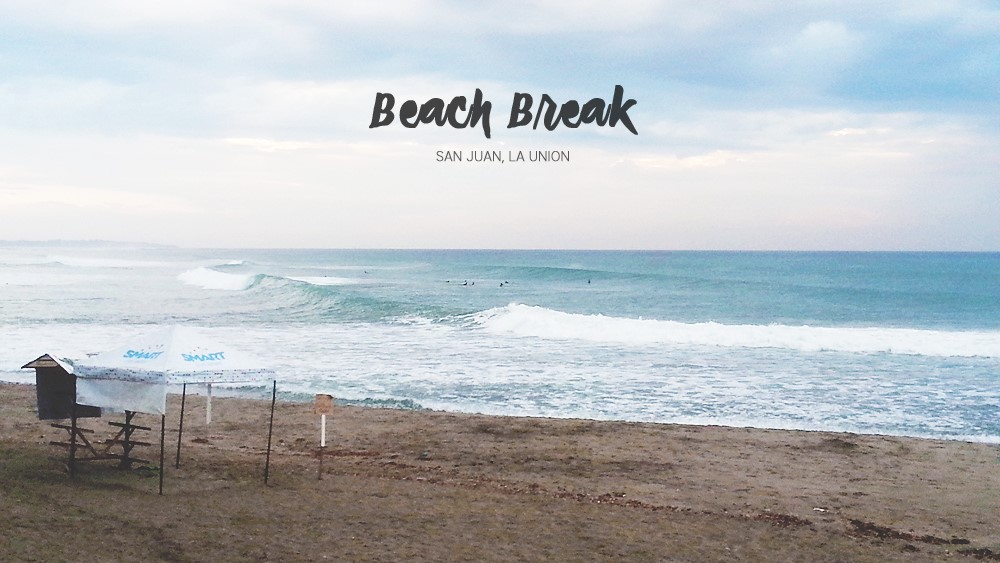 The main beach break in San Juan is where most surf schools hold their surf lessons. You'll find a lot of surf shacks on the beach itself and you can approach any of the local surf instructors to inquire about lessons and board rentals. Get in touch with the cool cats of Elyu Classic and Promdisea for a guaranteed fun introduction to the highly addicting world of waves.
For intermediate lessons, you can look for Daisy and Jeff Dela Torre, the power surf couple that runs DJ Surf School.
Monaliza Point
Monaliza Point is easily everyone's favorite right-hander in San Juan and it is directly in front of The Little Surfmaid Resort. Beginners beware: The Point breaks over sharp and rocky reef that can be difficult to navigate so it's best to paddle out with a dedicated surf instructor. For intermediate to advanced surfers, the waves will be nothing short of rewarding especially if you are comfortable surfing in crowds.
Bonus tip: If you happen to surf The Point in the morning, chances are you'll get your surf pictures taken and posted over at Surfing San Juan.
The Bowl
The Bowl is a fast section in the main beach break that offers steeper drops and small barreling sections on the inside. It breaks right in front of Kahuna Beach Resort and it would be best to paddle out here if your surf skills are above beginner.
Bacnotan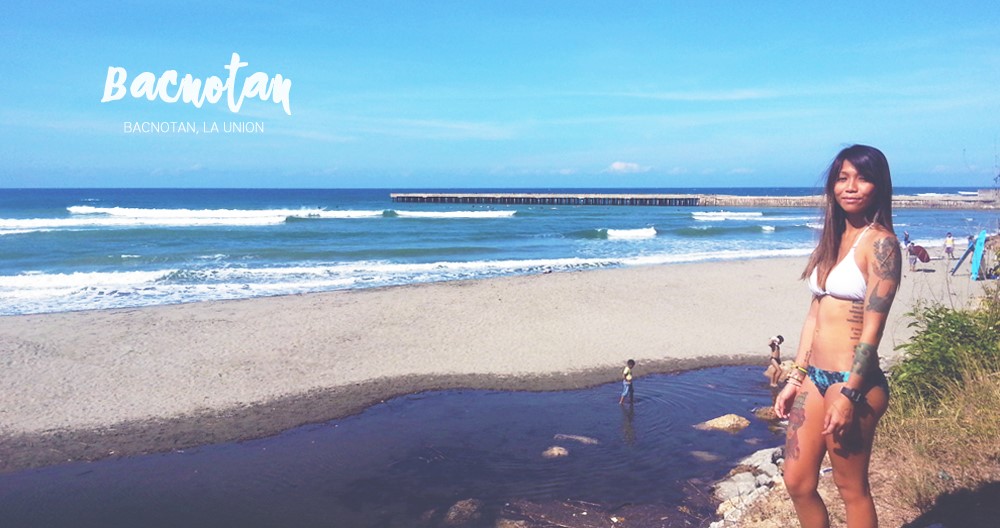 Bacnotan is another La Union favorite and it is commonly known as the surf spot beside the Holcim cement factory. If it's longer rides on a sandy break that you want, then ask your surf instructors about renting a jeepney to bring you, your friends and all your boards to this fun spot 30 minutes away from San Juan.
WHEN YOU CAN'T SURF
There are days when the conditions get too rough or windy, or worse—flat— that it might be better to search for stoke outside the water. Here are places to check out on the odd days that you would rather take lots of pictures than surf.
The Ma-Cho Temple
Don't let the name fool you— the Ma-Cho Temple is a Taoist temple located in San Fernando City, the provincial capital that comes right before the surf town of San Juan. Anyone can visit the temple to spare a few moments to pray or simply look over a grand and glittering view of the South China Sea.
Tangadan Falls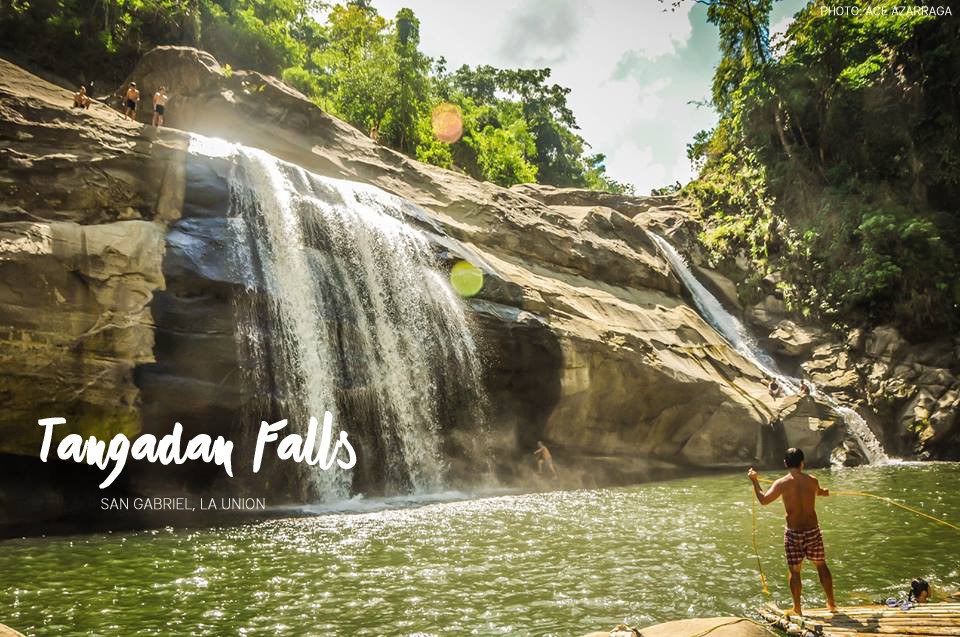 If you're up for a bit of a trek, the Tangadan Falls is another favorite tourist destination in La Union. It can be found in San Gabriel, a town 20 minutes away from San Juan. Most surf instructors at the beach will be able to help you find a guide so feel free to ask around.
Tangadan means "to look up" in Ilocano. Look up and you'll see the falls towering more than 30 feet above you, and some of the bravest travelers even dare jump from its peak. But even if you don't jump off the waterfalls, you'll enjoy a rich view of rice paddies, mossy slopes and rocky rainforest terrain during your hike.
Pottery Making in Taboc
Drive a few meters past San Juan to get to Brgy. Taboc and you'll see roadside stalls filled with a variety of clay products for sale. Inquire at the shops for pottery lessons and you can even bring home your own handmade clay pot.
Flotsam and Jetsam Artist Beach Hostel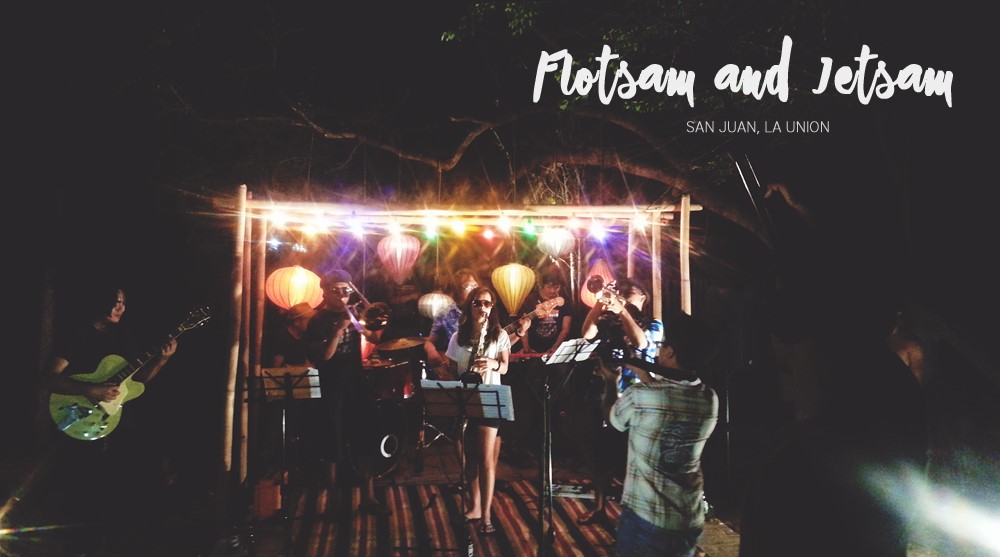 If there was one place where you could savor it all—good food, great music, and an altogether perfect travel atmosphere— Flotsam and Jetsam is the place to be. Get your dose of culture in this artist beach hostel. Check the calendar for this month's events and catch yourself enjoying any of these: yoga lessons at sunset, jazz music festivals, outdoor film screenings of French and Italian films, and even travel writing workshops.
Feeling extra adventurous? Ask about the 5-minute drink.
El Union Coffee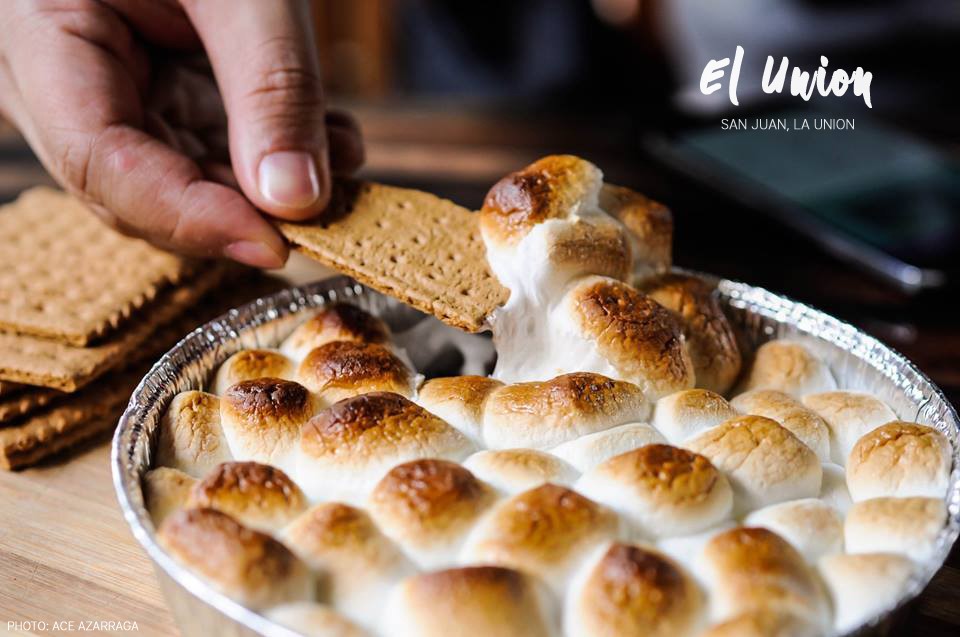 If you're missing your cup of specialty coffee, fret not as El Union will be able to fulfill your need for flat whites and cold brew. Aside from their signature dark roast, El Union also carries specialty Benguet beans from Kalsada Coffee. Kalsada offers the first specialty grade Philippine coffee and it ranks among the top 10% of best coffees in the world. Have this with farm fresh milk delivered directly from a farm two towns away, and you'll have one of the best cups of coffee you'll ever have, with a great local story to boot.
And don't forget dessert— the indoor s'mores and the skillet cookie are perfect for big groups. Don't worry, no judgment will be passed if you choose to finish it all alone!
Gefseis Greek Grill
Who would have thought that you could find authentic Greek food in San Juan? Don't leave La Union without trying a souvlaki platter with homemade pita, a rack of lamb and a side of saganaki cheese from Gefseis. Stay awhile and maybe the Greek owners will let you sample a rare Greek wine or dessert.
Tagpuan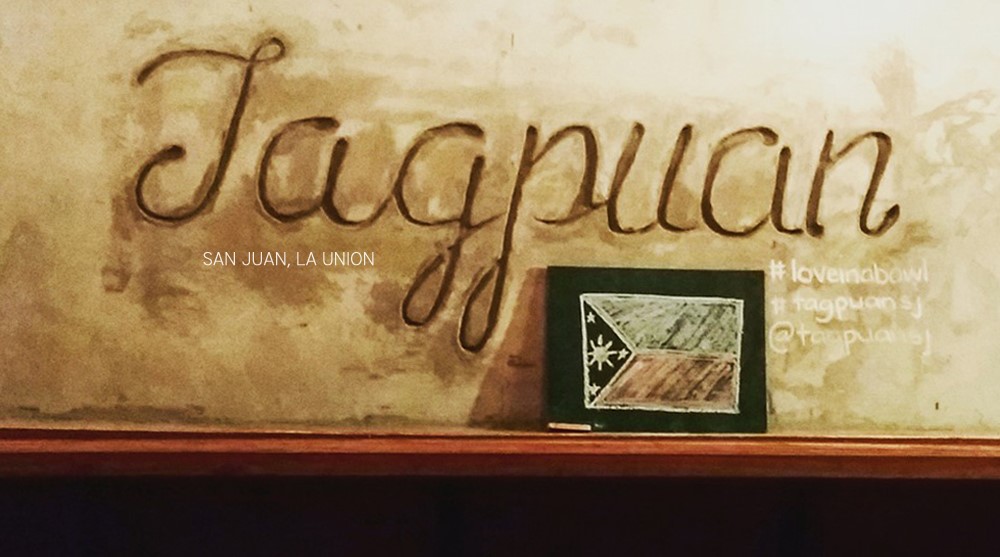 And just when your night is winding down from knocking back a couple of beers at Promdisea, or if you did try Flotsam's 5-minute drink, go to Tagpuan and order yourself a hot bowl of beef mami. Or beef pares. Or heck, go for bagnet rice. Whatever your ultimate Pinoy comfort food is, Tagpuan will serve it to you hot from 6 p.m. to 2 a.m. Your hangover will be gone in time for tomorrow's surf session or trip to the falls.
No trip to La Union is complete without soaking up the sunset. Whether you choose to watch it from the beach or from up the Ma-Cho Temple, chances are you won't need a filter.
But you will need more than 24 hours to do everything in this mini guide, so be sure to check the swell forecast before you go. If you'll be blocking off the hours to maximize board time, you might want to visit the other places on a different day.
Or why not stay until Monday? Extend na 'yan!