Mario Maurer's Guide to Food, Sightseeing and Other Thailand Delights
Maurer speaks for Thailand.
by Rachel Palacios | August 13, 2016

Mario Maurer, model/actor, and every Filipino's favorite Thai heartthrob, was recently in Manila as he took on ambassador duties for the Tourism Authority of Thailand.
Being the official spokesperson of his country's new travel campaign, Mario talked about his favorite places and offered an insider's peek on how to travel through Thailand beyond the usual tourist route.
Here are just some of his travel tips:
A Shared Warmth
Mario shares that Filipinos will find Thailand like their second home, because Thais share so many common things with us. "In Thai and Filipino culture, we have respect for elders. Our people are very gentle and welcoming." He also adds that "we always have a big smile on our faces."
Dining is Excellent
Thailand is known for its excellent cornucopia of street food. Mario shares, "In Thailand you can try [out] many types of food. We have pad thai, tom yum soup, and som tam—the papaya salad. If you want to go eat in Thailand, whether you are in Bangkok or in the other provinces, you can try the street food served in food trucks."
"We have yummy, but affordable, food. The good thing about eating in Bangkok, or anywhere in Thailand, is we have a lot of food shops and restaurants. And the food trucks that serve street food are open late at night. Sometimes, you go to bed late and [you wake up and] you're hungry in the middle of the night, we always have food for you."
Mario even shares that he goes to Chinatown to eat. "There's a lot of food there. They have all kinds of Chinese food, Thai food. It's a mixture. You can take a tuktuk. You can be dropped off there."
Behold the Floating Market and Other Sights
"If you want to go to a nice cafe or a nice bar and you want a nice view, you can try the rooftop restos, instead of the street restaurants. They are on a higher level but they are really nice, too because you can see Thailand differently. You can see the bird's eye view of Bangkok."
Mario also advises, "For a different local experience, you can go to Amphawa… [It] is a floating market. And you have food there on the boat. It's a very nice place. There are floating shops. You get to experience very cool side of Thai culture there. It is different. There's also really good shopping there," said Mario.
He added that he'd previously never visited the attraction before, but he recently went there for the tourism campaign and had a great time.
Go Shopping
"In Thailand, we have many places for shopping. The items are very affordable, and we have a lot of selections for you. You can go to the mall if you want to get a brand name. We have a lot there. In Bangkok you can go to JJ Market, a night market. I always go there when I have free time because it has everything—clothing, even vintage shirts, hats, trousers. We have everything there. This includes car and bicycle parts, old cameras, and vintage watches."
Mario's insider tip: "Check out the schedule because when you go on the wrong days, it will be closed. Most of the time, they are open on Saturday and Sunday. If you want to go shopping late, they close at four in the morning so you can go late at night."
Old Town Bangkok and Other Delights
When asked where he'd specifically take Filipino tourists when they visit Thailand, Mario shares, "The first place I will recommend to Filipino tourists will be the old town of Bangkok. In Bangkok, there are many places for you to explore, to get to know Thai culture, people and food."
According to Mario, the other spot he would recommend for tourists would be Chang Mai. "If you are in Thailand and you have two to three days extra, you can fly to Chiang Mai. It's located in the north of Thailand. It's very nice there—the weather, the people. You can experience a different kind of Thai culture, the northern culture. The food there is different. They have their own style of cooking food."
Mario even relates an experience he thoroughly enjoyed: "I like to go into the jungle—explore the woods, the waterfalls and stuff like that. I always go around and explore the country with my bike because I get a rush. When you're riding a car, you're [isolated inside]. When I ride a bike, I feel everything on the street—the potholes, the rocks flying around, the wind in your hair." He recounts, "It's fun! You get another feeling when you travel with a bike. They have a very nice old town in Bangkok and they have a bicycle lane and it's safe. You can go around and experience Thai culture in the truest way."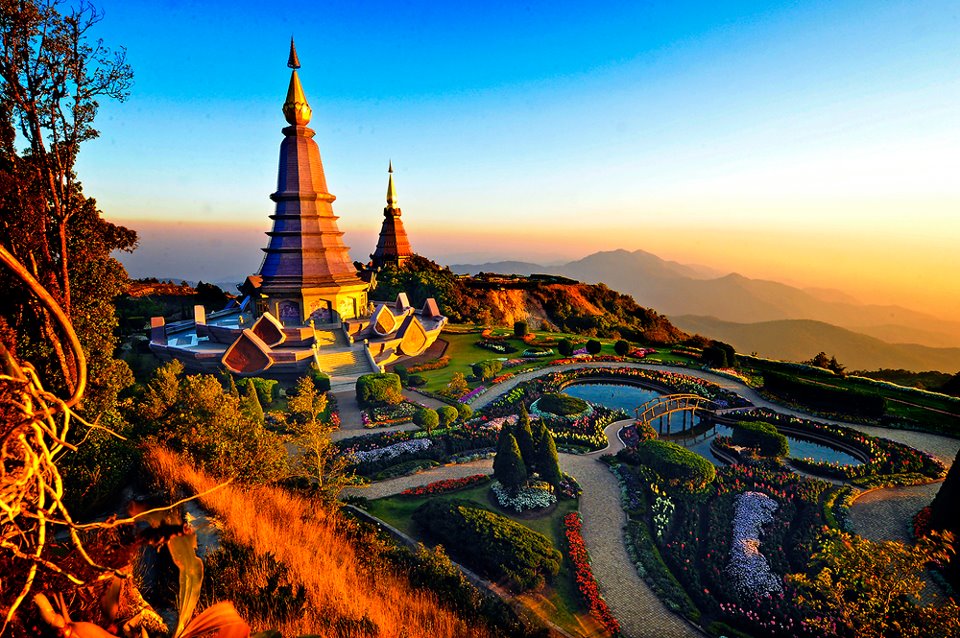 Where in Thailand would you like to go? Tell us all about it and why in the comments.
Also read: The Perfect Thailand Beaches for Your Nightlife Needs