Megan Young and Mikael Daez on How to Travel Spontaneously as a Couple (Without Getting on Each Other's Nerves)
Heed the advice!
by Cristina Morales | July 08, 2019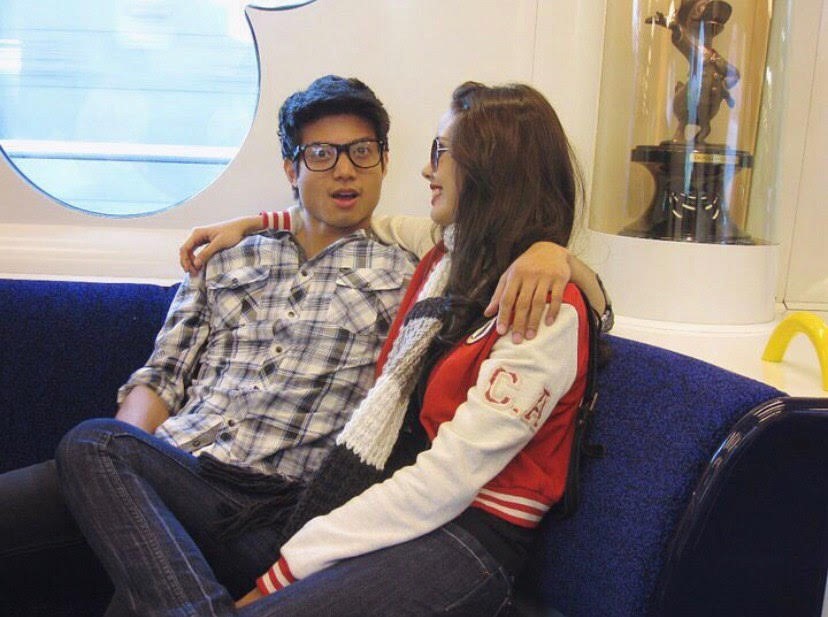 "Our first trip EVER. This Hong Kong trip marked the beginning of many more travels together."
Megan didn't travel much before she and Mikael got together. "I wasn't very adventurous back then," she confesses.
"She got homesick when she was in Hong Kong for four days on our first trip," says Mikael. "And I was like, what is wrong with this chick?"
Similarly, Mikael hadn't traveled abroad much either. Prior to their first trip together, he had only been out of the country "once or twice". Growing up, he had seven siblings (now he has eight), so bringing all the kids overseas would have been too big a production for his parents.
However, his dad, who was in the jewelry business, traveled a lot for work, which made Mikael feel close to travel. "He would always make us kwento about his experiences so that always made me feel very close to traveling," Mikael says. "So when I was financially capable, I said I wanted to try it out and I enjoyed it."
The Secret to Unique Travel Itineraries: Coffee Shops
It's been eight years since that first trip to Hong Kong, and since then, the couple has been on so many trips together that they've lost count. "It's been way more than 20, I'd say," he says. "I think 20 is a super safe number."
Recently, the couple went on a bespoke trip to Iceland, skipping all the packed tourist spots. "Iceland is tourist-packed," explains Mikael. "If you go to the tourist spots, there are so many people all the time."
They booked a guide who created a unique itinerary, which meant that they had almost every place they went to all to themselves. "You know it's not a tourist spot when there are no stairs on the hiking trails," Megan says.

"One of the most difficult hikes we had to do. But it was sooo worth it when we got to the top."
Early on in their travels, Megan and Mikael quickly realized that they didn't enjoy visiting tourist traps, which is why they've preferred visiting destinations off the beaten path. "We did try tourist spots, then we realized that we weren't into the crowds and paying exorbitant amounts of money just to see something or take photos that'll always look better on a postcard," says Megan.
Now, they make a conscious effort to enjoy and experience each destination as the locals would. "The first thing we do is look for specialty coffee shops in whatever city we're in," Megan says. The couple, both self-confessed javaphiles, then talk to the baristas to better understand where the locals eat and hang out. "From there, that's where the itinerary expands," Mikael says. "So it's very local-oriented."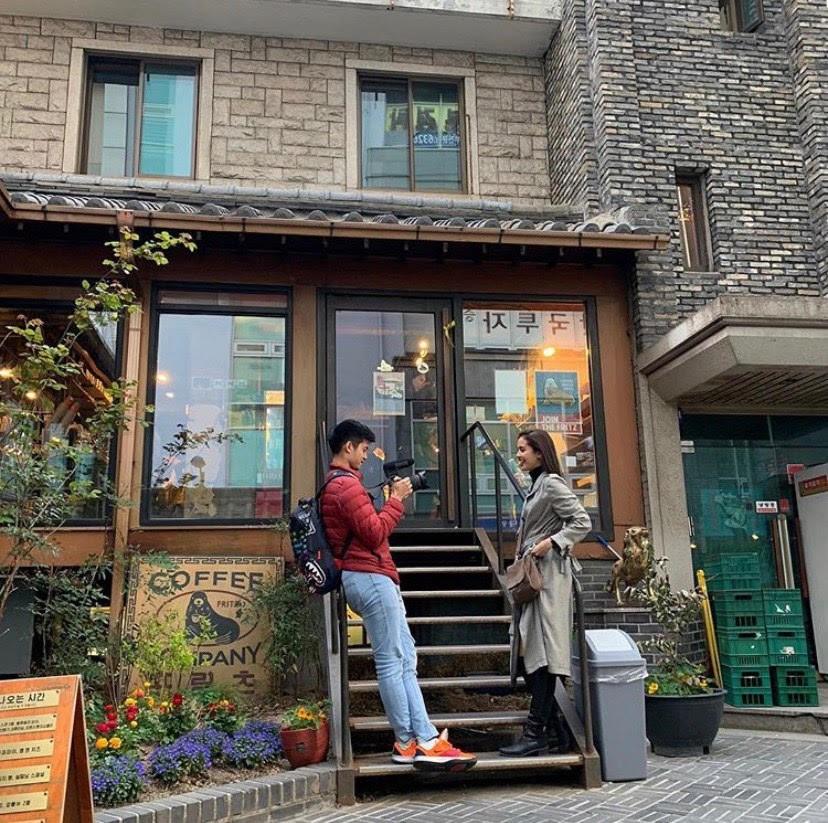 The couple outside Fritz Coffee in Seoul.
How To Nail Spontaneity
Through the years, Megan and Mikael have developed a laidback and spontaneous travel style. They're so spontaneous that on a few occasions, they've made spur-of-the-moment flight bookings that were scheduled to leave in just a few hours. Sometimes, they arrive in a city without even booking accommodations.
Usually, they decide on places to visit by looking at blogs, but one on or two occasions, they've simply chosen a random place on a map. "If you're the type of person who likes details right away, don't travel with us," Megan says. "You will get stressed out."
Traveling without an itinerary gives the couple the flexibility they need. However, they do admit that spontaneous travel makes them more vulnerable to unexpected obstacles, such as planning a shopping trip only to find out that all the businesses are closed — something that happened to Megan in Spain during siesta time. But apart from incidents like that and a few missed bookings, the couple says that they haven't had any major travel mishaps.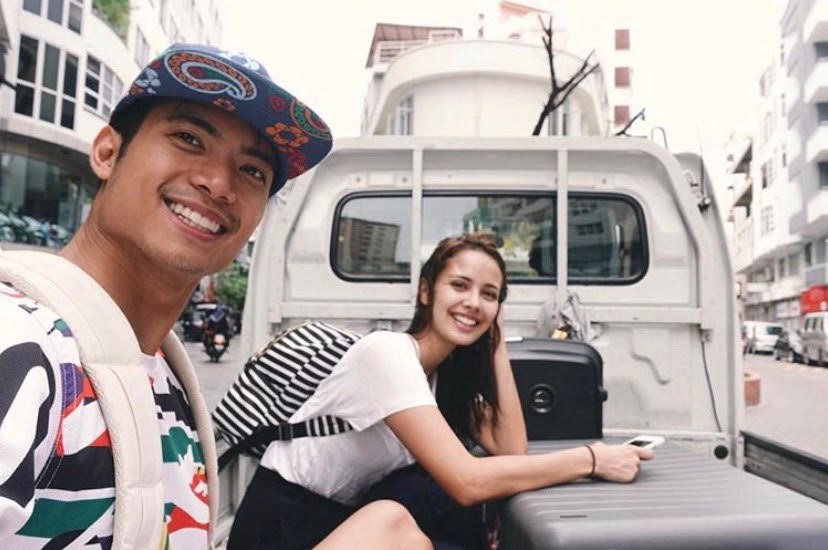 "We couldn't find a taxi that could accommodate us early in the morning to go to the port in Male, Maldives so they got us a small truck! We decided to stay in the back with the luggage to enjoy the experience."
Booking things on-the-spot can get also get pricey, which is why the couple try to cut down on their spending whenever they can. This means flying economy, picking budget hotels, choosing affordable restaurants, and completely cutting out shopping from their itineraries.
They also keep spending at a minimum by keeping their trips quite short, usually traveling for 4-5 days at a time."A week would be long for us," says Megan. Not only does this style work best for their busy schedules, it also lets them leave wanting more.
"I think people sometimes tend to overindulge themselves and travel too much to the point that they get jaded and don't see what's special anymore," Mikael adds. "And we don't wanna give ourselves the chance to even feel that."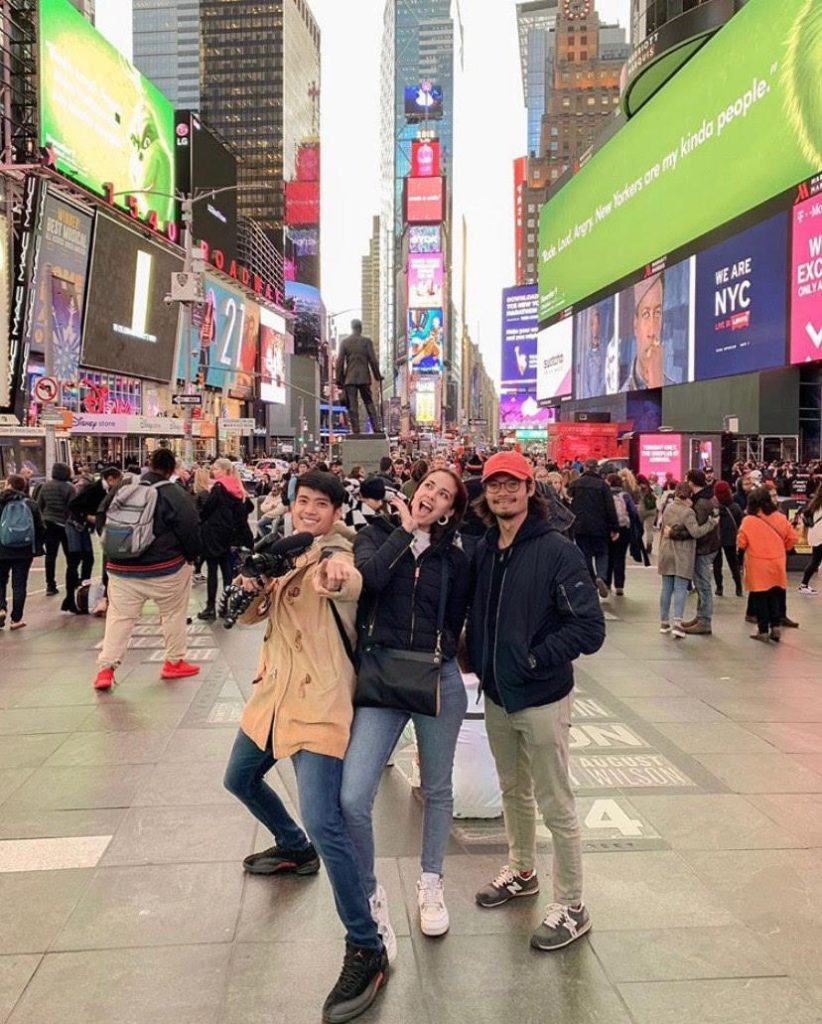 "One of our very few touristy photos."
Why Travel Makes Better Relationships
Because travel has been such a constant part of their relationship, it's played a huge role in shaping their dynamic. Travel has allowed them to explore their evolving interests (which include coffee, sneakers, and gaming, to name a few), as well as learn more about each other. "We were four days old when we started traveling, so that helped us adjust to one another," says Mikael.
After eight years, the two pretty much see eye-to-eye when it comes to their travel expectations, but it was a process. "Some people may say, 'oh wow, you're made for each other', but no. We had to work for it," Mikael adds. "And the work doesn't have to be stressful."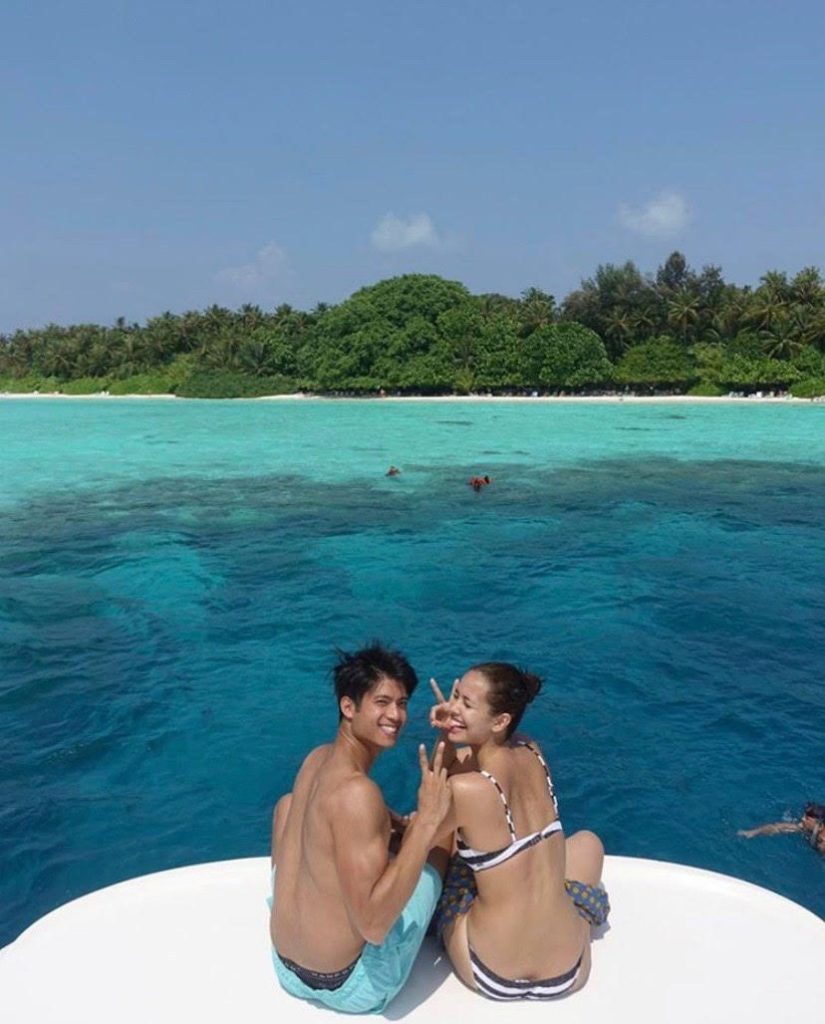 "The water in the Maldives was sooooo blue and jaw-dropping. The photo didn't even need editing! Our nickname for the water in the Maldives was 'the drink'."
Megan agrees, saying that the secret to traveling together harmoniously simply lies in effective communication. "We've grown our travel habits together," says Megan. "It was just a very active process. We would really talk about it, our likes and dislikes."
"The amazing thing about travel is that you're putting yourself in a foreign environment and you have to grow to accommodate that," says Mikael. "And if you accommodate that, without knowing it you're growing yourself and getting to know yourself. And if you do that with another person, you have to do that growing and accommodating together.
"So you're knowing yourself, you're knowing your partner, and you're knowing how you guys work together, and that's an amazing experience. That's why I think traveling with her is amazing."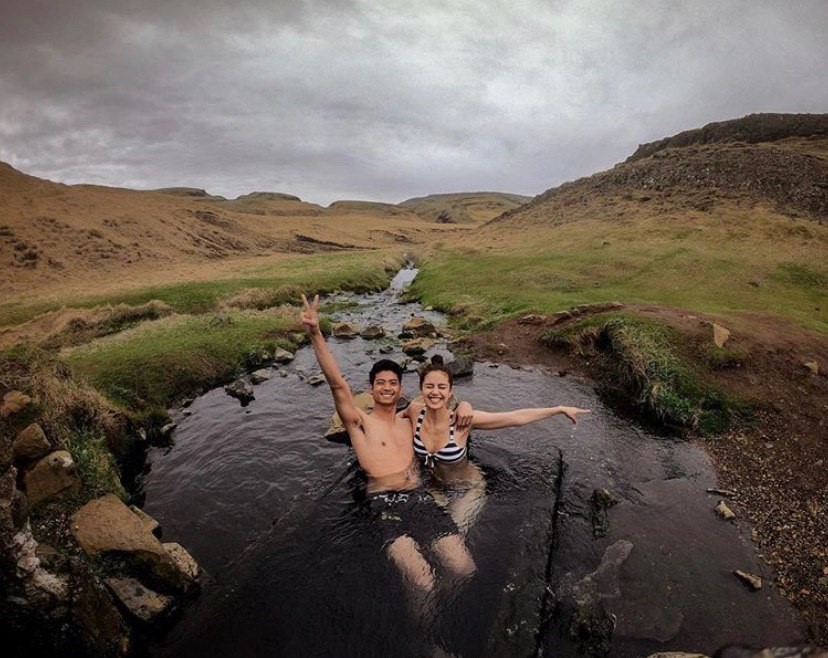 Hotspring in Iceland.
Catch Megan Young and Mikael Daez on their podcast, Behind Relationship Goals as well as their YouTube channels and their Facebook accounts.