Seat Sale Alert: Explore ASEAN Juans More with Cebu Pacific
Don't miss this ASEAN seat sale!
by Lauren Sason | October 17, 2022
To celebrate the return of its international flights, Cebu Pacific held its "Let's Fly JUANS More" media event on October 14 at Whitespace Manila. The airline did not hold back in honoring the resumption of flights to 16 different countries.
Exploring ASEAN
The event was jam-packed with different activities in connection to the various ASEAN countries. As we explored the event space, we truly felt as if we were traveling to a whole new destination in just a few steps.
Guests were provided with delicious Thai dishes such as pad thai, bagoong rice, pomelo salad, spring rolls, and even mango sticky rice. Everyone was invited to participate in a guessing game, where one would guess what was behind a large yellow box.
With more goodies and activities such as a wall of merchandise to take home, Vietnam's strong coffee, Indonesia's neverending party and cocktails, Malaysia's bouncy house, and Singapore's F1 go-kart races, Cebu Pacific proved to everyone that the fun never stops with them. 
The airline also raffled off round-trip tickets to all ASEAN destinations, giving their guests the trips of a lifetime and the chance to create memories that they will cherish forever.
Where to Stay in Singapore: Come Home to These Cozy Apartments
Where to Stay in Singapore: Come Home to These Cozy Apartments
Ina Louise Manto | Aug 16, 2022
ASEAN Seat Sale Alert!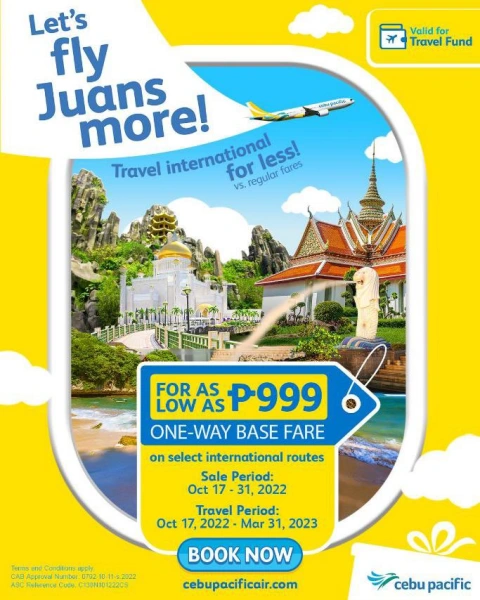 Cebu Pacific's Marketing Director, Michelle Eve de Guzman, assured everyone that ASEAN countries are "easiest to fly to" at the moment. The airline makes flying out even easier through its website, which is constantly updated for any travel requirements that a tourist might need. 
And because there is something for everyJUAN, de Guzman announced that there will be a seat sale on Monday, October 17. With base fares as low as P999, there is no doubt that this will be a delightful treat to the airline's passengers. 
So what are you waiting for? Let's fly JUANS more with Cebu Pacific!