LOOK: This Airplane-Themed Restaurant Will Let You Travel through Food
There's plenty of legroom here.
by Ina Louise Manto | July 07, 2021
If you're missing walking down the airplane aisles and having your bags checked in, this unique airplane-themed restaurant in Marikina will let you rekindle fond memories of travel over good food:
Passenger Seat
Airplane food isn't exactly known for its quality — unless you're flying first class with a boujee airline — but this airplane-themed restaurant will make you think otherwise. Lined with comfortable airplane seats and plenty of legroom, Passenger Seat is a themed restaurant in Marikina that lets you "ride" an airplane again without having to prepare the necessary documents required for travel these days.
View this post on Instagram
View this post on Instagram
Things you'd usually find in airplanes and airports can also be spotted around the restaurant, including the cashier disguised as an immigration booth. Just like the real deal, there's no leaving the airport without going through immigration!
View this post on Instagram
Framed window seats mimicking a sky view can also be seen around the restaurant.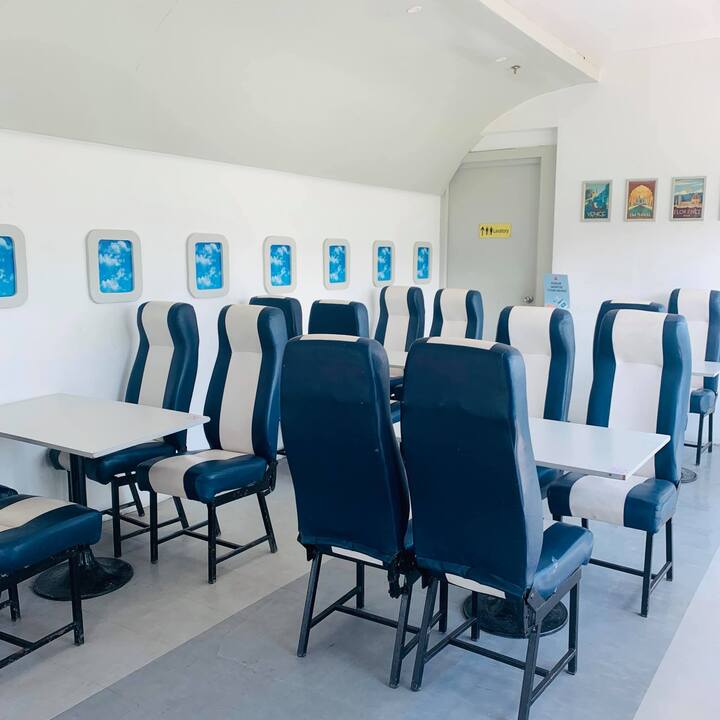 Though you won't be paying for actual plane tickets, Passenger Seat will let you travel around the world with their dishes name after destinations. They're best known for their aptly named Boodle Flights, so visit with an empty stomach and prepare for a feast. It has various versions: Palawan (P599), which is a seafood spread, Manila (P585) for an all-meat spread, and Pilipinas (P1,499), which offers both.
View this post on Instagram
View this post on Instagram
Their international destinations feature dishes like Palestine (P179), which are chicken wings marinated in homemade buttercream sauce, and France (P155), a pasta dish in homemade sauce with shrimp and squid.
View this post on Instagram
They also have Singapore's popular ice cream sandwiches (P75) but with a twist. They're available in different Pinoy flavors: chocnut, ube, melon, pandan, and strawberry.
Even without a particular destination in mind, hop on a plane ride at Passenger Seat in Riverbanks Center, Marikina City.
For more information, visit their Facebook page.