PSA: You Can Now Renew Your Passport at These Malls Around NCR
Over 175,000 slots are now available until the end of September.
by Ina Louise Manto | July 06, 2021
While international travel for leisure probably isn't something we'll enjoy in the near future, a passport is one of the most important identification cards you'll own. Whether you're opening a new bank account, securing government documents, or registering to vote, your passport will come in very handy. Is your passport expiring soon? Check out everything you need to know, including DFA's newly-launched temporary passport sites across NCR.
When should you renew your passport?
You should set an appointment for a passport renewal if yours is already expired, have no pages left, or expiring within the next year. Passports must be valid for at least 6 months from the date of departure, and the Department of Foreign Affairs (DFA) suggests having it renewed 10 months before the date of expiration.
However, it is not mandatory to have your expired passport renewed when you have no plans to travel anytime soon.
How do I renew my passport?
To renew your passport, you need to schedule an appointment first through DFA's portal. Choose a site, date, and time. Keep your eyes peeled since slots are usually fully booked. When you find an open slot, book it immediately as the system will only reserve it for you for 20 minutes. Page inactivity will automatically refresh the booking portal!
DFA opens 5 temporary passport sites across NCR
If you've been trying to secure slots these past months, now may be your best chance to successfully book an appointment. To ease backlogs and address the shortage of passport application schedules, the Department of Foreign Affairs opened Temporary Offsite Passport Service (TOPS) across NCR. The new passport sites are as follows:
Robinson's Place Las Piñas (Level 2, Food Court)
Robinson's Magnolia (4th Floor, New Wing Building)
SM Mall of Asia (MOA Tourist Lounge, Level 2 North Main Mall)
SM City North EDSA (2/F, The Block)
SM Aura (IMAX Theater 4th Floor)
These TOPS locations opened on July 5 and will operate from Monday through Saturday. Up to 500 appointments will be accommodated at these sites daily.
How many slots will be open for these TOPS locations?
Currently, DFA's 37 locations across the Philippines can only accommodate 6,167 slots daily, in compliance with current health and safety protocols. With the new temporary passport locations, 177,500 slots will be opened until the end of September 2021. Undersecretary for consular affairs Brigido Dulay also shared that the DFA is looking into opening more temporary location sites outside Metro Manila in the following months.
Fill out the online forms
After securing a site location, date, and time for your appointment, you need to fill out the following forms:
Personal information: Name, date of birth, gender, civil status, country of birth, e-mail address, and mobile number
Family information: Names of parents and citizenship
Application information: For passport renewal, your old passport number, date of issue and issue authority; basis of Philippine citizenship, emergency contact person, and their contact number
Contact information: Complete address and occupation
What requirements should I prepare?
Core requirements for adult renewal application: (18 y.o. and above)
Confirmed online appointment
Accomplished application form
Personal appearance
Current ePassport with a photocopy of data page
Original PSA authenticated documents that will support the change of names such as marriage contract, annotated birth certificate, annotated marriage contract, and death certificate of spouse
A valid ID with a photocopy
A marriage contract is not required if a woman opts to retain their maiden name.
Core requirements for minor renewal application: (below 18 y.o.)
Confirmed online appointment (children under 7 years old do not need an appointment)
Accomplished application form
Personal appearance of minor applicant and either parent or authorized adult companion
Current ePassport with a photocopy of data page
Marriage certificate is required if only one parent is accompanying the child
Passport or valid government-issued ID of either parent with one photocopy
A valid ID with one photocopy
Which valid IDs are accepted?
The following government-issued IDs are accepted for Philippine Passport Application:
Social Security System (SSS) card
Government Service Insurance System (GSIS) card
Unified Multi-Purpose Identification (UMID) card
LTO Driver's License; Student Permit is also accepted if in card format
Professional Regulatory Commission (PRC) ID
Overseas Workers Welfare Administration (OWWA) E-card
COMELEC Voter's ID or Voter's Certificate issued from COMELEC main office in Intramuros, Manila
PNP Permit to Carry Firearms Outside Residence
Senior citizen ID
Airman License (issued August 2016 onwards)
Philippine Postal ID (issued November 2016 onwards)
Seafarer's Record Book (issued February 2020 onwards) by the Maritime Industry Authority
Valid or latest passport (for renewal of passport)
For minor applicants, a School ID or Certificate of Enrolment with photo of minor and dry seal of school may be presented.
How much will it cost?
The passport processing fees for both renewal and new applications are as follows:
Regular processing fee for P950; takes 12 business days
Expedited processing for P1,200; takes 6-7 days
An additional fee of P350 will be charged for lost or damaged passports.
How will I pay for my appointment?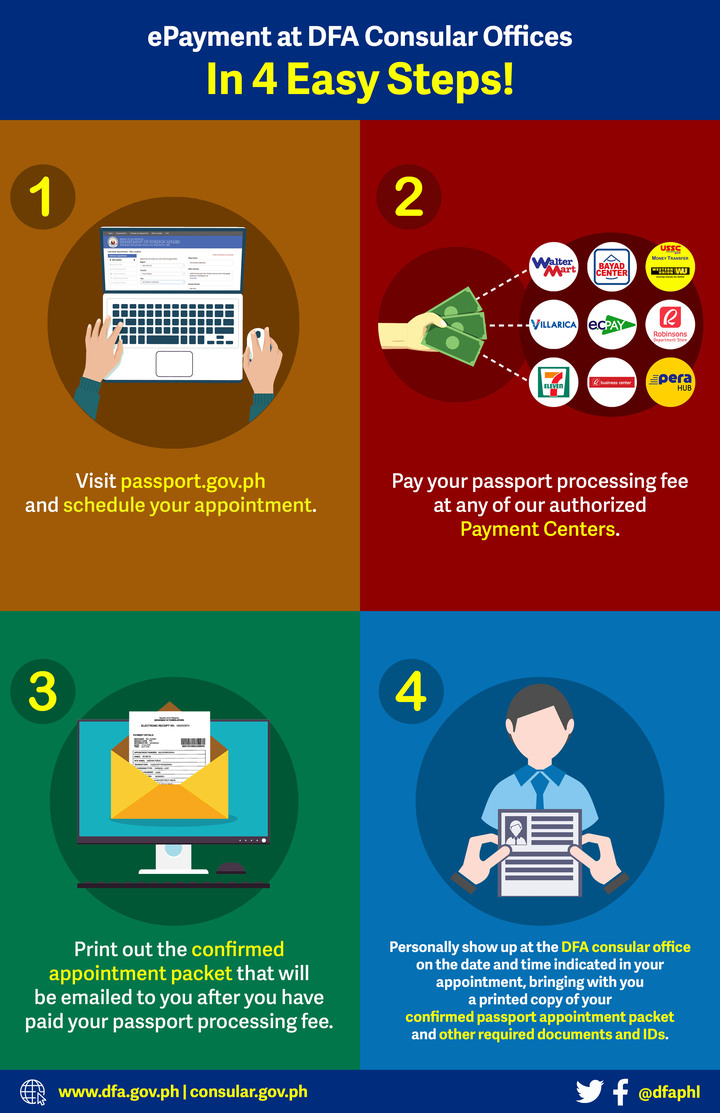 Secured your slots successfully? You can pay for your passport processing fees using the following methods:
Credit or debit card
Bayad Center
EcPay
Pera Hub
Robinsons Business Center and Department Stores
Waltermart Department Store
7-Eleven
USCC (Western Union)
Villarica Pawnshop
A P50 convenience fee is charged by these authorized Payment Centers on top of the processing fees.
Don't forget to show up early and follow health and safety protocols on the day of your appointment!
For more information and updates, visit the Department of Foreign Affair's website or Facebook page.
MORE: PSA: RT-PCR Testing No Longer Required for Fully Vaxxed Domestic Travelers
Bookmark This: Important Philippine Guidelines for Fully Vaccinated Travelers