Fine Dining at 35,000 Feet off the Ground
"Finally, I was going to taste food that came to us on plates and not in microwavable packages!"
by Therese Aseoche | December 06, 2016
Flying Business Class is a luxury not most people can afford. I've always wanted to experience the comfort and attention given to Business Class passenger at least once in my life. But more than the reclining seats, leg room and freebies, I wanted to experience it for the fine cuisine they served. I'm one of those travelers who absolutely love airplane food (sorry, Mr. Bourdain) and admittedly browse photos of them online.
You can only imagine my joy and excitement over hearing that we were flying Business Class for our long-haul flight to the US. Finally, I was going to taste food that came to us on plates and not in microwavable packages!
The following are just a few of the dishes I ate during my flight with Philippine Airlines.
I started off my in-flight dining experience with this serving of Ensaladang Pako — pako, salad greens, vegetables and smoked duck slices drizzled with coco cream and calamansi dressing. I love eating duck so ordering this was a no-brainer. I was pretty happy that the greens were crisp-fresh too.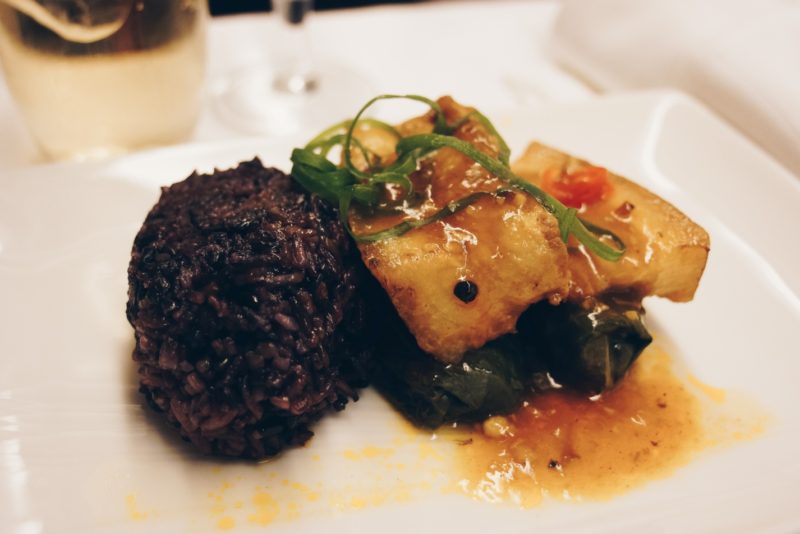 For the main course, I thought I should eat a Filipino dish knowing I would be deprived of them for almost three weeks. So I got for myself a Pork Adobo in Red Sauce, which was a Visayan stewed pork in adobo vinegar and annatto oil served with "kulawo"-grilled wrapped eggplant in burnt coconut, pickled tomatoes, green mango and steamed mountain rice.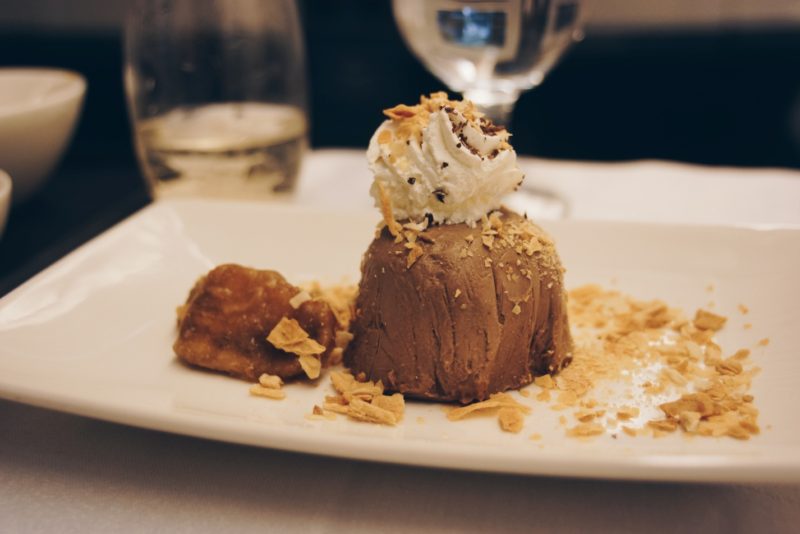 And for dessert, a Davao Chocolate-Eh Pudding with Caramelized Bananas.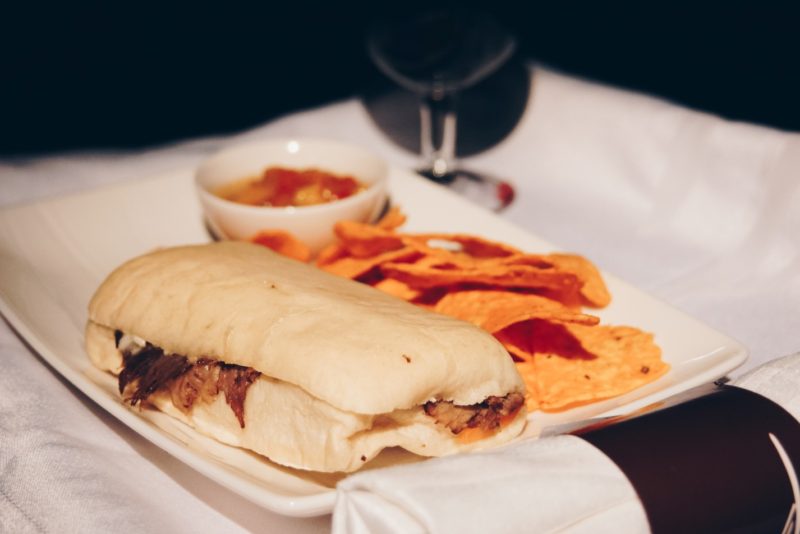 Because we were served in-flight dinner so early in the afternoon (Philippine time), I grew hungry after just a few hours so I ordered a mid-flight pick-me-up: a Hot Sandwich Platter — Beef Adobo shreds in ciabatta bread with cilantro mayonnaise, pickled cucumber and carrots served with chips and salsa.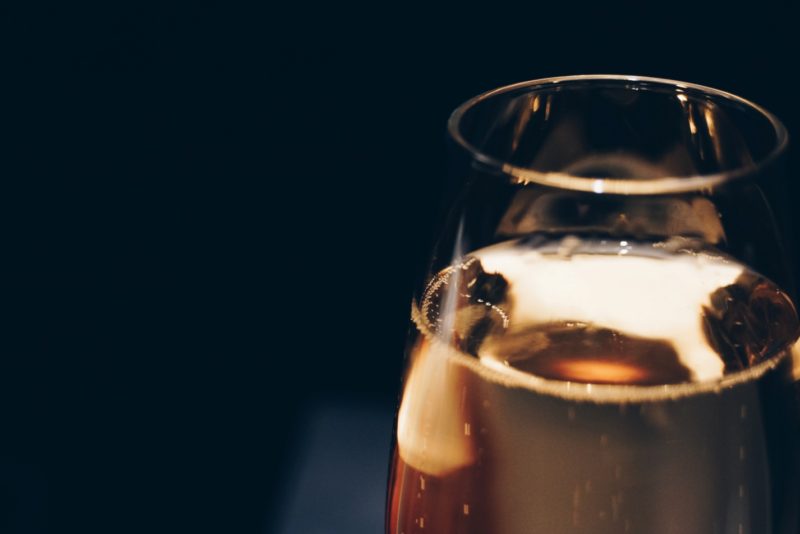 And to go with this snack, a Charles Heidsieck Brut Reserve Champagne which I savored while watching Birdman, Sing Street, and The Peanuts Movie on my TV screen.
After a decent nap, we entered the bright and sunny part of the world where we were then asked by the flight attendants to prep ourselves for breakfast. We were just a few hours away from our stopover at Vancouver and had to fill our tummies up to survive the layover.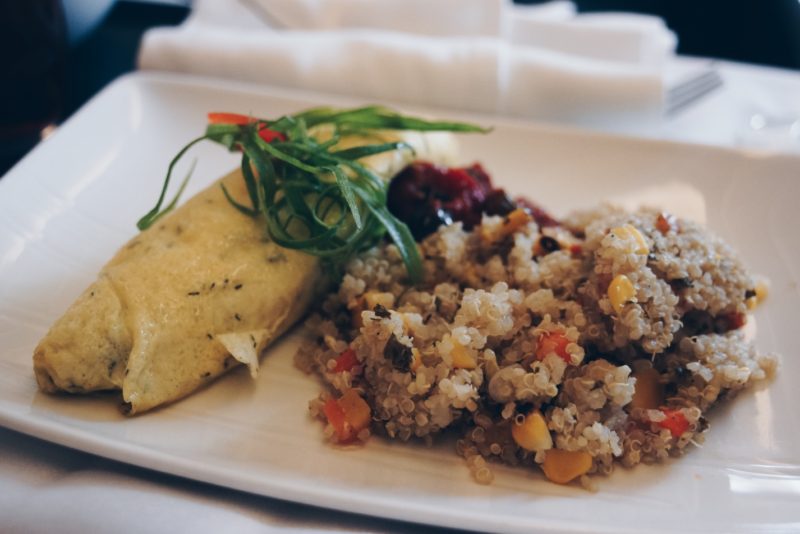 For breakfast, I ordered the Dill Omelette with Salmon. It's a Dill-flavored egg pancake filled with salmon fillet served with spinach, some tomato-caper relish, and quinoa with grilled vegetables.
This was our last meal before getting off the plane and staying at a designated waiting area at Vancouver International Airport for a few hours. We weren't allowed to exit the waiting area and explore the airport so I was really bored the entire time. There was free Wi-Fi though, but all my friends were asleep at the time so there was no one to talk to.
After a grueling two hours, we were told to board the plane again. We were then given appetizers while they prepared our dinner en route to New York City.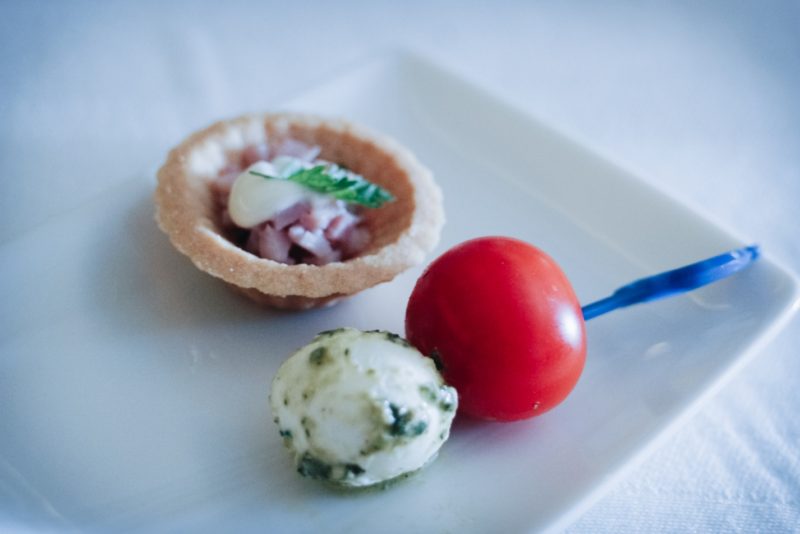 For starters, a Tomato and Bocconcini Skewer, and Ham and Lime Mayonnaise Tart.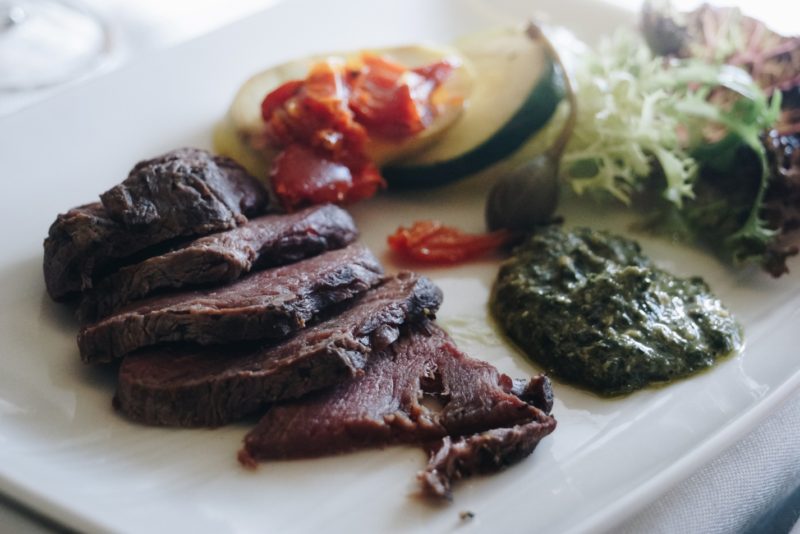 And then, a Cold Platter — grilled beef tenderloin with green and yellow zucchini served with mixed salad greens, tomato, caper berry, and pesto sauce.
This was by far my favorite dish out of everything because the beef tenderloin strips and pesto sauce were so delicious. I would have ordered another plate of this if I could have.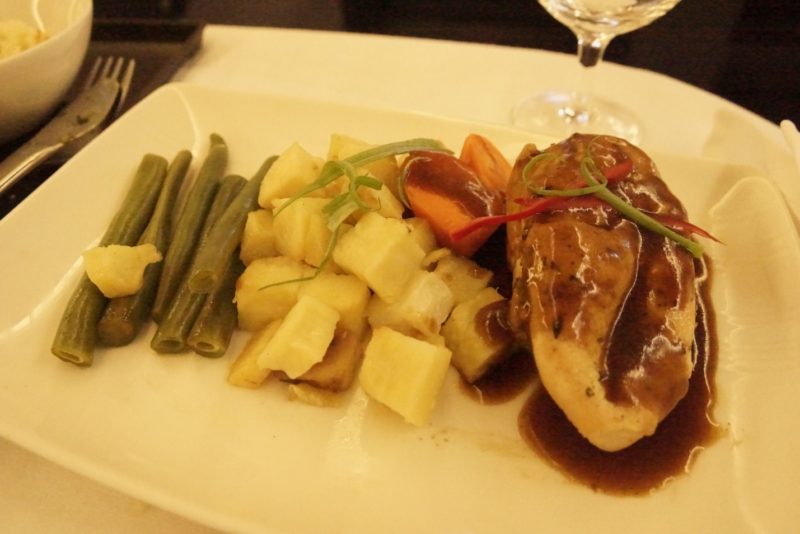 And for dinner, Herbed Chicken in Rosemary Jus — roasted chicken in herb marinade served with rosemary-flavored gravy, carrots, green beans, and roasted sweet potatoes. This was our last meal on the plane.
The flight back
On my flight back to Manila, even in my drowsy and jet lagged state, I still managed to take photos of the food served.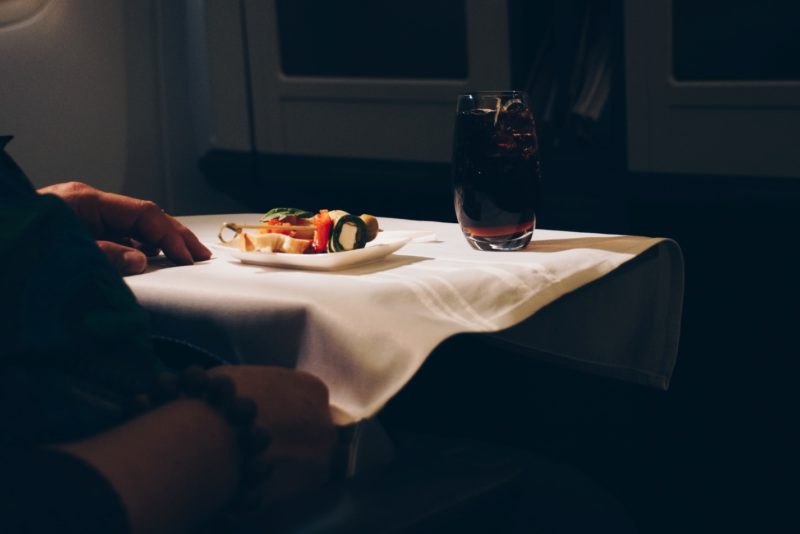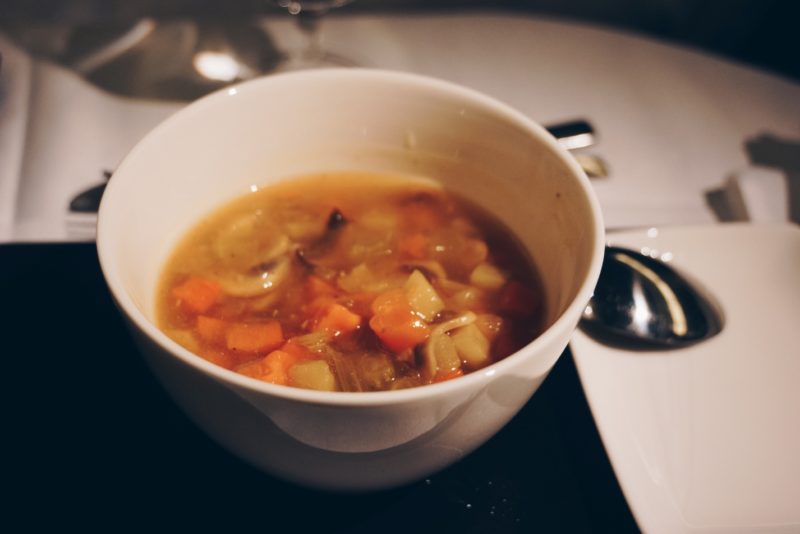 I really liked the taste of the Mulligatawny Soup. It was a curry spiced chicken and vegetable broth with diced chicken breast and steamed rice. It was a good starter to warm up the belly when you're not in the mood to eat but have to.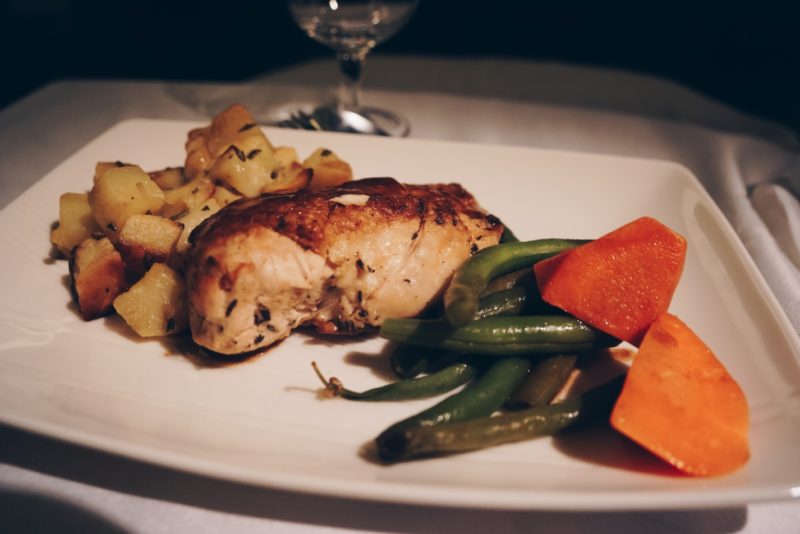 I was surprised to see this on the menu again and I ordered it to because I had liked what I had eaten for dinner prior to arriving at JFK Airport. But I was even more surprised to see that it looked and tasted much different from the first Herbed Chicken in Rosemary Jus. It was definitely much yummier. Too bad I didn't have the appetite to finish it all.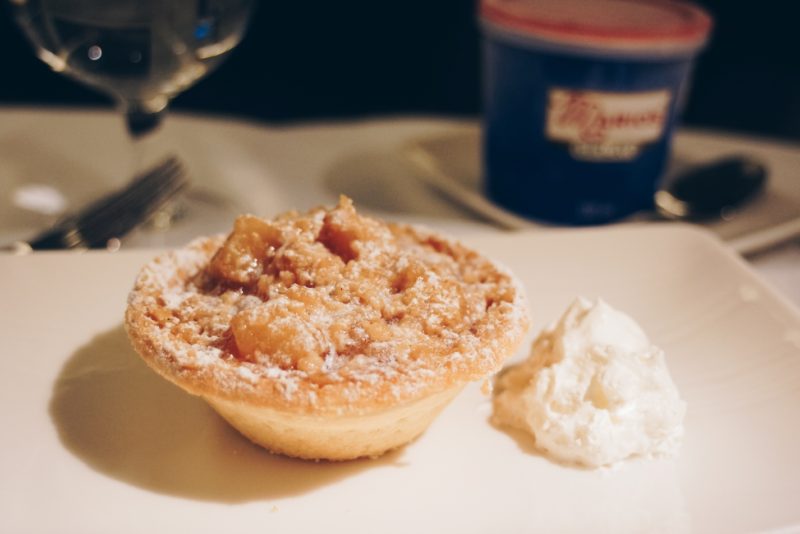 The dessert was really good that I still dream about it to this day! It was a mini Apple Crumble Tart with whipped cream on the side. (And because it was so good, I couldn't help but feel that the serving was a bit too small.)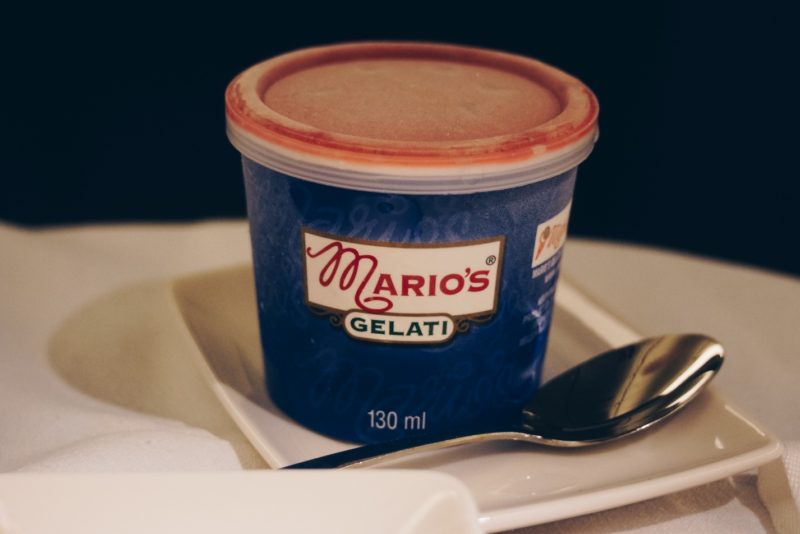 Along with the tart, we were also given Mario's Gelati, the flavor of which you could choose among what they had. I got the Raspberry Flavored gelati. It was cold, tangy and really sweet. It was good, but it isn't something to finish in one sitting. So—and don't laugh—I packed it in my hand carry and brought it home!
I dream of another day when I can indulge in another gastronomic Business Class experience again.
In the meantime, I'll be eating cup noodles to save up for the next long-haul flight.
ALL PHOTOS COURTESY OF THERESE ASEOCHE