So Lit: The World's Most Dazzling Christmas Light Displays
Christmas is more magical in these places!
by Andy Flores | December 05, 2016
From late November to early January, countries across the globe showcase the most mesmerizing light displays to set a merry vibe. Tinged with history, tradition, and artistry, these seasonal splendors attract thousands — if not millions — of spectators annually. If you want to see one (or a few) for yourself this year, here are some of the world's most lit places during the holidays:
1. Rockefeller Center – New York, USA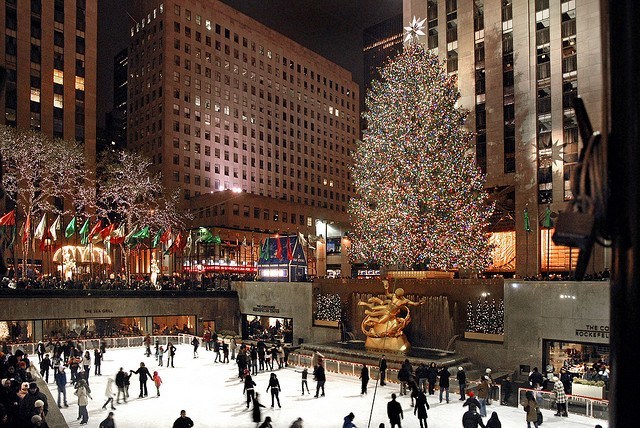 Until 7 January 2017
Home to one of the world's most popular Christmas emblems, Rockefeller Center has upheld its tradition of lighting up the Rockefeller Center Christmas Tree for 84 years now.
This year's tree is a 94-foot Norway spruce adorned with 50,000 multi-colored lights and topped with a 250-kilogram, 2.8-meter wide Swarovski crystal star. Lace up your skating shoes and take in the breathtaking sight as you twirl and glide away at The Rink at Rockefeller Center, which is situated right beside the Christmas tree.
Visit rockefellercenter.com for more info
2. Kobe Luminarie – Kobe, Japan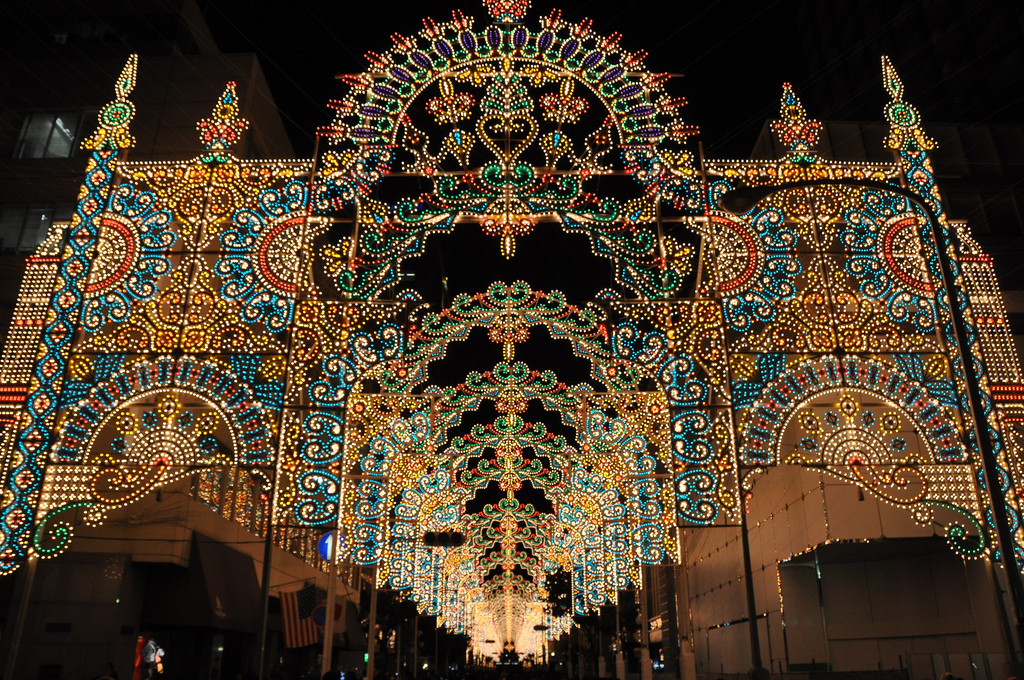 Until 11 December 2016
Kobe Luminarie is a two-week visual extravaganza backed by a heartwarming history. One of Japan's oldest winter illumination events, this light-up affair was first held in 1995 in the aftermath of the Great Hanshin earthquake of that year.
The bulbs used for the spectacle were donated by the Italian Government, and artistic directors Valerio Festi and Hirokazu Imaoka produced the installation. The colorful light displays are not just a feast for the eyes but also a memorial for the victims of the disaster and a symbol of hope to the survivors.
Visit kobe-luminarie.jp for more info
3. Tivoli Gardens – Copenhagen, Denmark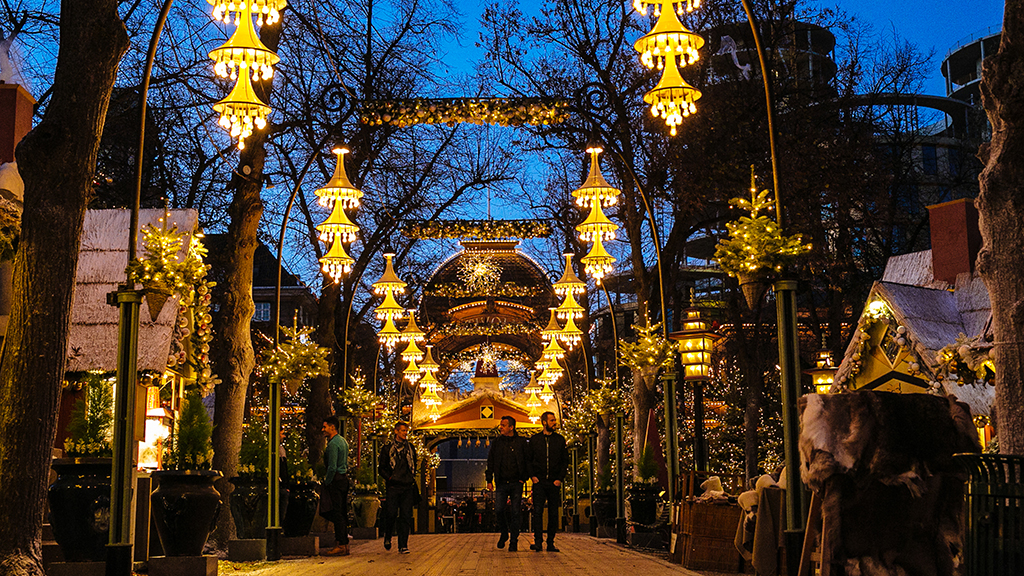 Until 31 December 2016
As darkness blankets Copenhagen, Denmark's wintry sky, Tivoli Gardens comes alive with myriads of fairy lights illuminating the 20-acre amusement park.
Over the course of the evening, three separate light shows that last for about five minutes take place. Head on over to the Lake for the most whimsical views of the famous Tivoli Illuminations.
Visit tivoligardens.com for more info
4. Orchard Street – Singapore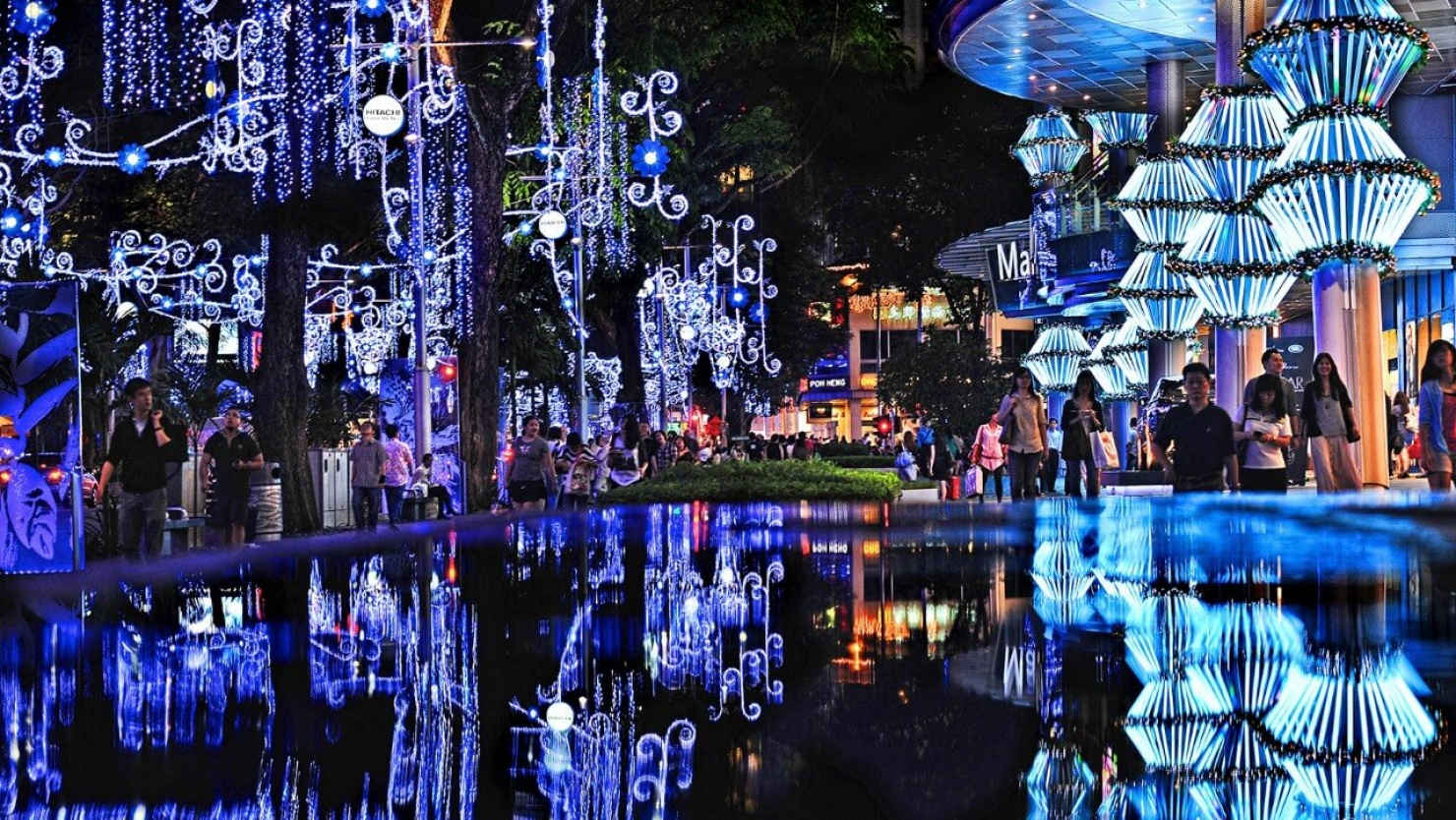 Until 2 January 2017
Get struck in pure awe by myriads of overhead light displays as you take a stroll down the 2.88-kilometer stretch of Orchard Road. Adorned with glowing reindeer and twinkly stars this year, Singapore's "Great Street," best known for its shopping malls, once again transforms into a magical Christmas paradise that dreams are made of.
Visit orchardroad.org for more info
5. Ayala Triangle Gardens – Makati, Philippines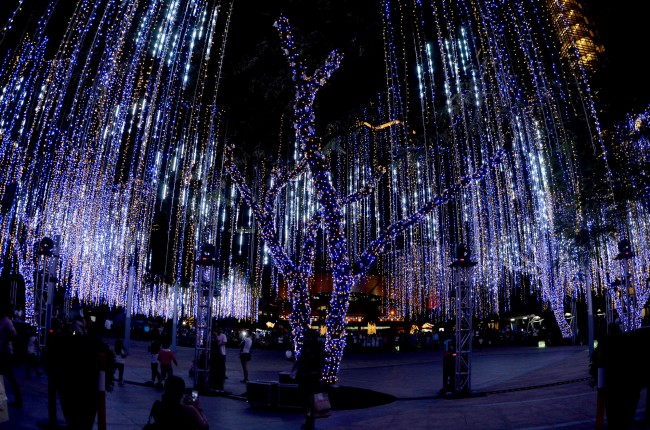 Until 8 January 2017
On a budget and can't travel far but still want to catch a holiday light spectacle? Experience it at the Ayala Triangle Gardens in Makati!
This year's Festival of Lights will showcase three distinct medleys: a collection of music that captures the Filipino Christmas spirit, paired with fun, bright, and rapid movements inspired by Rio de Janeiro; classic music scores from magical, heroic, and period films coupled with sparkling colors; and a Disney-inspired finale with more than one million lights dancing to the music.
Visit ayalaland.com.ph for more info
6. Covent Garden – London, UK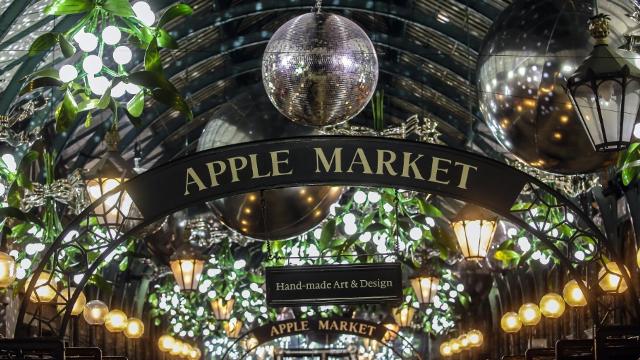 Until 8 January 2017
Marvel at the lights that fill Covent Garden's cobbled piazza as you tick off items in your Christmas shopping list.
Setting a festive and romantic atmosphere, the entire indoor market glistens with 80,000 twinkling pea lights and 45 stunning mistletoe chandeliers. Walk on over to the west side of the square to check out London's tallest hand-picked Christmas Tree.
Visit coventgarden.london for more info
7. Hunter Valley Gardens – Sydney, Australia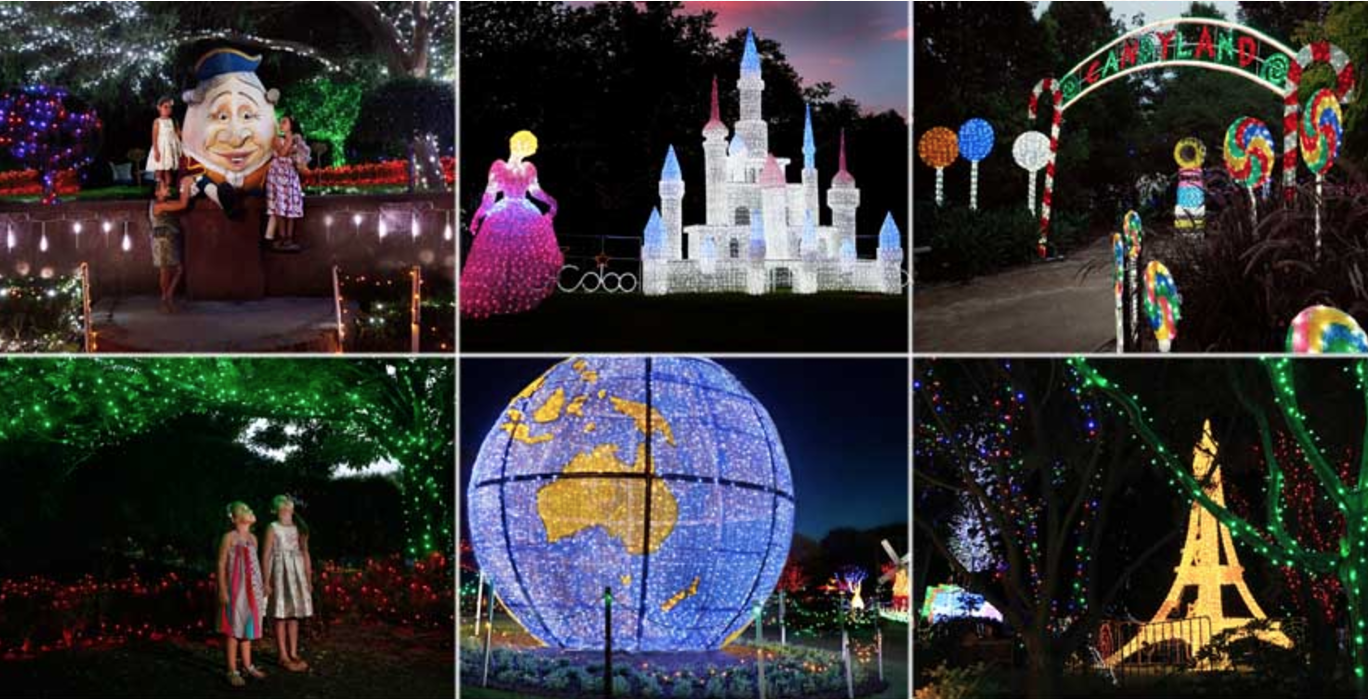 Until 26 January 2017
With fifteen festive displays interspersed around the park, Hunter Valley Gardens will fill you with that familiar child-like wonder you get only during the holidays.
After visiting Cinderella's Castle and joining the Mad Hatter's Tea Party, take a trip around the globe by checking out the park's centerpiece "Christmas Around the World" — a collection of light installments featuring the world's most iconic landmarks.
Visit huntervalleygardens.com.au for more info
8. Enchant – Vancouver, Canada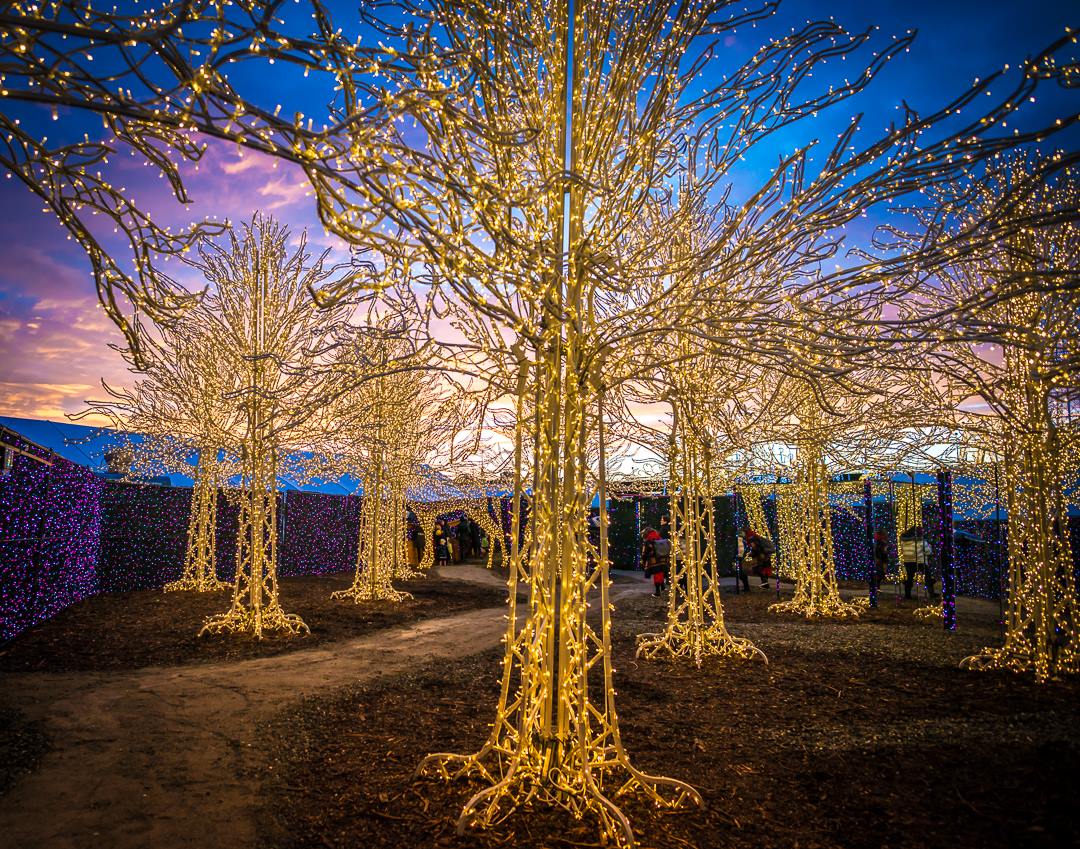 Until 31 December 2016
If light shows and displays bore you, then Vancouver's Enchant is the place to go.
The world's largest Christmas maze, it combines the concepts of storytelling and adventure to create the perfect yuletide atmosphere for an unforgettable evening escape. Made up of 55,000 square feet of brilliantly illuminated sculptures, Enchant is a wonderland you wouldn't mind getting lost in.
Visit enchantchristmas.com for more info
What are your favorite Christmas sights in the Philippines and around the world? Post them in the comments!