The Best Places to Visit in the Philippines for Adrenaline Junkies
Here's to tourists who want to take their vacation to the next level.
by Ina Louise Manto | November 07, 2023
When on vacation, which type of tourist are you? Do you like a more relaxed itinerary where you're just relaxing by the beach or are you the tourist always on the hunt for the next thrilling activity? If you're the latter, you'll enjoy this list of local destinations to try the most thrilling activities. From rafting in rapids to freefalling 120 feet into a lake, here are the Philippine destinations for adrenaline junkies:
The Plunge at Danao Adventure Park
Location: Bohol
After visiting Bohol's most famous attractions, see if you can take the plunge and try one of the world's highest canyon swings at Danao Adventure Park. The Plunge will let you experience falling from a 280-meter launch deck with a 70-meter vertical free fall. You'll be swinging above a forest and you can even take it to another level by diving head first.
Find more details on Facebook.
DROPZONE at Dahilayan Park
Location: Bukidnon
If you're headed to Bukidnon, don't forget to visit Dahilayan Park, a thrill seeker's paradise. Also known as Mindanao's favorite extreme playground, Dahilayan Park houses rides that will make you scream. They have ziplines, razorback mountain coasters, a skytower base jump, a canopy glider, a roller zipride, and a dropzone. At DROPZONE, you'll experience a 120-foot freefall in a manmade lake. It's the country's first extreme pendulum swing of its kind!
Know more about their rides here.
Canyoneering in Cebu
Location: Badian and Kawasan Falls
Instead of just heading straight to Kawasan Falls for a relaxing swim, take the more adventurous route and explore rivers and waterfalls through cliff jumping. Make sure to prepare proper trekking gear like sandals and rash guards. Will you take the final 30-foot-high jump from the waterfall?
Rates start at P3,472 per person. Book online.
Whitewater Rafting
Location: Cagayan de Oro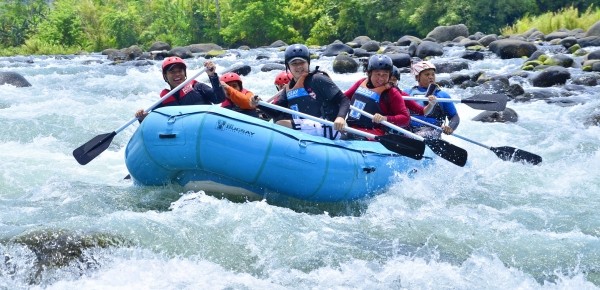 In case you didn't know, rafting is one of the best things to do during the rainy season and there's no better place to experience this adrenaline-inducing activity than heading to the whitewater rafting capital of the Philippines, Cagayan de Oro. The adventure will take you to 14 rapids or you can traverse all 21 of them.
Cliff jumping at Tangadan Falls
Location: San Gabriel, La Union
La Union is known for surfing and its nightlife, but these aren't the only activities that the province offers. Elyu is home to at least 10 waterfalls where you can trek and go cliff jumping. Tangadan Falls is one of the most popular ones; the falls measure 50 feet high. Don't be intimidated by this – the drop is beginner-friendly.
4×4 Ride at Paoay Sand Dunes
Location: Paoay, Ilocos Norte
A trip to Ilocos Norte isn't complete without going on a thrilling 4×4 Jeep ride at Paoay Sand Dunes. This isn't just a scenic ride along the beach – expect high drops and bumpy rides, which will make you scream your lungs out. Don't forget to hang tight! The tour also includes unlimited sandboarding.
A one-hour tour is at P2,500 per group. Book online.
Traveling Up North: 10 Must-Visit Tourist Spots in Ilocos Norte
Traveling Up North: 10 Must-Visit Tourist Spots in Ilocos Norte
Ina Louise Manto | May 11, 2022
Skydiving
Location: Siquijor
View this post on Instagram
Looking for an experience of a lifetime? Skydiving is one for the books. You don't need to go abroad anymore as you can experience it in the enchanting province of Siquijor. Skydive Siquijor is the only USPA (United States Parachute Association) Member drop zone in the Philippines and it's the perfect place for Tandem Skydive. You'll be jumping off a plane at 10,000 together with a professional tandem and AFF instructor, who will also record the experience for you.
Find more information at Skydive Siquijor's website.
Las Cabanas Beach Zipline
Location: El Nido, Palawan
There are still plenty of activities to do in El Nido aside from going island hopping and kayaking. Las Cabanas Beach offers a zipline ride and it's one of the most scenic ones you can take yet. This ride will take you from one island to another; go for a sunset ride to get the best views!
A one-way ride starts at PHP 500.
What to Expect: Canyoneering in Badian, Cebu
What to Expect: Canyoneering in Badian, Cebu
Shen Mascariñas | May 05, 2016
Looking for other places to explore? Join WindowSeat.ph's official Facebook community What's Your Trip PH for more recos!