How Do You Cool Off During Summer? 10 Popular Summer Treats from Around the World
This summer heat is insane.
by Ina Louise Manto | May 09, 2021
These days, you're probably wishing electric fans can go past number 3 or dreaming of bathing in cold ice water all day because it's just too hot. You're probably thinking of cold treats too, to aid the sweltering weather. While we feast on halo-halo, mais con yelo, and ice-cold palamig to survive the heat and humidity this summer season, here's how the rest of the world enjoys hot summer days:
Bingsu – Korea
View this post on Instagram
Just like the Philippine's halo-halo, Koreans also have their own take on shaved ice treats. Bingsu is a shaved ice dessert typically topped with condensed milk, ice cream, yogurt, fruits, and syrup, and you've probably had it in your fave Korean restaurant. Its earliest forms trace back to the Joseon dynasty; back then it was made with only shaved ice and three ingredients: tteok (rice cake), ground nut powder, and red bean paste. The most popular bingsu flavor is pat-bingsu, which is just shaved ice with sweet red beans.
Açaí na tigela – Brazil
View this post on Instagram
You've probably seen this dessert in beach resorts around the country or your fave healthy restaurant, and it's originally from Brazil. Açaí na tigela, which means acai in the bowl in English, is made with blended and frozen acai fruit typically topped with fresh fruit and granola.
Morir soñando – Dominican Republic
View this post on Instagram
Yup, it's okay to mix orange juice and milk, and the people of Dominican Republic love them. This popular refreshing drink is made with milk, orange juice, cane sugar, and chopped ice, typically served as a mid-afternoon snack or during dinner. Sometimes, regular milk is replaced with evaporated milk, mixed with a dash of vanilla extract.
Sinh Tố Bơ – Vietnam
View this post on Instagram
The best thing about avocado is you can enjoy it savory with eggs and toast or as a refreshing drink just like Vietnam's Sinh To Bo. Resembling milkshake consistency, Sinh Tố Bơ is a smoothie made with ripe avocados, milk, and sweetened condensed milk. It's a treat for someone with a sweet tooth!
Kulfi – India
View this post on Instagram
India's traditional ice cream, Kulfi, is basically ice cream but made better. Kulfi looks and tastes like ice cream but it's not whipped, making it creamier and denser. It's typically made with milk, condensed milk, and a natural flavoring like cardamom, pistachio, rose, and mango.
Affogato – Italy
View this post on Instagram
Italian gelatos are already good but try drowning it in a shot of espresso. Also known as affogato al caffe, this dessert translates to "drowned" in Italian, which is essentially what you do to enjoy it.
Faloodeh – Iran
View this post on Instagram
Also called as Paloodeh, Faloodeh is a traditional Iranian dessert made with thin rice noodles and frozen syrup with rose water and sugar. This sorbet-like dessert is often served with lime juice.
Gazoz – Israel
View this post on Instagram
Israelis used to call old-fashioned sodas Gazoz, which is basically just soda water and simple syrup. As popular sodas were popularized over the years, the term was replaced until a café started making its rendition of it. Different herbs and fruits are preserved in sugar water and served with soda water, giving a refreshing natural drink for the summer.
Anmitsu – Japan
View this post on Instagram
Anmitsu is a traditional Japanese dessert that has been enjoyed for centuries. Its main ingredients are anko or red bean paste and agar cubes, which are translucent jelly that looks like nata de coco. Typically served with mitsu or black syrup, this cold dessert is also mixed with different types of fruit, mochi, and even ice cream.
Dondurma – Turkey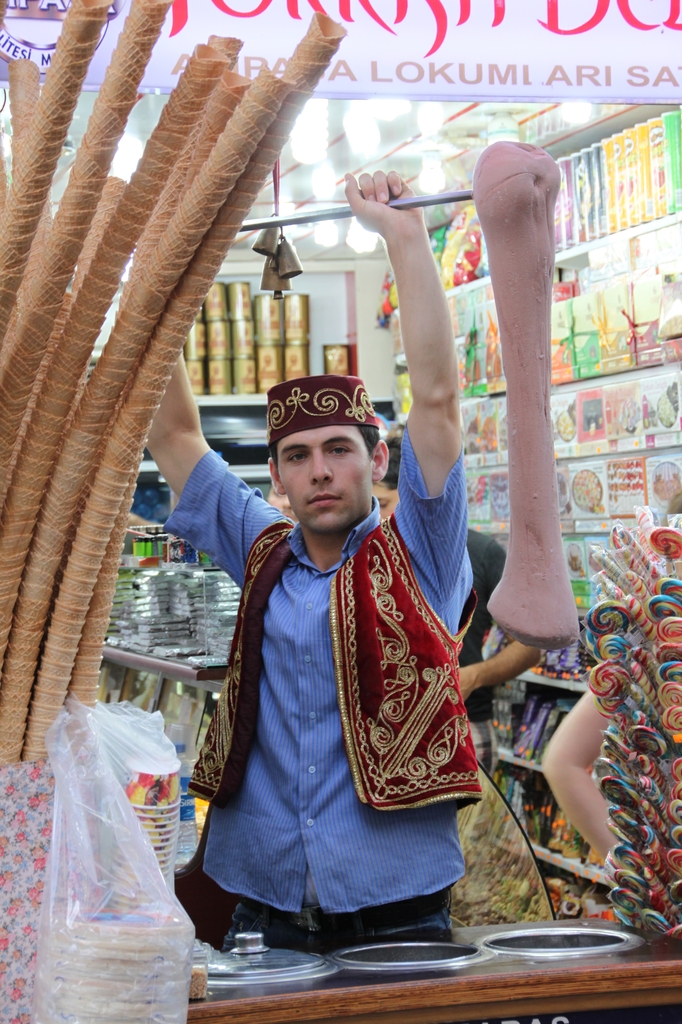 Just when you think Dairy Queen's Blizzard is sticky enough to be turned upside down, try Turkey's popular Dondurma. Typically seen on the stretch mixed and served through a long metal paddle, this Turkish mastic ice cream is stretchy enough that's similar to taffy. It's made with whipped cream, cream, salep, sugar, and mastic, which is the main ingredient that makes it stretchy.
Have you tried any of these treats?