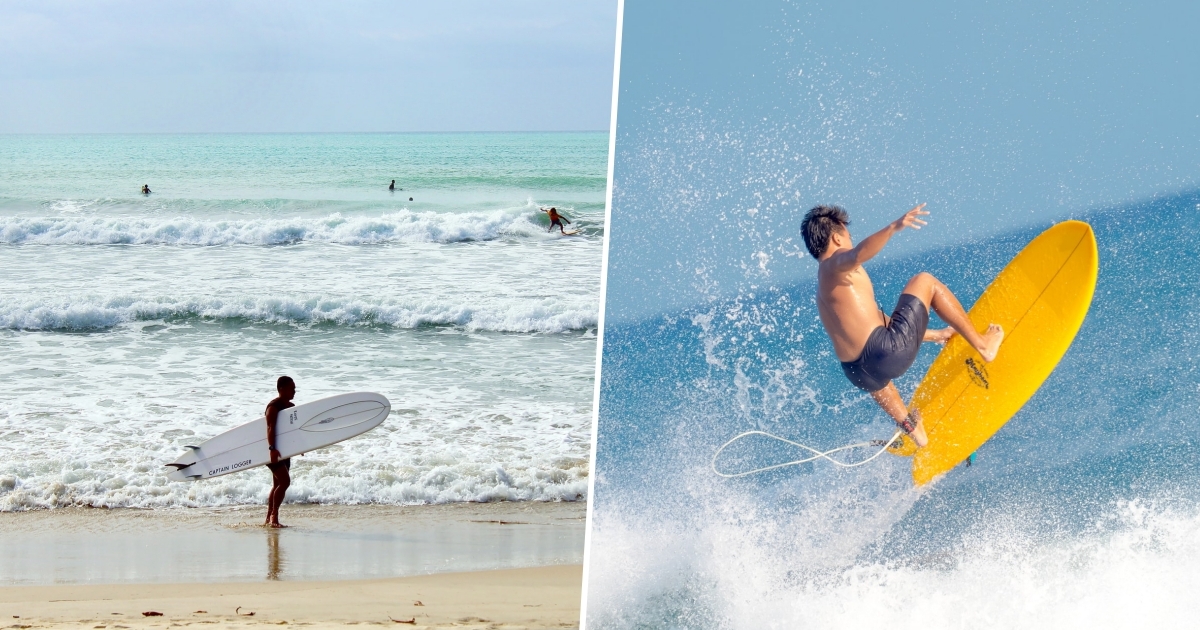 Tired of Siargao, Baler, and La Union? Here are 7 Lesser Known Surfing Spots in the Philippines That Also Have Rad Waves!!
Surfing in El Nido, really?
by Jon Christoffer Obice | May 14, 2021
Thinking of catching rad waves? Siargao, La Union, Zambales, Baler are definitely the usual staples. But is surfing in the country just limited to these famous places? It's not entirely a secret, but there are plenty of hidden underrated surf spots in the Philippines just waiting to be discovered!
Having 5th of the longest coastline in the world at 36,289 km (even longer than US), there are plenty of underrated spots that need to be explored too, especially for those who are just beginning to love the sport. But give them time, these sites could soon be the next surfing meccas!
From east coast to west coast (we know that's more of a US thing, but technically it also applies to the Philippines), we've rounded up 7 under-the-radar surfing havens where you could ride waves and "hang loose!"
Pagudpud (Ilocos Norte)
Difficulty: Novice, intermediate, expert 
Let's kick off our list with one of the northernmost provinces of the country. Also known for its pristine white coastline, Pagudpud is also a lowkey surfing haven for all levels of expertise. Newbies and veteran surfers alike can catch waves suited to their levels of expertise. For left-handed surfers, Vista is a good spot for you. This spot is also perfect for both users of shortboards and longboards. If you want some challenge, you could try your luck in Hearbreak, aptly named for its fast and hollow waves. It's so hollow that if you tumble, the pain would remind you of your failed first love.
Best time to surf: July to September
How to get there: If you want a long, joy ride, the 12-hour journey from Manila is perfect for you. But for those who can't stand that long, you may fly to Laoag Airport before taking an hour ride going to Pagudpud.
El Nido (Palawan)
Difficulty: All levels
Surfing in El Nido, seriously? Well technically, the surfing spots are outside the main town, but it's so close to the tourism hub that you can make it a side trip after going through a proper introduction to El Nido. Explore the outskirts of the town and head to more remote areas. There are four surfing spots to check out here: Mike's Point, Calaan Beach, Nacpan Beach, and Duli Beach.
Mike's Point can give you shoulder-high waves perfect for both right-handed and left-handed surfers. The view of Cadlao Island in the background also gives off that Hawaii feels. Calaan Beach is a more secluded spot where a crowd is not in sight. Experts can enjoy chest to head-high reef breaks. Nacpan is touristy because it's named 18th of the best beaches in Asia by Trip Advisor. Surfing here is more favored for beginners. And in Duli Beach, left-handed and right-handed ones can get those clean, long rides while enjoying the 2km-long view of the shoreline.
Best time to go:
Duli Beach – November to March
Calaan Beach – October to January
How to get there:
Mike's Point, Calaan Beach – 30-minute walk from El Nido town
Nacpan Beach – 40-minute motorcycle ride from El Nido town
Duli Beach – 90-minute drive from the town
Puraran Beach (Baras, Catanduanes)
Difficulty: Beginner to intermediate 
Dubbed as the "Happy Island," Catanduanes is like the lesser-known sibling of Siargao when it comes to giving off that remote island vibes. In Puraran Beach in Baras you'd never run out of barrels—that tube-like hollow part of waves before they break. Because of that, this spot is called "The Majestic" since the Pacific Ocean never fails to give those sought-after waves to surfers. Every October, the Puraran Surfing Cup attracts both local and foreign surfers.
Best time to surf: More advanced surfers can enjoy right-hand barrel reef breaks from July to October. Beginners can enjoy moderate waves from February to June.
How to get there: If you want long, bus/car rides, the 14-hour journey is a visual treat as you can see different terrains along the way. But if you're impatient, you can book a direct flight to the city of Virac that will take you 1 hour and 15 minutes.
Tignoan Beach (Real, Quezon)
Difficulty: All levels
Now let's head to Quezon Province. The beaches in the municipality of Real are known for black sand. Since tourism here is not yet at its peak, this is perfect for those who prefer small crowds. You also won't have problems catching or stealing waves with another surfer, making this a prime ground for training beginners.
Best time to surf: August to March
How to get there: 3-4-hour drive from Manila
Bagasbas Beach (Daet, Camarines Norte)
View this post on Instagram
BACK-UP PHOTO: [Shutterstock image link: https://www.shutterstock.com/image-photo/waves-bagasbas-beach-daet-camarines-norte-1303956631]
Now let's head on further to the east in Bicol Region. The swells here favor both novice and expert surfers. Bagasbas Beach is almost similar to Baler because of the vast shoreline. Beginners can practice their skills in moderate waves. More experienced ones can also catch bigger waves when the swell becomes heavier.
Best time to surf: July to January
How to get there: 8 hours away from Manila through SLEX and the Pan Philippine Highway heading to the east
Guiuan and Calicoan Island (Eastern Samar)
Difficulty: Intermediate to advanced 
The island of Guiuan is always one of the first places to feel the wrath of typhoons coming from the Pacific Ocean, such as Yolanda in 2013, which only speaks of how strong the waves here, especially during monsoon seasons. This is why only experienced surfers can manage to go face-to-face with its barreling waves.
The nearby Calicoan island is blessed with a number of reef breaks that make the waves higher and stronger, which is why it's only reserved for seasoned surfers. There's also a surf camp in the area where you could enjoy a calming nature ASMR.
Best time to go: November to March for beginners, September to October for intermediate-level, advanced surfers
How to get there:
For those who want to try a RORO journey (bus and ferry), there's a Silver Star bus that leaves from Cubao, QC for P2,010 and will take you on a 27-hour journey. If you want to travel by plane, you could book to Tacloban City and from there take a ferry going to Calicoan or Guiuan.
Lanuza and Cantilan (Surigao del Sur)
Difficulty: All levels
The province of Surigao del Sur is close the Surigao del Norte, where the world-renowned Siargao island is located. Surigao del Sur's Lanuza Bay is a low-key version of Siargao but is never short of waves for all sorts of expertise. Longboard surfers would surely enjoy its right-hander swells. More advanced ones can also pass through the tunnel-like barrels at a good time. After a rad surfing session, you could go snorkeling to explore Lanuza and Cantilan's well-kept secrets—its rich marine biodiversity full of rare species. This place is specially made for haters of anything crowded and noisy because establishments close as early as 6 pm.
Best time to go: November (catch the Lanuza Surfing Festival) to March
How to get there:
If you're coming by plane, book a flight heading to Surigao City in Surigao del Norte and from there take a 3-hour ride going south to Lanuza for P400.
READ MORE:
Tangadan Falls: A Hidden Gem in the Surfing Capital of the North
For Just P1100, You Can Have this Siargao Beachfront House to Yourself
The Best Surfing Spots in the Philippines
If you like ELYU, You'll Fall In Love With These Surfing Paradises Around Asia
Must-Try: Bohol's Wave Runner Surfing Adventure