10 of the Most Beautiful Remote Waterfalls in the Philippines
These waterfalls are worth chasing.
by Kara Santos | November 28, 2016
Growing up, most of us were only aware of the existence of only a few waterfalls in the country. The most popular included Pagsanjan Falls in Laguna, Hinulugang Taktak in Rizal and Maria Cristina Falls in Iligan. Recently, waterfalls near the metro like Daranak Falls and Hulugan Falls have become immensely popular with weekend warriors.
As roads become paved, many of these cascades have become more accessible. With accessibility come the hordes of tourists and rows of picnic cottages right at the foot of the falls. But the most beautiful waterfalls are those elusive, hard-to-get-to and hidden from the rest of the world. For serious waterfall chasers who are up for a challenge, here are ten beautiful waterfalls around the country for you to add to your bucket list.
1. Caanawan Falls, Calayan Island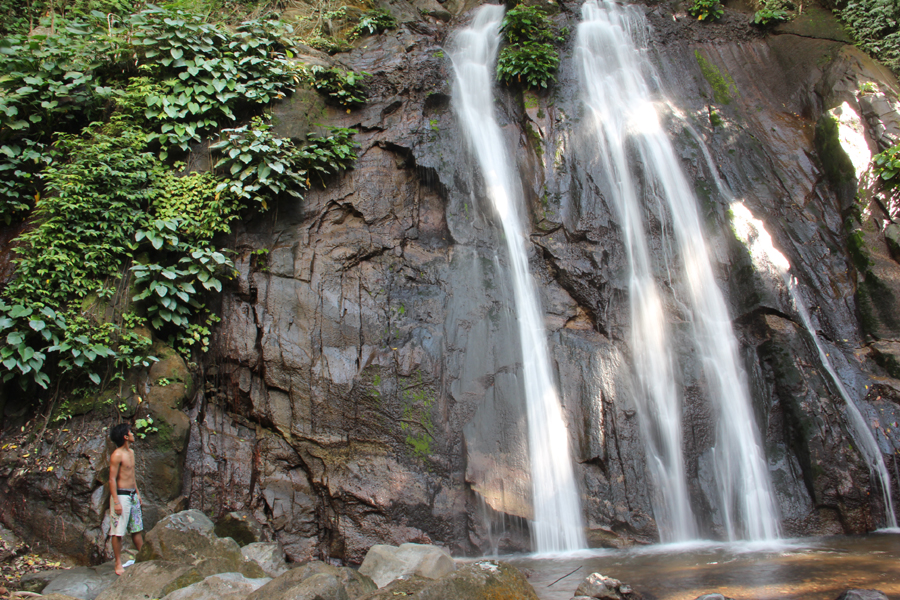 Though not as grand or tall as some other waterfalls in the country, I'm including Caanawan Falls in this list because of its location. Caanawan is one of the waterfalls you can find in Calayan Island, the largest of the Babuyan Group of Islands.
Getting to the island is an adventure in itself as it requires a five-hour long boat ride on rough, unpredictable waters from Claveria in the far north of Cagayan, which is about a 12-hour bus ride from Manila. Once you get to the island, you'll need to rent a boat to access the jump-off point to hike to the waterfall. Other notable waterfalls on the island include Bataraw Falls and Malangsig Waterfalls, which flows from a cliff directly into the sea.
2. Anuplig Falls, Ilocos Norte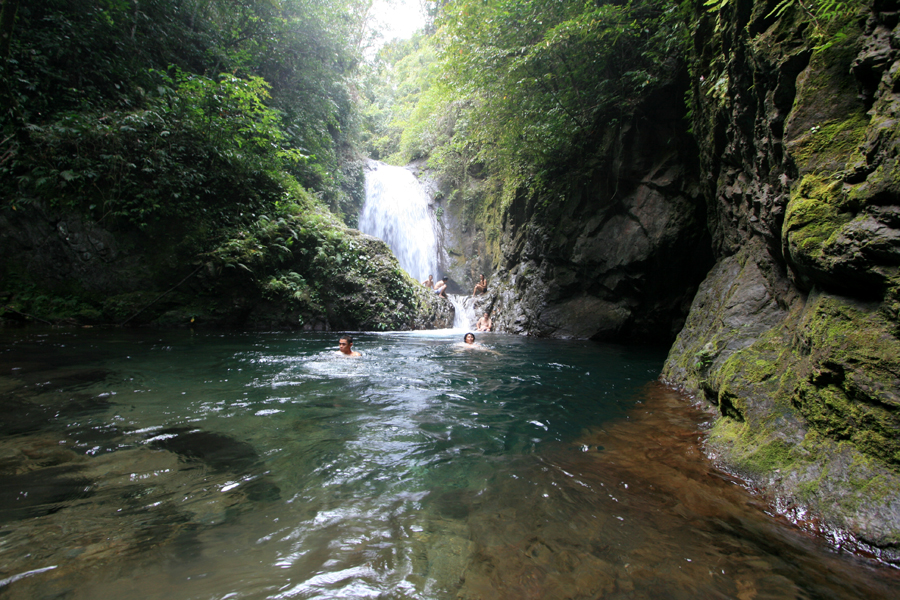 Anuplig Falls is a 25-foot high natural waterfall fringed by lush forests in Adams, Ilocos Norte. The waterfall itself may be pretty small, but the area remains pristine and beautiful with a refreshing basin that you can swim in.
Getting to the town of Adams, which is located in the Northern Coast of Ilocos Norte on the border of Cagayan province, also requires a lot of travel time. The road going to Adams can be accessed mainly from Brgy. Pancian, Pagudpud, which is 11 hours by land from Manila. The nearest airport would be in Laoag. One needs to hike for about one and a half to two hours through remote villages to reach the waterfalls from the town proper.
3. Malinamon Falls, Capiz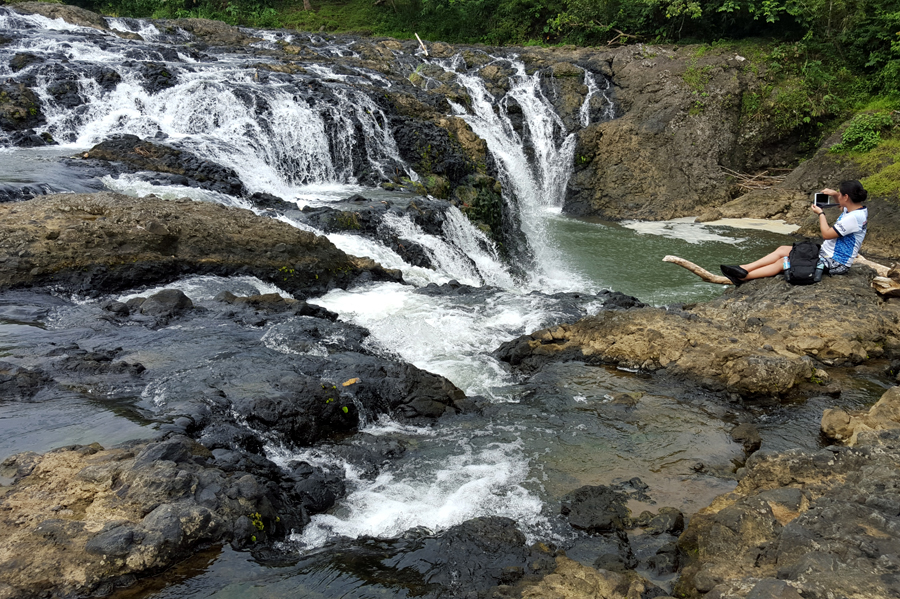 Malinamon Falls is a scenic waterfall cascading over a rocky riverbed hidden in a wide ecotourism area in Capiz comprised of unspoiled forests, mountain trek ranges, bike trails and camping sites. Getting here requires a one-hour trek from the point reachable by motorized vehicles.
While the trek is fairly easy, getting access to the jump-off point can be challenging. This cascade is found inside the area of Camp Peralta, a military reservation in Jamindan, a town roughly two hours away by land from Roxas City. For security purposes, prior arrangements ( of at least a week before) need to be made through the Provincial Tourism and Cultural Affairs Office.
4. Pinipisakan Falls, Samar
Pinipisakan Falls is a four-tiered waterfall that serves as the most convenient way to enter Sulpan Cave, a five kilometer-long underground cave with huge stalactites and stalagmites. This cave is said to have an underground river that serves as tributary for the Blanca River. Sulpan Cave and the Pinipisakan waterfalls can be reached through the town of San Jorge, Samar.
Like many destinations in Samar, getting here will require a lot of effort, including a 30-minute motorcycle ride to the village, a two-hour boat ride upstream, and a two-hour hike going to the cave. As such, it's best to have a local guide familiar with the place to visit. Outdoor tour outfitter Trexplore offers day trips and overnight trips to the waterfalls.
Also read: 3 Samar Caving Experiences for Extreme Adventurers
5. Ulan-Ulan Falls, Biliran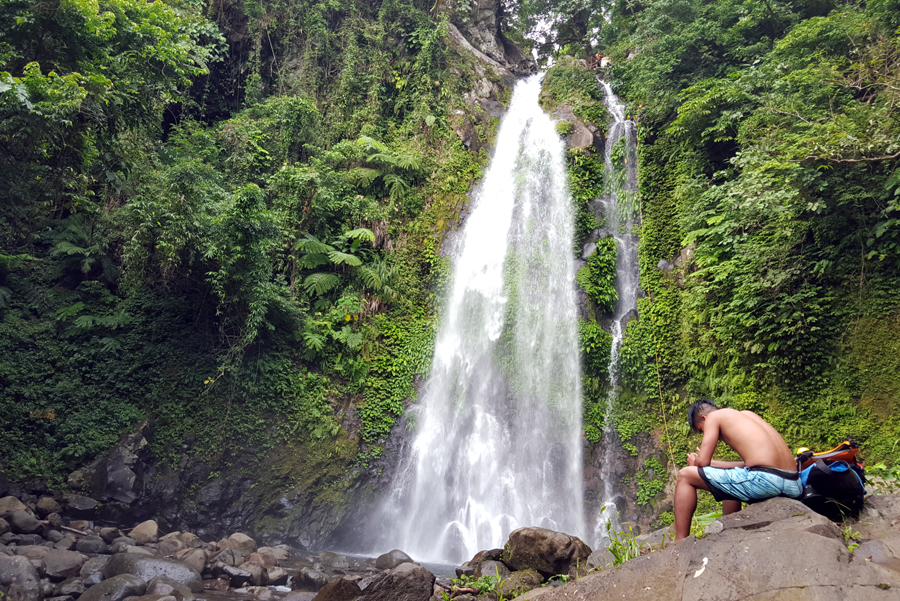 Ulan-Ulan Falls is one of the tallest and most beautiful waterfalls located in the hinterlands of Biliran, an island province in Eastern Visayas. The province, which was formerly part of Leyte, is not yet high on the tourist radar, which means destinations here are still pristine and untouched by development. Cascading from over 100 feet high, Ulan-Ulan Falls is a sight to behold.
You can reach Ulan-Ulan Falls by a 30-minute hike through from Almeria, which is about 40 minutes away by land from the capital town Naval. The trek to Ulan-Ulan takes you along a river, a part of a mountain and  several other waterfalls. There are no cottages along the sides of the stream and the route going in is steep. There are no railings installed or walkways installed, so you need to be sure footed to hike here.
6. Cambugahay Falls, Siquijor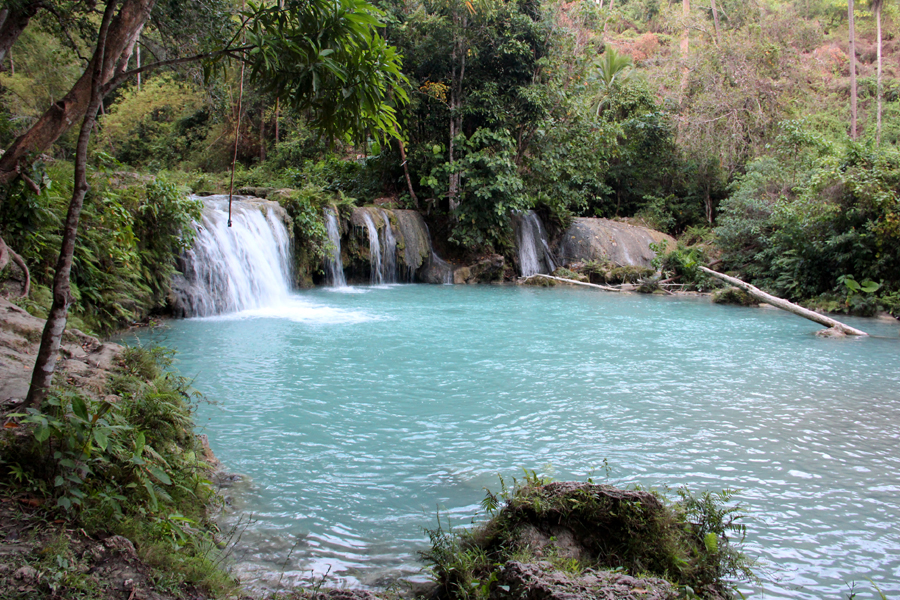 One of the more easily accessible waterfalls on this list is Cambugahay Falls in Siquijor, a beautiful island province in the Central Visayas region. After climbing down 135 concrete steps from the road, you reach a three-tiered waterfall with a wide basin with clear blue waters that you'll want to just dive right in. Rope swings can be found on the trees right by the pool, so you can try a Tarzan swing from the first and third tiers of the falls.
The island of Siquijor itself is usually accessed via sea travel from Dumaguete City. You can also get here via ferry from Cebu, Bohol, Dapitan and Iligan. From there you can visit the waterfall by taking a tricycle or motorcycle tour.
Also read: Where Love Dwells: Siquijor
7. Merloquet Falls, Zamboanga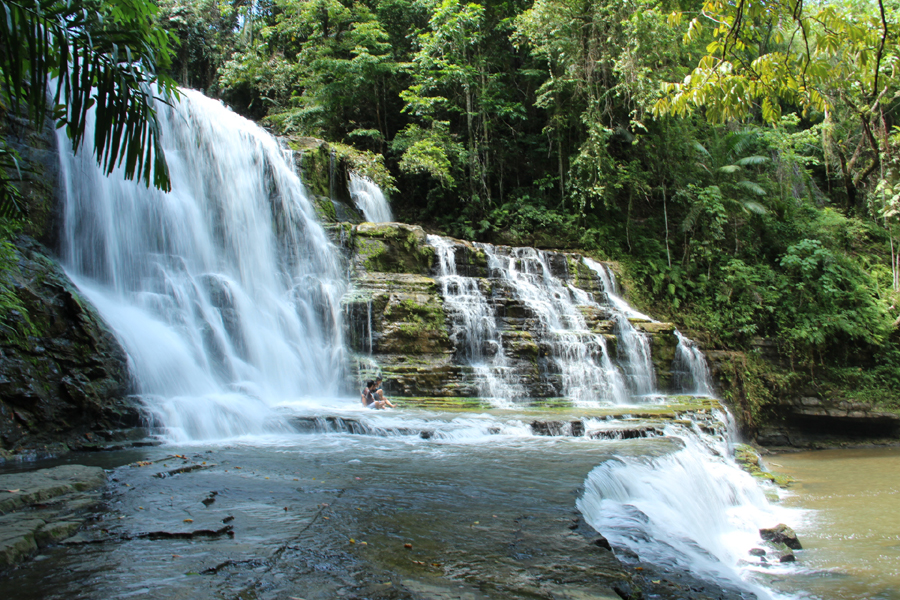 Many destinations in Mindanao get a bad rap because of the perceived danger in the region. However, tourists who have been there and locals living in the area can attest to the stunning beauty of the natural landscapes here. One of the gems in Zamboanga is Merloquet Falls, a beautiful waterfall located in the interiors of Barangay Sibulao, some 78 kilometers east of the city.
The downhill hike to the falls itself is just 15-20 minutes from the area reachable by vehicle. While it's possible to visit through a series of different public transport options, the best way for groups to visit is to hire a private van or rent a jeep for the day to take you all the way there because of its remote location.
8. Seven Falls, Lake Sebu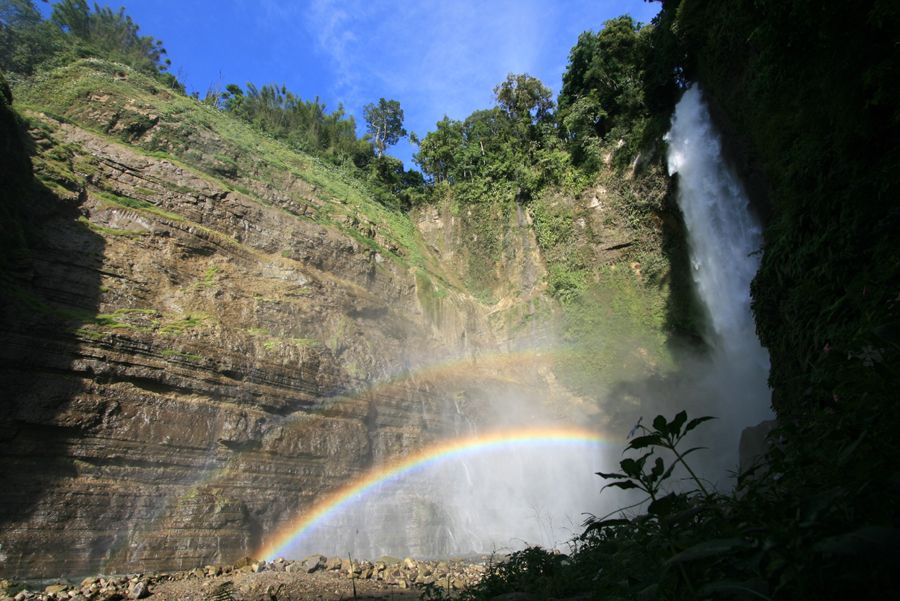 The Seven Falls in Lake Sebu are always worth visiting if you're heading to South Cotabato. What makes this places special the amazing view you can get of it by ziplining over Hikong Bente, the second and most beautiful of the seven falls. You can also hike down 700 steps to the foot of the falls to see it up close. This is an experience that's hard to beat.
The town of Lake Sebu is one of the rising tourist destinations in Mindanao, which can be reached through the cities of Koronadal, General Santos and Davao. The nearest airport to the area is General Santos.
Also read: Weaving Water, Woven Dream: Traversing South Cotabato's Lake Sebu
9. Asik-Asik Falls, Cotabato
Nestled in a mountainous region in Barangay Upper Dado, Alamada in Cotabato (formerly North Cotabato) is Asik-Asik Falls, a cascade of waters coming from a lush mountain wall. With waters flowing like a curtain from a verdant wall, this is one of the most unique and enchanting waterfalls I've seen in the country. It's an unspoiled, surreal sight that will leave you mesmerized at the sheer beauty of nature.
Getting here is no walk in the park. The road going there is pretty rough and you need to proceed with caution if you're crossing conflict areas in Mindanao. From the jump-off point for vehicles and habal-habal, be prepared to hike down 1,500 steps leading down to the falls. But for those who brave the long journey, seeing the waterfall firsthand is a worthy reward.
Also read: Safe and Sound: Life Goes on in Philippine Conflict Zones
10. Bulingan Falls, Basilan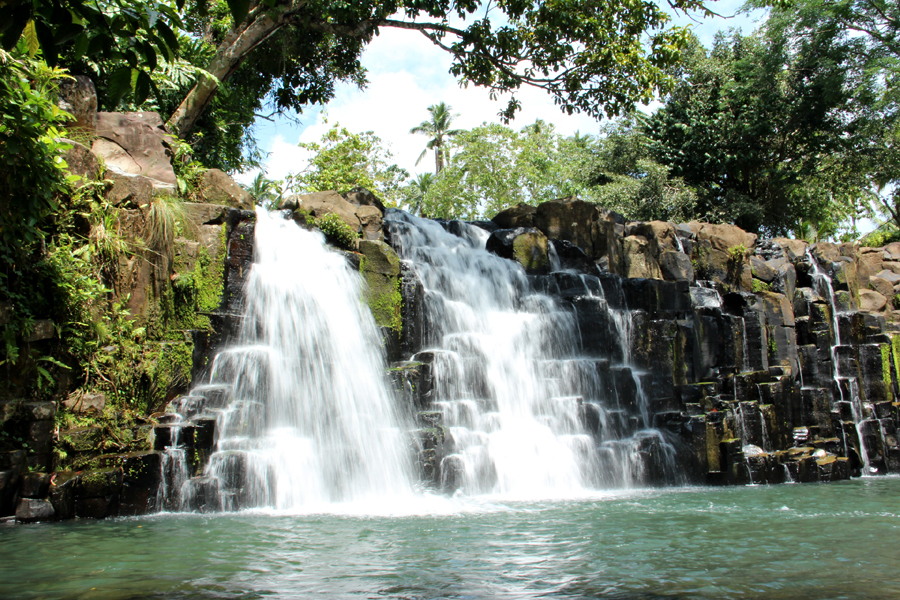 Hidden in the forest of Lamitan City is Bulingan falls, one of Basilan's natural wonders. A remarkable feature of this waterfall are its walls that resemble block-like square rocks and crystal clear water best seen during sunny days.
For local and international tourists, Basilan, an island province of the Philippines within the Autonomous Region in Muslim Mindanao (ARMM), is one of the most challenging provinces to visit because of its isolation and perceived security risks. The only way to get to the island is by fast craft of ferry boat from Zamboanga City. Then it's another hour or so by habal-habal to visit the waterfall. While there are incidents of conflict in remote areas, the province is made up of many different towns and barangays where locals have been living peacefully for many years. If you're planning to visit Basilan, it's best to get the help of locals who can show you around or coordinate with the local tourism office.
These are just a few of the many beautiful and remote cascades hidden all around the country. Know of any other waterfalls that should be on this list? Let us know in the comments!