Spend a Dreamy Valentine's Getaway at These Romantic Villas in Bali
Ready to take your Valentine's celebration international this year?
by Ina Louise Manto | January 04, 2023
The world is open again, making international travel revert to normal. If your revenge travel plans this 2023 involve dusting off your passports, you might want to treat your partner to a romantic Balinese getaway this Valentine's Day. We've prepared this list of romantic Bali villas for your getaway:
Enchanted Hobbit Treehouse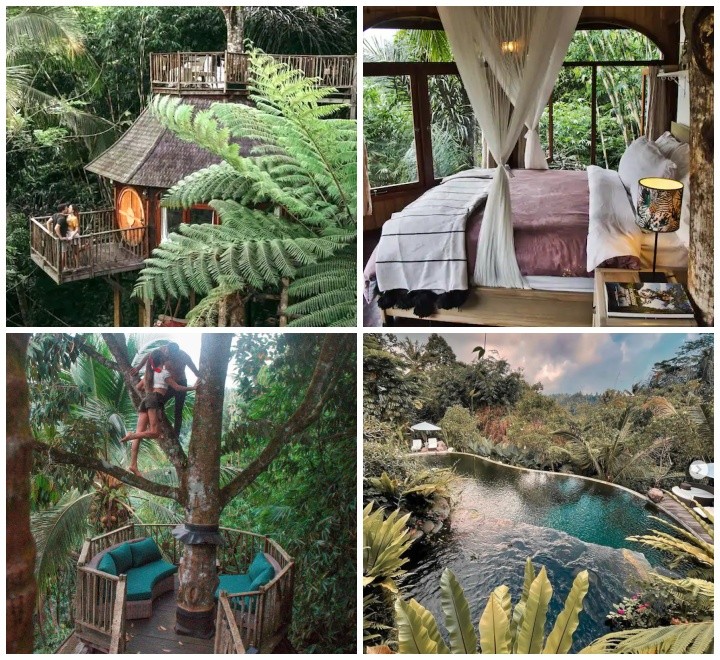 While the real Hobbiton is in New Zealand, this villa nestled in the middle of a forest will give you a similar experience with its design inspired by the Hobbit movies. Rekindle your inner child with the unique treehouse stay; it even has a suspension bridge leading to the rooftop terrace. The villa built around a tree also has a queen-sized swing sofa on the ground floor, a distinct circular door inspired by the Hobbit movies, a semi-outdoor bathroom, and a spacious balcony to enjoy breakfast. Enjoy the surrounding rice paddies and forests through the arched windows around the villa.
Rates start at P8,900 per night. Book here.
Jungle Villa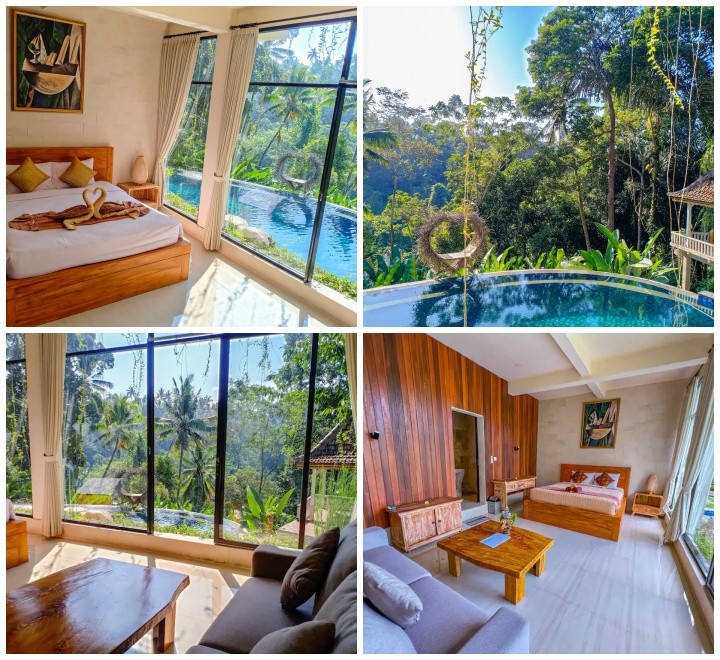 A room with a panoramic view of the jungle and an inviting pool – a Balinese holiday couldn't get any better than this. If you wish to go hiking or trekking in Ubud, go for an overnight stay at this scenic villa near rice paddies. It leads to Campuhan Ridge Walk, which is a popular hiking trail with views of lush greenery and hilltops.
Rates start at P2,301 per night. Book here.
Arch Bamboo Villa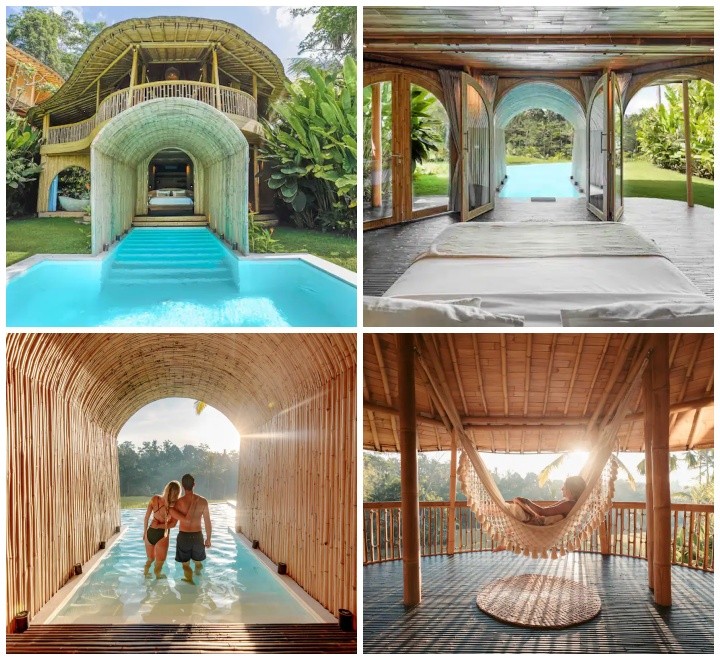 Nestled just 20 minutes away from the center of Ubud, the Arch Bamboo Villa is one of the properties managed by Eco Six Bali. This two-level villa has a spacious bedroom on the ground floor, with surrounding glass windows and a dreamy archway leading directly to the pool. You can go swimming right after waking up! On the second floor is a spacious open area with a dining setup and a hammock, where you can practice yoga, enjoy a sumptuous breakfast, or simply relax.
Rates start at P17,647 per night. Book here.
Rice field hideaway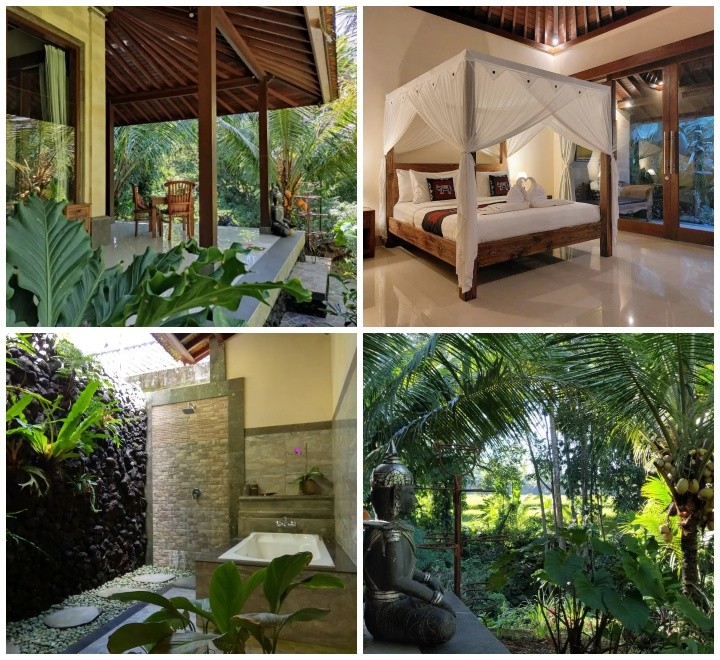 If you're looking for a secluded and romantic villa tucked away from the crowd, this villa looking out to a river and rice paddy view might be for you. Ideal for two, the room has a king bed, a spacious semi-outdoor bathroom, a well-equipped kitchen, and a relaxing veranda.
Rates start at P1,851 per night. Book here.
The Megananda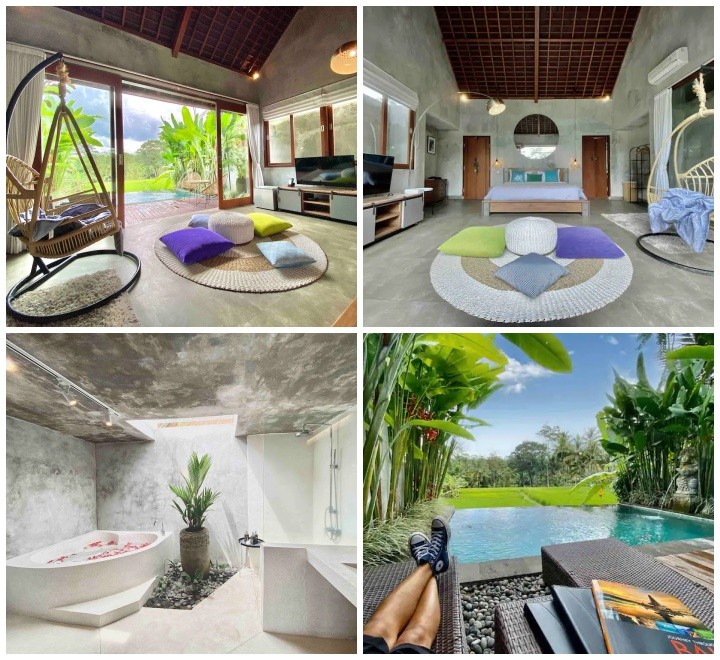 The Megananda is a private villa that juxtaposes rural and modern living. Featuring bare concrete walls and huge windows, the one-bedroom space has an exclusive infinity pool overlooking a rice field and a dreamy bathroom with a sunroof. Don't forget to bring your favorite wine and a bath bomb, and have a relaxing bath in the tub!
Rates start at P5,235 per night. Book here.
Villa Shamballa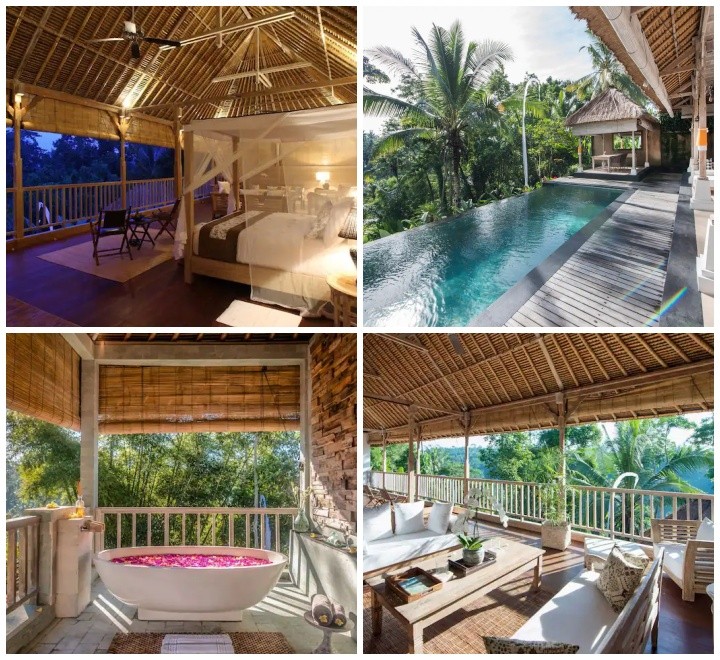 As vouched by previous guests, the photos of Villa Shamballa don't do justice to the actual stay – it's even more beautiful IRL. This romantic hideaway is nestled atop a ravine along Wos River, so you'll have a stunning nature view around you. If you're planning to celebrate your honeymoon, this dreamy villa also has a special promo for a three-course dinner with a Balinese massage. Unlike other stays in the resort, Villa Shamballa has an exclusive infinity pool.
Rates start at P9,754 per night. Book here.
Hideout Bali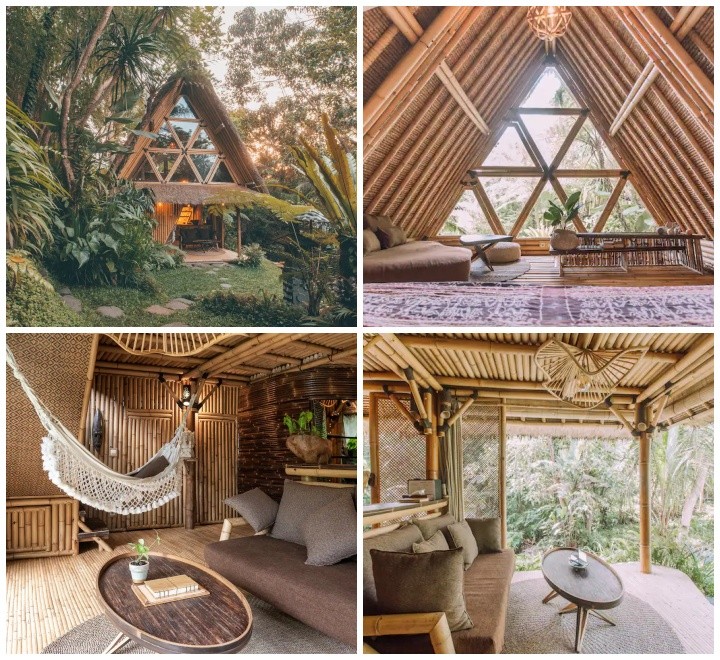 Ever wondered what it's like to stay in an eco-house in a rural setting? Hidden in the mountains of Gunung Agung volcano, this exclusive villa made of bamboo will bring you closer to nature. It'll give you an authentic Balinese village experience – be ready to take relaxation seriously here. The ground floor has areas for lounging, the kitchen, a private bath, and a minibar. You'll find the main bedroom on the second floor with a dreamy canopy bed at its center. It has massive glass walls that will let you appreciate the garden view as you rest in bed. A complimentary breakfast is also included in the fees, and you can order your other meals at the in-house restaurant.
Rates start at P8,645 per night. Book here.
Satya Villa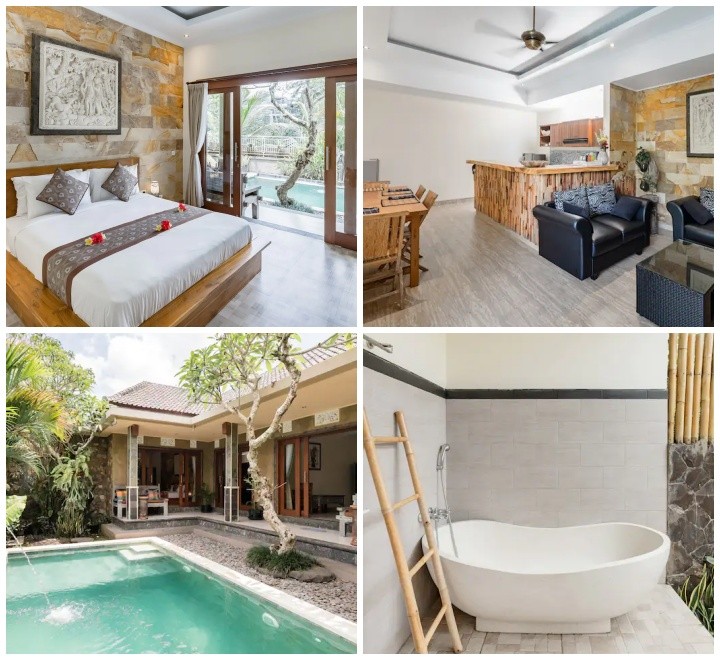 If you're traveling with another couple, go for Satya Villa to make the most of your buck. This stay can accommodate up to four guests and has two private bedrooms with an ensuite bath. It's also like a home away from home, complete with amenities such as a fully-equipped kitchen, a dining area, and a living area. Both rooms also open to a spacious lounging area, where a private pool is also located.
Rates start at P3,902 per night. Book here.
Zen Hideaway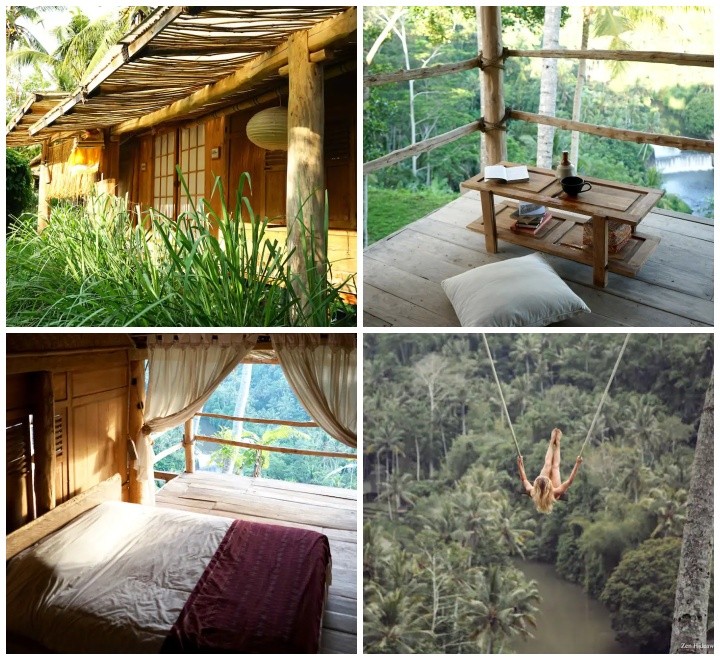 If trying the world-famous Bali Swing is on your travel bucket list, make sure to spend a night or two at the Zen Hideaway. This stay is a redesigned 150-year-old teak house, featuring the Japanese wabi-sabi aesthetic. The rustic residence has two floors comprising an open living and dining space, three bedrooms, an open kitchen, and a small study with a desk. It's also ideal for group travelers as it can accommodate up to six guests.
Rates start at P12,781 per night. Book here.
Prana Jungle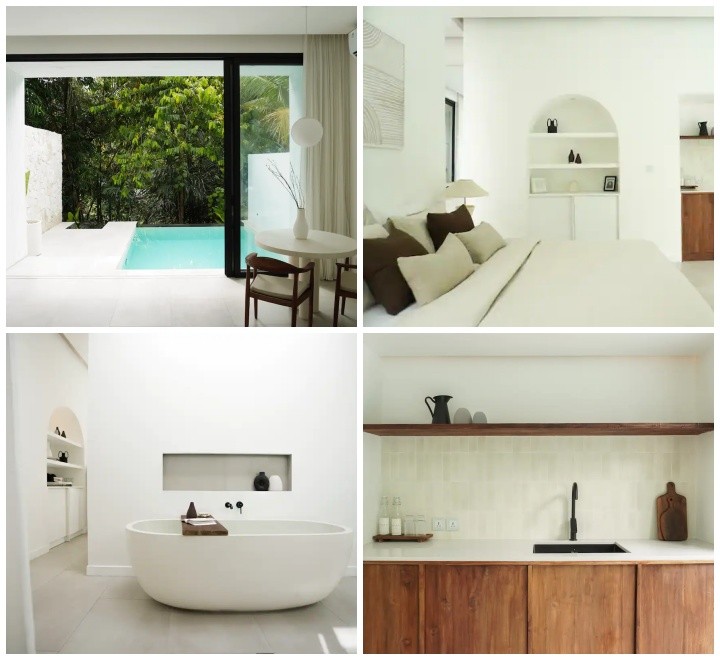 Perfect for lovers of minimalist interiors, Prana Jungle is a luxury boutique resort just two kilometers away from the center of Ubud. This villa's interior design is open, bright, and light, which is always pleasing to the eyes. The space opens to an infinity pool with a jungle view. Should you wish to explore, Prana Jungle is also nearby famous attractions such as Monkey Forest and Kings Palace.
Rates start at P4,889 per night. Book here.
Where to Stay in Bali: These Dreamy Rooms and Villas are Under P3K per Night
Where to Stay in Bali: These Dreamy Rooms and Villas are Under P3K per Night
Ina Louise Manto | Nov 08, 2022
Looking for other places to explore? Join WindowSeat.ph's official Facebook community What's Your Trip PH for more recos!