Enjoy the Art of Slow Living at This Relaxing House in Batangas
We witnessed one of the best sunset views here.
by Ina Louise Manto | November 21, 2023
With the holidays right around the corner, families and barkadas are beginning to look for venues where they could spend a well-deserved getaway and reunion. While going on a trip somewhere farther away seems like the ideal holiday, the reality is that schedules can be difficult to align, and budgets may be limited. Fortunately, we don't have to stress so much about finding the perfect, spacious place, a few hours from the metro. Located in a peaceful and exclusive neighborhood near the shores of Lian, Batangas, Casa Dos Hyssop House is a perfect venue for hosting big groups. We were fortunate enough to stay there for a few days and here's what we experienced.
Hyssop House Casa Dos 
Casa Dos is a newly opened home managed by the same team behind Hyssop House. This lovely bungalow is built in the same coastal neighborhood as the first house, and our group had the most relaxing getaway experience during our stay.
Coming from a three-hour drive from the metro, we arrived nearly at midnight, but the accommodating staff waited for our arrival and welcomed us with enthusiasm. Despite the tiredness from a long day at work and hours on the road, we loved the place so much that some already decided to change clothes and end the day by taking a dip in the pool. 
View this post on Instagram
Sure, we were already swooned at the home's minimalist interiors when we arrived the night before, but Casa Dos is even more beautiful in daylight. Imagine waking up to a picturesque view of glistening pool waters, making your way to the kitchen to be greeted by a delectable breakfast spread, and hearing the calming sounds of chirping birds as your background music. It was indeed a good morning for all of us.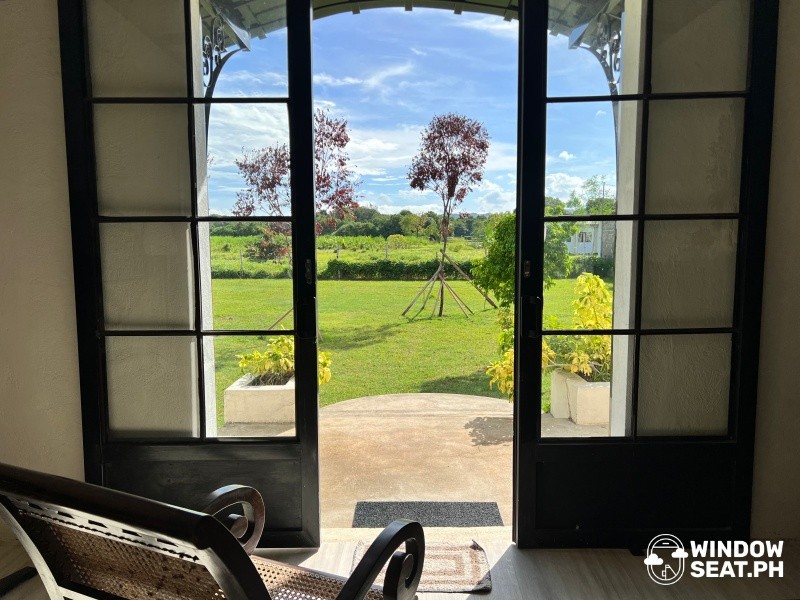 Casa Dos accommodates up to 20 guests per stay, which is perfect for big groups. Four spacious and air-conditioned rooms can comfortably sleep five people. The best part? All the rooms have a pool view, which makes gathering poolside and jumping straight into the waters an easy feat.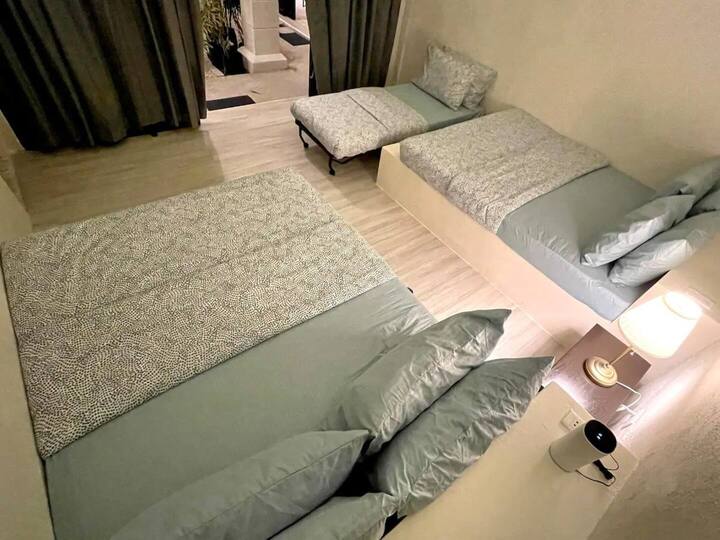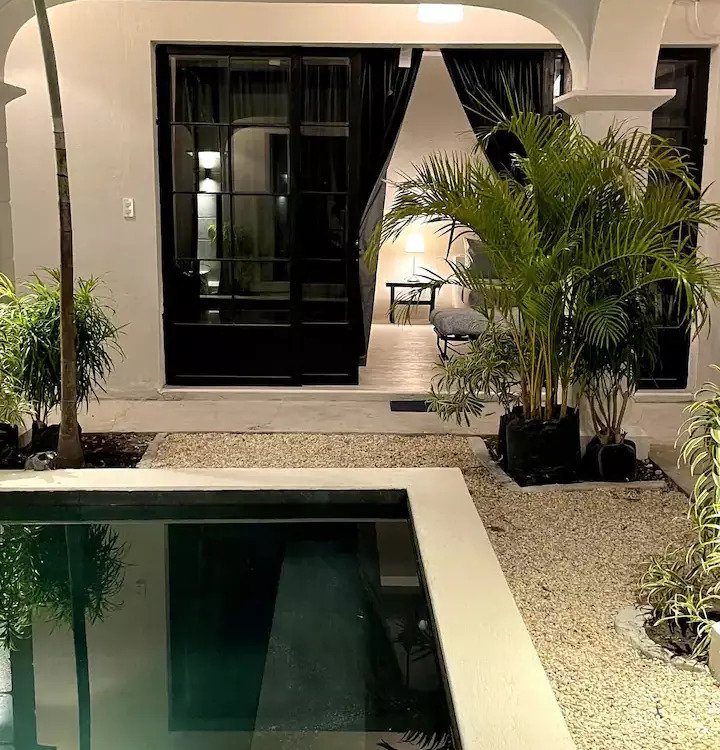 For those meticulous about comfort rooms, don't worry, Casa Dos has immaculate ones. Each of the four rooms comes with a full bathroom — complete with ample closet space, a separate toilet and shower, and a bathtub.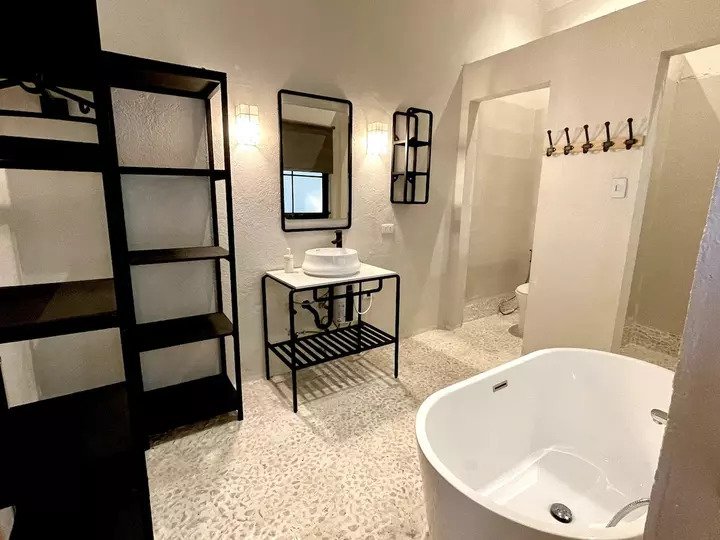 Common spaces 
You'll find Casa Dos' common areas in one open-plan space, which is one of the best things about the house. For big groups, finding a spot for yourself wouldn't be too difficult, without feeling like you've disconnected from the people you're with. The living room area is bright and breezy, which easily makes you feel right at home. The interiors are simple and follow the same black-and-white aesthetic of the original Hyssop House, but all its corners remain snap-worthy. 
Our favorite areas in the house are the fully-equipped kitchen where some of us were able to whip up delicious meals, and the beautifully designed sunken living room where we mostly hung out.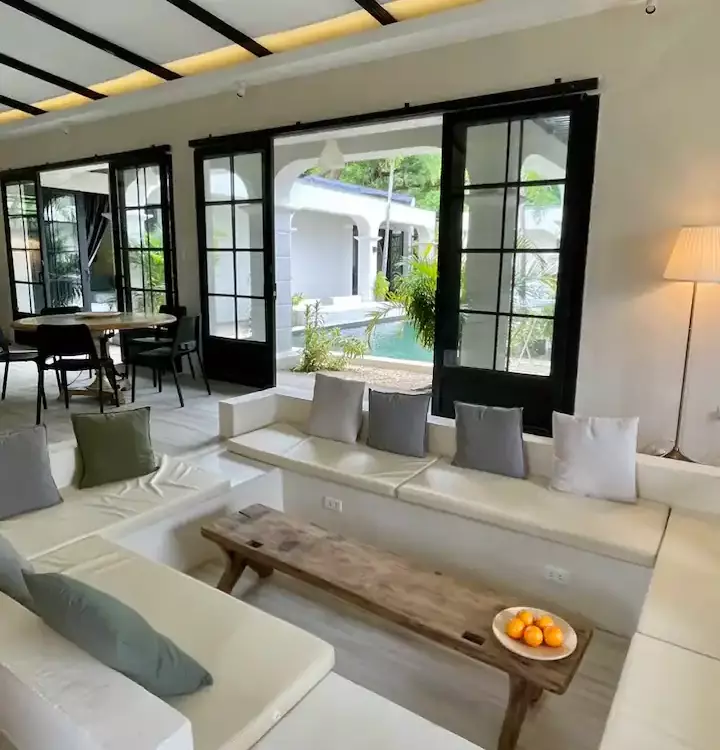 Of course, work didn't stop during our stay at Casa Dos (the beauty of remote work!). There were nearly 20 of us when we visited, but the Internet connection remained fast and smooth. You would think that you would have an unstable connection since it's near the beach, but thankfully, we were spared the internet issues.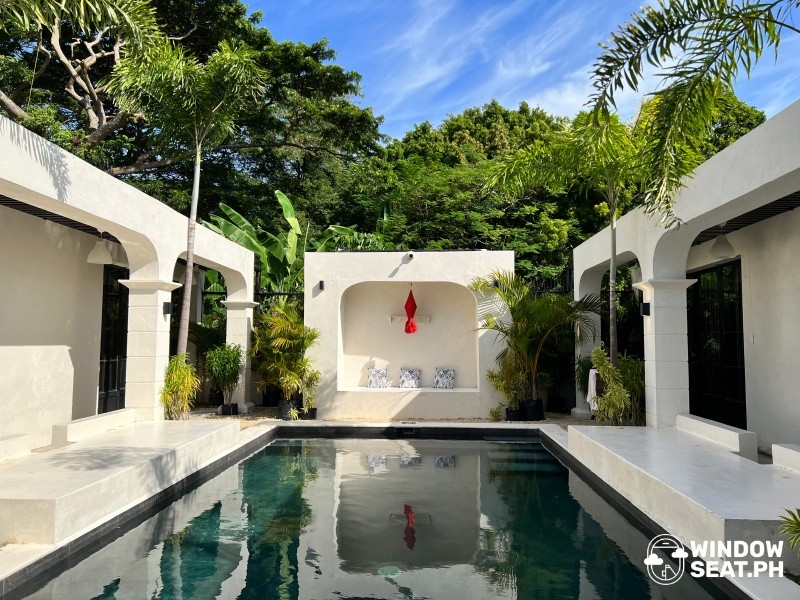 One thing to note is that the open-plan living room isn't air-conditioned, but there are industrial fans to keep you cool during the day. If you're visiting during the colder months, you should feel comfortable. 
Everything you'll need to whip up hearty meals is already provided in the kitchen. From cooking appliances to crockery, all you'll have to bring are ingredients and you're good to go.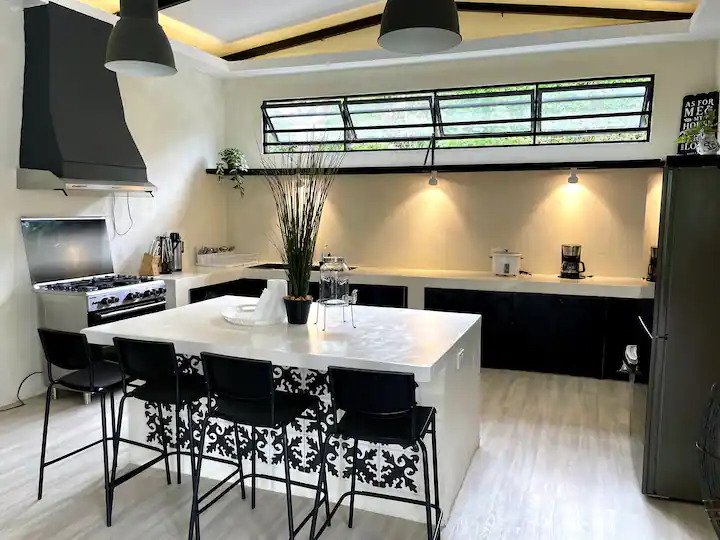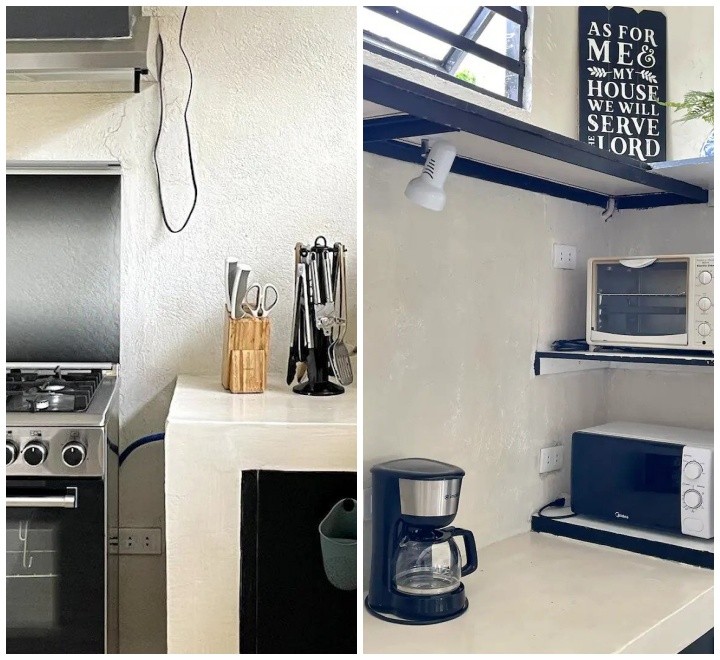 There's also a smart TV in the living area. We were able to stream music seamlessly, sing karaoke, and even connect a gaming console to play with after work. 
Outside is a very spacious garden with a picturesque dining area. Don't miss out on witnessing sparkling stars at night, especially when the sky is clear! If you plan on cooking a barbecue, there's also a grilling station here.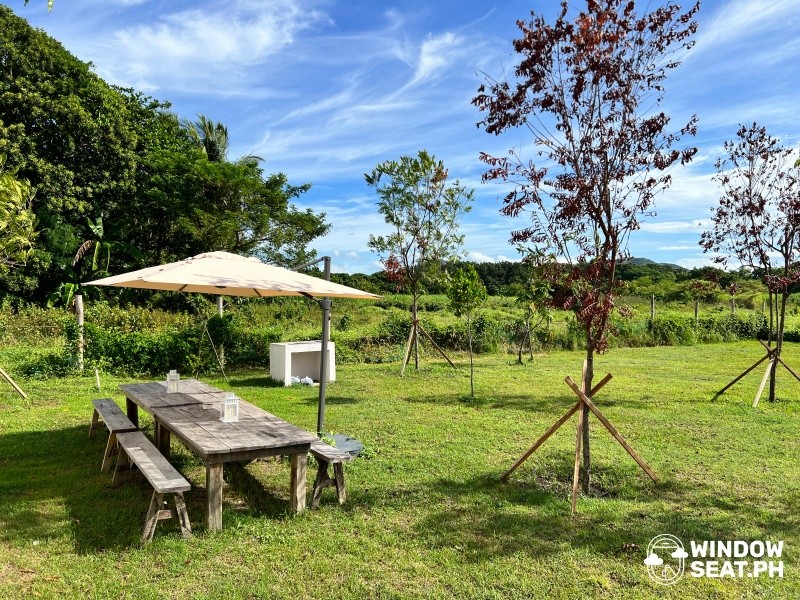 Nearby attractions 
Casa Dos isn't a beachfront property, but Vitamin Sea is just a few meters from the house. After work, our group caught a lovely sunset at Ligtasin Beach. Sitting by the shore is the perfect spot to chill out after staring at screens the whole day. As Gen Z would put it, it was a core memory for sure.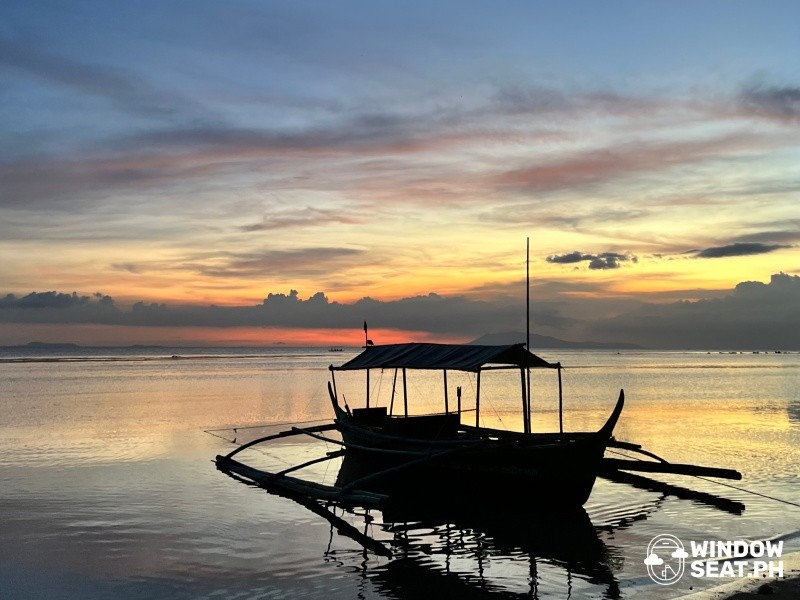 Ligtasin Beach offers one of the best sunset views we've seen, and its shores aren't crowded at all. Boats were docked by the shore, offering beautiful silhouettes as the sun went to sleep. There were not many tourists around, and it felt like we had it to ourselves. The calm waters and the beautiful scenery were just what we needed after a long day of working.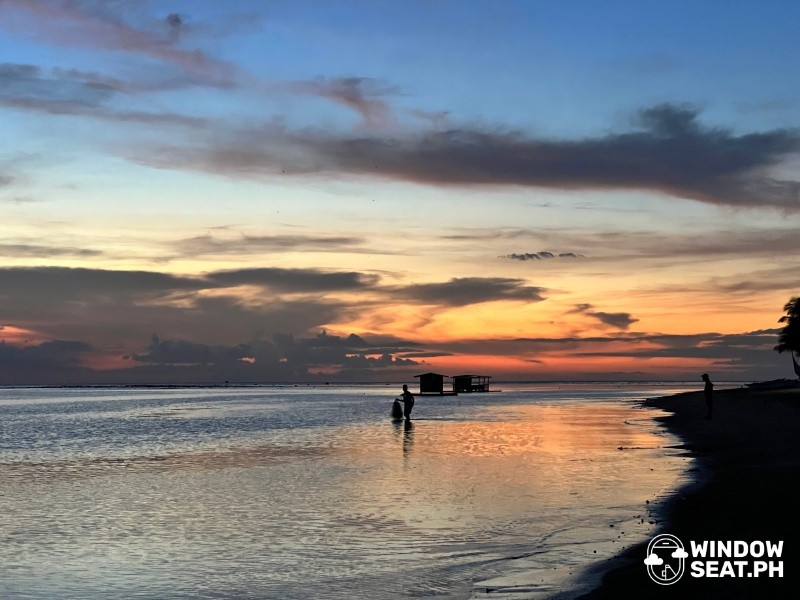 Spending three days and two nights at Casa Dos was exactly the refreshing reset a ragtag group of employees like us needed. It gave us a taste of a slow, relaxed life. NGL, we could get used to days sitting around the sunken living room, getting work done, and nights of beach sunsets and late-night pool dives. Casa Dos was the perfect mix of work-life balance everyone should get to experience.
Location, Rates, and How to Book 
Casa Dos is located at North Beach Road, Lian, Batangas. 
Rates start at P20,006 per night. Book here.
For booking inquiries and more information, contact the Airbnb host or send a message on Facebook.
Escape Near the Metro: Batangas Airbnbs That Have Private Pools
Escape Near the Metro: Batangas Airbnbs That Have Private Pools
Ina Louise Manto | Oct 13, 2020
Looking for other places to explore? Join WindowSeat.ph's official Facebook community What's Your Trip PH for more recos!