Marvel at the Magic of Mesmerizing Morocco in the Grand Festival, Morocco Kingdom of Light At Rustan's
Planning to give your home a little refresh?
by Ina Louise Manto | October 12, 2023
When tracing along a map of dream destinations around the world, more often than not, one's fingers quickly zeroes in on the country that forms the edge of northern Africa. Immediately, a sense of mystery and magic in Morocco, where everything from the Iconic mosque Hassan II in Casablanca, the dizzying medieval maze of wonders in the traditional souks and riads of Marrakesh, the calmness of the blue streets of Chefchaouen and the jaw-dropping expanse of the Moroccan Desert comes to mind. 
Travel to Morocco right at Rustan's
This imagination is almost visceral, with the sights, sounds, and sensations of the country coursing through one's system, compelling them to manifest that wish into reality. Thankfully, one need not dream much longer or wait indefinitely, because Rustan's partnership with the Embassy of the Kingdom of Morocco in the Philippines, the Moroccan National Tourism Office, is whisking you away to its celebratory coming together of charm and culture, the grand festival, Morocco Kingdom of Light, happening at Rustan's flagship store at the Makati Commercial Center.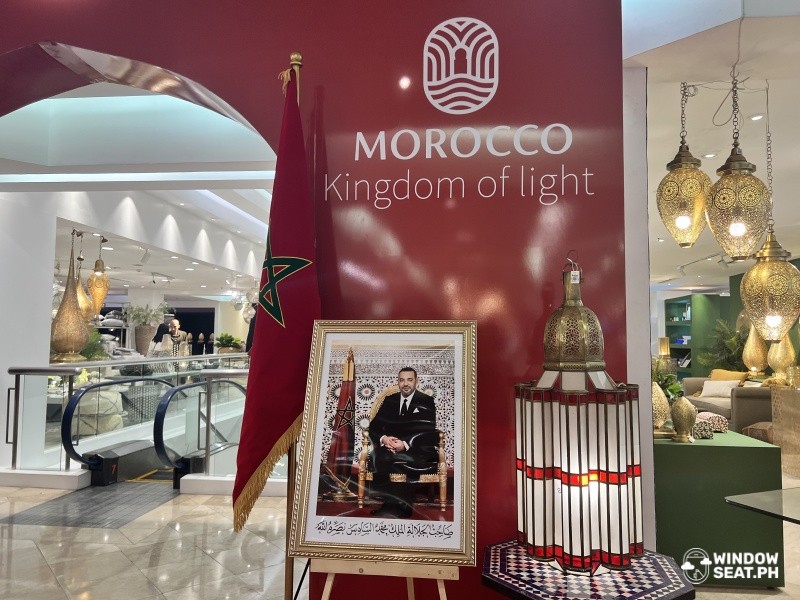 In this inspired endeavor, which celebrates light as a source of inspiration, creation, and energy, Rustan's not only continues its commitment to enrich the Filipino shopping experience through quality and curated merchandise but also, by sharing the authentic traditions and craftsmanship of Moroccan artistry, while connecting the country to the rest of the world. During this cultural gateway, which is set to run from September 20 to December 31, 2023, on the 5th floor of Rustan's Makati and the 2nd floor of Rustan's Shangri-La, one is able to discover the rich heritage and the cultural diversity of the Kingdom of Morocco. 
In light of the recent calamity in Morocco, 5% of the total sales for the first month will be donated to the victims of the earthquake through the Embassy of Morocco, demonstrating Rustan's dedication to not only celebrating culture but also supporting those in need.
A day of enchantment
On October 3, Rustan's, the Embassy of the Kingdom of Morocco, and the Moroccan National Tourism Office hosted a whole day of enchantment. In this setting, guests marveled at the delightful details Moroccan culture has to offer. Enchanted by traditional entertainment, calligraphy, and henna tattoos, vignettes were thoughtfully built to really encapsulate the incomparable spirit of Morocco. Walls of blue Zellige (handmade tiles) were an explosion of spellbinding mosaic patterns bookended the space, festooned with food and accouterments.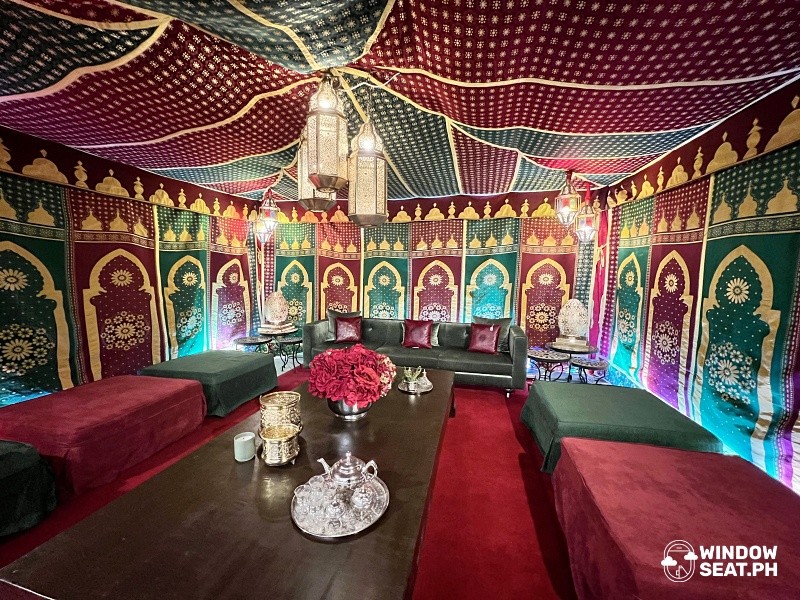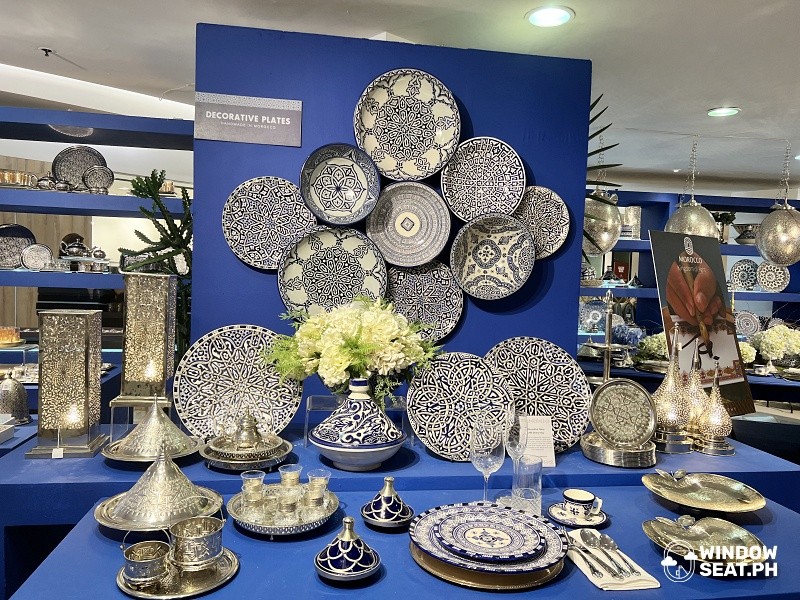 The event was made even more special with an art exhibition inspired by Moroccan Jars by Nikulas Lebajo and Moroccan-inspired tablescapes by Pinky Tobiano graced the event. Signature to their culture of warmth and hospitality, the full display of tabletop and Moroccan entertainment were centerpieces everyone couldn't get enough of. There were fascinating displays of Handmade Moroccan Fountains made of Zellige tiles; a major array of Brass Lamps from Casablanca that will brighten homes; fascinating camel bone jars and jewelry boxes, handmade Moroccan porcelain dinnerware, and tajines; Moroccan silverware; as well as bursts of colors in Moroccan linens, poufs, ottomans, and rugs.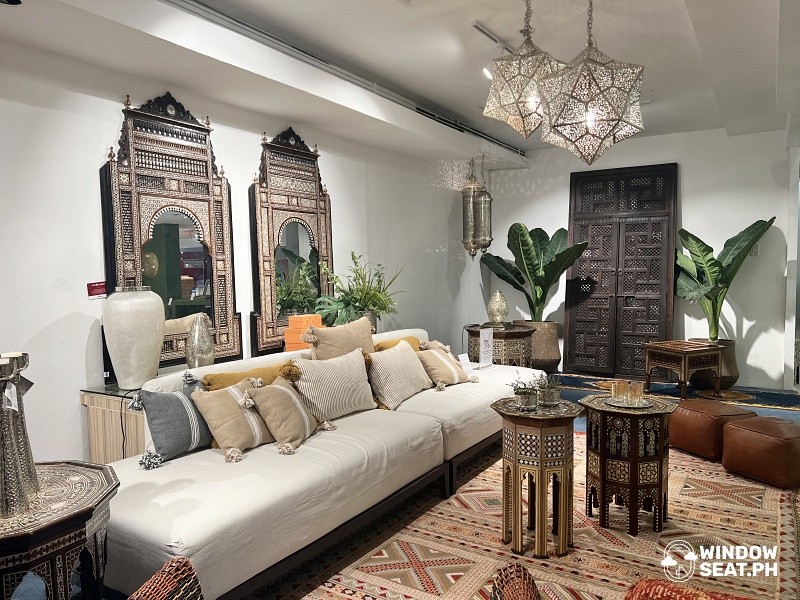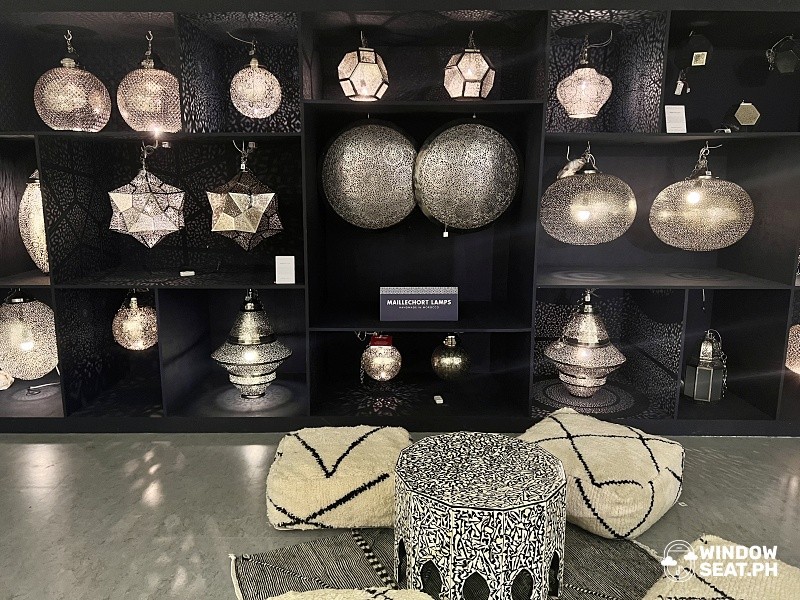 The crowd felt like they were in the heart of Marrakesh, sipping mint tea, sampling spices and dates, and slathering on Argan oil, all of which you can also shop at Rustan's.
A chance to fly to Morocco
a raffle promo will run, granting seven lucky patrons the chance to fly out to Morocco or win luxury merchandise. Simply present a receipt with a minimum purchase amount of Php 10,000 to participate. The prizes include two business class tickets to Morocco sponsored by Emirates Airlines; three Zellige Tile Moroccan Fountain; a Zellige Tile Table Set of 3; a Moroccan rug; and a Moroccan Dinnerware Set of twelve. This raffle adds an extra layer of excitement to your experience, offering the chance to discover Morocco, all courtesy of Rustan's.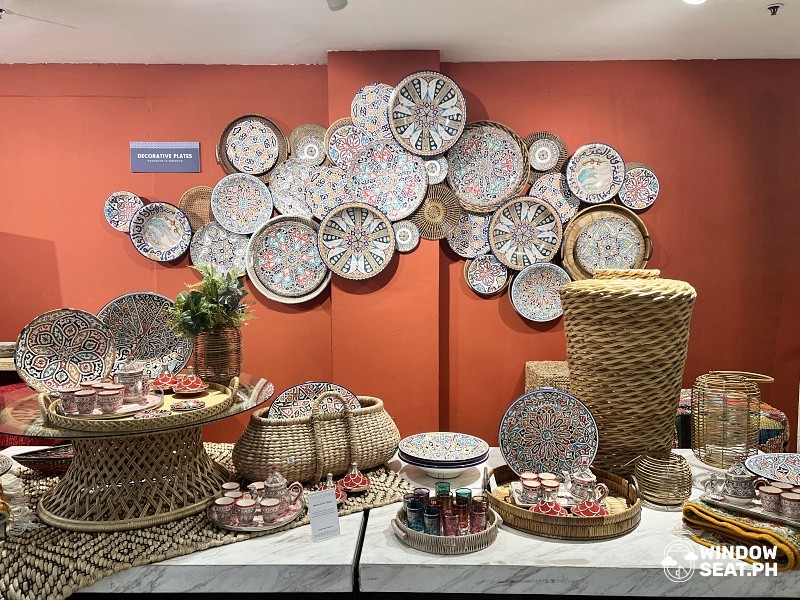 In the business of making dreams come true, your long-held hope of escaping to the breathtaking charm of Morocco is now a stone's throw away at Rustan's. That vision of you walking through the Jardin Majorelle, traversing the Moroccan Sahara, or cherry-picking that choice of ceramics or pottery? No longer just a figment of your imagination, because with the Kingdom of Light, you might just find yourself on a jet to Morocco sooner than you think. 
Come visit Rustan's Makati and Rustan's Shangri-La for the Morocco Kingdom of Light until December 31, 2023. Store hours are from 10:00 AM to 9:00 PM.
This is a press release. Minor changes have been made by the WindowSeat.ph editorial staff.
Looking for other places to explore? Join WindowSeat.ph's official Facebook community What's Your Trip PH for more recos!