Singapore's Wildlife Attractions Part 1: Jurong Bird Park
A.k.a the biggest bird paradise in Asia.
by Jozza Alegre Palaganas | December 10, 2015
Tucked away from the Singapore's bustling business district and mainstream tourist attractions are four wildlife parks—Singapore Zoo, River Safari, Jurong Bird Park and Night Safari.
These parks operate under Wildlife Reserves Singapore, a self-funded organization dedicated to conservation, research and educating people of all ages about animals and their habitats. They proudly house and breed around 16,300 animals across a total of 93.2 hectares.
The WindowSeat.ph team recently flew to Singapore for a visit to the parks and here's the first part of that adventure.
PART 1: Jurong Bird Park
The 20.2-hectare hillside bird park opened in 1971 as Singapore's first wildlife park. It's Asia's largest bird sanctuary with over 5,000 birds representing 400 species. 15 percent of the park's inhabitants are threatened and this group includes the Philippines' Luzon Bleeding Heart Pigeon in the Wings of Asia Exhibit.
The park's exhibits feature a colorful host of avian creatures and the experience can be wonderfully overwhelming. Especially if you try to imagine how the park's vets and vet assistants try to give the animals their annual checkup and bird flu vaccine.
The Lory Loft, for one, a nine-story, tree house-type exhibit where you can be among hundreds of the rainbow-colored lory can make you feel like a child again (so much that you'll forget to take photos).
They also have the most complete collection of pelican species in the world. They have seven out of eight known species, including the threatened Dalmatian pelican, the largest (and scariest-looking) species—one can weigh up to 15kg.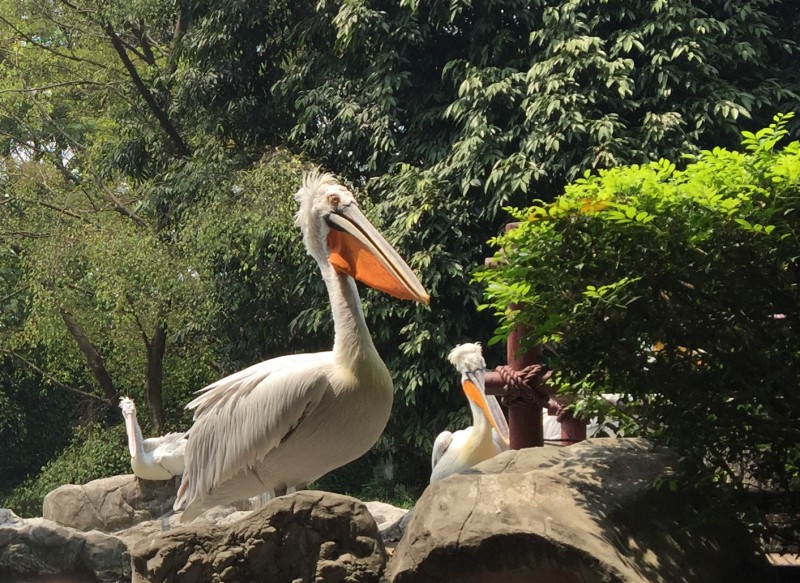 The first thought, going up close and personal with these birds, is that they're startlingly large. The size, the quivering rubbery throats and the unbelievably calm disposition make them seem menacing.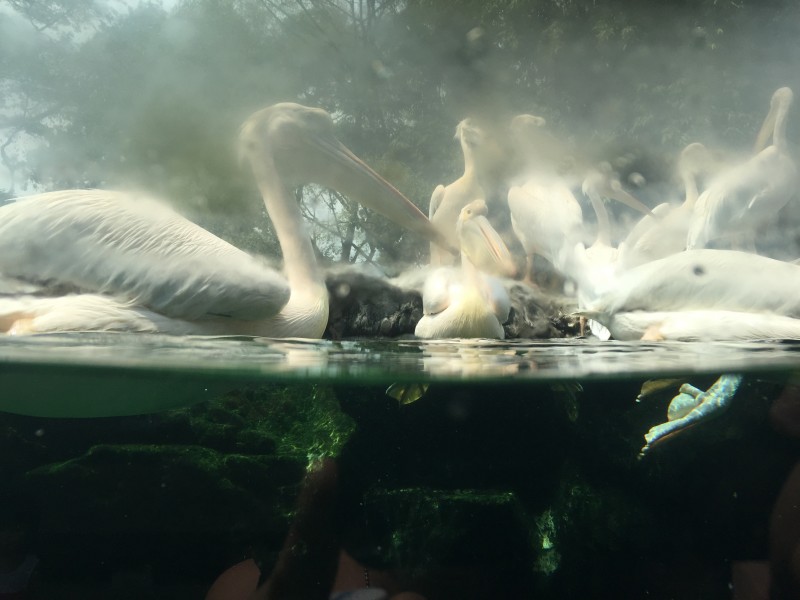 But the pelicans, including the Great Whites that were floating very close to the brim of the tank, mostly didn't care about us awe-struck humans. Also because it was feeding time. The underwater exhibit—a first in the world—showed off the water birds' unique ability to stretch their throats.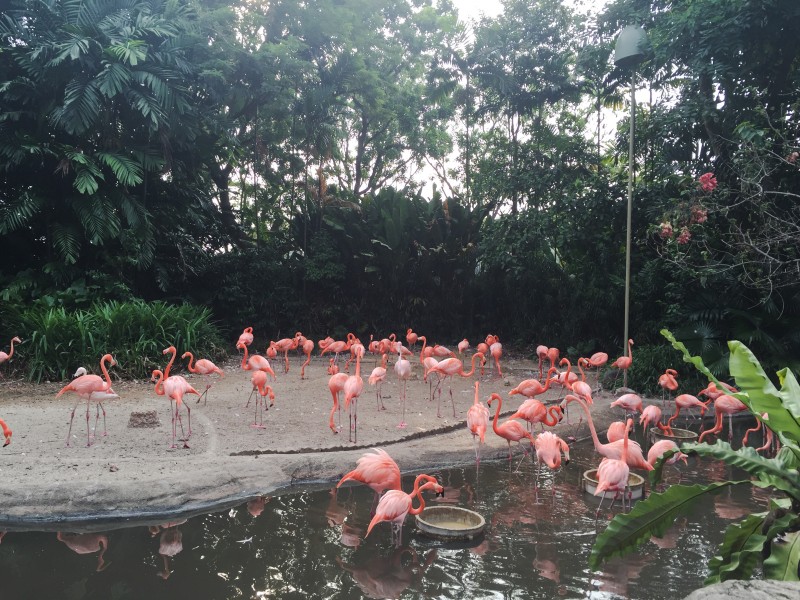 The park is also home to hundreds of flamingos. This photo shows but a very conservative, very pink portion of Jurong's Greater Flamingo population at the Flamingo Pool. Fun fact: it's the beta carotene in their brine shrimp diet that makes them pink.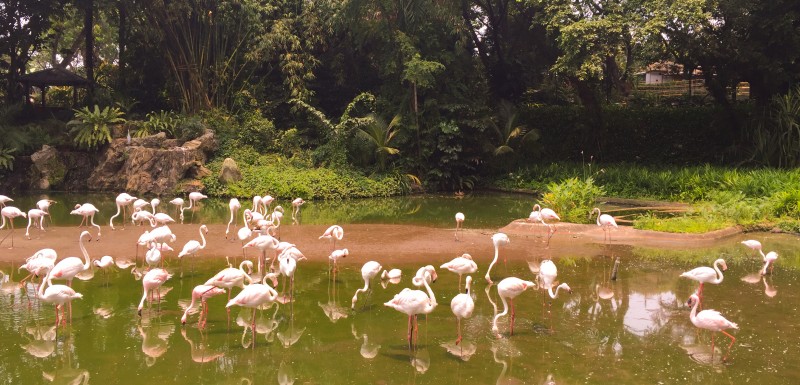 They actually hatch white or gray, as you can see from the young flamingos at the park's Flamingo Lake. They just turn pink, or sometimes orange, about three years into their carotenoid-rich diet.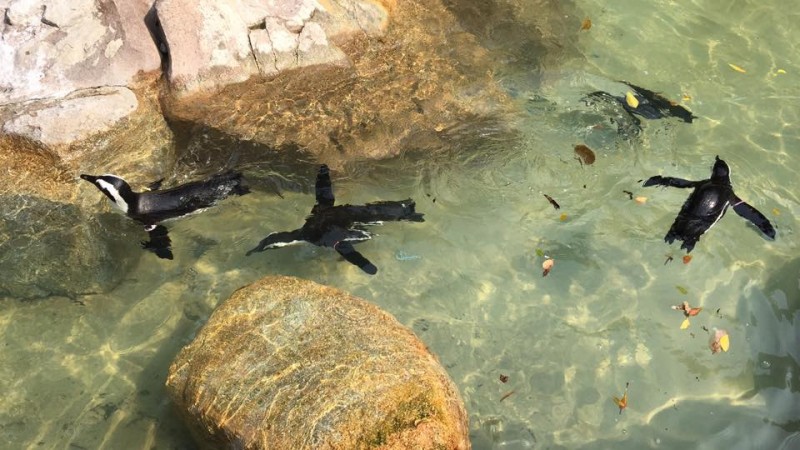 Another fun fact: not all penguins need to be in a cold environment. The African or Jackass penguins have adjusted to tropical temperatures, and they live in Africa's southern coasts. But in Jurong Bird Park, they happily swim and waddle about at the Penguin Cove's outdoor area.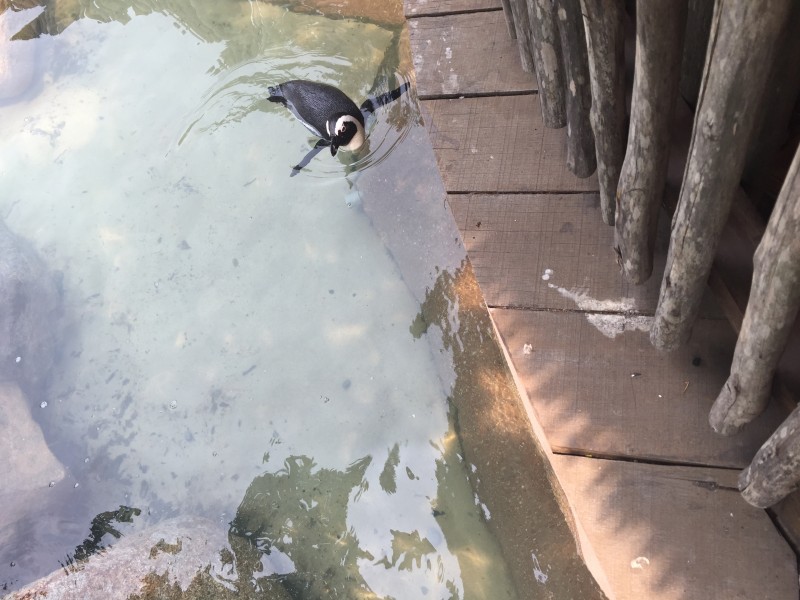 They're very, very cute and not very shy. This little one followed us around to make sure we weren't his keeper and we didn't have his lunch.
More fun facts: Jurong Bird Park is generally open-air, many of the stronger birds can just fly away, and some have. But, they always fly back. Also, all the birds are individually tagged (in case you're wondering why the flamingos are wearing bangles) and they regularly go through health checks done by the vets at the park's Avian Hospital.
Watch out for part 2 or our feature on the Singapore Zoo. Please post your thoughts in the comments!