Singapore at 50: A Look at the Buddha Tooth Relic Temple
Happy 50th to Singapore!
by Tony Nievera | May 07, 2015
[article_carousel images="https://windowseat.ph/wp-content/uploads/2015/05/sg5.jpg"]
Located in Singapore's bustling Chinatown, the Buddha Tooth Relic Temple and Museum is an impressive structure based on ancient Tang Dynasty architecture.
Singapore has an ethnic population of 74% Chinese. Because of this, it's no surprise that Buddhism is the most popular religion in the country (followed by Christianity, Islam, Taoism, and Hinduism). The Buddha Tooth Relic Temple has a 27-foot statue of Maitreya Buddha and a sacred relic of Buddha Shakyamuni's teeth.
The temple and museum complex is located at 288 South Bridge Road. It is opposite Maxwell Hawker's Food Centre, one of Singapore's most famous food plazas.
On my recent visit to this city after a scrumptious lunch, I took the opportunity to shoot the ground floor of the 4-story temple. When taking pictures of temples, make sure to show respect to the devotees by dressing properly or making sure that your shoulders and knees are covered.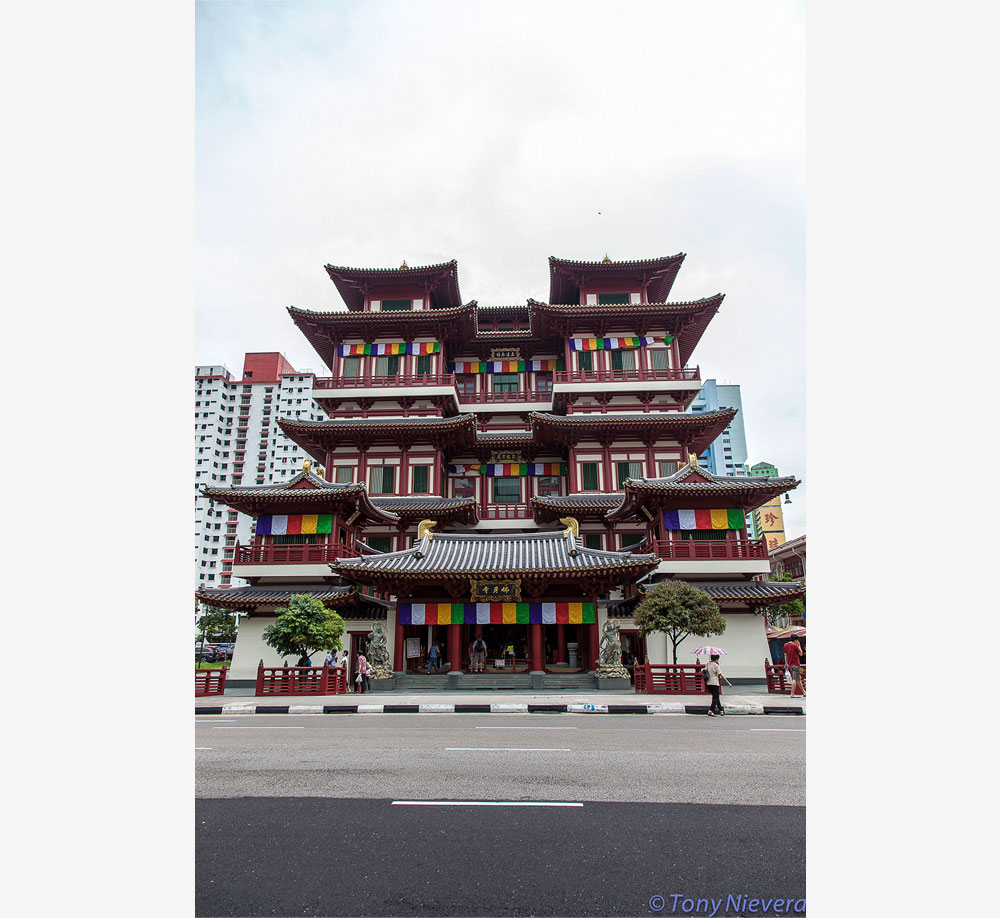 This is the Mountain Gate with three red traditional Tang Dynasty doors.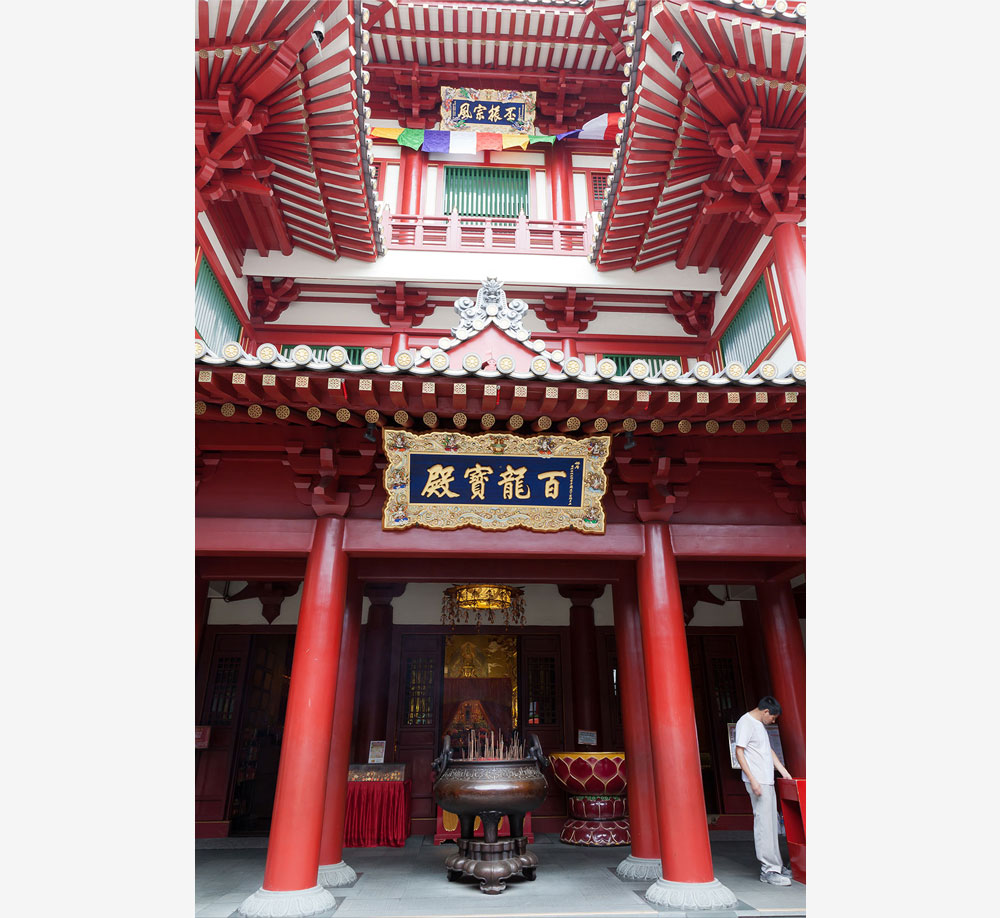 Upon entering the temple, you can smell an array of aromas: Fresh dendrobium Buddha tooth orchids, flowers in season, perfumed candles, and agarwood incense.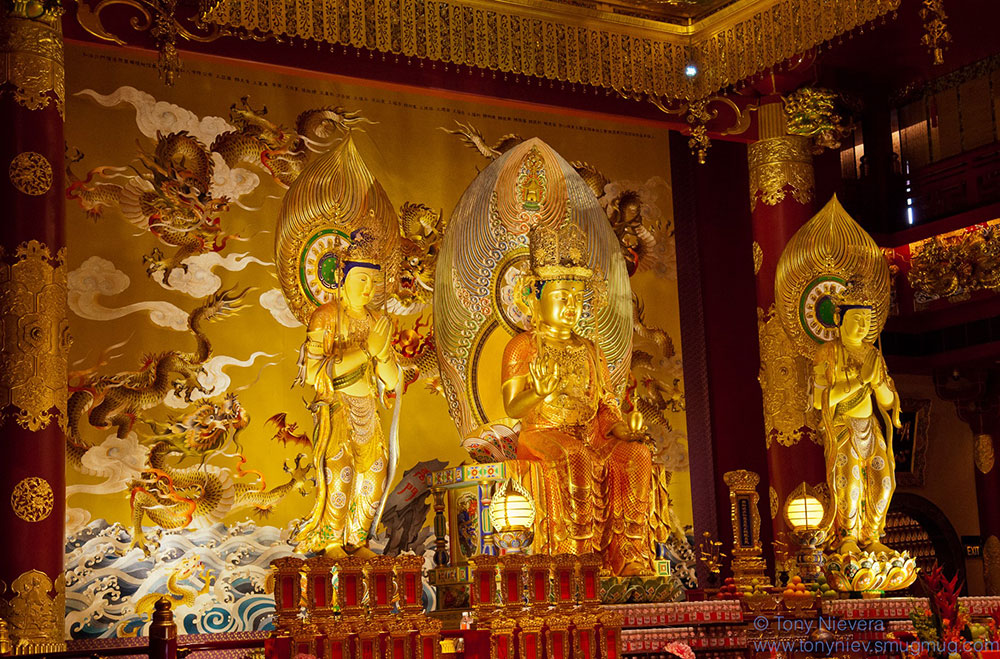 This is the Maltreya Trinity or "The Compassionate Honored One" in the altar of the main hall. The Buddha Maltreya is in the middle with Bodhisattva Darma Grove on the left, and Bodhisattva Great Wondrous on the right. On the day I shot this image, hundreds of devotees were about to start a rite with offerings for a special ceremony.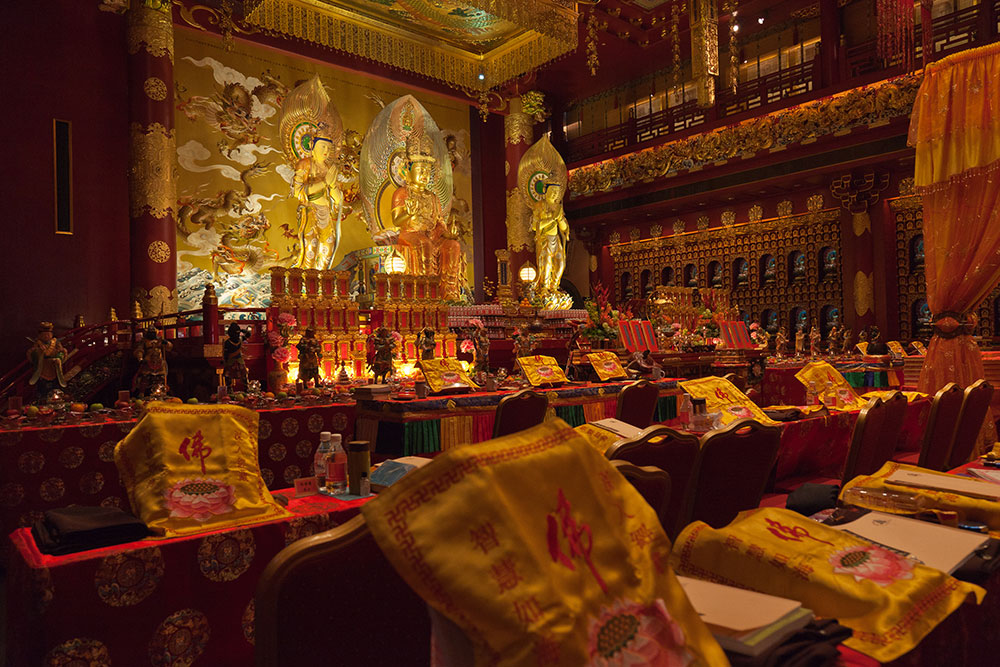 Here are some of the many offerings at the altar of the Maltreya Trinity.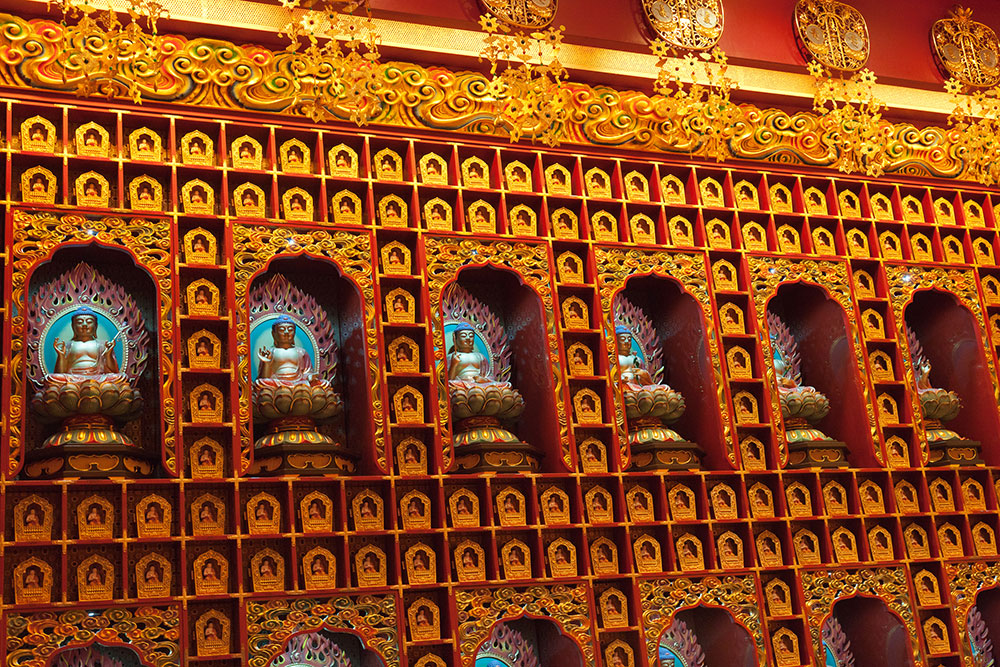 At the Hundred Buddhas Hall, you will see the Buddhas who are with different madras (hand signs) and holding different implements and articles.
At the Universal Wisdom Hall, this young girl prays to a carved Tang period Buddha (The Bodhisattva Cintramanickra Avolokistesvara) sitting on an elaborate lotus throne on sea waves. This statue has six hands. These hands are touching the cheek, wishing grant gesture, holding a prayer bead, touching Mount Meru, holding a lotus flower, and with a Dharma wheel.

Option 1: MRT – Last service is at 11:50pm
North-East Line – Chinatown Station (NE4)
Downtown Line – Chinatown Station (DT19)
Option 2: Bus
List of bus stops going to Chinatown:
1. C2, 166, 197, NR5
2. Eu Tong Sen Street (People's Park Centre): 2, 12, 33, 54, 143, 147, 190, 520
3. New Bridge Road (Chinatown Complex): 2, 12, 33, 54, 63, 124, 143, 147, 190, 520, 851, 961, 961C
4. Eu Tong Sen Street (People's Park Complex): 2, 12, 33, 61, 63, 80, 143, 197, 961, 970, CT8, CT18, CT28
via Chinatown.sg

What are your favorite Singapore attractions? Share them with us in the comments!