The Best Taipei Night Markets and Their Gastronomic Gems
We give you where to go, how to get there, and of course, what to eat.
by Andy Flores | August 09, 2017
Taipei comes alive at night.
This is something you'll realize after spending a day in this wonderful Asian city. The streets that were slow and sleepy in the morning bustle in activity as darkness blankets the sky. People pour out of their homes, schools, and offices to meet up with good friends or family, eat out, do quick shopping runs, or simply take a leisurely evening stroll.
Their favorite spots? Night markets.
From the mouth-watering scent of xiaochi snacks hanging in the air, to the colorful lights that illuminate the streets to life and the loud banter between vendors and market-goers, Taipei's night market scene gives you an authentic taste of Taiwanese nightlife and food culture you won't experience anywhere else in the city.
Here, we give you the lowdown on eight of Taipei's best-known night markets — how to get there, the best eats, and what makes each of them unique.
Gongguan Night Market

Gongguan Night Market exudes a distinctly youthful vibe, thanks to its proximity to National Taiwan University. Spread across the side streets between Roosevelt Road and Dingzhou Road, it is Taipei's largest night market in the South District. A go-to hangout place for students, it boasts an array of local and international restaurants and is a hot spot for booksellers. Don't expect to find many English titles, though.
Must-try: Guabao
The star of Gongguan Night Market's food scene is the guabao — succulent slices of stewed pork stuffed in a soft white steamed bun. Feel free to choose from five different cuts of pork, ranging from lean to fatty.
How to get there: Take MRT Line 3 (Songshan-Xindian) to MRT Gongguan Station Exit 1. You will find the market right outside the exit.
Huaxi Night Market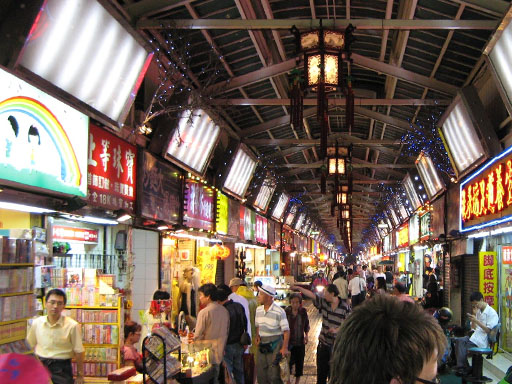 Not for the faint-hearted foodie, Huaxi Night Market is famous for its snake meat cuisine. Serpentine specialties are so popular in the area that the entire stretch of the market is also known as "Snake Alley." Walk down the lane, and you will catch glimpses of caged snakes in restaurants, waiting for their turn to be the next meal of adventurous diners.
Over half a century in operation, Huaxi Night Market takes pride in its multi-generational food vendors and retailers. Here, you will also find a wide selection of traditional Chinese herbs and medicines, massage shops, and health spas.
Must-try: Seafood
Just because this night market is best known for its snake dishes, it doesn't mean it doesn't have other sumptuous bites to offer. Huaxi Night Market is also heavy on seafood! Scour the lanes of food stalls for a variety of seafood snacks and dishes, but make sure to have a taste of the squid soup sold at the entrance of the market. It will complete your gastro adventure on Huaxi Street.
How to get there: Take MRT Line 5 (Bannan) to MRT Longshan Temple Station. The market is right outside Exit 1.
Linjiang Street Tourist Night Market
Also known as Tonghua Night Market, Linjiang Street Night Market can be found between Keelung Road and Dihua Street. It is the closest night market to the famous Taipei 101 but is considered by many as one of the city's most underrated night markets. Perfect for anyone who wants to visit a night market in the heart of Taipei that's not heavily crowded by tourists, it features over a hundred stalls that sell snacks, toys, clothes, and fashion accessories.
Must-try: Masa Spring Roll & Taiwanese Sausage with Sticky Rice
The masa spring roll is made popular and interesting by its three main ingredients: Scoops of ice cream, peanut brittle shavings, and cilantro. Hold on to your judgment until you actually have a taste of this treat. The flavors blend together surprisingly well, you'd find yourself lining up for more.
If you're not in the mood for dessert, give Linjiang Night Market's Taiwanese Sausage with Sticky Rice a try. This power combo wins in aroma, taste, and textures. Go ahead and mix and match it with an assortment of condiments for a burst of flavors.
How to get there: Take MRT Line 2 (Tamsui-Xinyi) to MRT Xinyi Anhe Station, Exit 4. The market is some 9 minutes away.
Nanjichang Night Market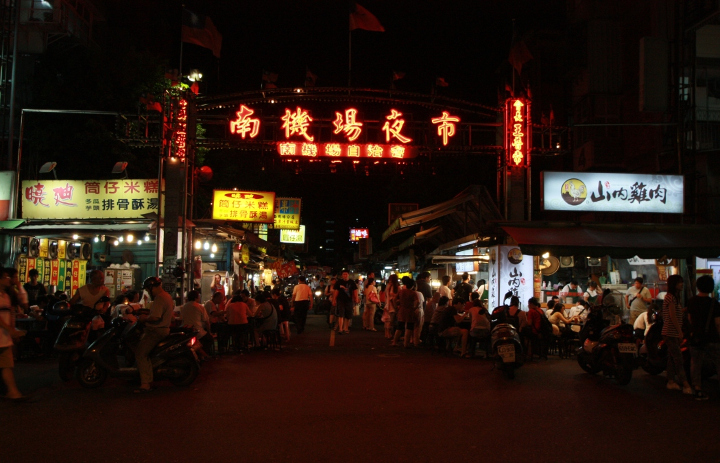 Nanjichang Night Market isn't exactly just a night market. It is a community-based market open throughout the day, but becomes busier as the night falls. Tucked away from the attention of foreign travelers, this former military airport-turned-market is less touristy and has pretty much kept the warm Taiwanese marketplace atmosphere throughout the years.
Must-try: Dumplings
Okay, you can get dumpling pretty much anywhere in Taipei, but nothing quite beats those made the traditional way like how Nanjichang Night Market's food vendors do it. Hand-rolled dumpling wraps are generously stuffed with savory fillings and boiled before serving to customers, who are in for an exciting explosion of flavors and textures.
How to get there: Take MRT Line 5 (Bannan) to MRT Longshan Temple Station Exit 2. Walk Hoping West Road, Section 3, and turn right at Zhonghua Road, Section 2. Nanjichang Night Market is a 17-minute walk away.
Ningxia Tourist Night Market

Binge-eating at night markets cannot be helped, with all the mouth-watering snacks displayed as far as the eye can see. Fortunately for weight-conscious eaters, many vendors in Ningxia Night Market, famed for its outstanding culinary reputation, indicate the amount of calories in the food they offer to help you watch your waistline … somehow. Ningxia Night Market also has a slew of dine-in type of stalls that provide tables and seating, so you can sit down and enjoy your food hassle-free.
Must-try: Bean Curd Tofu Pudding & Mochi Ice
Meticulously prepared by hand, bean curd tofu pudding is a hearty and delightfully soft treat that gives off a naturally mild soy aroma and flavor. It is best paired with ginger juice and is especially popular during the cold months.
Another hit among foodies in Ningxia Night Market is the Mochi Ice, mini rice cake balls on top of shaved ice with milk, sprinkled with black sesame and crushed peanuts.
How to get there: Take MRT Line 2 (Tamsui-Xinyi) to MRT Shianglian Station Exit 1. The market is a 10-minute walk away.
Raohe Night Market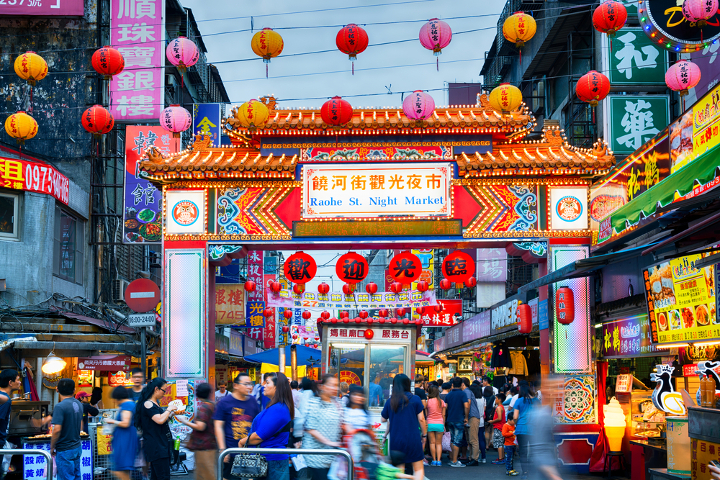 Although it spans just some 600 meters, Raohe Night Market is not hard to find and definitely not easy to miss. It draws you in with the scent of toasted pepper buns, pork stew, and other mouth-watering Taiwanese fares.  Surrounding the historic Ciyou Temple that stands perfectly illuminated in all its magnificence at night, it is the oldest night market in downtown Taipei and also one of the locals' favorites.
Must-try: Pork Rib Herbal Stew
If there's one dish you couldn't miss in Raohe Night Market, it's the pork rib herbal stew — spare ribs slowly braised in bone broth seasoned with various traditional Chinese medicinal herbs believed to bring good health. Tender and savory, the meat just falls off the bone and melts in your mouth. For an added kick of flavor, add some chili sauce to your steaming bowl.
How to get there: Take MRT Line 3 (Songshan-Xindian) to MRT Songshan Station Exit 1. The market is a 6-minute walk away.
Shilin Tourist Night Market
Arguably the most popular night market in all of Taipei, Shilin Night Market ticks all the boxes for the ultimate after-dark shopping and gustatory experience set in a carnival-esque atmosphere. Here, you will find a hodgepodge of gaming booths that invite you to play pop-the-balloon and traditional Chinese board games, as well as a plethora of stores and stalls selling affordable clothing, gadget accessories, souvenirs, and all sumptuous xiaochi snacks imaginable.
The best eats are concentrated around the areas of the Yangming Theater, Cixian Temple on Danan Road, and Jihe Road. You can also find an underground food court called B1 Food Court along the western edge of the market. It stays open when most of the food stalls outside are closed during rainy nights.
Must-try: Pan-fried Stuffed Buns
Although Shilin Night Market has pretty much everything — from stinky tofu to fried cuttlefish soup, to quirky penis-shaped waffles and popsicles (yes, you read that right) — their pan-fried stuffed buns remain a crowd favorite. Prepared upon order, these buns come in vegetarian, meaty, and mixed (pork and vegetable) filling choices.
How to get there: Take MRT Line 2 (Tamsui-Xinyi) to MRT Jiantan Station, Exit 1. Take note: Jiantan Station is closer to the market than Shilin Station.
Shuangcheng Night Market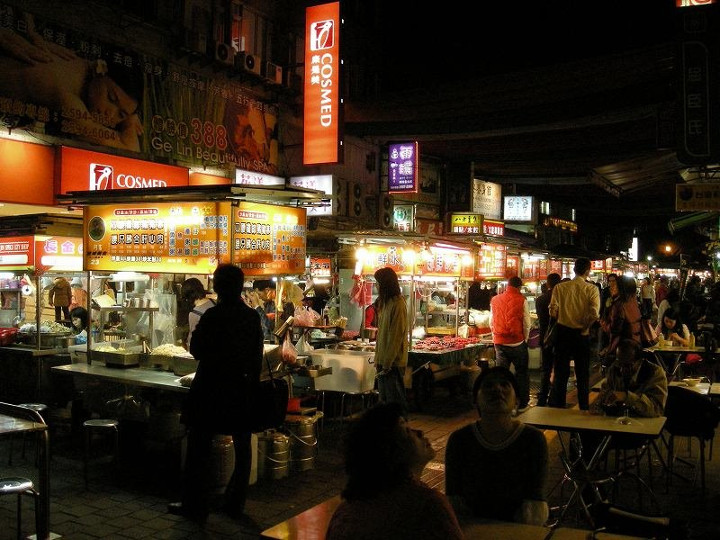 Strategically located near the pub district on Shuangcheng Street, this market allows you to have your fill of Taipei's most authentic street food and conveniently grab a cold one or two at a watering hole close by while taking in the local bar scene. Tagged as Taipei's first local model night market, Shuangcheng Night Market is home to decades-old establishments close to the hearts of Taiwanese market-goers.
Must-try: Chicken Rice
Shuangcheng Night Market has a delightful variety of traditional chows — from luwei or soy sauce braise to "Taiwanese pasta" — but among the must-try dishes in the area is their humble yet wonderfully flavorful chicken rice – shredded pieces of tender chicken meat resting on top of fragrant steamed rice.
How to get there: Take MRT Line 4 (Zhonghe-Xinlu) to MRT Zhongshan Elementary School Station, Exit 1. Walk towards the direction of Shuangcheng Street. The market is six minutes away.
Got anything to add? Post them in the comments!