BOOKMARK: The Best Spots to See Autumn Foliage in Japan in 2023
Ready your best autumn outfits!
by Ina Louise Manto | September 15, 2023
Japan is a great country to visit all year round, but there's quite like visiting it during autumn. With the cooler temperatures, seasonal drinks, and breathtaking autumn foliage, visiting Japan in autumn is a must. Japan Meteorological Center recently released this year's foliage forecast, just in time for those who have upcoming trips this season. Here are the best places to witness the autumn foliage in Japan:
Autumn Foliage Forecast 2023
JMC released two projections this year, separating the forecast for golden ginkgo leaves and fiery Momiji or Japanese maple leaves. Autumn in Japan begins in mid-September and ends in early December.
Ginkgo leaves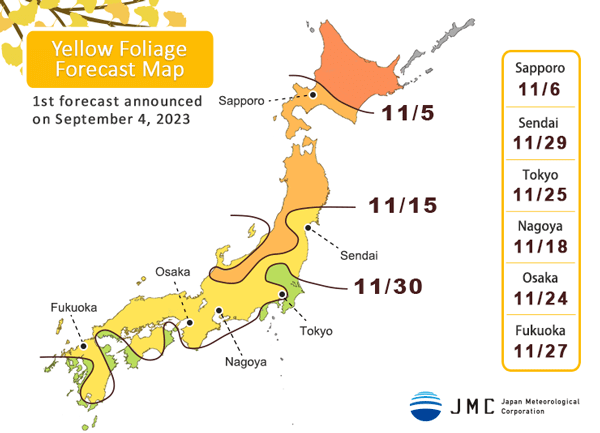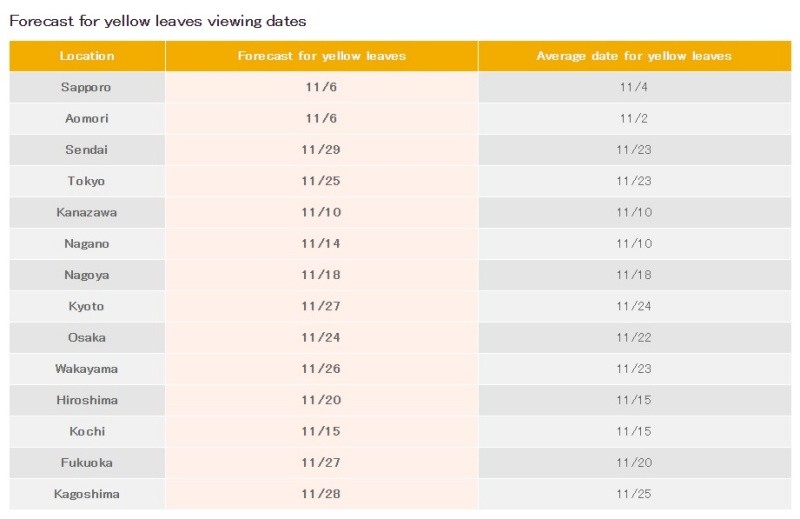 In this year's forecast, the best time to view yellow foliage in Tokyo is November 25, November 24 in Osaka, and November 27 in Kyoto.
Maple leaves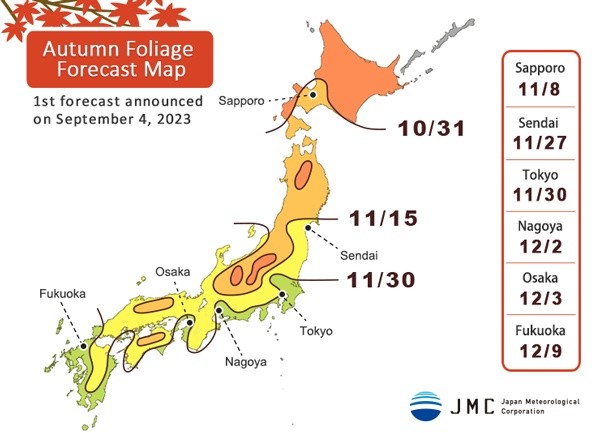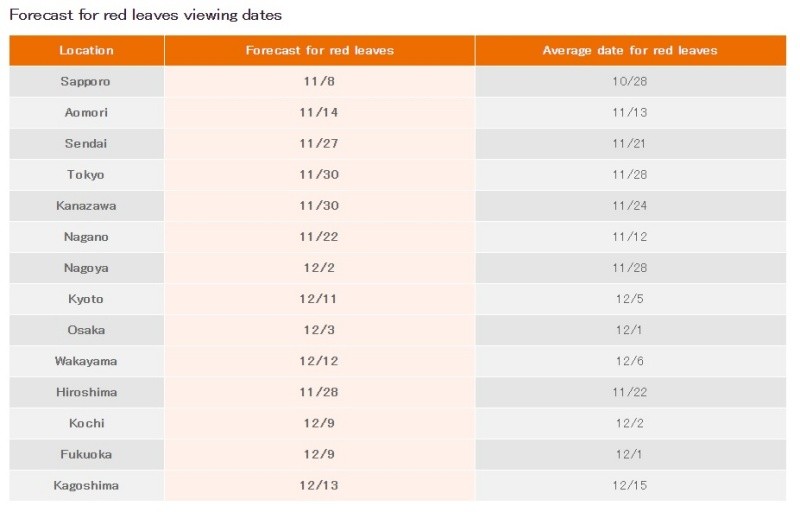 Based on the forecast, the best time for momijigari or autumn leaf hunting for fiery maple leaves in Tokyo is around November 30 and December 3 in Osaka. Kyoto is among the last with December 11.
Best spots in Japan for witnessing autumn foliage
Rikugien Garden
Location: 6 Chome-16-3 Honkomagome, Bunkyo City, Tokyo 113-0021, Japan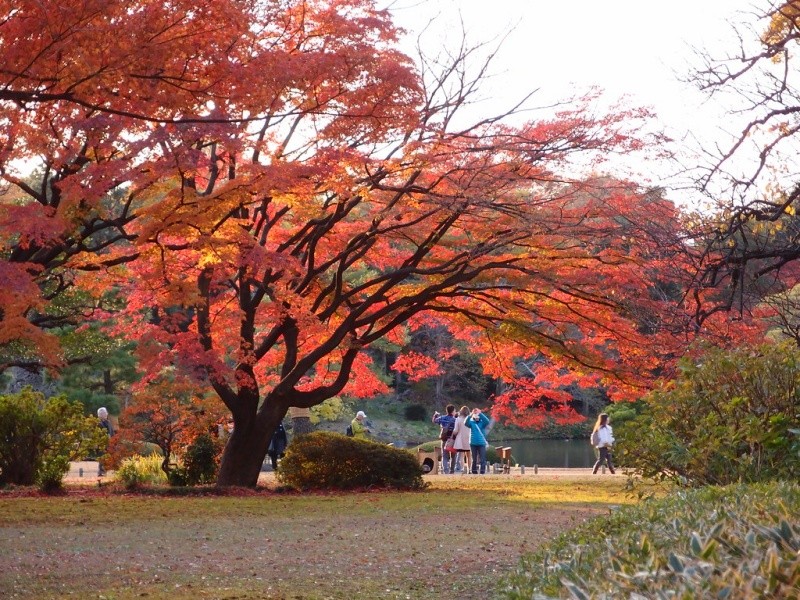 Boasting nearly 88,000 square meters of trees and plants, Rikugien Garden is a centuries-old garden nestled in Tokyo. It's considered to be one of Tokyo's most beautiful gardens and it's easily one of the top destinations in the city during autumn. This garden is also known as "Six Poems Garden", which depicts 88 scenes from Japanese poems. With vast walking paths and trails to explore, visiting this garden is a pleasant activity in the middle of the hustle and bustle of Tokyo.
Entrance fee: ¥300, approx. PHP115
Tofukuji Temple
Location: 15 Chome-778 Honmachi, Higashiyama Ward, Kyoto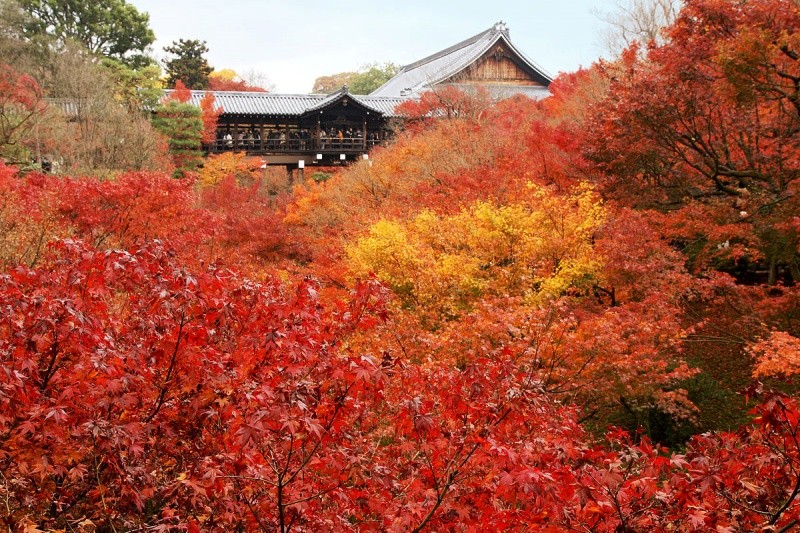 Temples are a must-visit in Japan, and the Tofukuji Temple shouldn't be missed. Set on a landscaped valley, this temple is one of the Five Great Zen Temples of Kyoto. It was founded in the 1200s and is considered one of the oldest of its kind.
Entrance fee: ¥400, approx. PHP154
Lake Kawaguchi
Location: Chubu Region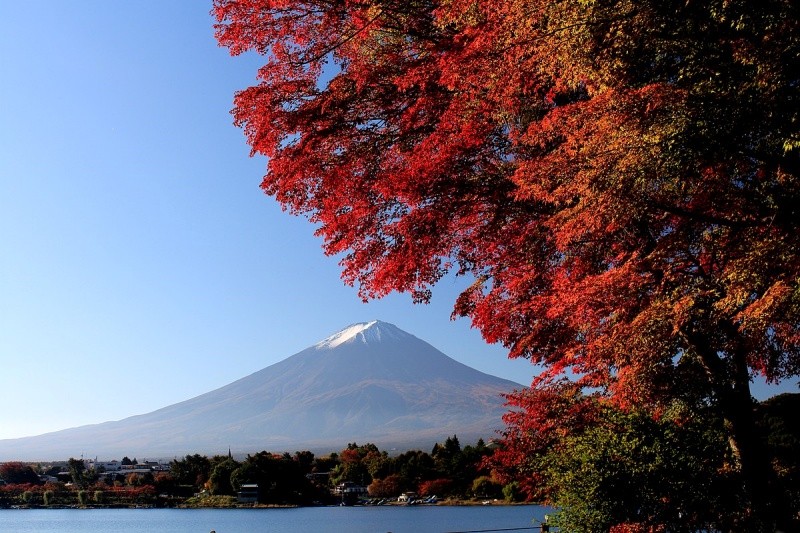 There are plenty of spots to see Mt. Fuji, and Lake Kawaguchi in the Chubu Region is one of them. Lake Kawaguchi is one of the Fuji Five Lakes surrounding Japan's highest mountain and it's the most accessible spot for tourists with its bus and train connections from Tokyo. Don't miss out on the Autumn Leaves Festival when you visit, located on its northern shores. For the best photo spot, go to the Momiji Tunnel, which is a road covered with maple trees.
Nara Park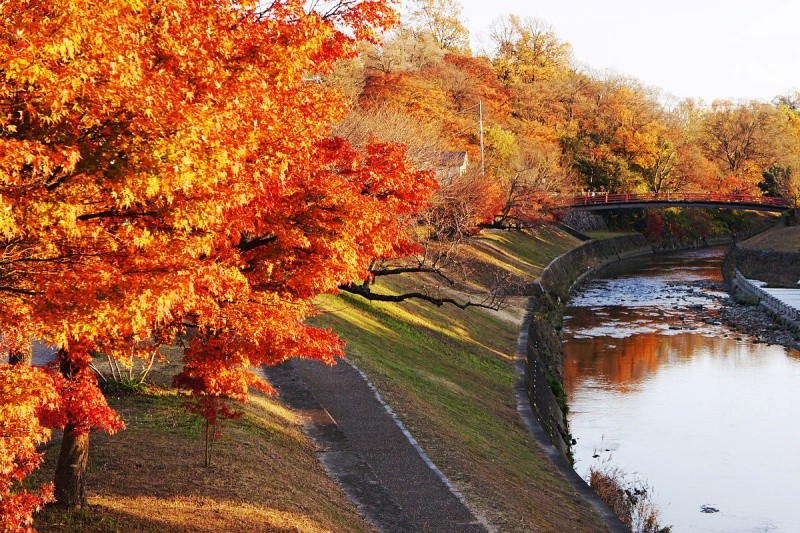 Hit two birds with one stone when you visit Nara Park during autumn. You don't only get to see fiery Momiji here; you'll also get to visit famous attractions such as the free-roaming deer, Nara National Museum, Todaiji Temple, Kofukuji Temple, and Kasuga Taisha, a famous shrine.
Showa Memorial Park
Location: 3173 Midoricho, Tachikawa, Tokyo 190-0014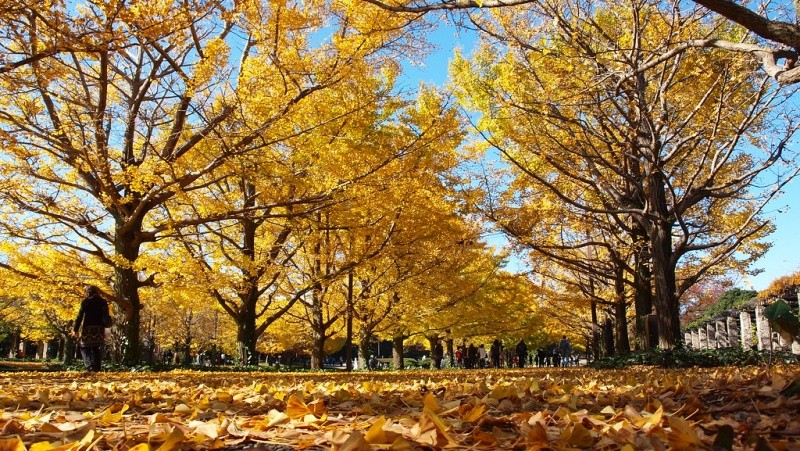 If you're on the hunt for vibrant ginkgo trees in Tokyo, go for Showa Memorial Park. This park in Tachikawa spans over 160 hectares, with its ginkgo tree-lined canal in near the entrance as a famous destination during autumn. You'll also find more ginkgo trees in the southwest area of the park.
Entrance fee: ¥450, approx. PHP173
Oze National Park
Location: Katashina, Tone District, Gunma 378-0411, Japan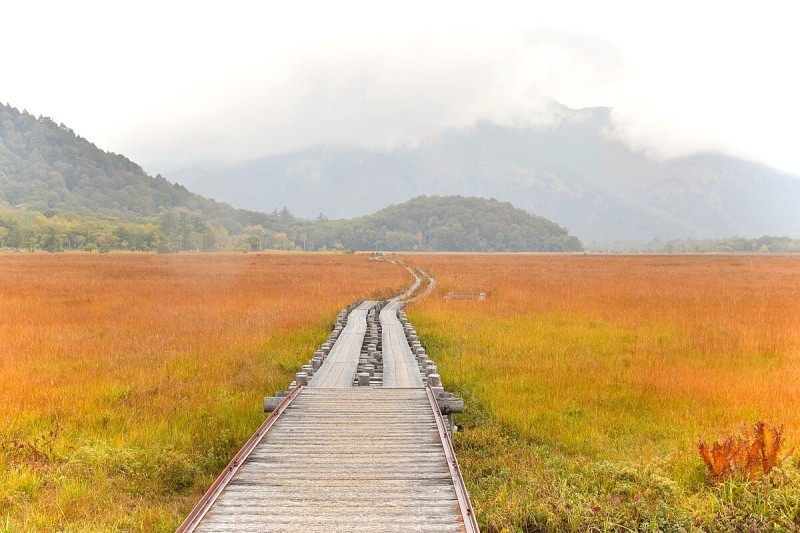 Feel like you're on the set of Studio Ghibli's Howl's Moving Castle when you visit Oze National Park's most famous Ozegahara Marshland. Nestled 1,400 meters above sea level, this area boasts hundreds of ponds surrounded by plants, painting a postcard-like scene with every season. During autumn, its grasses turn red and yellow, making it a photo spot tourists will love.
Takachiho Gorge
Location: Mukoyama, Takachiho, Nishiusuki District, Miyazaki 882-1103, Japan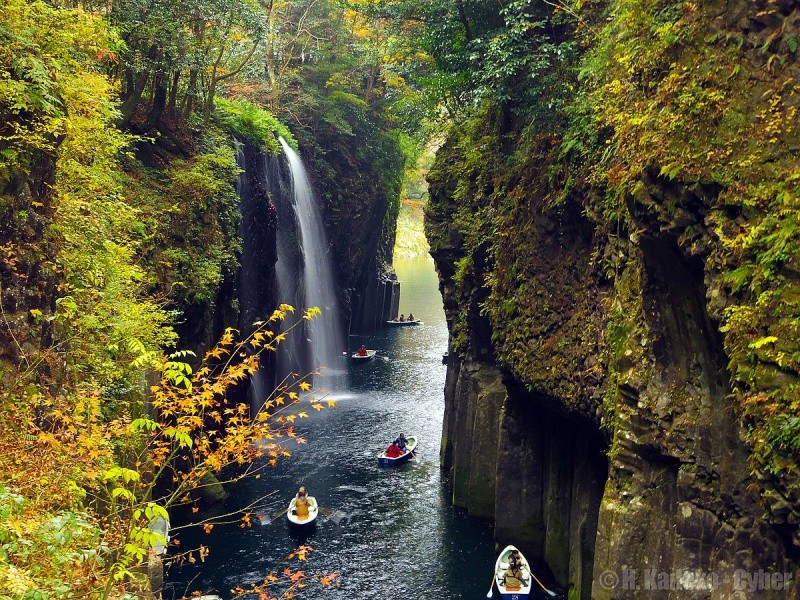 Nestled in Miyazaki Prefecture, experience going on a scenic boat ride on a river lined with cliffs made of volcanic basalt columns when you visit Takachico Gorge. During autumn, this area is lined with vibrant foliage – combined with waterfalls and enchanting cliffs, and it becomes a magical scene.
Kankakei Gorge Ropeway
Location: Kankakedori, Shodoshima-cho, Shozu-gun, Kagawa
If you're looking for a unique activity for autumn viewing, head over to Kankakei Gorge in the heart of Shodoshima Island and take a scene ride via the ropeway. This gorgeous gorge (pun intended) is one of Japan's best, becoming more beautiful during autumn. Enjoy a relaxing ride along the ravine and treat yourself to breathtaking views of nature!
Entrance fee: ¥1,050, approx. PHP405 one way, ¥1,890, approx. PHP729 round-trip
Autumn outfit in Japan: What to wear
Aside from the pleasant weather and postcard-like foliage, another fun thing to look forward to is dressing up for the season. The key to autumn fashion is building layers, as the weather gets colder in the evening. To help you prepare and plan your OOTDs, here's a list of some essentials:
Scarf
Knitwear or sweaters
Leather or denim jacket
Down or puffer jacket, if you're visiting during late autumn
Long-sleeved shirts
Comfortable pair of shoes, especially if you're doing a lot of walking
Remember, the key is mixing and matching your outfits, and always prioritize comfort when choosing clothing!
What's New in Japan: 15 Attractions to Add to Your Itinerary
What's New in Japan: 15 Attractions to Add to Your Itinerary
Ina Louise Manto | May 23, 2023
Looking for other places to explore? Join WindowSeat.ph's official Facebook community What's Your Trip PH for more recos!