Travel Promos You Should Catch this Week: February 8 to 14, 2016
Here's a couple of great V-day gifts!
by Shen Mascariñas | February 08, 2016
Chinese New Year and Valentine's Day just got a whole lot better. Thanks to these great travel promos, domestic and international adventures are actually very possible. Who needs luck and love when you've got tangible (and cheap) tickets to someplace new and beautiful?
Of course, you can always have all of the above, but better check these out ASAP to lockdown the latter.
Cebu Pacific
Cebu Pacific greets its customers a Kung Hei Fat Choi with something a tad better than tikoy—travel promos!
Here's your chance to visit Cauayan (Isabela), Cebu and Kalibo for only PHP 1,099, all-in. As for flying to Bacolod, Iloilo, Legazpi, Naga, Roxas, San Jose (Mindoro), Taclobon, Tagbilaran, Tuguegarao or Virac, you'll only need to shell out PHP 1,299 for an all-in air fare.
Of course, international destinations are included, too. Explore Guangzhou, Macau, Taipei, Singapore, Hong Kong or Incheon for the affordable all-in fare of PHP 2,299. If you prefer Bangkok, Beijing, Jakarta or Shanghai, then just prepare a fairly cheap all-in fare of PHP 3,299.
You only have until the 1st of February to get these deals, so decide quickly! The travel period for these promos is from the 1st of March to the 30th of June.
Air Asia
With or without a Valentine, you deserve an awesome treat this 14th of February. With Air Asia's Valentine's blowout this week, you can finally tick airfare done from your much-anticipated getaway.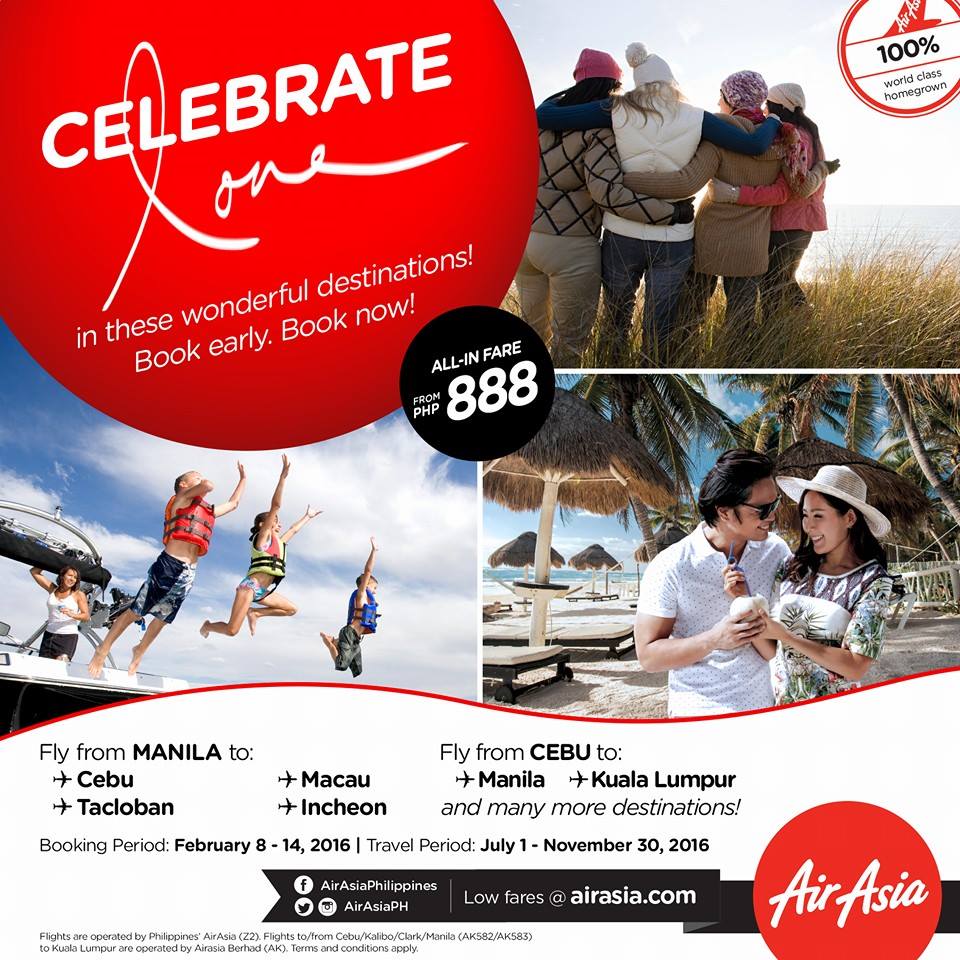 Beautiful domestic and international destinations like Cebu and Incheon are only priced at PHP 888, and that's an all-in fare. For the same affordable price, you can also go to Tacloban and Macau from Manila, as well as Manila and Kuala Lumpur from Cebu. There are more must-visit destinations included in the promo; just get your pick here.
Don't wait for your (potential or actual) bae to book your dream escapade! You have until the 14th to snag these deals while the travel period is from the 1st of July to the 30th of November this year.
Got more travel deals or kuripot tips? Sound off below!